ayase wrote:
So this film was panned by critics, bombed at the box office... Does someone want to explain this to me?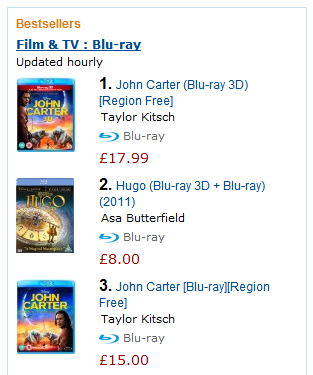 Basically every Hollywood film recoups its losses through home video eventually (even famous box office bombs like
Waterworld
).
John Carter
has the distinct advantage of tanking not because people especially disliked it (remembering that a 51 metacritic actually means 'mixed or average' in movie review terms, unlike something like video games where it means 'this product will give you a random STD'), but because they hadn't heard of it when it was released, and if they had they had no idea why they should care.
When a movie tanks at the box office, and there are a few voices out there that say it's not as bad as the box office situation makes out,
and
people realise that it has Pixar staff attached to it (they're not household names, but when you know what they're responsible for that does factor into your opinion), you may just appear in the top slot of the bestsellers that one time somebody looks.
Or we could go with the 'more money than sense' version that you describe, since it's the 3D version. Actually, yeah, that seems more logical.