Entries Open for the 50th International Children's Art Exhibition (ICAE)
The International Children's Art Exhibition (ICAE) is what the title suggests, an exhibition dedicated to showcasing children's art from around the world, and entry for next year's exhibition has now opened.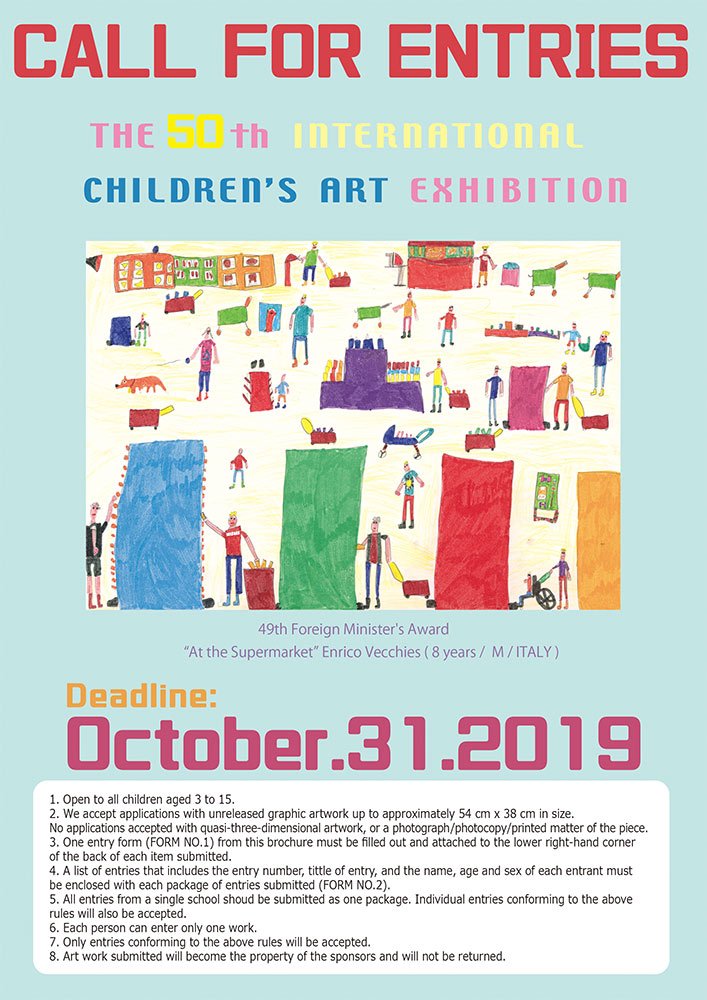 The ICAE is open to children between the ages three and fifteen and it offers entrants the chance to create a picture and send it into a competition where the successful entries will be put on display in galleries and art spaces across Japan. The way to get a picture on a wall in Japan is to express uniqueness and creativity through art that depicts life in a unique way and that uniqueness can be shown in paintings, drawings and collages and it can done with pencils, pastels, crayons and paint.
The exhibition was set up by Pentel, the Japanese stationary manufacturer, and it has been going since 1970 when it was established in Osaka. The intent of organisers since the very beginning is to explore the imagination of children by encouraging them to express themselves and their perception of the world through art. It is hoped that this is a way of helping children develop and it will show audiences of the exhibition a unique view of what is happening in various places around the world. Last year's ICAE managed to get over 100,000 entries from 36 countries and those works are currently on display in Japan.
The schedule for this year's exhibition is as follows:
CLOSING DATE FOR ENTRIES: October 31, 2019
JUDGING: January 2020
RESULTS ANNOUNCED: May 2020 – Awards will be sent soon after the results of the contest are announced.
EXHIBITIONS: Tokyo March 2020 Following the Tokyo exhibition selected works will be exhibited in Osaka and other cities in Japan and abroad.
The deadline is October 31st and UK entries should be sent to the following address:
PENTEL (STATIONERY) LTD.
Hunts Rise, South Marston Park,
Swindon, Wilts SN3 4TW, UK.
Tel. 01793-823333
You can send questions about the exhibition to ICAE@pentel.com.
To find out a little more background to Pentel and ICAE, head to the website