Open City Documentary Festival 2019 Hosts Naomi Kawase in September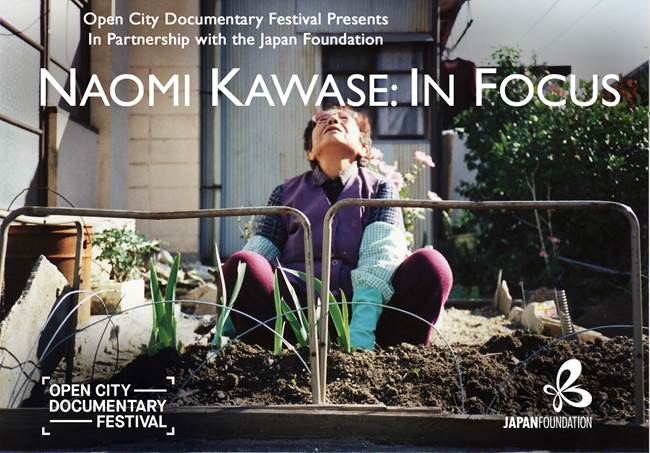 The Japanese film director Naomi Kawase will be in London in September for the Open City Documentary Festival 2019 thanks to their collaboration with the Japan Foundation. She will be present at the festival for screenings of her early works and will take part in a Q&A and extended talk.
Called, "Naomi Kawase: In Focus", there are three events to choose from to see the early documentary films that helped establish her as a big name on the international film festival circuit and hear from her about how she made them. Naomi Kawase will probably be more familiar to people for being the youngest winner of the Cannes Film Festival's Caméra d'Or award (best new director) which she scooped in 1997. Since then she has made numerous films, many of which have been released in the UK. The list includes The Mourning Forest (2007), Sweet Bean (2015) and Radiance (2017).
Here are the details of the Open City Documentary Festival screenings:
Embracing + Sky, Wind, Fire, Water, Earth + Q&A
In these two deeply personal films, Naomi Kawase reflects on her relationship with her father, absent throughout her childhood. Embracing (1992) revolves around Naomi's search for her father despite her adoptive mother's discouragement and her own doubts about what she might find. Combining nostalgic home movies and handheld Super 8mm footage of nature, Kawase weaves together an achingly beautiful search for identity and the true meaning of family. Sky, Wind, Fire, Water, Earth (2001) chronicles Naomi's reaction to her father's death a decade later, drawing lifelong connections between her original search, her childhood with her adoptive parents and her unfulfilled longing for a relationship with her birth parents.
Followed by a Q&A with director Naomi Kawase
Screening on:
Sun 8 September, 1:30pm at Regent Street Cinema. Tickets here.
Katatsumori + See Heaven + Chiri + Intro
This triptych of moving tributes from Naomi Kawase creates an affectionate portrait of her bond with her great-aunt who adopted and raised her. Capturing her lovingly with close up Super 8mm photography, Katatsumori (1994) introduces us to Uno Kawase as she enters her eighties. A recurrent figure in all of Kawase's personal documentaries, Uno remains kind, good-humoured and devoted to her adoptive daughter, and See Heaven (1995) offers an intimate, experimental collage of images dedicated to the playful but tender relationship between the two. In Chiri (2012), we witness Uno's daily routine as she nears her final days and Kawase grapples with coming to terms with her great-aunt's passing.
Director Naomi Kawase will be present to introduce the screening.
Screening on:
Sun 8 September, 4:00pm at Regent Street Cinema. Tickets here.
Birth/Mother + Extended Conversation
About to give birth to her own child, Naomi Kawase turns her camera back on to her adoptive mother and great-aunt in this riveting examination of family, motherhood and the female body. An intensely intimate and candid film, Birth/Mother (2006) captures images of her great-aunt's ageing body while Kawase reflects on her own journey to becoming a mother. The film offers a more complex portrayal of the relationship between the two women than Kawase's earlier shorts, but the connection between them remains undeniable.
Naomi Kawase will join us after the screening of the film for an extended in-conversation event
Screening on:
Mon 9 September, 6:30pm at Curzon Soho. Tickets here.