The Japan Foundation Bring Tomihiko Morimi to London for Penguin Highway Screening on February 23rd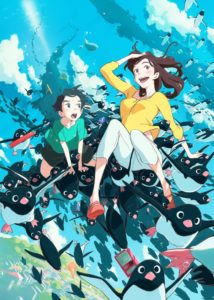 The Japan Foundation have arranged a special screening of Penguin Highway and a Q&A event involving Tomihiko Morimi, the author of the book the film is based on, for February 23rd at the Prince Charles Cinema in London (location). This is an exciting chance to see the author of not only Penguin Highway, but also The Tatami Galaxy, The Night Is Short, Walk On Girl, and The Eccentric Family. 
Here are the details:
Sunday 23 Feb, 2020
3:30pm
Directed by Hiroyasu Ishida
Starring Kana Kita, Yû Aoi, Rie Kugimiya, Megumi Han, Hidetoshi Nishijima
Japanese Language with English Subtitles
2018 | 118mins | Japan | rated (PG)
A fourth-grader investigates the mysterious reason behind the sudden appearance of penguins in his village, which is somehow related to a power from a young woman working at a dental clinic.
Event in Partnership with Japan Foundation London. The film will be followed by Q&A with author Tomihiko Morimi.
To book, click here
---