Springtime by the Window Volumes 1 & 2 Review
Demelza
•
It's not often we get short completed manga series in the West, but today I'm here to take a look at two-volume Springtime by the Window from Tokyopop. Does it prove a satisfying read in the romance genre? Let's find out!
The story follows second-year high school student Yuki Yamada, who is in love with childhood friend Kaede Seno. He's not the only one in love, however, as classmates, Akari Akane and Yousuke Toda are also crushing on one another. The problem is that Yamada can't bring himself to confess to Seno while Toda is completely oblivious to Akane's feelings toward him, which leaves them making no progress. 
While Yamada's relationship is at a standstill, he does at least try and get Toda and Akane together. Akane has confided in Yamada about her feelings for Toda and so the protagonist is often found playing emotional support for her when Toda does anything to accidentally dismiss Akane's advances. But perhaps helping Akane will lead Yamada to finally reveal his feelings to the oblivious Seno… 
While nothing much happens in Volume 1 of Springtime by the Window to advance anyone's relationship, Volume 2 makes more headway as the group attend the town's Summer Festival. Traditionally in shojo manga, this is where romance blossoms, with characters confessing their feelings under the fireworks and so on.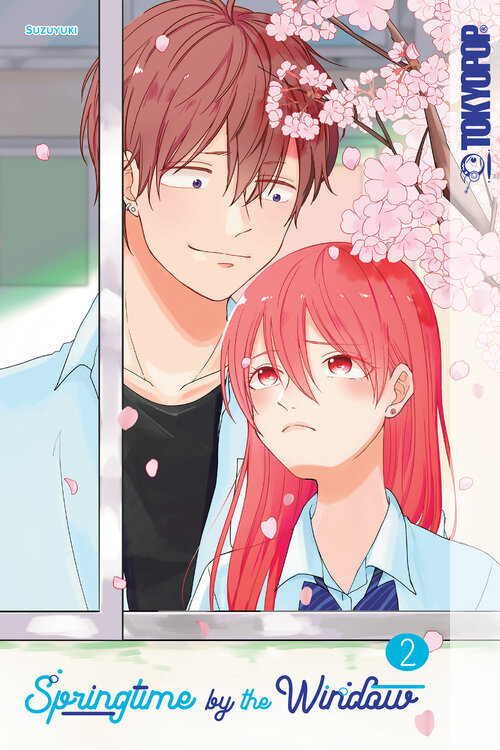 Interestingly, this series dodges all the stereotypical tropes of a summer festival and nothing really happens in regards to anyone getting together. While it's praiseworthy to have not used these elements for a manga that's only a couple of volumes long, I wish it had gone down that route because it would have been more satisfying than what we're left with. 
The issue for me is that although Springtime by the Window is made up of 44 short chapters, by the time we get to the end, it doesn't feel like much has happened. The conclusion itself is okay and ties things up more or less, but the path to get there is littered with clumsy back-and-forths between the cast. 
Seno and Yamada's situation is fairly realistic. They've been friends since they were kids and live next door to each other, so, understandably, the thought of changing that relationship frightens Yamada. Especially coupled with the usual fears we have regarding confessing to someone. The problem lies with Toda and Akane, who are far less believable. I'm not sure it's possible for anyone to be as dense as Toda proves to be across these two books, especially when Akane drops extremely pointed hints about liking him. 
The series holds up better as a slice-of-life comedy than it does as a straight romance and that's reflected in the artwork as well. Mangaka Suzuyuki is good at drawing comedic scenes with over-the-top expressions from the cast to reflect the situation they find themselves in. Admittedly from panel to panel, I found the character designs a little stiff, but since the comedy does work well with their designs, I'm willing to let that slide. Suzuyuki also keeps the manga feeling lively thanks to plenty happening in the background, as well as having the cast take frequent trips to see the school rabbits which makes for some adorable and funny scenes. 
Springtime by the Window comes to the West thanks to Tokyopop and has been translated by Katie Kimura. The translation for both books read well with no issues to note. Volume 1 and 2 are both available digitally right now, but in terms of the physical release, only Volume 1 is currently available with Volume 2 not out until December. 
Overall, Springtime by the Window is a two-volume series that offers a light and entertaining read but doesn't particularly get anywhere within its run. If you're invested in the romance, this one will be disappointing, but if you're simply looking for a sweet slice of life, then it's not bad.