The Abandoned Empress Volumes 1 and 2 Review

Noemi10
•
With webtoons becoming more and more popular in the West, publishing houses have started releasing print editions of them at a growing rate. Yen Press has even announced a new imprint, Ize Press, whose focus starting in the autumn will be on Korean webtoons.
The Abandoned Empress is one such title picked up by Yen Press. With two volumes already out, it takes its readers to a fantasy world reminiscent of the Victorian era, but where god is actually real.
The Castina Empire is about to crown its 34th emperor, Ruveliss Khamaludin Shana Castina, together with her majesty, the girl of the empire's prophecy, Jieun. But Aristia la Monique was raised to believe that she was the child of the prophecy. The sudden appearance of Jieun from another world throws Aristia's life plans and her love for the then crown prince, now emperor, out the window. She's now merely a concubine with nothing left of her dream future so, stricken by grief, she accidentally harms the emperor, and she is sentenced to death for it.
However, the god of her world decides to turn back time and, to her disbelief, Aristia wakes up once again as a ten-year-old. Learning from the god that her previous life was actually a mistake, and that this new life is a chance to make it right, Aristia disavows the god and her fate in a plan to create her own path.
It's too soon for Aristia to know that her life has already changed, thanks to the first steps she took once she awoke as a little girl. Not only her own life, but also the lives of the people closest to her will change—for good or bad, we don't yet know, but I can't wait to find out.
Lately webcomics have become my obsession, and when I heard of the release of this series, I couldn't buy it fast enough. It has some of my favourite characteristics for a comic: a chance to change for the better (hopefully), and a weak heroine who has to find herself to show her strength and change her future.
Moreover, not only are the covers gorgeous, with illustrations of Aristia and other characters, but they also all have an element in common—foiling. Both covers, and the one for Volume 3 seems to follow the same pattern, have a similar background of delicate flowers highlighted by silver foiling, which makes it all sparkling under the light.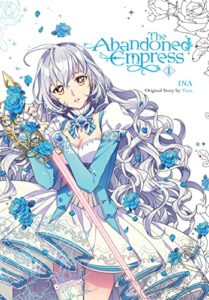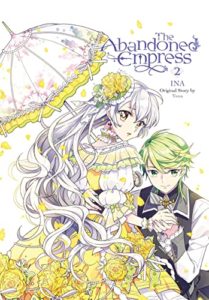 And if that isn't enough, the author and the publisher treat us to a nice surprise as soon as we open the volumes: we have a special full-colour illustration to admire before we delve deep into the story.
While the covers and illustrations are definitely 10/10, I'm not as satisfied with the story as I would have expected. We start with Aristia as a grown-up who gets screwed over by a god, and so her life is miserable. The man she was told she would marry had to be given up when the real girl from the prophecy comes to claim him, giving this series a slightly isekai vibe.
The author portrays her as a weak character, and I didn't like her much at the beginning. I actually thought she was pretty annoying. Why wouldn't she leave to find a better life somewhere else? Why would she accept the abuse? I still cannot wrap my mind around it. I started liking her when she gets another chance at life. She comes to realise her mistake in hoping for a love that could never happen, and soon she's ready to take her destiny into her own hands. And I'm all here for that.
What I'm not here for is how she gets treated. She grows closer to her father and the people in her estate, and that's for the better, but the emperor is weird and dislikeable. He asks a ten-year-old to give an opinion on the state's affairs, and her idea turns into a policy. Thankfully, Aristia can count on what she knows of the future, but it seems like the emperor will keep testing her, for quite a few volumes. Moreover, the crown prince hates her, as he's envious of her success. But the two of them can't break their betrothal—yet. There is a lot of politics going on, giving hints of more mysteries to come but not revealing much solid information.
Some scenes in Volume 2 are also pretty confusing, as the story moves from the present to the past, and back again.  It's not clear at what point in the past the story then returns back to the present, leaving its readers a little bit baffled.
It's not a bad series by any means, and I have every intention to continue it. I want to see Aristia grow and become stronger, so that she can finally have a say in her life and do what's best for her, prophecy be damned. I want to see her new life develop as she wishes and turn her into a strong, independent woman.
The Abandoned Empress was written by Yuna, translated into English by David Odell and published by Yen Press. Volume 3 is scheduled to be released in September 2022.