CANIS Dear Hatter Volume 1 Review

Sarah
•
Satoru Kutsuna is an influential hatter, working from his own shop Dante in Tokyo with his two assistants, Eiko-chan and B-man. But he has lapsed into something of a creative slump… until he rescues a young man he finds collapsed in the rain on the street near the shop. That young man, half-Italian, half-Japanese Ryou, has become Satoru's fourth member of staff to earn board and lodgings, even modelling his latest hat. But Ryou has a troubled past which he doesn't want to share; his grasp of Japanese is still a bit shaky because until recently, he was based in New York.
New York looms large when Satoru's old rival/friend Gotou arranges for him and his assistants to attend Fashion Week in New York. There is, of course, an ulterior motive. Satoru is forced – against his natural instincts – to drag himself out of his slump and create some new hats. The omens don't seem too good when his beloved grandma is hospitalized. "Since when was I unable… to trust my own two hands?" Satoru wonders, back in his workroom, staring into empty space. It doesn't help that when he last attended Fashion Week, one of his hats was a huge success, attracting world attention and many orders. "And it was then and there that I saw hat and wearer become one. The theme for that hat was 'Dazzling Women.'"
Is it Ryou's presence that helps Satoru to break out of his creative slump? The hatter suddenly starts working like a man possessed and a new theme emerges for his collection: 'The Working Man'. And at the heart of the collection is a blue hat he makes with Ryou in mind.
All seems set fair for a successful launch when they arrive in New York. Satoru and the team are waiting for the experienced US model to arrive to model the hat on the catwalk when the news comes through that he's been in an accident. He's not seriously hurt but unable to appear that day. That's when Ryou volunteers to take his place. He knows the order of events off by heart – and he's done this once before in Japan. It's a considerable risk – can he be trusted to pull it off and save the day?
CANIS is an ongoing BL series for ZAKK (who also creates manga under the name Hachi Ishie, notably the recent Cruella for Disney and VIZ Media) and her breakthrough work. Notable for its distinctively different (and Western-influenced) graphic style and lively yet engrossing storytelling, CANIS runs to seven volumes, with KUMA bringing out the first three for English readers (and the final volume due out in Japan this month). Like several of the more recent BL contemporary manga, the emphasis is on the interactions of the characters and the underlying themes, not the sex, even though there is undoubtedly something simmering in the growing closeness between Satoru and Ryou. But both are damaged individuals who hide their vulnerabilities from the world with smiles and shy away from forming ties with anyone. And it's ZAKK's skill in portraying this relationship (and the other characters, especially Eiko-san, Satoru's long-suffering assistant) that makes her work stand out. She uses all her considerable skills as a graphic artist to bring her people to life, utilizing everything from chibi to fashion magazine-influenced panels for the catwalk scenes – but it's her use of close-ups at significant moments that adds depth to the characterization.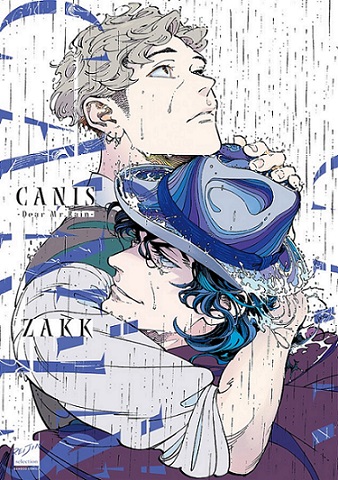 KUMA have brought us the new revised edition (2021) of CANIS, with glorious new jewel-bright colour art by ZAKK and an extra snowy bonus chapter 'The Holiday's Night (War of the Inner Self)' at the end. This edition has a glossy dust jacket with extra art on the card covers inside, depicting Satoru Kutsuna's Shop Info; there's also a colour inset page at the front. If you read our review of CANIS Dear Mr. Rain, KUMA are now bringing us the revised edition of this too with new material and a new cover (see above; November 2022) as well as the sequel to Dear Hatter (December 2022 for the UK). Praise to KUMA for producing such attractive editions at a reasonable price, printed on good quality white paper with no risk of bleed-through of the ink; these are handsome books that you'll want to have on your shelves! The translation is by Mike Wolfe and the lettering by Andrea Donohue, and both do justice to the original manga, providing a very readable version in English.
If you've read Dear Mr. Rain, you'll be well aware that Ryou got himself mixed up with some very unpleasant Mafia business back in New York. His appearance on the catwalk in New York does not go unnoticed by certain sinister individuals. His life is almost certainly in danger. Everything builds to a climax in the second volume of Dear Hatter which you won't want to miss if you've fallen under the spell of ZAKK's compelling storytelling.
© ZAKK 2013