Twilight Out of Focus Volume 1 Review

Sarah
•
Room-mates in their second year at high school, Mao Tsuchiya and Hisashi Otomo make three promises:
1) That Mao will never tell anyone that Hisashi is gay and has a boyfriend
2) That Hisashi will never think of Mao 'in that way,' and…
3) That they'll always knock before entering, in case someone is having some 'private time.'
The two's ground rules should ensure a peaceful life together in their dorm, but life is never as simple as it should be, and some things are not so easily promised… (Publisher's blurb)
Mao is camera-man for the high school's film club and is eager to get started on the second years' entry for the upcoming cultural festival. Their idiosyncratic director, Giichi Ichikawa, is determined that the second years will beat the third years to the prize and he's confident that he's come up with the ideal project to win: a BL. Yes, a Boys' Love story – even though the second years in the club have never once anticipated making such a film (it is, after all, an all-boys' school). His scenario describes how a delinquent boy student 'The Punk' falls for the strait-laced class president (who is secretly yearning for the ace pitcher of the baseball team) – and, having read the script, the club members see the dramatic potential in Giichi's scenario.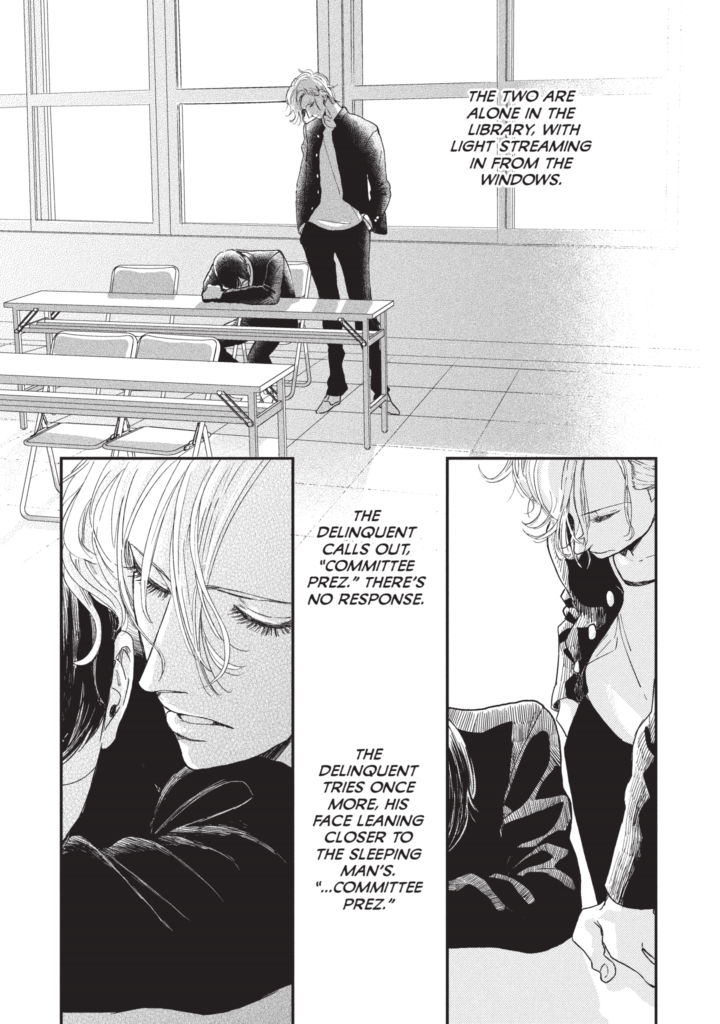 Hisashi, laid-back and not involved in any school clubs, is scouted by Giichi for the role of the delinquent – and after some initial reluctance, accepts. His fair hair and striking good looks make him ideal for the role. But as rehearsals progress, Mao finds himself more and more disturbed by watching Hisashi grow into the role (it turns out that he's a natural actor). By the time Mao has to film a key scene in which the delinquent is about to kiss the president when he comes upon him asleep in the library, he finds he's lost all of his professional composure. He just can't bear to watch Hisashi getting close to someone else, even when it's only acting. It's weird. Why does it hurt so much when you like someone… and they don't like you back in the same way?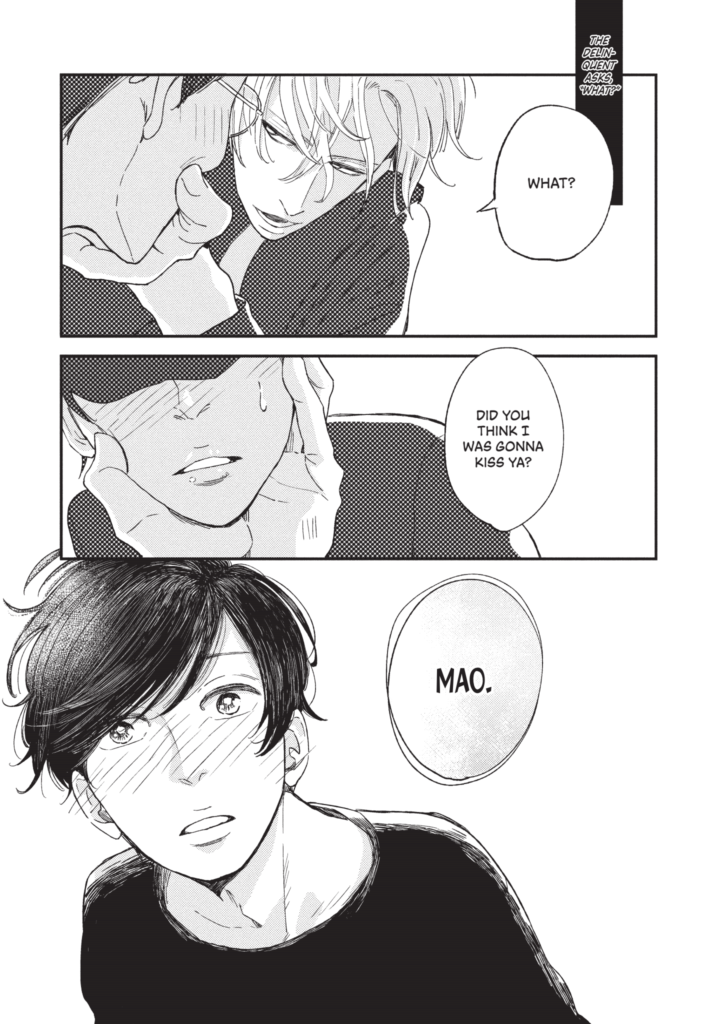 Twilight Out of Focus is the first of Jyanome's BL manga to find a publisher in the US, although her works have been available in Europe for a few years now. This is the first of four related volumes about the young men at this high school, their aspirations for the future and – notably – the film club. What struck me when first reading this volume was the mangaka's very beautiful yet distinctive art style: her characters' features and body language are easily recognizable and pleasingly different from standard BL art, as is her use of the film club and the language of cinema in constructing her story. Mao, as main viewpoint character, is steeped in film and quietly passionate in his own way about doing the best job he can as cameraman in the club – and this is one of the reasons that he's so confused and angry with himself when these feelings for Hisashi bubble up out of nowhere and interfere with his ability to shoot the film like a true professional. But we also get to see things from Hisashi's perspective, learning about his difficult adolescence and broken family which made him turn to his sympathetic homeroom teacher for the affection that he wasn't finding at home. By creating believable, flawed characters, Jyanome draws the reader effortlessly into the story, adding sly touches of humour (often provided by the comments of club members, identical twins Runa and Teru Kagari).
Twilight Out of Focus first appeared a year ago as a digital version (it's a Vertical Book for Kodansha) although it was not picked up by Amazon for the Kindle, presumably because of the 18+ rating and the sex scenes. These, although relatively explicit, are sensuously drawn and consensual, and mean that if you buy the paperback, it will arrive shrink-wrapped. The excellent translation for both digital and print versions is by Jacqueline Fung with a wonderful variety of fonts in Nicole Roderick's lettering (film scripts, phone conversations, inner monologues, all are expertly handled.) Vertical tends not to provide translation notes, which is a shame, as there are one or two instances where it'd be interesting to have more explanation. The mangaka's afterword is included, as well as mentioning that 'take 7' appears at the opening of the upcoming third volume (the second is about the ongoing clash between Giichi and the third year film club president, Jin). The under-jacket character profiles from the original Japanese edition focus on Hisashi and Mao and the book benefits from two very attractive colour pages at the beginning. Volume 2 Twilight Out of Focus: Afterimages in Slow Motion is due out on July 11th, with the direct continuation of Mao and Hisashi's story Overlap scheduled for September 20th.
Jyanome skilfully captures the heady highs and lows of first love in Twilight Out of Focus as well as the genuine excitement generated when a group of like-minded young people work together on creating a film. The two threads mesh seamlessly together, delivering a story that repays several readings – all brought to life by the mangaka's sensuous, striking art.
Read a free preview of the manga at the publisher's website here.