Sating the Wolf Review

Sarah
•
"The past is the past. We've evolved. That's why you and I can hold hands like this!" Henri to Noah. "I know for a fact we can overcome our instincts."
When Noah, a young wolf, is discovered to be an Omega, his wolfpack casts him out. Not knowing where to go, he wanders disconsolately off in disguise, eventually ending up in a herbivore village. Hungry and almost out of money, his attention is caught when a shopkeeper loudly accuses a couple of frightened little rabbits of shoplifting. Noah goes after the real culprit – a weasel – and drags him back. The rabbits, relieved, insist on taking him home to meet their big brother, Henri. Grateful, Henri invites Noah to stay for supper – and hungry Noah doesn't refuse, although he keeps his hood up to disguise his true identity. Next day Henri offers Noah the chance to stay and work.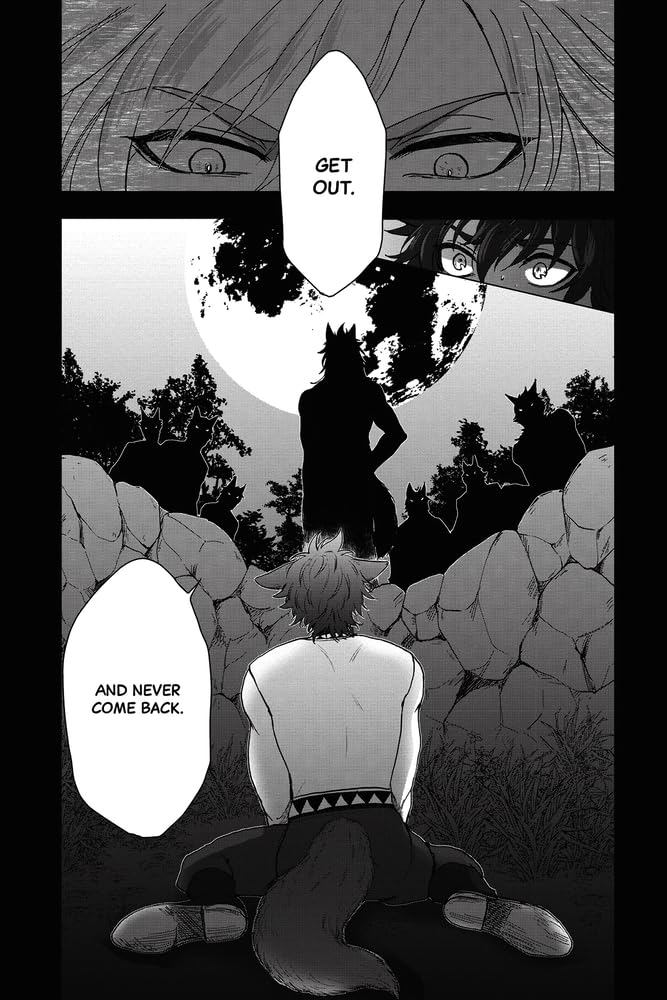 It's not easy for Noah to keep the fact that he's a wolf hidden and when he learns that Henri's parents were killed by wolves, he's mortified. Then reports come in that robbers, foxes and wildcats have been raiding the rabbits' fields. Noah, eager to pay back Henri's kindness, goes out to stop them. But his Omega nature betrays him and the invaders overwhelm him. Who should come to his rescue – but Henri! Although now Noah's true lupine identity has been revealed, this could be the end of their friendship.
Sating the Wolf is a Boys' Love story with likable main characters in a found family situation crossed with beastmen and Omegaverse. Rated 18+ and originally published by ShuCream Inc., it delivers several explicit scenes of a sexual nature which are nevertheless consensual and attractively drawn by first-time mangaka Troy Arukono, who's already gained manga experience in the doujinshi field. The main twist is the role reversal, with Noah the wolf pairing up as an Omega with – surprisingly – a rabbit Alpha, Henri. The obstacles put in the way of their friendship developing any further come from all sides, especially Henri's fellow rabbits in the village who are opposed to accepting anyone who's not a rabbit into their community.
It's a sympathetic but not world-changing read as – apart from the initial reveal about Noah – it's a variation on the 'bad boy' Omega pairs up with a cute Alpha theme, dressed up in different costumes. It can also be interpreted as a metaphor for the problems faced by couples from different nationalities or religions who have to face opposition to their relationship in their own community. The protagonists might have tails and ears but the problems they encounter are those faced by mixed couples/marriages among humans. All in all, this is a warm-hearted, positive fantasy with an underlying message of tolerance.
The book is translated by Dylan Jekels for Tokyopop's LoveLove list (which used to be LovexLove until it rebranded this summer) with the following statement: 'Featuring shoujo, josei, girls love, boys love and more, our LoveLove powered by TOKYOPOP line has something for everyone! One of our core company beliefs is that "love is love" and all types of romances deserve to be celebrated. LoveLove was born from that idea and our commitment to representing a variety of stories and voices as diverse as our fans.' As usual with Tokyopop these days, Sating the Wolf has been published first in digital format, with a paperback edition to follow in October 2023.
This book contains explicit sexual content. It is not intended for anyone under 18 years of age. (From the publisher's site.)