Twilight Out of Focus 3: overlap Review

Sarah
•
Second-years Mao Tsuchiya (cameraman) and Hisashi Otomo (reluctant film actor) are roommates in the high-school dorm and have been brought closer together by participating in the film club's first BL film, the second years' entry in the cultural festival competition. They've also started to go out together and one thing inevitably has led to another, even though they've made a promise to keep their relationship a secret and not tell anyone that they're an item. When their entry doesn't win, the team are bitterly disappointed but Mao uploads it to the internet anyway – and suddenly it goes viral. Hisashi's a star! So when the local university student band contacts the team, asking if they can make a music video for them – and specifically requesting that Hisashi should be in it as he 'fits the image of one of our songs so well', it looks as if it's a done deal. Except that Hisashi doesn't want to do it. "I… don't think I'm ready yet." Mao is doubly conflicted. What am I supposed to do in times like this? Should I talk to him? And say what? He doesn't want to put extra strain on their (still secret) relationship but he also feels loyalty to the film club (and Giichi really wants to take this project on).
The theme of a high school film club and the passion its members feel for the films they're creating together make Twilight Out of Focus an ideal subject for animation – and an anime TV series has been announced for 2024. As mangaka Jyanome is involved in the series, I'm very hopeful that it will survive the transfer from page to screen in an imaginative and convincing way. Jyanome's art for this series often references cinematic techniques and the sections where Giichi explains his methods (storyboarding etc.) are fascinating as well as neatly and unobtrusively slipped into the context of the story.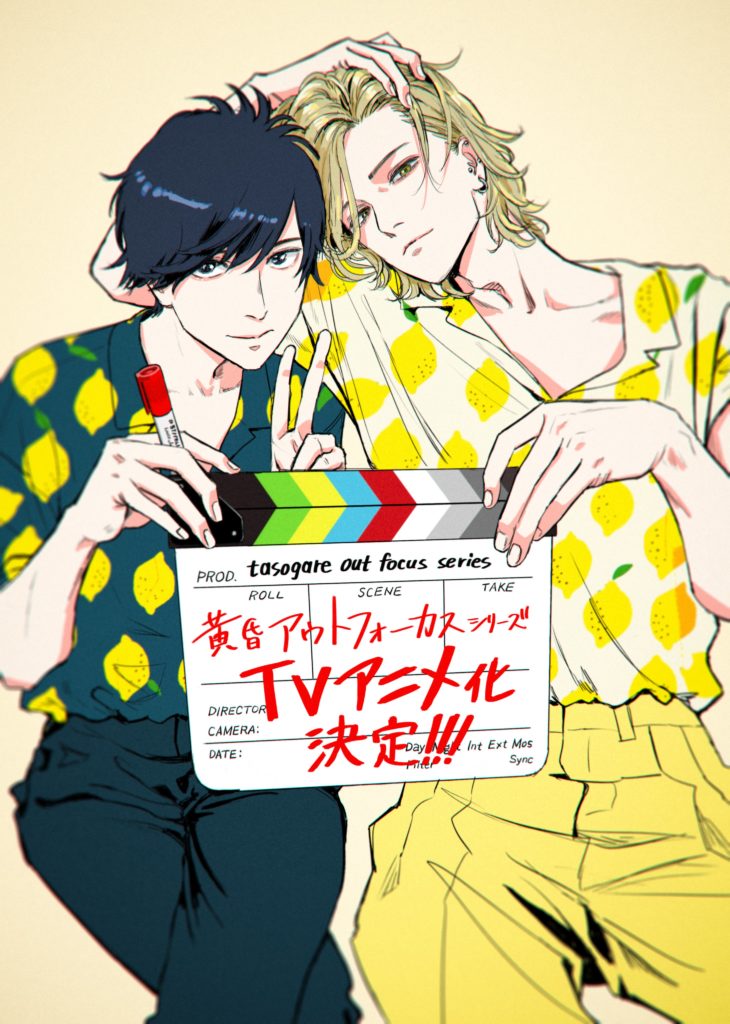 Twilight Out of Focus is all about the characters and one of the most touching things about this volume is that Jyanome leaves you in no doubt as to how attached Mao has become to Hisashi and how vulnerable this makes him feel. He's hyper-aware of his inexperience in matters of love, especially the physical side, and the nagging anxiety is always there that his lack of experience might eventually make the more experienced Hisashi lose interest. For readers it's an especially bitter-sweet read; even though we see how deeply in love these two are (first love, in Mao's case, so even more poignant) there's always the spectre of the unknown future lurking in the background, especially as they enter their third and final year at school. What happens after they graduate? What if they meet new and intriguing people? Will one of them be tempted to stray…?
This volume earns its 18+ Mature rating with several consensual but relatively explicit sex scenes between the two main protagonists; these are beautifully drawn and arise naturally out of the characters' feelings for each other. Although Jyanome also has some mischievous fun earlier on in showing the film club members reading BL manga (specially curated for them by director Giichi) and the twins, not 'getting' it, complaining loudly and crudely about what's being portrayed while we glimpse Mao behind them turning redder and redder, very obviously relating what he's been reading to his own secret relationship with Hisashi.
Jyanome is one of the talented 'new' generation of BL mangaka (like ZAKK, Kei Ichikawa and Natsuki Kizu) who, while gifted in portraying single-sex relationships, are more interested in the characters and their lives without indulging in excessive melodrama or extreme situations.
The first chapter is 'take 7' following on directly from Volume 1 but then two chapters follow that are all about Mao and Hisashi's developing relationship: 'soft focus en rose' and 'shining in the night sky'. Then the new story-strand overlap begins as Mao uploads the second year's BL film 'You and the Seasons and Etc.' featuring Hisashi to the internet and the action takes off from there – and then some! (Look out for the theme of a red thread attaching two people together too!)
For drama CD fans, there's an extra chapter at the end depicting the mangaka and her/their editor as they sit in on the recording of the Twilight Out of Focus drama CD (2020) and meet (hearts a-flutter) the talented voice actors (they are very accurately depicted here by the mangaka)! And – a little confusingly – the last chapter is entitled 'prologue: afterimages in slow motion' and acts as an introduction to the second volume which concentrates on Giichi and third-year film club president, Gin.
Twilight Out of Focus: overlap is again translated for Vertical (Kodansha) Caroline Winzenried and its reads well, enhanced by lettering by Nicole Roderick. There are no translator's notes at the back but two character profiles of Mao and Hisashi (which probably were under the dust jacket in the Japanese edition) and the edition boasts four colour pages at the front which showcase Jyanome's very attractive art. Volume 4 The Evening Monologues (with different main protagonists) is due out in mid-December 2023 and the final chapter for Volume 5, Long Take, has recently appeared in Japan, so let's hope that Vertical/Kodansha pick that one up too as it focuses on what happens next to the main pair: Mao and Hisashi.
Our review copy from Kodansha (Vertical Books) was supplied by Turnaround Comics (Turnaround Publisher Services).