The Royal Tutor Volume 1 Review

Sarah
•
'A comedy of educational proportions!'
Wienner, capital city of Granzreich in the late nineteenth century. King Viktor has five sons – but, aware that as the course of history never runs smoothly, and misfortune could befall the Crown Prince, the king wishes to ensure his succession is secure and that each of the four younger princes are capable of reigning in his stead.
So when professor Heine Wittgenstein is summoned to the palace, ready to fulfil his duty as royal tutor, he is more than a little nonplussed that – in spite of his letter of appointment from the king – the guards mistake him for the professor's son and keep him waiting for his daddy. It takes the Queen Mother herself to smooth the unfortunate situation over and welcome the diminutive tutor properly. Not that Heine hasn't encountered this before; he is, indeed, small of stature and childlike in appearance – but wise in the ways of the world and extremely well educated. And that's all we know. So far. And he has quite a challenge; the four princes have sent off every tutor so far who has attempted to educate them. Why would such a little fellow succeed where others have failed?
Undeterred, Heine interviews each of the princes in turn: the youngest, rebellious Leonhard who is athletic and extremely gifted at running away when any kind of teacher appears; charming Licht, who adores the ladies and prefers to spend his time in their company; serious, studious Bruno who is arrogantly intellectual but secretly searching for someone to look up to, and silent, stand-offish Kai who scares the servants with his cold, forbidding demeanour. How on earth can little Professor Wittgenstein establish a working relationship with any of these young men and encourage them to prove their worth as potential rulers?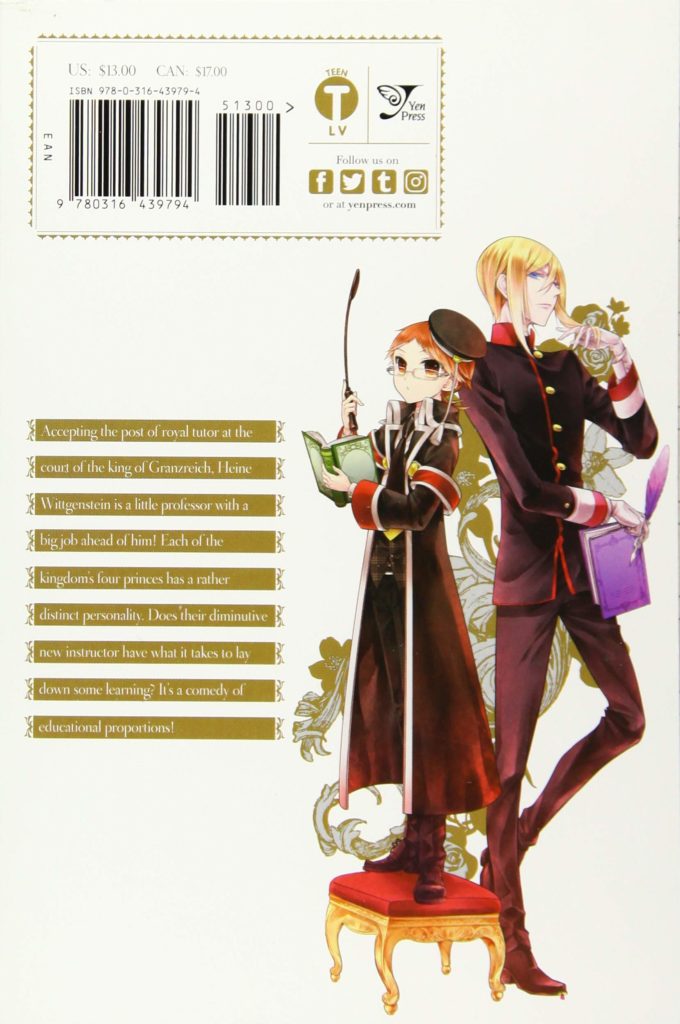 The Royal Tutor is, as far as I'm aware, the first of Higasa Akai's works to be translated into English and it has been given a digital-only release. Last year I came across her wonderfully gothic series Undertaker Riddle in its attractive French version from Ki-oon and was impressed by her story-telling skills, beautiful bishounen, and elegant artwork. (Undertaker Riddle is recommended if you enjoy twisted gothic mysteries with a dark underlying mythology, such as Pandora Hearts and Black Butler). That series (her first?) was published by Square Enix and The Royal Tutor comes from the same stable. However the new series is a rather different animal – but no less enjoyable. It's not – so far – an action adventure, and seems to be more a comedy of manners set in an alternative Austro-Hungarian empire. So far.
But what makes this series stand out is its dry, understated wit. The professor knows exactly how to manage his ebullient, self-dramatizing, challenging, distant royal charges and even though they test him severely, it looks as if – in spite of his childlike appearance – they've met their match. Part of the pleasure in seeing the relationship between teacher and students develop and evolve is wondering how the professor will outwit the princes without either side losing face. The dialogue – neatly translated by Amelia Haley – is a joy. And – clever move! – Yen Press has been kind enough to release the first two volumes together so it's possible to read on.
Higasa Akai is obviously having fun with her alternative Vienna (say 'Wienner' aloud with German pronunciation) and little phrases in German are sprinkled throughout (and helpfully explained in the Notes at the end). It's hard to tell whether this series will continue in this beguiling way, the gentle comedy lightly leading us to get to know the four princes better.
The advantage of a digital version is that all the colour pages are included in the release and this only adds to the manga's attractions. Higasa Akai has adopted a very different palette of colours; the exquisitely drawn opening pages are painted in watercolour shades of brown and gold, almost as if evoking sepia prints from the period. (She gave Undertaker Riddle a more starkly dramatic look, favouring black, white and gold, with a splash of crimson red or cobalt blue.)
In Summary
The Royal Tutor is an engaging read, enhanced with elegant art. It shows remarkable insight into the psychology of teaching while never being in the least bit dull!