Seraph of the End Season One: Part Two
Demelza
•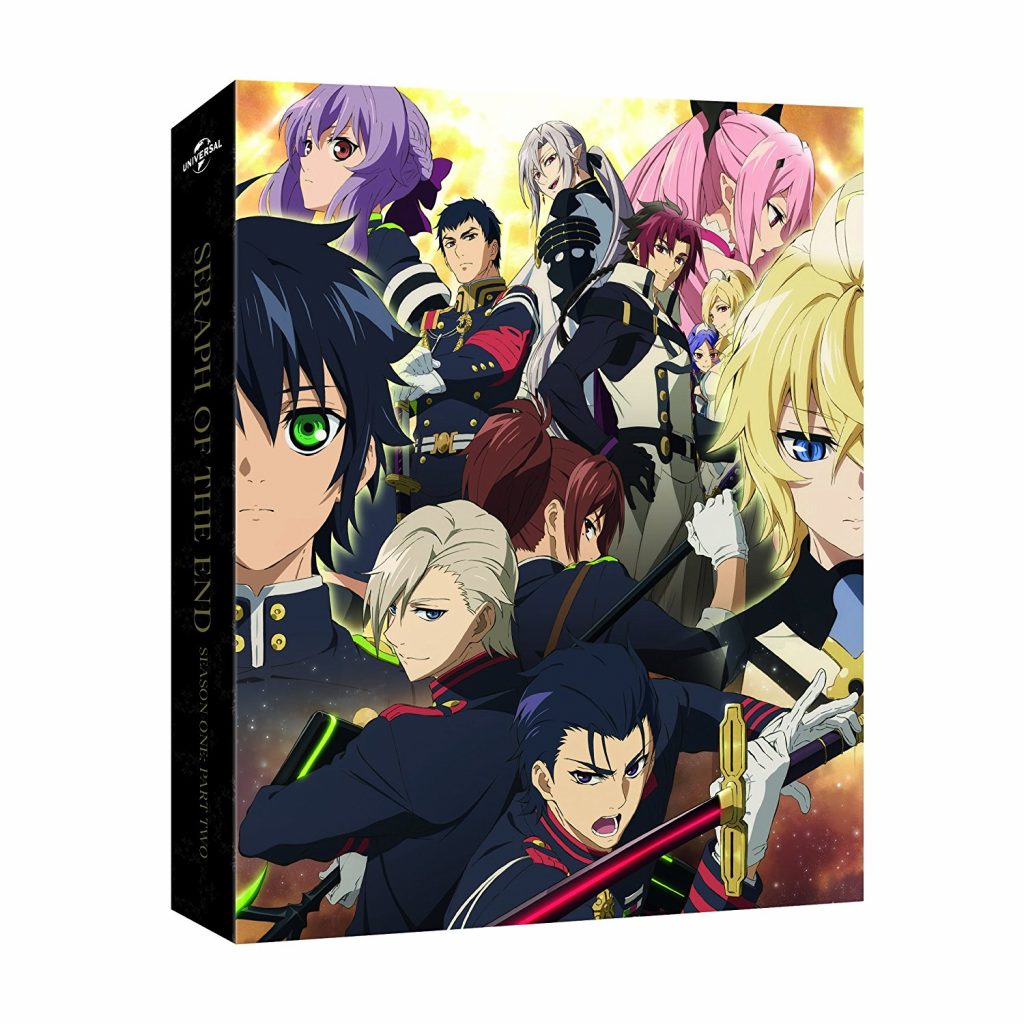 Seraph of the End is a title I've been especially fond of since Weekly Shonen Jump started publishing the manga in English a few years back. When the anime aired back in 2015 I regarded it as one of my favourites for the year, and now I've gotten the chance to sit down and rewatch the second half of this series.

As a general note, this review contains spoilers for both parts of Seraph of the End. If you missed the review of Part 1 written by my good friend and coworker, Joshawott, you can find it here.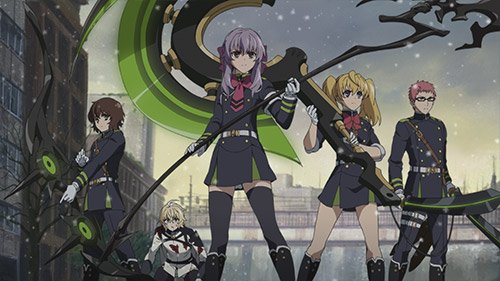 This part of the series kicks off with Yu and his comrades being sent on a mission in Nagoya, however this is after the higher ups interrogate Yu to determine if he's working with vampires. Part 2 ofSeraph of the End is heavily dedicated to exploring the relationships between Yu and Captain Guren and Yu and Mikaela, but that's not to say there isn't plenty of time for some fun vampire hunting. This part also gives us some focus on the vampire society and works to develop them as characters.

The mission Yu and his team are sent on with Guren and other members of the Japanese Imperial Demon Army is to kill numerous noble vampires, who have been spotted in the area. It's a life-or-death mission and sadly it doesn't always go to plan – but thanks to our team's misfortunes, we're given some remarkable action sequences as the humans fight for their lives (more on those in a minute). On the flip side, the new perspectives on Mikaela and the vampires leaves us to ponder if they're really the bad guys in this world, especially as it becomes clearer that the Imperial Demon Army is up to no good.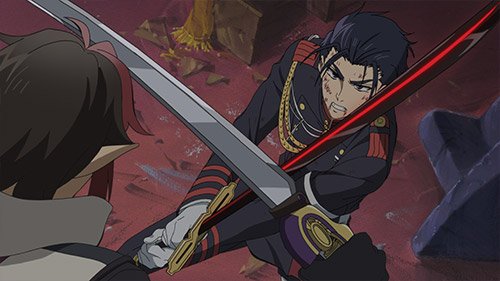 While I usually wouldn't go too in-depth into the end of a season, I want to talk about a couple of episodes closer to the end of this set because they really made the series for me. Episode 21 sees Mikaela finally find Yu and his team and features some truly stunning animation as Mikaela storms through hordes of enemies to reach his long-lost family. The scene is set to a remix of the first ending for the series ("scaPEGoat" performed by SawanoHiroyuki[nZk]:Yosh), and between that and the way the camera pans in and out, the sequence looks fantastic. I've watched a lot of anime byStudio Wit but I think this scene stands out as some of their very best work to date. It's animated, choreographed and executed extremely well and I cannot praise the scene enough for the lasting impact it left on me as a viewer.

The other episode I want to talk about follows directly afterwards . It's titled "Yu and Mika" and largely focuses on an exchange the two have, in private, away from the battle raging on elsewhere. It's the first real interaction the two have had since Yu escaped from the vampires as a child and at this point, after suffering a mortal wound which requires human blood to fix, Mikaela is struggling with the decision to remain as he is or become a full vampire. The two argue and bicker and the conversation flows so naturally, and is filled with so much emotion, that it really stood out to me and remains one of my favourite episodes. I'd usually talk about voice actors later on but today I'm going to break my usual trend and mention that Miyu Irino (Koshi Sugawara in Haikyu!!, Ritsu Kageyama in Mob Pyscho 100), who plays Yu and Kensho Ono (Takato in Charlotte, Slaine Troyard in Aldnoah Zero, Phichit Chulanont in Yuri!!! on Ice), who plays Mikaela, both perform exceptionally well for these scenes. I rewatched the scene in English, French and German and none of those dubs even held a candle to the emotional weight that the Japanese VA's put into their take.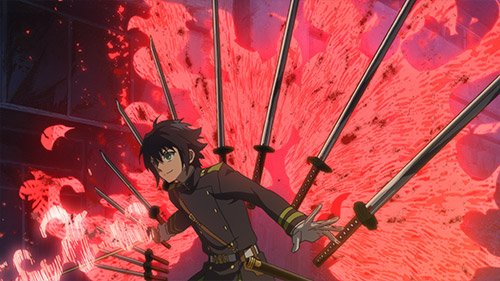 As previously mentioned, animation for the series has been handled byStudio Wit and looks really nice. Action scenes were always detailed and fluid, and even the scenes where the characters just stand around talking look great, thanks to some exceptional work on the backdrops. Wit have gone for a pastel-shaded effect for the backgrounds, so they always look very detailed, which it means any action scenes played out against them looks even better than usual. It creates a nice contrast between the smooth, neatly drawn characters and the messy, less detailed backgrounds. It's a style I really like and would enjoy seeing more of from the studio.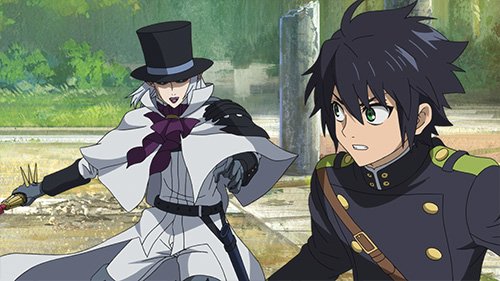 The music for the series has been handled by Hiroyuki Sawano and is fairly impressive. It's full of piano and orchestrated arrangements which really work with the tone of the series, but as mentioned earlier the track that I especially like is the remix of the previous ED for the series. I do have to admit that a lot of the music for Seraph of the End reminded me of the work of Tomoki Miyoshi, who provided the music for the I Am Setsuna game released last year, which is by not a bad thing but means that it didn't seem as unique to me as it should have done. The opening for this set of the anime is "Two souls -towards the truth-" by fripSide and the ending is "Orarion" by Nagi Yanagi. Both tracks are rather forgettable but work within the context of the show (and at least the animation is very nice for both).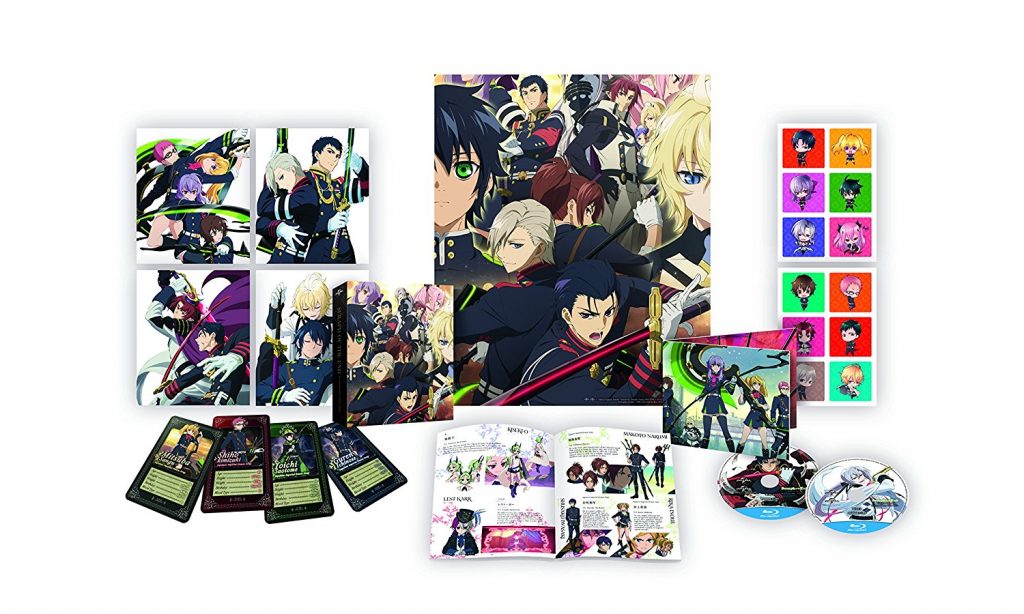 This release comes to the UK thanks to Universal, who have been nice enough to provide AnimeUKNews with a full retail set for our review. Thanks to that I have all of the extras for the release on hand, and what a nice collection it is! Seraph of the End Season One: Part Two is available on both Blu-ray and DVD and the physical extras include four trading cards, a poster depicting the art on the cover of the box, a set of 12 3D stickers (which, it has to be said, are really cute), four artcards, and, if that wasn't enough, a 31 page booklet! The set is well, made with the trading cards and artcards being produced in a thick enough grade that I'm not too worried about them bending. The stickers being 3D is a welcome touch and although (as is usual with stickers) I don't actually want to use them for anything, they're at least more fun to look over than stickers normally are. It's worth pointing out that the booklet contains a gallery of the end cards for each episode, which I like a lot.

Physical extras aside, this set also contains clean opening and ending videos, as well as aSeraph of the Endless bonus episode/special, trailers for the series, and music clips. My only real complaint about the release is that the box is top-loading and I know that many members of the community commented about this with the previous release. It's something Universal are apparently looking into for future anime sets but at least in this case I'm glad it's consistent with the previous release. It's also nice that the spine doesn't make it clear that this is a DVD set as my version of Part 1 is a Blu-ray, so despite being different formats at a glance you wouldn't know any different.

Seraph of the End is a remarkable shounen series. While the season doesn't conclude the whole story because the manga is on-going, it ends in enough of a satisfying manner that it's easy for me to recommend. If you've watched the first half and enjoyed it then you certainly won't be disappointed here – and if you didn't then what are you doing reading this? Go and buy Part 1 right now!