Yuri!!! On Ice wins all the Crunchyroll Anime Awards it was nominated for (so far…)
Ian Wolf
•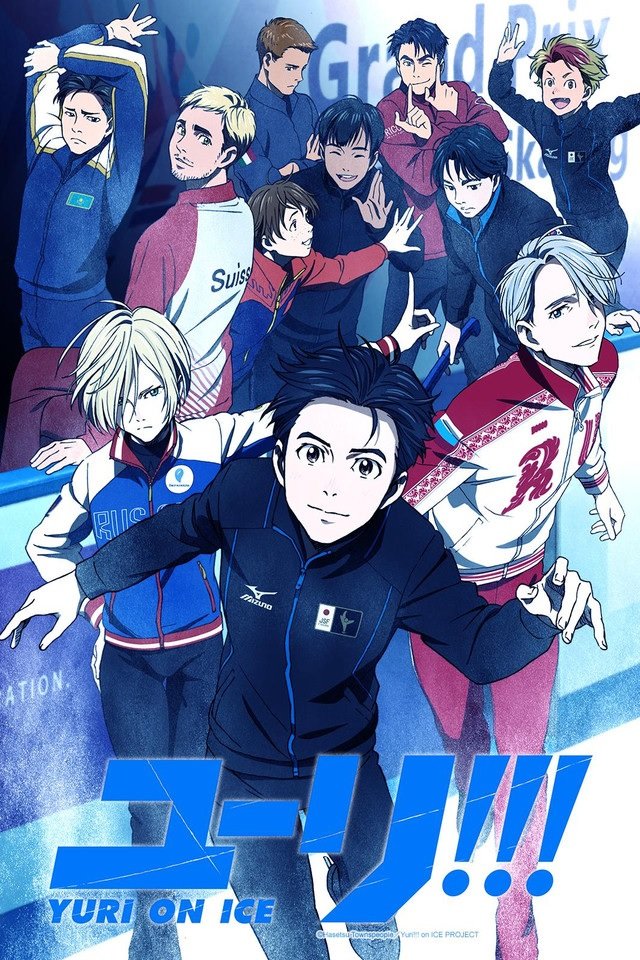 In Crunchyroll's first ever Anime Awards, figure skating series Yuri!!! On Ice is on course to make a clean sweep and win all seven of the categories it was nominated in, winning six with one yet to be revealed.
So far, the series has won "Best Opening", "Best Ending", "Best Animation", "Best Boy" (for central character, Japanese figure skater Yuri Katsuki), "Best Couple" (for Yuri K. and his Russian coach Victor Nikiforov), and "Most Heartwarming Scene".
The series is also up for "Anime of the Year", but this is not yet been announced. The winner will be revealed live at the Crunchyroll Anime Awards party on 28th January. However, Yuri!!! On Ice is almost certainly favourite to win if the other results are anything to go by, with the show winning all but one of its prizes with over 50% of the vote. The one that didn't, "Best Animation", won with 49% of the vote.
Elsewhere, the only other series to win more than one prize are time-travel murder mystery ERASED for "Best Drama" and "Villain of the Year" (not mentioned here to avoid spoilers, scroll down to results to see name) and supernatural comedy Mob Psycho 100 for "Best Action" and "Best Fight Scene".
Meanwhile My Hero Academia won "Hero of the Year" (for Izuku "Deku" Midoriya), RE:Zero took "Best Girl" (for Rem), and Haven't You Heard? I'm Sakamoto! picked up "Best Comedy".
The nominations for the final award, "Anime of the Year" are (in alphabetical order) ERASED, Joker Game, Kabaneri of the Iron Fortress, Mob Psycho 100, My Hero Academia, RE:Zero, Showa Genroku Rakugo Shinju and Yuri!!! On Ice.
Full Results (contains spoilers)
Hero of the Year
Izuku "Deku" Midoriya (My Hero Academia): 32% (38,325 votes)
Satoru Fujinuma (ERASED): 28% (32,869)
Mob (Psycho Mob 100): 24% (29,159)
Mumei (Kabaneri of the Iron Fortress): 7% (8,346)
Other: 9% (10,281)
The number of votes cast: 118,980
Villain of the Year
Gaku Yashiro (ERASED): 33% (35,805)
Yoshikage Kira (JoJo's Bizarre Adventure): 33% (35,390)
Tomura Shigaraki (My Hero Academia): 18% (19,129)
Biba (Kabaneri of the Iron Fortress): 9% (9,775)
Other: 7% (7,794)
The number of votes cast: 107,893
Best Boy
Yuri Katsuki (Yuri!!! On Ice): 58% (83,485)
Arataka Reigen (Mob Psycho 100): 17% (25,043)
Izuku "Deku" Midoriya (My Hero Academia): 16% (22,563)
Yakumo (Showa Genroku Rakugo Shinju): 3% (4,217)
Other: 8,890
The number of votes cast: 123,891
Best Girl
Rem (RE:Zero): 60% (66,441)
Ochako Uraraka (My Hero Academia): 15% (16,282)
Nico Niiyama (Kiznaiver): 10% (11,625)
Mumei (Kabaneri of the Iron Fortress): 8% (8,376)
Other: 8% (8,648)
The number of votes cast: 111,372
Best Fight Scene
Shigeo vs. Koyama from Ep. 8 (Mob Psycho 100): 40% (38,255)
Deku vs. Kacchan from Ep. 7 (My Hero Academia): 25% (23,630)
Mumei vs. Kabane from Ep. 2 (Kabaneri of the Iron Fortress): 18% (16,910)
Altland vs. Moss from Ep. 32 (Mobile Suit Gundam: Iron-Blooded Orphans): 8% (7,475)
Other: 9% (8,844)
The number of votes cast: 95,114
Best Animation
Yuri!!! On Ice: 49% (68,535)
Mob Psycho 100: 28% (39,766)
Kabaneri of the Iron Fortress: 12% (16,764)
Flip Flappers: 6% (8,525)
Other: 4% (6,122)
The number of votes cast: 139,712
Most Heartwarming Scene
The kiss from Ep. 7 (Yuri!!! On Ice): 55% (74,617)
Kayo's first homecooked meal from Ep. 9 (ERASED): 31% (42,092)
Kakeru and Suwa learn to understand each other from Ep. 4 (Orange): 7% (8,987)
Makoto flies over her new home from Ep. 12 (Flying Witch): 4% (5,319)
Other: 3% (4,750)
The number of votes cast: 135,765
Drama of the Year
ERASED: 51% (46,528)
Kiznaiver: 22% (19,597)
Showa Genroku Rakugo Shinju: 17% (15,698)
Joker Game: 5% (4,413)
Other: 5% (4,637)
The number of votes cast: 90,873
Best Couple
Yuri and Victor (Yuri!!! On Ice): 69% (99,194)
Saturo and Kayo (ERASED): 14% (19,377)
Katsuhira and Sonozaki (Kiznaiver): 8% (11,133)
Luluco and Nova (Space Patrol Luluco): 5% (7,347)
Other: 4% (6,082)
The number of votes cast: 143,133
Best Comedy
Haven't You Heard? I'm Sakamoto!: 36% (33,102)
KONOSUBA-God's blessing on this beautiful world!: 33% (30,174)
Keijo!!!!!!!!: 16% (14,692)
Space Patrol Luluco: 9% (8,567)
Other: 6% (5,472)
The number of votes cast: 63,850
Best Action
Mob Psycho 100: 36% (33,460)
My Hero Academia: 25% (23,402)
Drifters: 21% (19,362)
Kabaneri of the Iron Fortress: 13% (11,848)
Other: 6% (5,769)
The number of votes cast: 93,841
Best Opening
Yuri!!! On Ice: 57% (80,882)
Mob Psycho 100: 23% (32,225)
Kabaneri of the Iron Fortress: 7% (9,863)
Showa Genroku Rakugo Shinju: 3% (3,663)
Other: 10% (14,115)
The number of votes cast: 140,748
Best Closing
Yuri!!! On Ice: 56% (71,144)
Mob Psycho 100: 19% (24,754)
Kabaneri of the Iron Fortress: 9% (11,208)
Space Patrol Luluco: 6% (8,048)
Other: 10% (12,221)
The number of votes cast: 127,375
Grand total of votes cast: 1,492,547