Streaming review of Yuri!!! On Ice, Episodes 1-8 (Crunchyroll)
Ian Wolf
•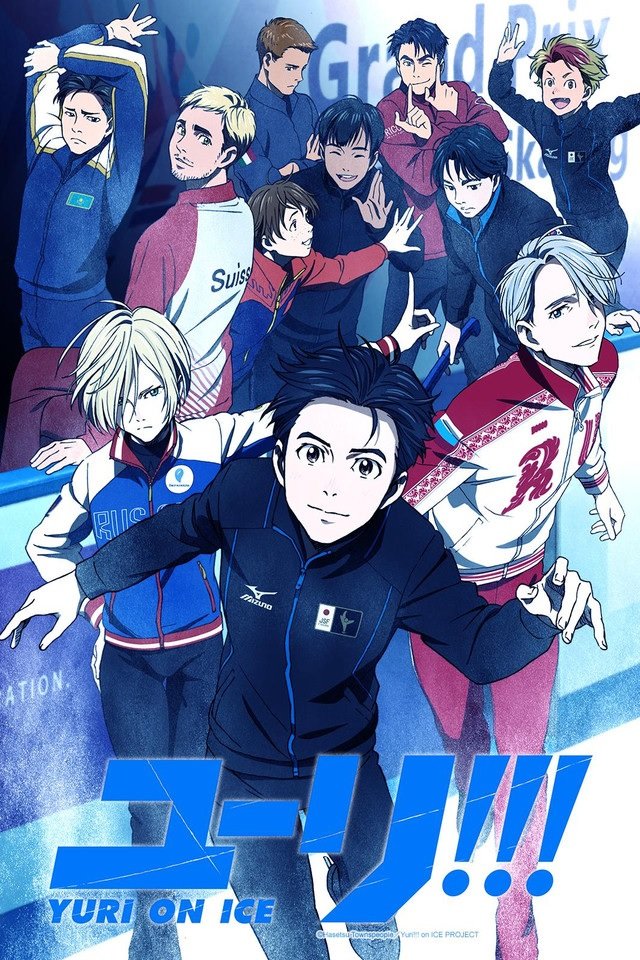 "Galocher – to kiss with tongues."
"La galoche – an ice-skating boot."
– Definitions from Petit Robert, France's most popular dictionary.
It seems that in France ice skating and kissing go hand-in-hand (I know neither of those definitions involves hands, but it feels weird referring to it as "foot-in-mouth" because you keep accidentally thinking of "foot-and-mouth" which is a very different area), so perhaps many a French fujoshi and fudanshi may have been watching in awe last week when they (kind of) got what they finally wanted – a sports anime where the central characters were both gay and in a relationship, as indicated by what has probably become the most talked about scene in anime this year. But to reference another gay icon, Kenny Everett: "I'm giving away the plot! Go and see it – it's all done in the best possible taste!" Let's stick to the chronology before we get to the big moment.
The "Yuri" in the title is a bit confusing. Firstly, it is not "Yuri" as in "lesbian manga", this is guys we are talking about – and it's guys in the plural as there are two Yuris. The first is 23-year-old Japanese figure skater Yuri Katsuki (who for the purposes of this review we shall refer to as Yuri K.), who is pretty talented in his sport but recently has been in a slump. He doesn't cope well under pressure and as a result has slipped down the rankings. The other Yuri is a Russian figure skater named Yuri Plisetsky (later referred to as Yurio), a 15-year-old with natural talent and a punk-like attitude. This is made clear at the end of one tournament when Yurio finds Yuri K. hiding in the gents, upset, and tells Yuri K. to quit the sport.
Yuri K. does unofficially leave figure skating, distancing himself from his coach and returning to his hometown where his family run an onsen. During this time, Yuri K.'s hero, 27-year-old Victor Nikiforov of Russia, wins his fifth consecutive Grand Prix Final. Yuri K. decides to visit his local skating rink, where he performs Victor's winning routine in front of the rink's owners (and his childhood friends) the Nishigori family. His performance is perfect, but there is one problem: the triplet children of the Nishigori family record Yuri K.'s performance, then post it online, and the whole thing goes viral.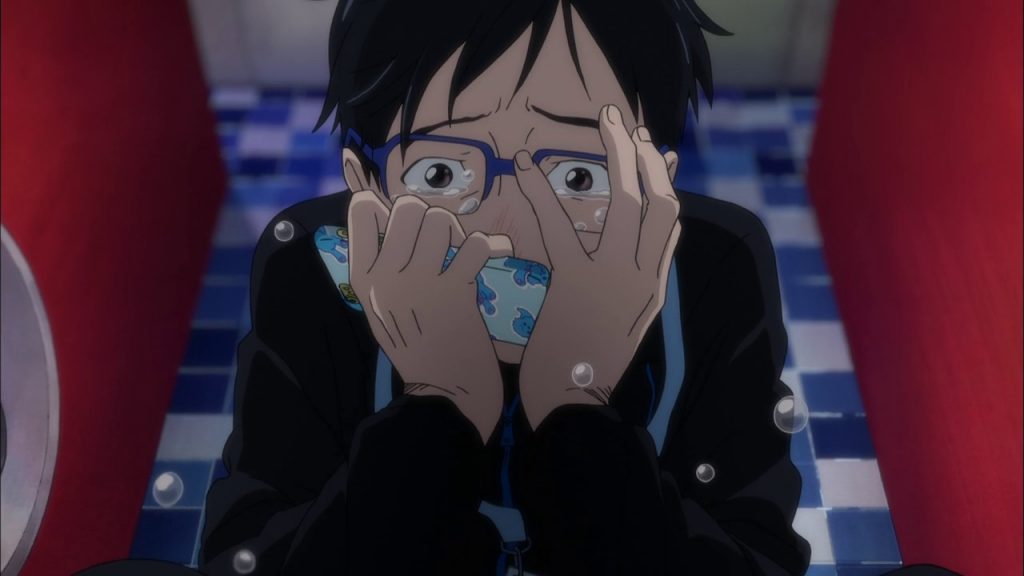 The fallout from this is pretty dramatic. While Yuri K. tries to relax in the family springs, he gets an unexpected visitor – Victor Nikiforov – who saw the clip and was so impressed that he demands to be Yuri K.'s new coach. As a result Victor moves in and makes the shock announcement that he is having an 'off' season. When the press track Victor down, Yurio then arrives on the scene and tries to take Victor back to Russia, because Victor has promised him that he would coach him for his senior debut. To sort out the problem, a contest is held at the rink and whoever does the best out of the two will be coached by Victor. Yuri K. wins with a routine based on the theme of "Eros", and thus Victor does become Yuri K.'s coach, with both Yuris promising that they will win the next Grand Prix.
Thus Yuri K. and Victor begin their competition, facing off against fellow Japanese competitors and challengers from overseas. After qualifying to represent Japan in the Grand Prix, their first assignment is in China where Yuri K. is able to perform under huge pressure. Despite his nerves, he is able to skate wonderfully, to the delight of the crowd and Victor especially, which leads to the big scene referred to earlier, which occurs at the end of the seventh episode. After the end of his routine, Victor and Yuri K. rush to each other, arms open wide, and as a close-up indicates, with their lips very close together. However, just before you see anything, Victor's arm blocks the sight of it, although the reactions of just about everyone watching the event in the stadium and at home seem to indicate that what actually happened was that these two guys kissed – and as if that is not enough, the next assignment will see the duo in Russia taking on Yurio.
Obviously the main talking point of Yuri!!! On Ice has been the kiss scene, but before we talk about this, let's look at the ups and downs of the show so far. Dealing with the negative points to begin with – first, there is annoyingly little explanation of how figure skating works. One of the problems with sports anime is that it often covers sports that many people don't know the rules to, and thus they have to explain what certain things are: this is down in Haikyu!! and more recently All Out!!, but Yuri!!! On Ice (which at least does come top in the list of the sports anime that overuse exclamation marks) don't explain what all the fancy jumps are, which for me has always been one of the major put-offs of any of these sports in real-life. It would be nice if the show explained the scoring system or told you what a "Salchow" is – for anyone wondering, it's a jump where you start off from the back inside edge off one foot.
Another issue comes from the fact that much of the time rather than getting on with the plot, you are seeing all the other competitors doing their routines, which again is a problem given the lack of explanation in some of the terminology. All you can really judge the characters by is their passion as explained in their internal monologue, and whether or not they fall down at any point. As a result, you kind of care less for some of the minor characters because often you don't know what is going on.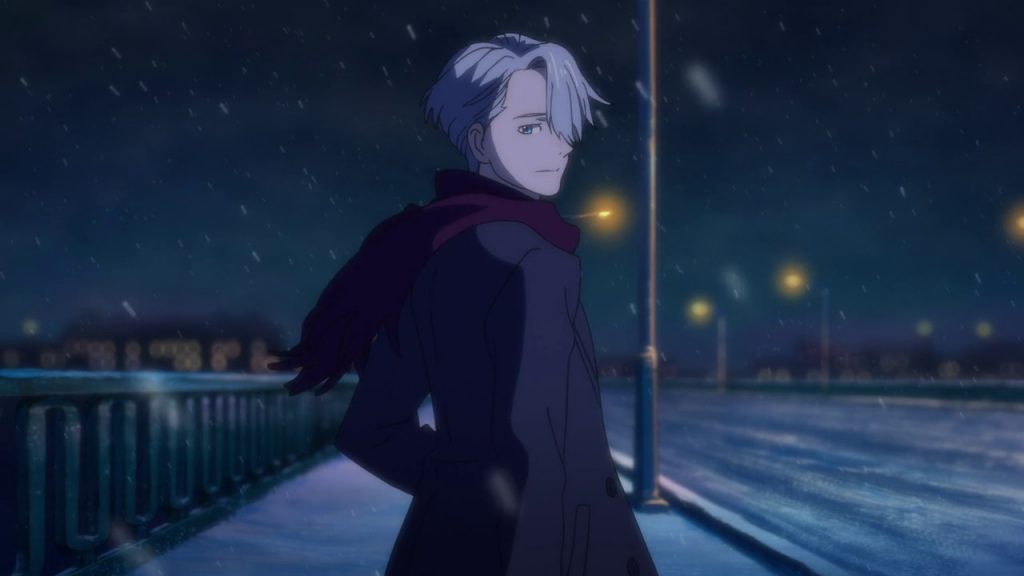 On the plus side, there is the overall quality of the animation, as well as the impressive soundtrack – not just the opening and closing music, namely "History Maker" by Dean Fujioka and "You Only Live Once" by Wataru Hatano – but also the incidental music, such as the tracks the skaters perform too. But for me, the main plus point is the diversity. Anime is often a closed shop when it comes to characters of different ethnic backgrounds, but Yuri!!! On Ice is able to make up for this. Not only is the central relationship between someone from Japan and someone from Russia, but we also have characters from China, Thailand, Switzerland, Canada, Italy, South Korea, Kazakhstan, the Czech Republic, and the main American skater is Hispanic. Perhaps this is not surprising given the director of the series, Sayo Yamamoto, is the same woman behind Michiko and Hatchin, which is set in Latin America.
If you want a more detailed argument, you are probably best reading the posts on the AUKN forums by our reviewer IncendiaryLemon, who dropped the series after six episodes, and editor Rui. I can assure you it is about ten minutes of your life you will never get back (sorry guys).
But now it is time to finally discuss the key moment. The one that has got so many people talking over the past week: the scene at the end of the seventh episode in which all the evidence suggests that Yuri K. and Victor kissed. If you look at some of the social media websites, in particular the more American-dominated ones like Tumblr, you will see post after post explaining how, even though you never actually see the kiss, it definitely happened.
You can see people drawing lines behind Victor's arm showing that if it wasn't there you would have clearly seen the two kissing each other; you can look at the claims that the reactions of everyone watching the moment are a clear indication that nothing other than a kiss would have proved that shocking; you can even examine the claims that the show references actual real-life gay figure skaters: namely footage of a young Victor shows him wearing the same outfit as Johnny Weir, an openly gay American skater who has reportedly faced much prejudice in his career, which I find amazing – in the sense of finding figure skating to be a homophobic sport, when it comes across as one of the glitziest, showy, camp sports around. These are people dressed in sparkly suits, dancing around and in Yuri K.'s case being taught by a ballet teacher. To a figure skating layman like me, if you were to ask me about homosexuality in figure skating, I would have said that I was less surprised that openly gay Weir was facing discrimination and more amazed at the fact that Torvill and Dean were married to each other. The only sport I can think of as being camper is an all-male cheerleading squad (I can't watch Cheer Boys!! without regrettably sniggering).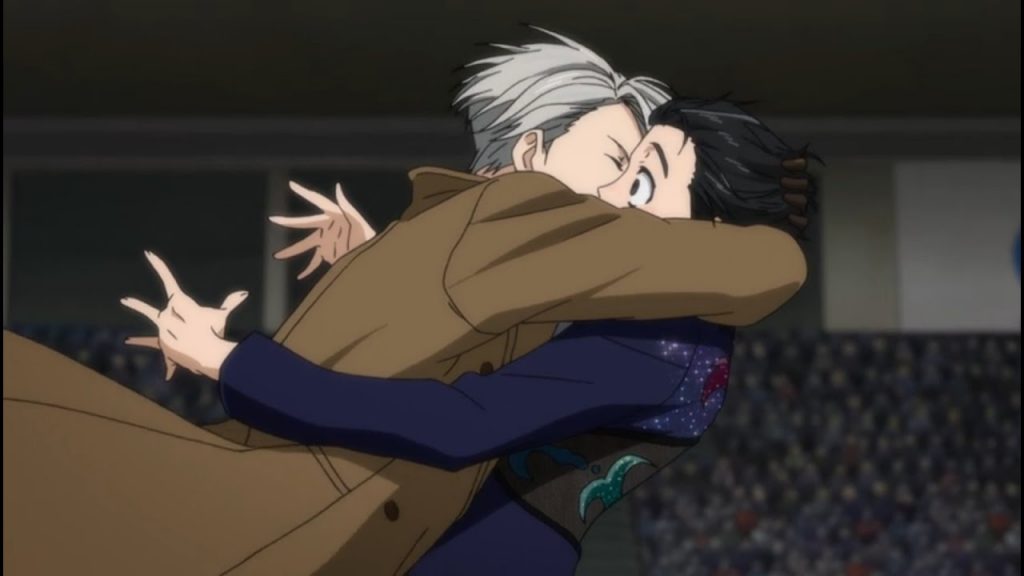 However, despite all this and all the support that this scene has, my reaction has been one of frustration. Part of this is partly due to my own background – I'm pansexual and have been in a long-distance relationship with a genderfluid American for six years, as of 1st December. As someone who is pansexual, a fudanshi, and a fan of all these sports anime that appeal to someone of my personal tastes, I'm frustrated at the fact you don't see the actual kiss yourself, on screen. You go by everyone else's reaction. Because you don't see the kiss, you still have that tiny seed of doubt in your head that the kiss didn't actually happen. I'm 99.999% sure the kiss did occur, but that 0.001% is horribly getting to me. I don't want to go by what everyone else sees – I want to see what is actually going on, and share in the reaction of the characters at the same time as them.
One of the problems is the pressure to accept that the kiss just happened. Thanks to Twitter, Facebook, Tumblr and the other social media outlets, you sometimes get the feeling that if you say that the kiss didn't happen the immediate reaction is fans will accuse you of homophobia, or will say that you wouldn't feel like that if it was a straight kiss or perhaps a lesbian kiss. One article I've read concerning Yuri!!! On Ice was on Anime Feminist where Amelia Cook writes:
"Since the episode aired I have seen raw, vulnerable reactions from LGBTQ+ fans openly stating how deeply it affected them to see queer subtext made text, how they hoped it would be seen by young people who aren't yet old enough to feel comfortable with their identities, how much seeing such a moment would have meant to them at that age. Why on earth would anyone in our fandom actively seek to reduce such an impact?"
Well, maybe it is because of my age (I'm 30), or maybe it is because I'm British and our country has had a troubled history concerning gay rights – yes, we now have gay marriage, but it wasn't until the 1960s that homosexuality was legalised; it wasn't until 2003 when Section 28 which banned teaching anything positive about homosexuality in schools was finally lifted; in Northern Ireland there is a big row over a Christian bakery refusing to bake a pro-marriage cake for a gay couple, bringing up debates on gay rights and freedom of speech on both sides – but I don't think we have reached that far yet. Yes, it has made a great impact, but the impact is still a little short for me. Mind you, in terms of gay rights we Brits are still further ahead than the home countries of the main characters. Japan only recognises same-sex partnerships in some areas and with no legal standing, while Russia's negative attitude towards gay rights is pretty well known. Cook also writes:
"Victor's arm obscuring where his lips meet Yuri's cannot possibly be an artistic decision; either we see them kiss or there was no kiss. Disagree? Prove it. Never mind that obscuring a kiss is completely consistent with the show's storytelling style so far, leaving deliberate information gaps and inviting viewers to read between the lines. Pics or it didn't happen."
I'm sorry, but I genuinely don't think we've reached that point yet where simply implying that a gay kiss happened means the characters are certainly gay. That is a future step, the one beyond, that the next wave of anime might take us. But what Yuri!!! On Ice can do is take the next immediate step and actually show an on-screen kiss, uncensored, beyond all doubt, showing that these characters are definitely a gay couple. Now it should be highlighted that the eighth episode also features kisses, but one is of Yuri K. blowing a kiss to the judges, which, while not that romantic is certainly fun; and the other is another blocked-off kiss in which Victor kisses Yuri K.'s skating boot, which is not as exciting as flesh-on-flesh contact and thus not really any further indication of anything romantic – unless it turns out that Victor has some form of foot fetish.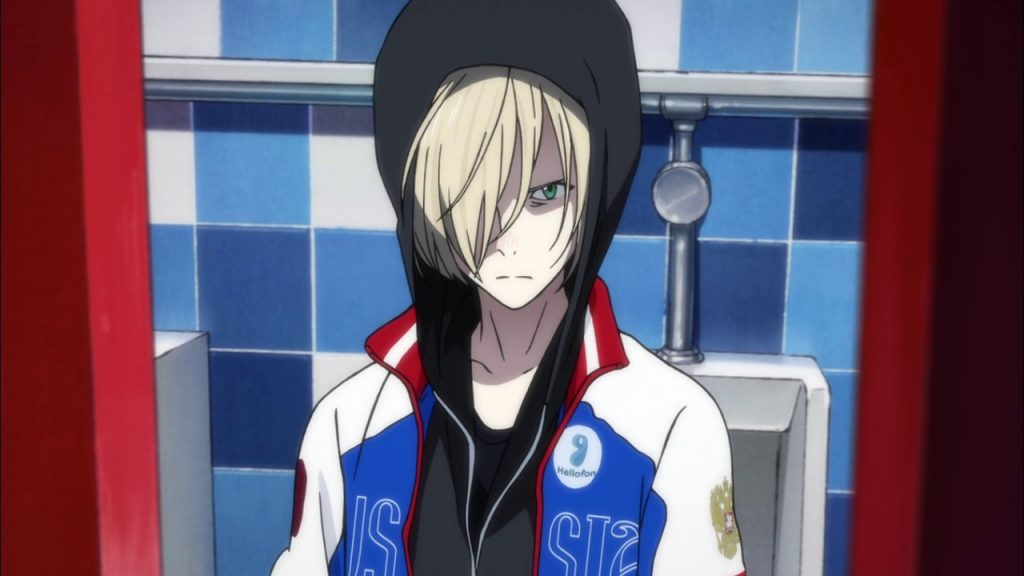 I wish to say that I bear no animosity towards anyone, in particular to Cook whose article makes many great points and I would urge people to read at their leisure. What I am trying to say is this: it is good that we seem to have a canon gay relationship in a relatively mainstream sports anime series and that these characters appear to kiss. It would be great if we could actually see those lips meet, for the characters to declare their love and their relationship openly, to rid my and indeed anyone's mind of that 0.001% of doubt.
Let me put it this way: in a year that, let's be honest, has been pretty shit for just about every decent human being concerned, one of the ways that I would definitely be cheered up would be to see Yuri K. and Victor do a kiss on screen. It doesn't have to be a big kiss. It's doesn't have to be a galoche, it can be a simple peck. But I do want it to be one where I and everyone else in the 3D world can clearly see happening.
For me, personally, I would be ecstatic if I saw it. It would be for me, personally, not just the anime event, but the TV event of the year, because after years of being a fan of all these sports anime like Free!, Haikyu!!, Kuroko's Basketball, DAYS, All Out!!, Cheer Boys!!, Yowamushi Pedal, Prince of Stride and so on, it would be great not to have to simply imply the characters are gay, but say that they definitely are, and that they love each other, no matter what hardships they may face.