Toshiaki Toyoda's Blue Spring Gets World's First Blu-ray Release
Third Window Films release the live-action film adaptation of Taiyo Matsumoto's manga "Blue Spring" today, May 13th. This 2001 film was directed by Toshiaki Toyoda and Third Window Films bills it as "one of the best examples of early 2000s Japanese cinema" as it tells the story about the hopeless lives of students at an anarchic high school.
This character-driven piece tells the story of an apathetic student named Kujo (Ryuhei Matsuda), soon to be the winner of a dangerous contest called the Clapping Game. Rules are simple, students hang on to the wrong side of the school's rooftop railings and clap. The one who can clap the most times without chickening out or plunging to earth becomes the leader of all gangs in the school. Teachers cannot stand up to the gangs who use force to keep order. It seems like the perfect playground for future yakuza who use the place as a recruitment centre but as graduation approaches Kujo turns away from any yakuza lifestyle much to his best-friend Aoki's disgust which leads to a series of violent conflicts.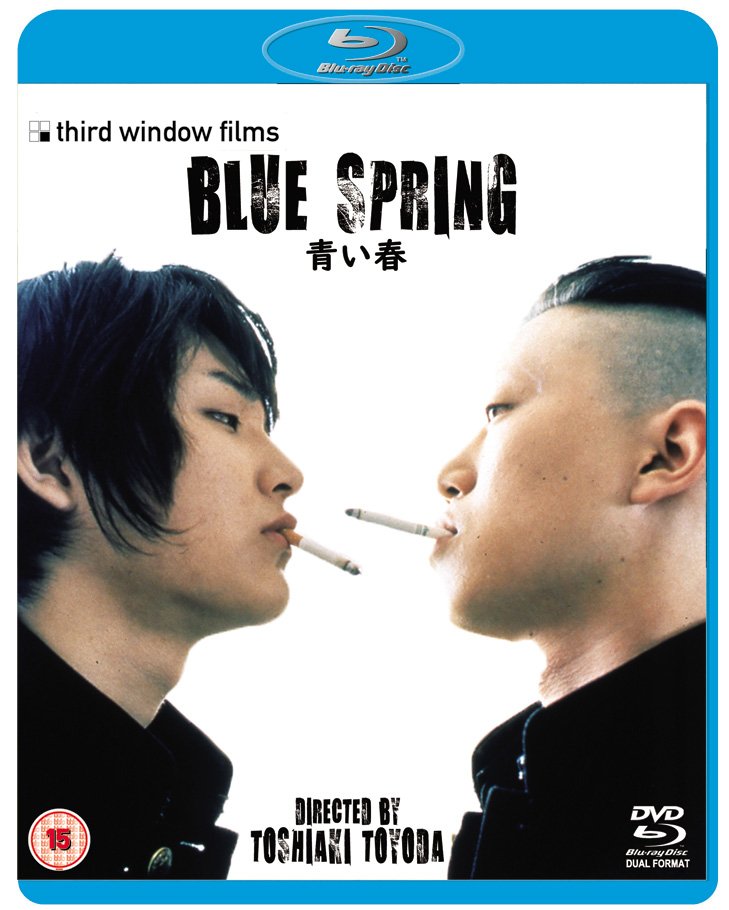 Japan / 2002 / 82 Mins / In Japanese with English subtitles / Colour
ALL REGION DUAL-FORMAT BLU-RAY & DVD
Collectable slipcase
New audio commentary by director Toshiaki Toyoda
Making Of from the film's original release
RRP: £19.99
This is the first Blu-ray release for the film and it features plenty of extras. A percentage of profits from this release, as well as any purchase of Third Window Films' other Toyoda release, a box set of his early works, will go towards helping the director with legal fees after he was recently arrested and locked in a police cell for 10 days without charge.