Award-Winning Animator Takeshi Yashiro and Producer Satoshi Akutsu Tour the UK (London, Cardiff, Bristol)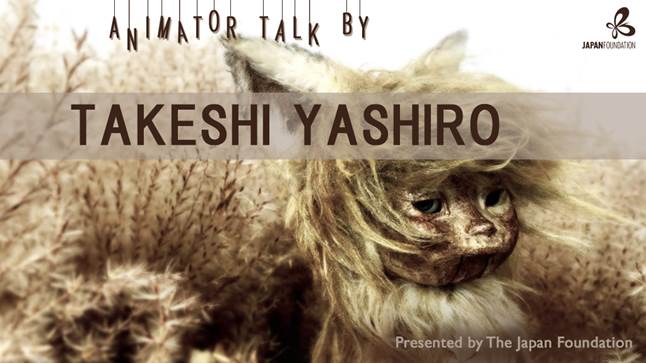 The Japan Foundation in London, Cardiff's Kotatsu Japanese Animation Festival and the Encounters Short Film & Animation Festival in Bristol have teamed up to host award-winning stop-motion animator Takeshi Yashiro and his producer Satoshi Akutsu on a tour of the UK as they take part in talks and a stop-motion animation workshop.
Takeshi Yashiro, a graduate from Tokyo University of the Arts, has made a collection of films that have toured festivals around the world and won awards. Titles include Dear November Boy (2012) and Firewood, Kanta & Grandpa (2013). He will go talk about those films plus his latest, Gon, The Little Fox (2019) as he shows his work and explains his filmmaking process and why he chooses to work in stop-motion with physical sets, how he directs and writes, and how he creates the props and puppets for his films. His producer Satoshi Akutsu will also go into detail about his extensive experience in the role of producer for a variety of projects. Akutsu has worked with Japanese broadcaster NHK, animation production house Madhouse, and DVD distributor Geneon Universal. This is a rare chance for people to hear about how two integral parts of a production work together.
While on tour, they will also screen their latest work Gon, The Little Fox, an adaptation of the classic 1932 children's story about the fateful encounter between a farmer and a mischievous fox, told in delicate detail through beautifully crafted stop motion dolls and intricately designed sets.
This is a heartbreaking story. But it will also leave you feeling serene. It's set in a time and place where humans and beasts used to live close to one another. The stop-motion animation brings the rustic landscape of the Japanese countryside back to life. So sit back and enjoy.
As well as taking part in a masterclass in Cardiff moderated by the animator Robin Lyons, they will host a stop-motion animation workshop which is open to people from the age 8 and up at the cost of £27 (for booking please contact the festival info@kotatsufestival.com). Attendees will have the chance to animate their own scene with professional puppets which Takeshi uses in his works. This takes place on October 06th.
Here are the events and dates:
Encounters Film Festival (September 28th, 10:00 at the Watershed Cinema in Bristol)
Kotatsu Japanese Animation Festival (October 05th and 06th at the Chapter Arts Centre in Cardiff)
Japan Foundation in London (October 07th, 18:30 at the Courthouse Hotel Cinema in London)