Fruits Basket Season 1 Part 1 Review

Sarah
•
Once, god invited all the animals of the Zodiac to a banquet – but the Rat, resenting the Cat's presence, mischievously told the Cat the wrong day – and so the Cat missed out and has been excluded from the Twelve ever since.
Tohru Honda. 16, has recently lost her mother. Undeterred by being cast adrift by her dead father's family, she's currently living in a tent and working after school to pay her tuition fees. Drawn to a mysterious nearby house, she makes the acquaintance of its owner, easy-going novelist Shigure Soma – and his younger cousin Yuki Soma who just happens to be in the same class at high school. Tohru joins Shigure's bachelor household, receiving board and lodging in return for doing the cooking and housekeeping. But the Soma family harbours a secret – or is it a curse? It's not long before the kind-hearted (yet somewhat ditsy) Tohru accidentally discovers that Shigure, Yuki and the red-haired, fierce-tempered Kyo are possessed by the spirits of the animals of the Chinese Zodiac: the Dog, Rat and Cat respectively. Whenever someone of the opposite sex hugs them, they transform into their Zodiac beast – and when they transform back, they are naked.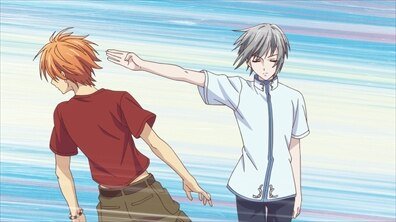 Tohru's restful presence in the household begins to make a difference. Yuki, the cool and distant 'prince' of the school, finds that he can relax in her presence – whereas his self-sworn enemy, fiery-tempered Kyo, begins to calm down… just a little.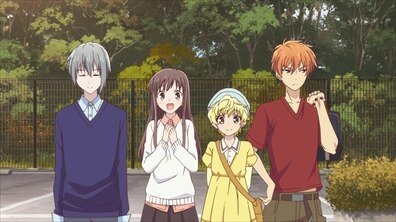 The irresistible hook in Fruits Basket (as in the manga) is the viewer's desire – like Tohru –  to find out who the twelve Zodiac Soma family members are in person. Once Tohru has met the Dog, the Rat and the Cat, we're as eager as she is to meet all the others. But when we learn that this knowledge is a secret that must be protected at all costs – and that others have had their memories erased by order of Akito, the shadowy  head of the household – we also begin to fear for Tohru.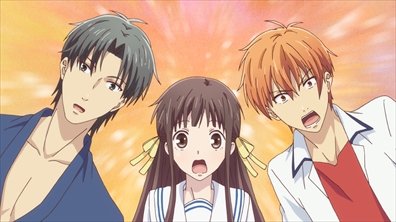 So what is the appeal of Fruits Basket for a new generation of anime viewers? Will us oldies who loved the first version be won over? Can a show with an unassuming, kind-natured  girl at its core still speak to viewers used to much more proactive heroines (who are less inclined to do the shopping, cleaning and cooking for a bunch of boys)? We can already see that Tohru is far from being a pushover; she has a deep inner strength that's been nurtured in her by her mother. She's been bullied as a little child, her father died when she was young, and yet she's resilient and empathetic. Her best friends at school are 'different' too: Gothically garbed Saya Hanajima, with her psychic  'waves' and ex-delinquent Arisa Uotani – on the surface they seem an unlikely trio but they're very supportive of one another and behave with far greater maturity than some of their female classmates, especially Prince Yuki's officious fan club. And then there's the Soma family – and the fascinating fact that, each one, in some way or another, is influenced by the Zodiac creature they're possessed by. Not to mention the fact that they're very attractive to other creatures of their kind, as when Kyo eventually is enrolled at Tohru's high school, local cats are drawn to him. Literally – and to everyone else's baffled amusement.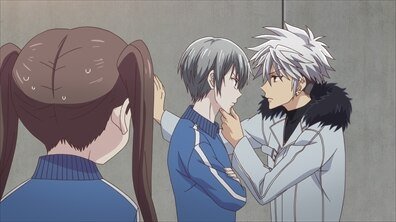 The first Ending Song has the refrain, 'Everything changes, everybody changes' which is a wonderful  match for one of Fruits Basket's main underlying themes: everyone can change – for the better. That change is already happening in Shigure's household as more members of the Soma clan begin to show up, curious to meet Tohru.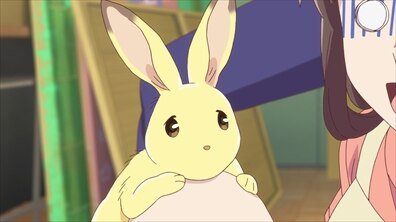 When the first anime TV series of Fruits Basket first aired in c. 2001-3, the shojo manga by Natsuki Takaya was very much ongoing. This time around, with the mangaka's blessing, the studio and scriptwriters have the luxury of two 25-episode seasons to dramatize all 23 volumes of the completed manga. And this all-new '2019' version has been made by TMS Entertainment with Natsuki Takaya very much on board. Like many fans, I adored the first anime version – but I was very curious to see how, twelve years since the manga came to an end, a new team would dramatize this well-loved title.
So why watch Fruits Basket? It's a slow burn in this version, but that's not a criticism. A slice-of-life series about the difficulties of growing up needs room to breathe and develop its characters. In these first thirteen episodes, that's exactly what we get – with, of course, superior animation and more detailed character designs (loosely based on the originals with the mangaka's blessing). The team have also retained many of the mangaka's charmingly humorous chibi moments (check out Tohru and Yuki's reaction to a certain snake in Episode 13). It's impossible not to root for Tohru; the little girl who wept for the Cat in the Zodiac legend and was once called the rice ball (the odd one out) in a class game of 'fruits basket' has developed a quiet strength of character that impresses, even as we also fear for what the future will bring…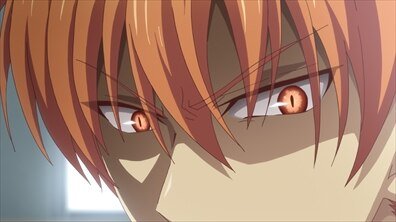 In a character-driven series like this, the voice actors are of supreme importance. The Japanese recast the roles but the US FUNimation dub actors are almost all reprising their roles from 2003, and the stand-out here is Laura Bailey as Tohru. She gives a sympathetic, nuanced performance that almost beats her original rendition of the role – and is far preferable to Manaka Iwami's interpretation (Maquia in Maquia – When the Promised Flower Blooms) which, although young and fresh-sounding, lacks the emotional range of her US counterpart. Overall, I was pleasantly surprised by the returning US cast – newcomers include Colleen Clinkenbeard as Akito Soma. Aside from Tohru's VA, though, I can recommend the younger Japanese cast, especially Nobunaga Shimazaki as Yuki Soma (Haruka Nanase in Free!) and Yuuma Uchida as Kyo Soma (Ash Lynx in Banana Fish) for capturing both young men's vulnerabilities as well as their deep-seated animosity toward each other.
The music for the first TV series of Fruits Basket by Jun Abe and Seihi Muto was very distinctive and the songs by the late Ritsuko Okazaki soon ear-wormed their way into viewers' hearts and minds. However, Masaru Yokoyama (Arakawa Under the Bridge, Fate/Apocrypha) has produced a fitting score that rarely intrudes but underlines and heightens the drama. The Opening is "Again" by Beverly (Eps 2-13) and the Ending  is "Lucky Ending" by Vickeblanka (Eps 1-13) with two Insert songs "Mogeta no Uta" by Etsuko Kozakura (Ep 3), Mogeta being the anime character (within the anime)  invented by the mangaka and "Umareru Negai" by Uta Aly (Eps 5,8). The new OP and ED capture the wistful mood of the series and its heroine very well and are paired with attractive animations.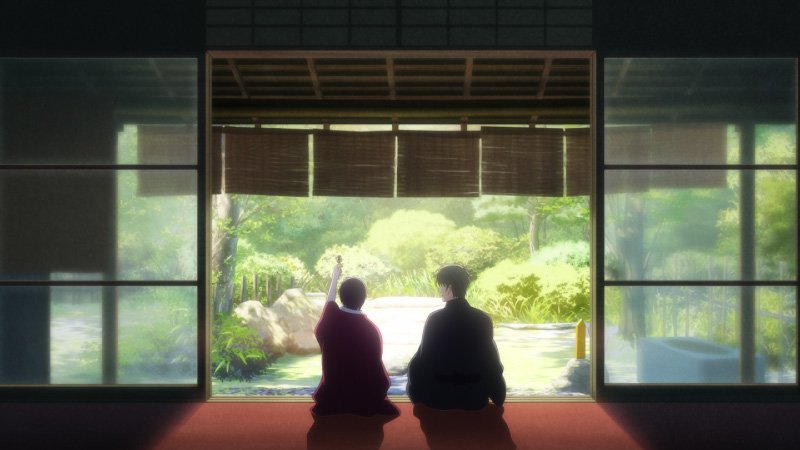 Darker clouds are gathering by the end of the thirteenth episode but they're just a distant haze on the horizon, although an unexpected encounter with a visitor at school does not bode well for Tohru and the others in Shigure's house.
On a personal note, I'm really pleased that Manga UK have brought out this series on Bluray/DVD so swiftly (it began airing in the spring); it's a real treat not to have to wait years in the UK for a series to be made available on R2. The Blu-rays navigate very smoothly and have cute icons representing the Zodiac animals. The Collector's Limited Dual Format Edition (not seen) includes three paperweights (based on the set Tohru spots at Shigure's house on her first encounter with the Soma family), a paperweight stand and three art cards.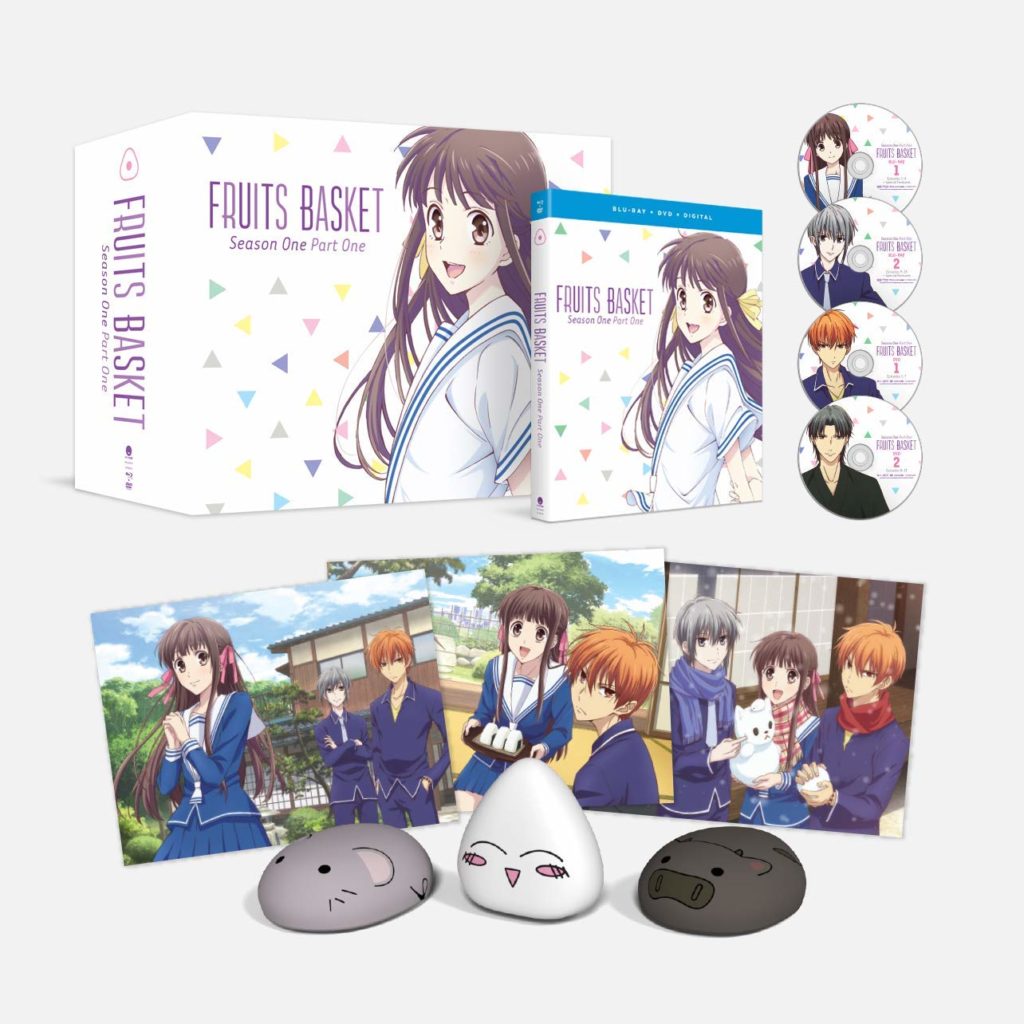 Extras comprise: Commentaries for Episodes 4 and 7 from some of the US voice actors; Fruits Basket Tell All Inside the Episode for Episodes 1,4,7,10 and 13 with input from the US voice cast and Funimation ADR Director Caitlyn Glass plus Textless Opening and Ending Songs.
If you've never watched Fruits Basket before and are wondering whether to give this a try, then go for it! The blend of humour, fantasy and genuine slice-of-life 'feels' is addictive and you'll find yourself impatiently waiting for Part 2 (February 2020). If you already love Fruits Basket, you'll be eager to add this to your manga volumes and the 2003 TV series. It's a story strong enough to support many retellings – especially one as attractively animated as this.