Given Volume 1 Review

Sarah
•
"You think you've got nothing to say?! I invited you to join us because your song went straight to my heart!" Uemoyama – furious – to Mafuyu.
Given begins with a nightmare. An unknown boy gazes upward at a horror that is only implied, not portrayed in detail – and then we share his thoughts. Over and over again. I keep having this same dream… But the true meaning and real-life origins of this dream of death and the terrible weight of its impact are not revealed until much later on.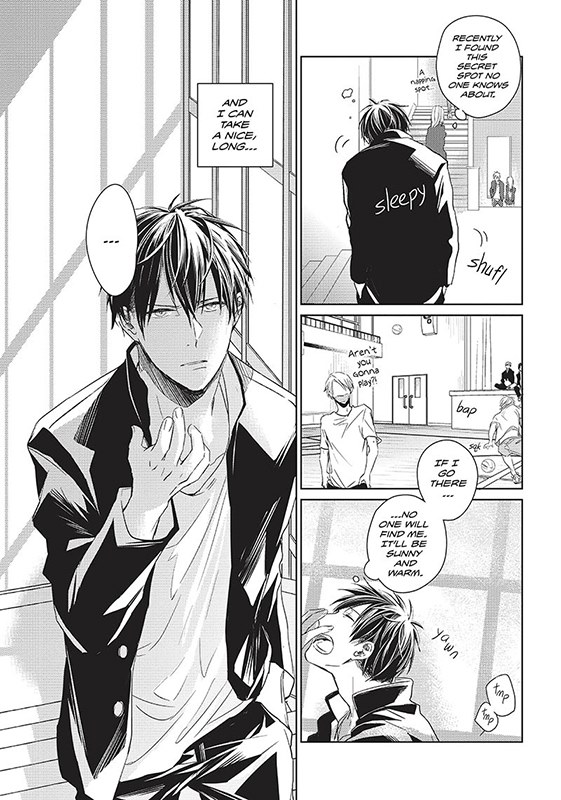 The narrative shifts to the noisy high school of First Year Ritsuka Uenoyama who, like many boys his age, is short on sleep and off for a lunchtime nap in his favourite secluded stairwell. To his annoyance, another boy has beaten him to it – but as the stranger shuffles aside to make room for him, Uenoyama sees that he's clutching a Gibson guitar with broken strings. Uenoyama, a gifted guitarist who plays in a band outside school, can't bear to see an instrument in need of repair and restrings it – to the wide-eyed wonder of its owner, Mafuyu Sato. Mafuyu then begs Uenoyama to teach him to play – but Uenoyama, irked, refuses. He's going through a slump in his own music-making and protests that he doesn't know how to teach anyone. So how come, a few days later, he finds himself introducing Mafuyu to the other, older members of the Seasons, the group he plays with: Akihiko Kaji (drums) and Haruki Nakayama (bass guitar)? The real coup de foudre, however, for Uenoyama comes when, back in the stairwell, he hears Mafuyu sing. Mafuyu may not be good at expressing himself in words but his voice is unique and Uenoyama is inspired, shaken out of his slump, driven to make a song. And so the group becomes four, not three – and they begin to work together for their first performance together. It's only then that Uenoyama hears a disturbing rumour from a classmate about Mafuyu…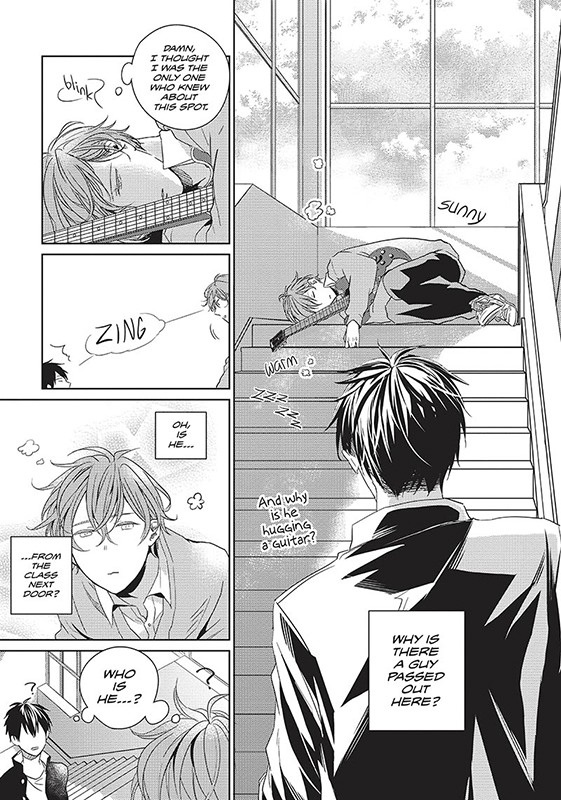 Natsuki Kizu's BL manga Given (five volumes, ongoing) arrives a little belatedly in the West (but is no less welcome for that) after Crunchyroll streamed the TV anime series in summer 2019. As I mentioned in my review of the anime, the series is very faithful to the manga – and a film about Akihiko and Haruki, the two older members of the group is due out in May 2020 from new studio Blue Lynx. So why read the manga? Natsuki Kizu is a skilled storyteller and is particularly good at portraying subtle character interactions through facial expressions. (She also has a nice way of expressing characters' thoughts and feelings with some amusing and telling images, especially Uenoyama's panic as he realizes that he is way out of his depth every time he's around Mafuyu). And faithful as the anime character designs are to her originals, they inevitably lose much of that subtlety and detail, so it's good to discover it here. Even though it's just the first volume, the mangaka has a deft way of introducing the protagonists; we feel we know them already, from Haruki, outwardly the benign, calm older brother figure, to scary-looking drummer Kaji, with his motor bike and his piercings, not leaving out Uenoyama, who spends much of the first chapters in a foul mood as he struggles to understand the feelings that Mafuyu's singing have awakened within him. And making a manga about musicians is challenging as the mangaka has to convince the readers that the music created by the protagonists sounds this way or that – from images and dialogue alone. As Natsuki Kizu is a skilled artist, she's able to convey the visceral thrill felt by the boys in the band when they play together – and she does a good job of drawing the drum kit, the amps, the speakers, all the electrical paraphernalia that's needed in performance (the artwork on the covers conveys just the 'right' vibe).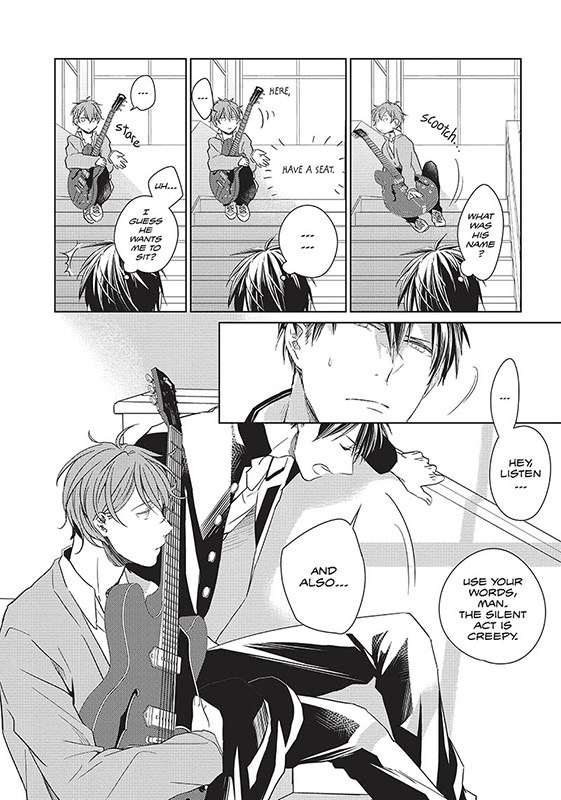 Given is published by SuBLime, so yes, it's Boys' Love, but its main themes are about love and loss, and what it means to be in a relationship, enhanced by the powerful metaphor of communication through music and playing together. It's as much about discovering your own creativity as discovering your soul-mate. The translation by Junko Goda captures the idle banter between high schoolers (and university students) convincingly, as well as Mafuyu's difficulties in expressing himself. The story benefits from the mangaka's subtle touches of dry humour (Uenoyama often 'sees' Mafuyu as a wide-eyed puppy) and the inclusion of her 4-koma pages at the end is a real bonus. This is one of the few manga that proves Boys' Love can tell a compelling story that will appeal to readers outside the usual target audience, creating memorable characters and illustrating them with accomplished  and striking images.
Given Ⓒ 2014 Natsuki Kizu/Shinshokan