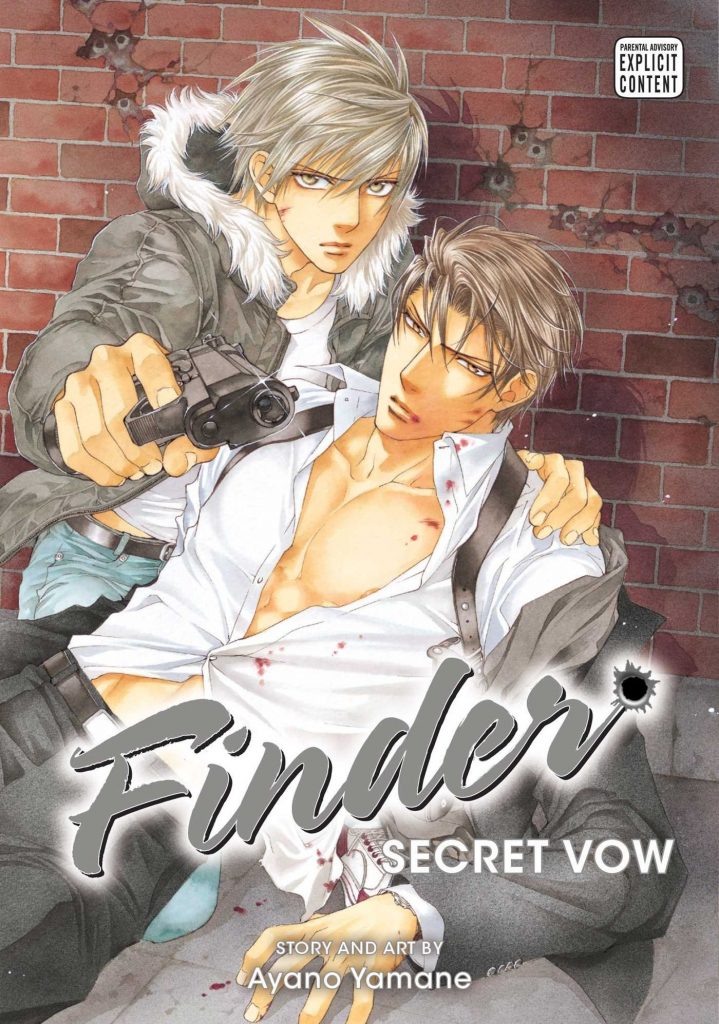 Copyright: Finder no Mitsuyaku © 2016 Ayano Yamane

WARNING: This article covers an adult title and may cause offense. May also contain spoilers from earlier volumes.
"A photograph is neither taken nor seized by force. It offers itself up. It is the photo that takes you. One must not take photos." – Henri Cartier-Renoir
There will some people who will be annoyed by the latest volume of Finder, but not strictly because of the contents inside the book.
Among those who will be annoyed are Digital Manga Publishing, who in 2015 went to all the effort to re-release the entire series via crowdfunding, which they did successfully, bringing out all seven volumes that had been previously been released in English, and then they ended up losing the entire licence to Viz Media who have now published the latest volume under their SuBLime label. This in turn leads to another annoyed group: people who will be frustrated that the new cover sticks to SuBLime's house style, and thus doesn't fit in with the rest of the books released by DMP under their June label. You also other changes, like changes of staff. However, new translator Adrienne Beck seems to have taken over the reins from Sai Higashi perfectly well. However, we can only really judge when we get access to the volumes DMP have already published as opposed to a brand new book.
However, these issues are merely cosmetic. Once you get into the book itself you see that SuBLime have taken the effort to try and produce a good product, as the eighth volume of Ayano Yamane's yaoi crime series features bonus side stories and a colour poster. On the down side, in the review copy I was given one of the pages is nearly cut off a bit too much (e.g. part of the "u" in "you" is missed of the page). It doesn't affect the story really and again it is a cosmetic issue, but it is a sign that when it comes to printing the book you do need some care.
The eighth volume of Finder again continues to follow the relationship between freelance journalistic photographer Akihito Takaba and crime boss Ryuichi Asami. This time, Takaba goes undercover in a club run by one of Asami's subordinates, Shu Sudo, in order to find a woman who has gone missing. Takaba finds the woman, but learns that she grew up with Sudo and she drugs Takaba.
When Takaba wakes up, he is bound up and attached to crane in a remote warehouse. Sudo has kidnapped him, because he is fed up of Takaba being so close to Asami all of the time, and so plans to kill him using a knife to cut his throat, but not before having his own wicked way with him in the process. It is not long however before the cops show up to arrest Sudo, while Asami is lurking in the darkness protecting Takaba. Takaba and Asami return to their apartment and… well you can guess what they do… but when Takaba wakes up from a nightmare concerning the events that have just happened he finds that there is a blackout in the apartment. Then suddenly a bunch of armed men burst in to try and take both Asami and Takaba down.
Now, clearly this series is not for everyone. There will be people who will find some of the sex scenes objectionable because they are non-consenting and thus are arguably rape scenes. Not only that, but Sudo is also using a knife to threaten to kill Takaba, and thus there is blood in the scene too. However, there are plenty of other sex scenes in the volume that are less of an issue, between Asami and Takaba themselves. Even after writing a series which this year turns 15 (it has taken two-and-a-half years for this volume to be published following the last one), Yamane is still capable of writing some good stuff.
Aside from the erotic side of things, there is still plenty of actual action in this crime-driven story. When the apartment is invaded, Asami gets his gun out to deal with the attacks while Takaba arms himself with a frying pan. There is still plenty in the story to thrill you.
While there will be debate about whether DMP should have lost the license or not, we should be glad that the story is still accessible in English and that the tale itself has not lost anything that makes it enjoyable. But if you are still annoyed by the fact the cover style differs from the rest, then don't worry, because SuBLime are going to re-release the earlier volumes too, with some extras of their own, with the first volume scheduled for July.