Moribito: Guardian of the Spirit Complete Collection Review

Sarah
•
Episodes 1-26 (This review is an updated version of my reviews for Anime UK News of the original DVD release in 2010.)
An imperial ox-cart is crossing a bridge when the ox begins to buck and shy; the cart crashes and its passenger, a young boy, is tossed into the fast-flowing river below. A young woman sees the accident and leaps in to rescue the child. However, this courageous act will bring nothing but trouble to Balsa, the boy's rescuer. Summoned in secret to the palace by the boy's mother, Balsa learns that this was no accident but an assassination attempt, ordered by the boy's father, the all-powerful Mikado. Chagum, the second prince, has been possessed by a water demon and must be killed before a terrible tragedy afflicts the land. But Chagum's mother begs Balsa to spirit her son away and to protect his life at all costs. Balsa (who works as a professional bodyguard) reluctantly agrees – and then her problems really begin. For the Mikado, advised by his Stargazers, is determined to prevent the terrible drought that will ensue if the water demon is allowed to survive. Balsa and Chagum flee – and although the canny bodyguard has many ingenious ways to trick their pursuers, not to mention sympathetic friends, the Mikado's forces are unstoppable.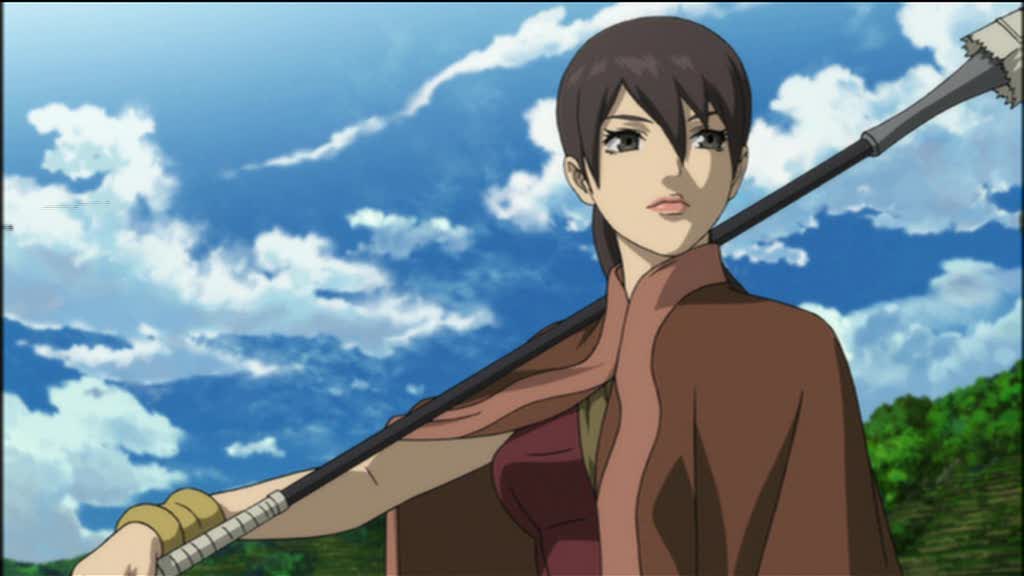 Moribito: Guardian of the Spirit (Seirei no Moribito) takes place in Yogo, an eastern land not unlike early medieval Japan. Seasoned with elements of Chinese and Mongolian folklore, the series is based on the novels by Naoko Uehashi. It's breathtakingly beautiful to look at, whether portraying the wintry Aogiri Mountains, the Mikado's palace, or the village paddy fields. The character designs by Gato Aso are strikingly distinctive too.  Mention must also be made of the excellent score by Kenji Kawai (Maquia, Mob Psycho 100) which rarely becomes over-intrusive yet enhances the action in just the right places. The director and script writer, Kenji Kamiyama, has assembled an impressive team for Moribito – but then one would hardly expect less from the director of Ghost in the Shell – Stand Alone Complex.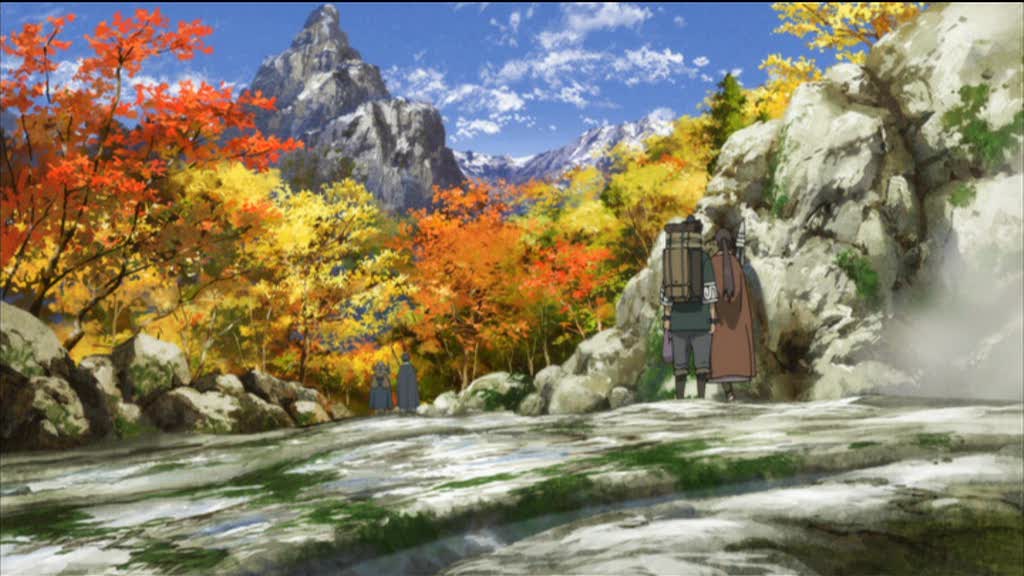 Balsa makes a likeable, believable heroine (well, almost believable as a champion spear-wielder, if you overlook her two main assets, but this is anime-land, after all.)  Quietly courageous and resourceful, yet a demonic spear-fighter when challenged, she wears her thirty years lightly. Little by little, we learn more about her early life, and to understand exactly why she agrees to take on the burden of protecting the second prince's life. Her young charge, Chagum, comes across as a serious-minded and thoughtful boy, who – although he's been brought up in the rarefied air of the palace – is not at all spoiled or wilful. Plenty of colourful characters become involved in Chagum's plight: Tanda, the herbalist, who gives them shelter when Balsa is badly wounded defending her young charge, and his teacher, old Madam Toregai, the shamaness who tells Chagum that he is carrying the 'egg' of a water demon within him. At the palace, we glimpse the workings of the mysterious and powerful Stargazers, who advise the Mikado, including Shuga, who was tutor to Chagum and now, deprived of his role, is determined not to lose his position.
After nail-biting chases and brilliantly orchestrated fights, the pace slows somewhat, as Chagum begins a new life as an ordinary boy amongst the common people. There are no dastardly villains here, either; even the Mikado is shown to grieve deeply for the son he believes he has been forced to sacrifice to save his land. And his secret guard, who track Balsa and Chagum so ruthlessly, are depicted as men of honour, warriors who respect Balsa's skills as a fighter.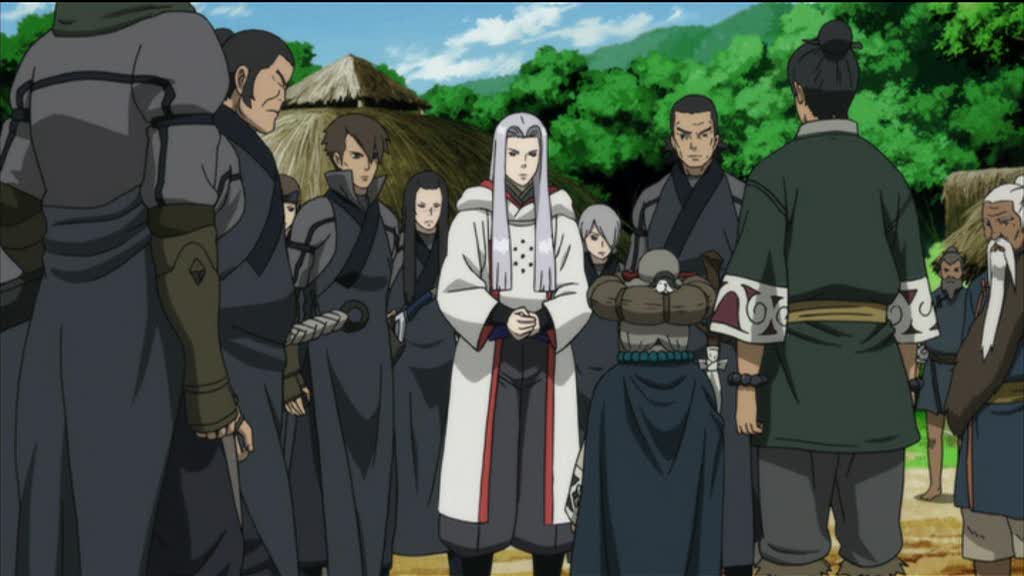 When Balsa and Chagum are forced to flee again, accompanied by Tanda and Torogai, they make their way to Toumi village in the hope that the ancient tales told in there will help them understand what to do about the nascent spirit growing in Chagum's body. But the half-remembered tales bring nothing but terror to Chagum as he hears that the last Guardian of the Spirit, a hundred years ago, died, cut in half by Rarunga, a terrifying creature from the 'other' world of Nayub.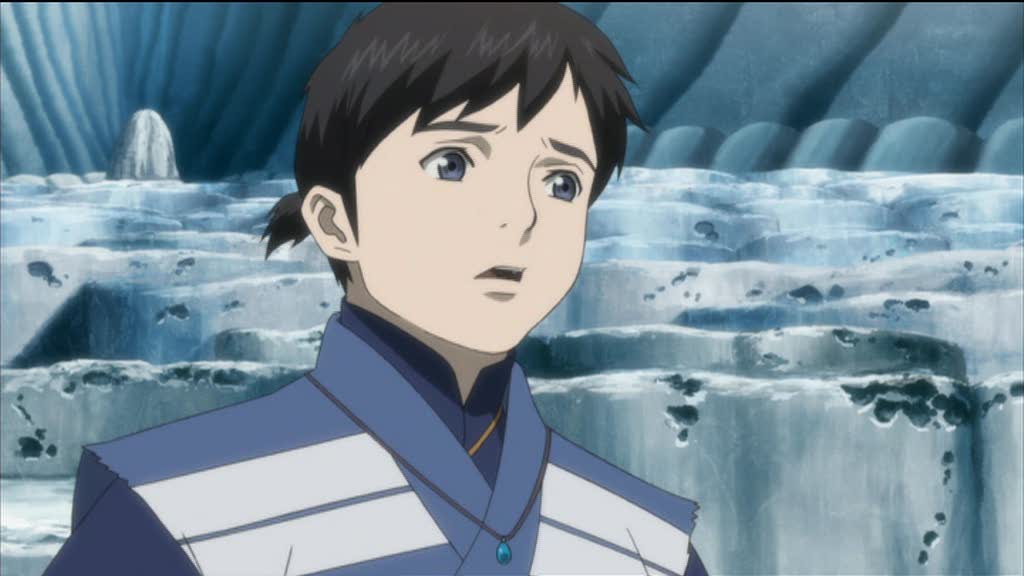 Spring comes and, with it, the time for the Water Spirit to be born. Will Chagum's friends be able to protect him from the terrifying Rarunga – or will he face the same fate as the last Guardian of the Spirit? The final episodes deliver a riveting, yet satisfying conclusion in which nothing is certain.
The US dub is blessed with some fine voice actors: the ever-excellent Mona Marshall (Toboe in Wolf's Rain, Izzy in Digimon) puts in another convincing performance as Chagum, while Cindy Robinson (Paprika) conveys just the right blend of stoicism and maturity as Balsa. I'm not always a fan of US dubs but this one works really well, with many familiar VAs in the cast. including Johnny Yong Bosch and Kyle Hebert.
The Blu-ray transfer from MVM really makes the colours sing; this anime always looked good and now it looks even better than before. Extras on the 4-disc MVM release include clean Opening and Ending animations, Moribito Panel Discussion, Cast Press Conference, Japanese promo and trailer and trailers.
Opening Theme/OP: "Shine" by L'Arc-en-Ciel and Ending Theme: "Itoshii Hito e (To the loved one)" by Sachi Tainaka
In Summary
With dazzling fights, sympathetic characters, and a beautifully painted evocation of an alternate early Japan, Moribito: Guardian of the Spirits will appeal to anyone who enjoys a meaty historical or fantasy epic.