Original Neon Genesis Evangelion & More Debut on Netflix in 2019
After years of being a mere dream for many anime licensors, Hideaki Anno's iconic classic 1995 anime Neon Genesis Evangelion is finally returning to our screens… via Netflix! The streaming service announced today that the series will be making its worldwide streaming debut in Spring 2019, with the following titles:
Neon Genesis Evangelion 26 episode TV anime series.
The End of Evangelion , feature film alternate ending to the original series taking place after episode 24
Evangelion: Death(True)2, a feature film retelling the events of the TV anime's first 24 episodes.
The surprising news comes after their Anime Lineup Presentation at the Akiba Theatre in Tokyo yesterday, where they also confirmed a 1st April 2019 release date for the return of another Japanese icon: the brand new Ultraman 3D CG series!  Directed by Kenji Kamiyama (Ghost in the Shell: Stand Alone Complex) and Shinji Aramaki (Appleseed), with animation by Production I.G. and Sola Digital Arts, the series will reportedly adapt the manga series by Eiichi Shimizu and illustrated by Tomohiro Shimoguchi.
Several years have passed since the events of Ultraman, with the legendary "Giant of Light" (光の巨人 Hikari no Kyojin) now a memory, as it is believed he returned home after fighting the many giant aliens that invaded the Earth. Shin Hayata's son Shinjiro seems to possess a strange ability, and it is this ability, along with his father's revelation that he was Ultraman, that leads Shinjiro to battle the new aliens invading the Earth as the new Ultraman.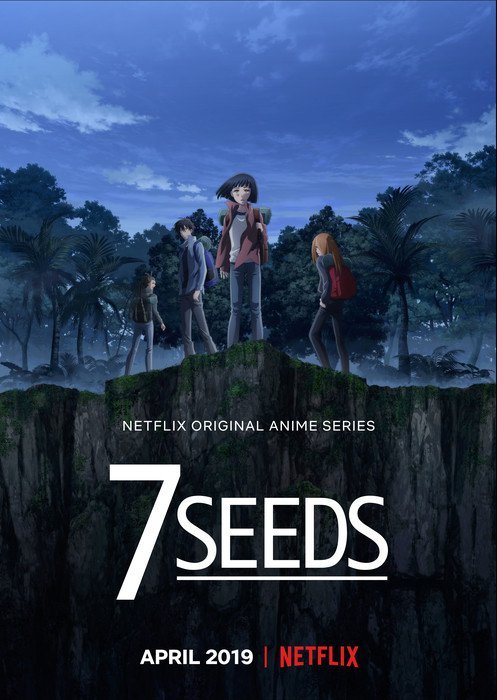 Netflix also confirmed an April release date for the recently announced anime adaptation of Yumi Tamura's 7 Seeds. Produced by Gonzo (Welcome to the NHK), the series will be directed by Yukio Takahashi (Dog & Scissors) with character designs by Yoko Satoh (Kakuriyo -Bed & Breakfast for Spirits-). The series' cast will include Nao Toyama (Rascal Does Not Dream of Bunny Girl Senpai), Jun Fukuyama (Code Geass: Lelouch of the Rebellion), Katsuyuki Konishi (Gurren Lagann) and Aoi Yuki (Puella Magi Madoka Magica). Netflix describes the series as follows:
In the immediate future, a giant meteorite has collided with earth. All living organisms, including mankind, have been wiped off the face of the planet. The government, who had foreseen this outcome, took measures to counter the worst-case scenario called Project 7SEEDS, in which five sets of seven young men and women were carefully selected and placed into teams. Each participant sought ways to survive on a deserted island.
From Toei Animation and director Yoshiharu Ashino (Tweeny Witches), the previously announced CG anime adaptation of Saint Seiya: Knights of the Zodiac has also been confirmed for global release in Summer 2019.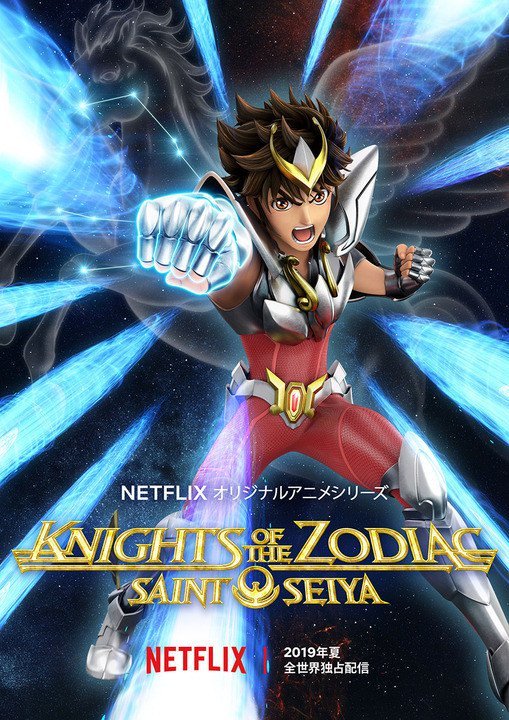 Saint Seiya: Knights of the Zodiac follows modern-day adventures of young warriors called "Knights", who are sworn protectors of the reincarnated Greek goddess Athena. Each Knight wears a powerful armor based on their chosen zodiac constellation, and are called Knights of the Zodiac. They aid Athena in her battle against powerful Olympian gods who are bent on destroying the humankind.
Neon Genesis Evangelion was previously released on DVD in the United Kingdom by the now-defunct ADV Films, while The End of Evangelion and original Evangelion: Death and Rebirth were previously available courtesy of Manga Entertainment UK, although they are all long out of print.
Starting in 2007, director Hideaki Anno embarked on a reboot and reimagining of the iconic series, with the Rebuild of Evangelion series of four feature films. The first, Evangelion 1.11: You Are (Not) Alone was released on DVD & Blu-ray by Manga Entertainment and later Anime Limited, while Evangelion 2.22: You Can (Not Advance) and Evangelion 3.33: You Can (Not) Redo were released by Manga Entertainment. The fourth and final film of the new series, Evangelion 3.0+1.0 is set for a 2020 theatrical release in Japan.
In a 2014 poll by Time Out, animators listed The End of Evangelion as #65 on their list of 100 Best Animated Films Ever Made, ahead of iconic anime like Satoshi Kon's Perfect Blue (#97), Hayao Miyazaki's Nausicaa of the Valley of the Wind (#96), and even Mamoru Oshii's Ghost in the Shell (#83).
Source: Deadine. English language 7 Seeds image from Anime News Network.