Third Window Films Release "UJICHA: Violence Voyager / Burning Buddha Man" Today, January 25th
Third Window Films have given a blu-ray/digital release for UJICHA: Violence Voyager / Burning Buddha Man today, January 25th, for SRP £29.99. The collection contains two films and a wealth of extras spread across two Blu-ray discs (Region B) in Japanese audio with English subtitles and there is also a slipcover and reversible artwork.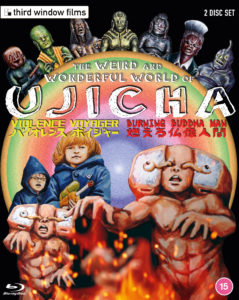 As previously reported by Normanicgrav, this set contains the two feature films, Burning Buddha Man (2013) and Violence Voyager (2018) which both come from the mind of Kyoto Saga Art University graduate Ujicha, a talented artist who directs, writes, draws, and edits his own work which he has dubbed gekimation.
What is gekimation you may ask? It is the combination of hand-made scenery and hand-drawn cut-outs that are manipulated like marionettes and subjected to physical effects like water and smoke to create a weird and gruesome fantasy. there are a host of extras including three shorts, an interview and commentary from the director.
Here are the details and trailers:
---
Out on bluray & digital
January 25th, 2021
2 DISC LIMITED EDITION BLU-RAY CONTENTS
Reversible sleeve artwork
Slipcase
Region B
Two films:
Disc 1: Violence Voyager
Uncut original Japanese language version
Audio commentary from director Ujicha and producer Reo Anzai
Interview with director Ujicha (20min)
Short Film: Tempura (4min)
Storyboards
Teaser of Ujicha's latest film
Original Trailer
Violence Voyager was written/directed by Ujicha, produced A-toys/KATSU-do and production done by Yoshimoto Kogyo. Also credited are Reo Anzai and Koji Ueno as producers, Jean-Paul Takahashi as music composer and Aoi Yuuki for the film's theme song.
The voice cast includes Aoi Yuuki (Saga of Tanya the Evil), Daisuke Ono (JoJo's Bizarre Adventure), Naoki Tanaka (Summer Days with Coo), Saki Fujita (Hatsume Miku), Shigeo Takahashi (Doraemon) and Tomorowo Taguchi (Tetsuo: The Iron Man).
"Bobby and his friend Akkun set out for the mountains to build a secret hideout. On their way, they stumble upon a mysterious amusement park called Violence Voyager. It doesn't take long for things to get weird as the boys discover a group of scared children who can't seem to escape and soon find themselves under attack by robot-like humanoids."
Plot Synopsis via Third Window Films
Disc 2: The Burning Buddha Man
Short Film: The Retnepac2 (16min)
Short Film: Space Yokai War (9min)
Original Trailer
Burning Buddha Man was written by both Ujicha and Ken Nakazawa and is based on an original story written by Reo Anzai. Also credited are Yoshitaka Nishimura, Kazunori Shibasaki and Kunihiko Ito for production, Jean-Paul Takahashi for music composition, and Sakura-Saki Inagaki for the film's theme song.
The voice cast includes Chisako Hara (Dark Water), Minori Terada (Laputa: Castle in the Sky), Mitsuko Hoshi (Ultraman franchise), Ryuki Kitaoka (Ultraman franchise) and Yuka Iguchi (Symphogear).
"There is a series of Buddha statue thefts in Kyoto. Beniko, a high school girl, gets the Buddha statue at her family's temple stolen and has her parents killed at the same time. She needs to know what caused the death of a parents and dreams of revenge. She goes on a fantastical journey to ultimately face the demon."
Plot Synopsis via Third Window Films