Winter Season 2021 – A First Look
Winter 2021 seems at first glance to be the season of second series: Dr. Stone, Laid-Back Camp, Cells at Work, Re: Zero, That Time I Got Reincarnated as a Slime, The Promised Neverland, World Trigger etc. etc. So one question some of the writers at Anime UK News have been asking themselves is: do these titles merit a second season? Are they as engrossing as first time around? Maybe even…better? And for those of us keen to see new material, there's a variety of genres to choose from, to suit all tastes. So, what's a good way to start the new year? Join us as we share our recommendations!
Demelza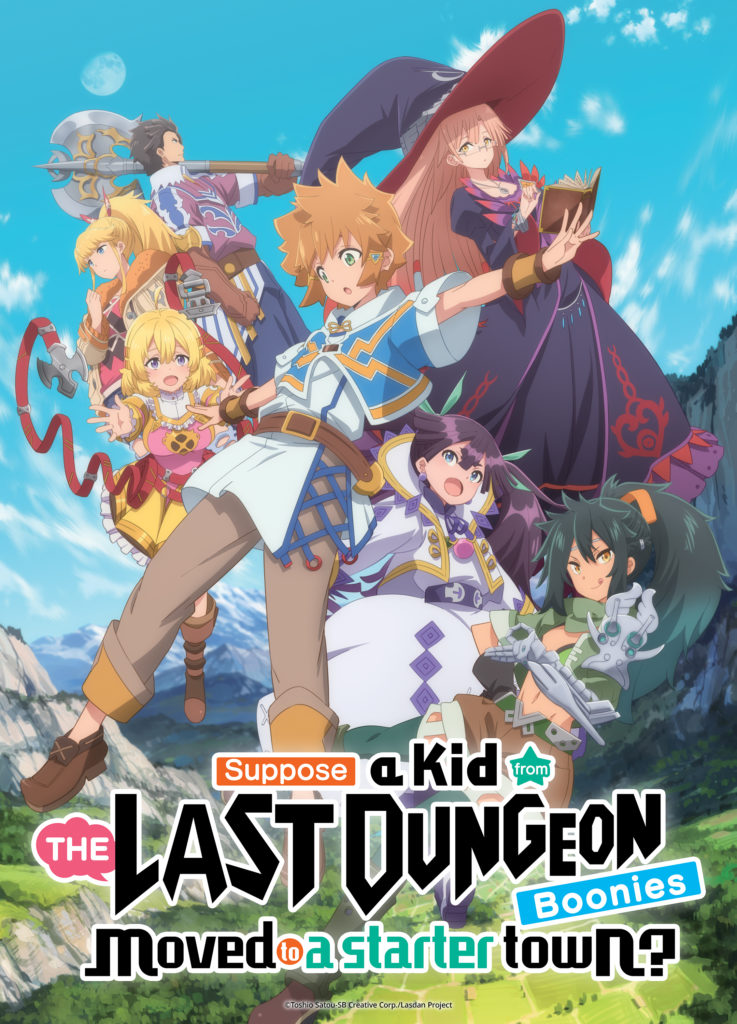 Thanks to numerous anime being delayed last year, this Winter season is particularly packed with fan favourites and newcomers alike. It's so busy that I'm sure many of you will have a hard time deciding on which new anime to try, so let me lend a hand…
One series I've been particularly looking forward to is Suppose a Kid From the Last Dungeon Boonies Moved to a Starter Town, which follows the adventures of Lloyd Belladonna, who dreams of becoming a soldier in the capital city of the Azami Kingdom. In his hometown, Lloyd is regarded as weak and he worries he's not strong enough to become a soldier, but little does he know he's from a village of super overpowered heroes and his 'weak' is considered incredibly strong by normal people!
The series is brought to life thanks to a variety of quirky and lovable characters, including Marie (voiced by Ai Kayano!) who is a witch who takes in Lloyd and Alka, the head of his hometown. While the show sounds like a fantasy adventure story, it's also big on comedy and you're sure to find yourself chuckling at least a couple of times a week while watching Lloyd's antics. I wouldn't say there is anything wholly original here, but if you are a fan of this kind of anime then this is certainly a must-watch.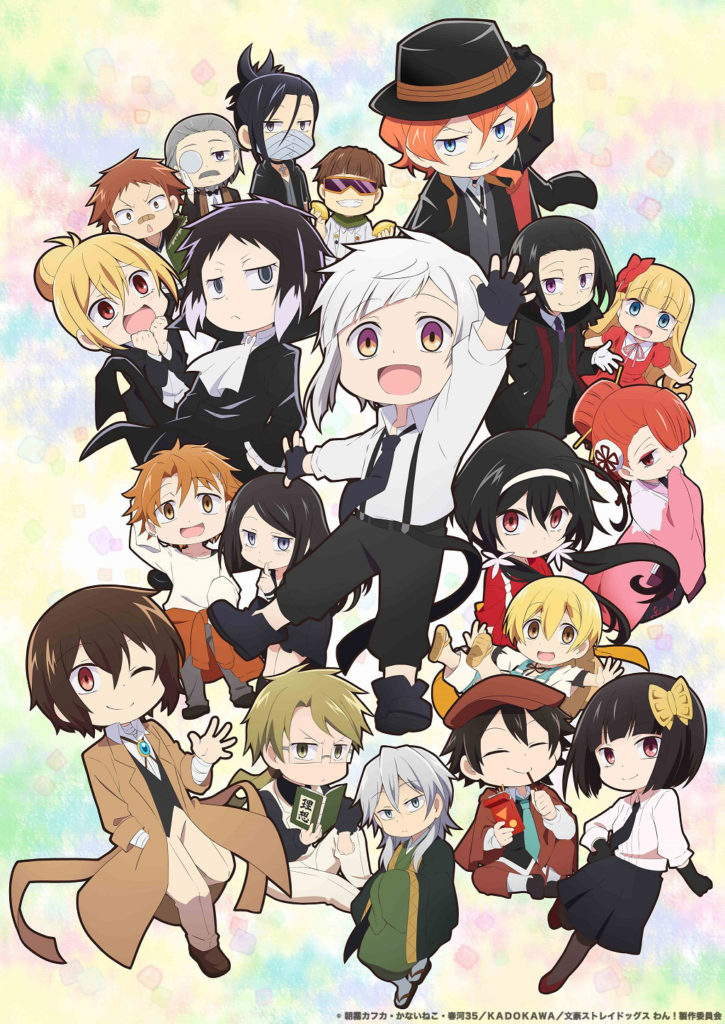 Next up is the return of one of my favourite franchises in the form of Bungo Stray Dogs Wan!, a series of short episodes based on an on-going manga spin-off. The series transforms the members of the Armed Detective Agency and Port Mafia alike into chibi form and sees them interacting in a whole new way. 
A highlight of mine from these first two episodes is a skit based around going to a spring flower viewing, where the Detective Agency and Port Mafia find themselves sitting near one another. While they initially bicker, it's not long before they're drinking and laughing together, something we don't see a lot of in the main series and will delight fans of these characters. 
More than anything what I love about this spin-off is how it capitalises on the relationships between the cast and knows just what the viewers want to see. This is clear from an emphasis on little things like Dazai and Chuuya's constant bickering and Akutagawa's delight at getting to spend more time with his senpai. This is certainly a very different spin on the franchise, but it's a must-watch if you're at all attached to these characters.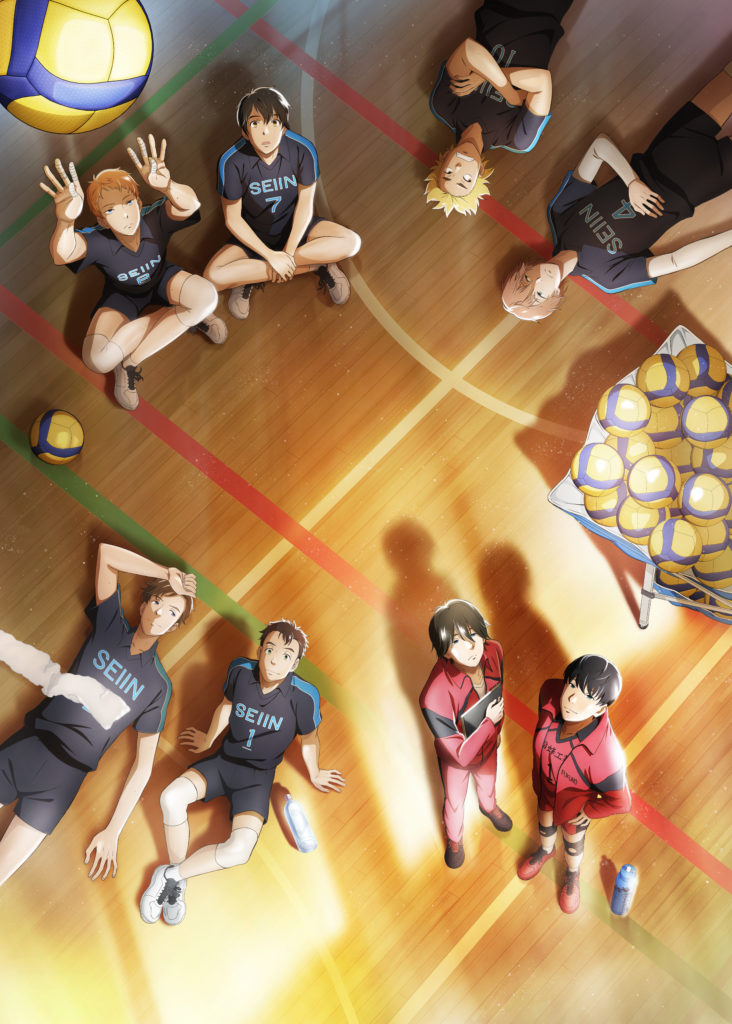 My final recommendation this season is 2.43: Seiin High School Boys Volleyball Team (based on a light novel, believe it or not!) which I initially thought was going to be a sports series like Haikyu!!. Instead, this show is more like Stars Align where the sport is a catalyst for bringing the characters together and having them sort through their issues on and off the court.
The story follows Kimichika Haijima and Yuni Kuroba, who are childhood friends reunited in high school. The two used to play volleyball together before an argument and Kimichika moving away drove them apart. Now reunited, Yuni is eager to play with Kimichika once more, but first, they'll have to fix the lax attitude of the other members of the club. 
The show has been brought to life by studio David Production and they've given it some fantastic animation and backdrops (perhaps as you'd expect of a series airing in the noitaminA block). There is a real feeling of weight to the volleyball scenes and even in the everyday sections, the cast is always moving in some way. Also, did I mention it has Yuugo Kanno (Psycho-Pass, Jojo's Bizarre Adventure: Diamond is Unbreakable/Stardust Crusaders) working on the music? As always, Kanno supplies some great compositions that blend into the background and lift the more powerful scenes. 
There is a lot of emotional baggage to unpack with the characters and the two episodes so far have slowly begun to unravel what's affecting Kimichika and Yuni. I just hope that this one feels more complete than Stars Align, which never quite got to the bottom of everything it set up. Although considering the light novels for this one are still on-going, we'll see how it goes…
Suppose a Kid From the Last Dungeon Boonies Moved to a Starter Town and 2.43: Seiin High School Boys Volleyball Team are available on Funimation while Bungo Stray Dogs Wan! is on Crunchyroll.
Ian Wolf
I have been concentrating on returning series. And as mentioned in the introduction, there are plenty of returning shows to watch.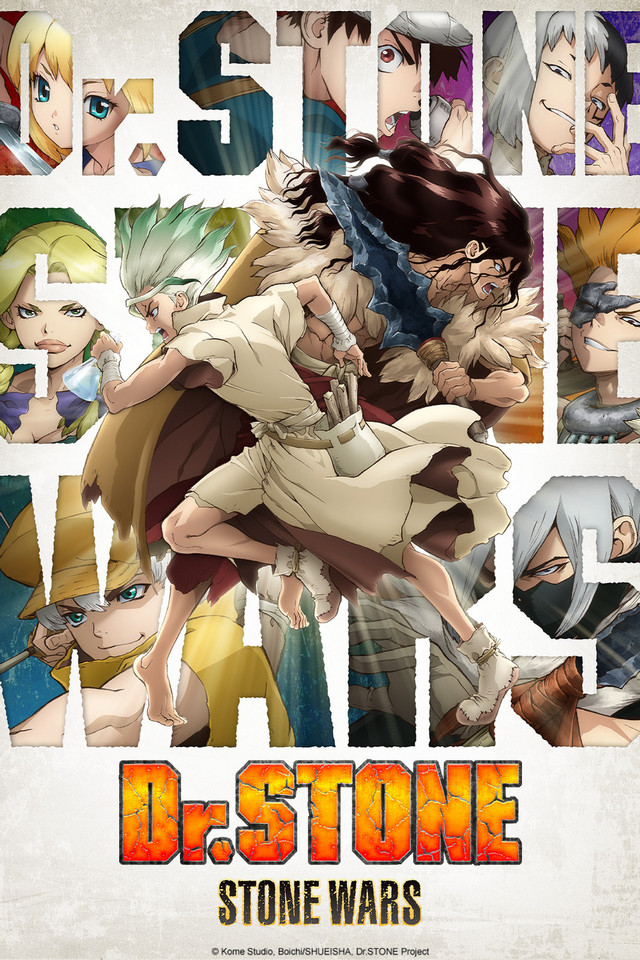 Perhaps the most high-profile is the post-apocalyptic Dr. Stone, the first series of which only recently got an on-disc release. Continuing directly from where the last series ended, the Stone Wars series sees Senku and his Kingdom of Science preparing for war against the Tsukasa Empire, in a battle of brains vs. brawn.
Having developed more advanced weaponry such as swords, Senku's main weapon which he is now deploying in the battle is a mobile phone which, when in place, will allow him to send messages to his old friends Taiju and Yuzuriha.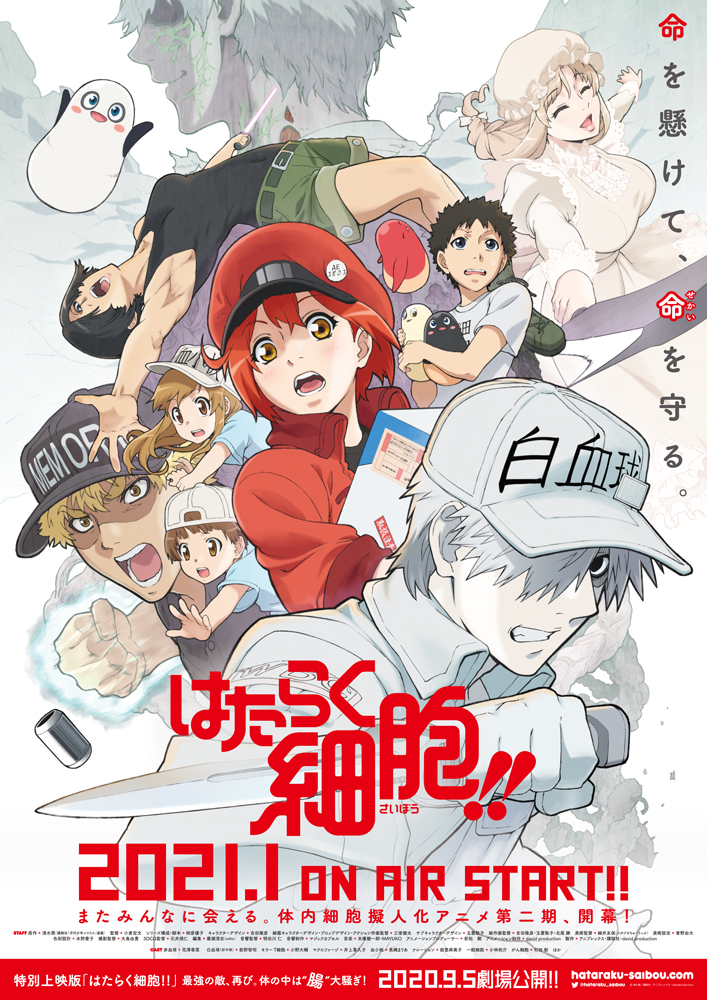 Cells at Work! is a series that also makes a return, in more ways than one. The original is now airing its second season, Cells at Work!! (with two exclamation marks) and once again sees the anthropomorphic cells that make up a human body trying to keep things going. So far this series, White Blood Cell helps to encourage a weak Platelet (the one who wears their cap backwards) to become stronger, while Memory Cell panics at some disturbing visions when the body is attacked by the mumps.
Aside from the original, the spin-off CODE BLACK has also begun. This series is set in an unhealthy human body, and also see the Red and White Blood Cells gender-swapped, with the main characters being an overworked male Red Blood Cell horrified by the state the body is in, and a female White Blood Cell wearing an outfit which for some reason reveals more of her flesh than her healthy male counterpart. Episodes so far have covered smoking, drinking, and STDs.
There are a few reasons to watch these shows, perhaps the main one being to learn about how your body fights against viruses during the time of corona. It just so happens that shortly after writing all this, I tested positive.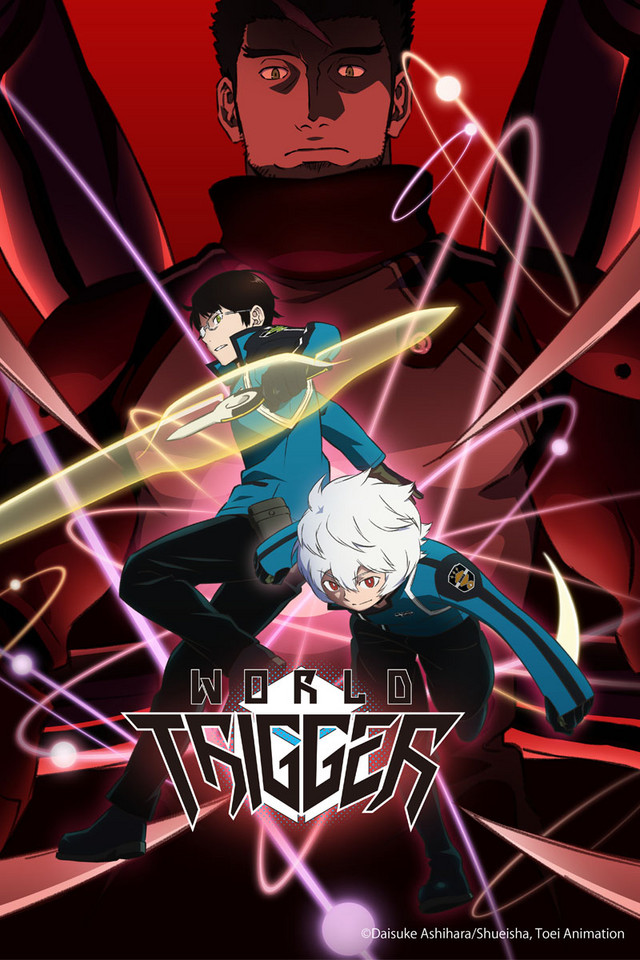 Perhaps the most surprising series to return is World Trigger. This is partly because when the original series aired in 2014, the animation was so shoddy that only the die-hard fans stuck to it. Another reason why it was so surprising for the series to return is because the creator of the manga, Daisuke Ashihara, became ill, resulting in the series going on hiatus for two years.
However, both the manga and now the anime have returned. Even better, however, is the fact that the animation has improved dramatically. It is probably the most improved anime that I have seen in a long time in terms of appearance. There are still two issues, however. The new series begins where the first left off, meaning that the old episodes are not going to be getting the new animation treatment, and new viewers will still have to sit through the poorer episodes first or read the manga. Secondly, the main characters of Mikumo, Kuga and Chika have yet to make an appearance.
Dr. Stone is on Crunchyroll (sub) and Funimation (dub). Cells at Work!! and Cells at Work! CODE BLACK are on Funimation. World Trigger is on Crunchyroll.
Onosume
2021 opens with an absolute smorgasbord of anime, making up for a comparatively sparse 2020 with so many good shows that I honestly found it hard to narrow them down to cover in this preview!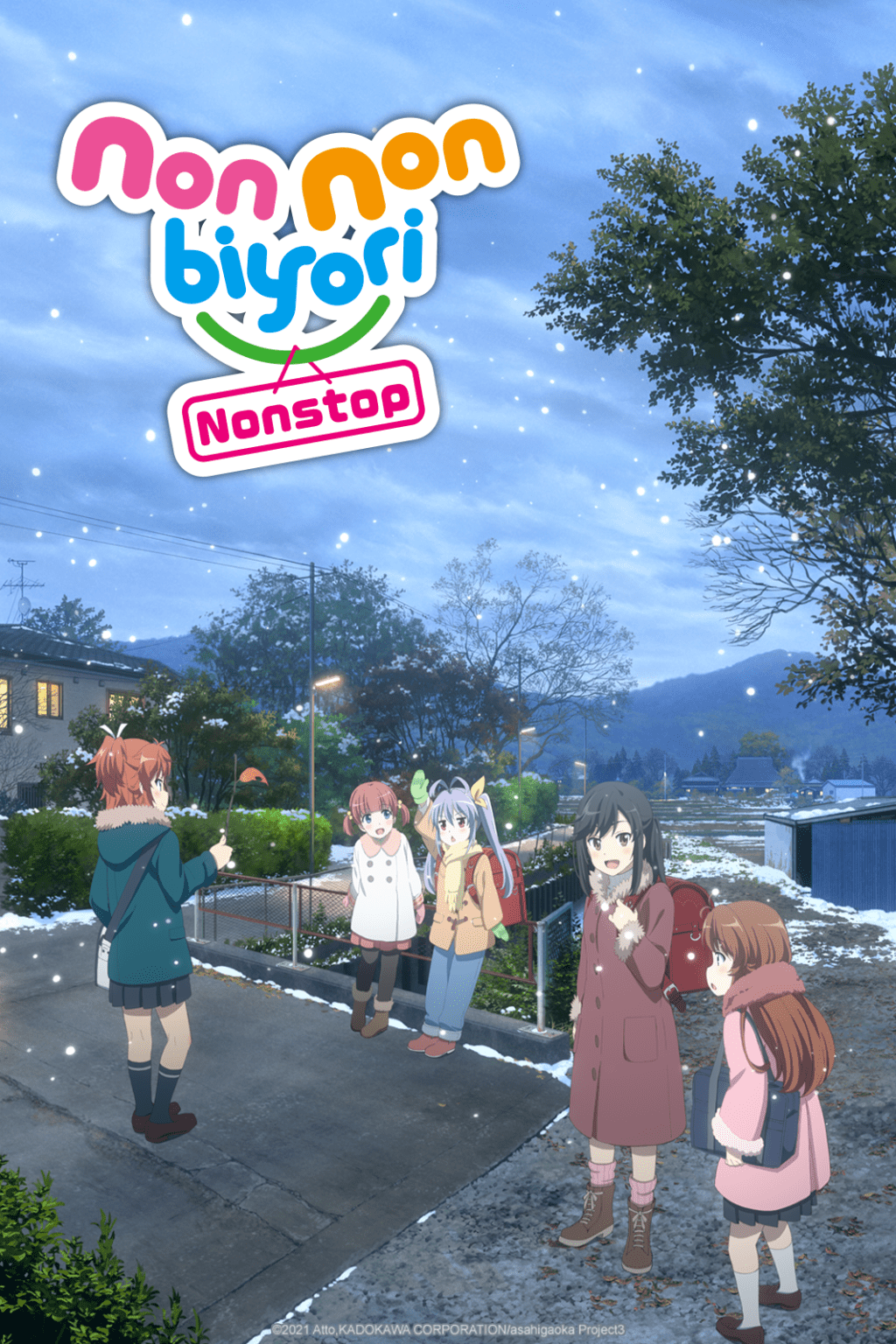 The one that I had to watch though, which I mentioned in our review of 2020 as most anticipated for this year, is Non Non Biyori: Nonstop, the third season of one of the most quintessential "comfy" anime series, as we reunite with Hotaru, Natsumi, Komari and Renge for more adventures in their countryside village. While I did watch the movie over Christmas, I expect that for many it will be an absolute joy to catch back up with these adorable idiots. Renge fans should certainly hit this up for a great first episode which focuses on her trying to master her signature recorder, as she struggles to play a specific note, as well as a solid second episode exploiting her childlike delight of trying to keep Kazuho's tomato plants warm by helping to build a greenhouse.
Continuing with its powerful heart-warming moments and with some new cast additions such as Akane, the flute-playing classmate of Konomi, this seems to be more of exactly what we want from this relaxing slice-of-life comedy – embracing the innocence of childhood and the beauty of a simple life in the countryside.
If you want a way of escaping the world's trials and tribulations, then this, along with its other comfy sibling in Laid-Back Camp, are both great choices.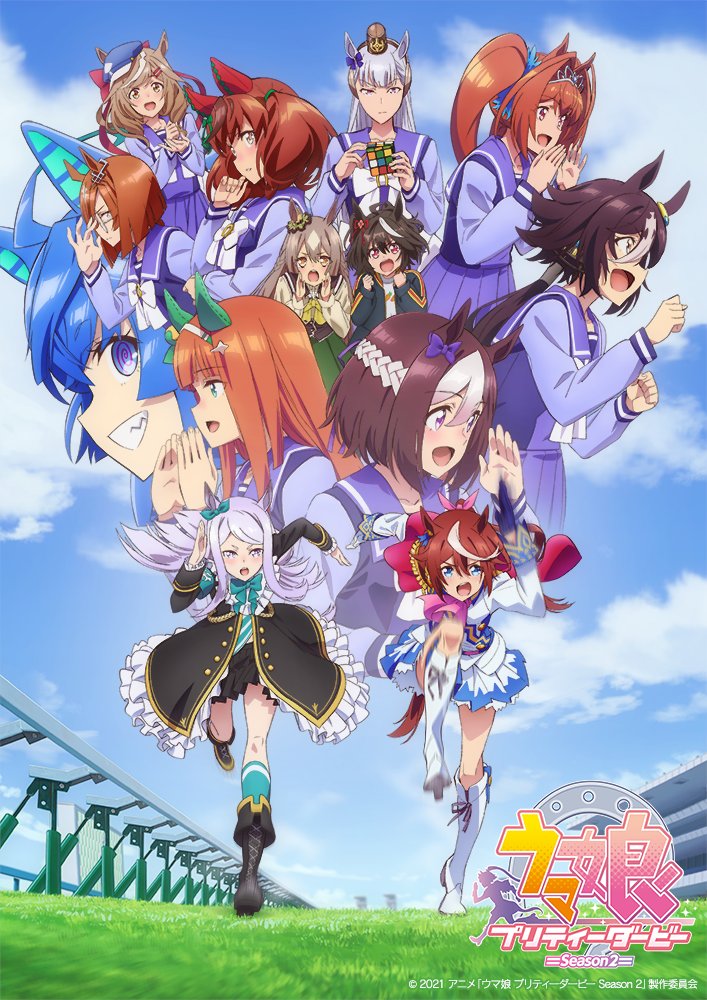 If you want something that's still rather light and full of cute, engaging characters but is a little sportier, then I'd highly recommend jumping back into Umamusume: Pretty Derby, which sees its second season arrive in preparation for the launch of the accompanying mobile game.
While my thoughts on real-life horse racing are less than favourable, I highly enjoyed the first season of this 'cute horse girls do cute things' series, as it delivered on creating a pretty engaging rags to riches story with plenty of heart-warming character moments along the way. This second season immediately sets itself up for more of the same, but switches its focus from Special Week, whose storyline was mostly resolved in the previous season, to Tokai Teio and her longstanding rivalry and friendship with Mejiro McQueen. This makes it a good jumping-in point for both newcomers and returning viewers who may have not re-watched the original series since its debut in 2018, as while it's not quite starting from scratch, and there are some finer character moments that might be lost to newcomers, it actually does very well in re-introducing the world to us and re-establishing its cast.
With Tokai Teio becoming injured early on, the series is all set for a heart-racing stampede as she battles her way back to the front where she can hopefully take on her rivals in some thrilling races. While the horse girl concept is an acquired taste for sure, it's still well worth a look for one of the more unique sports anime airing this season.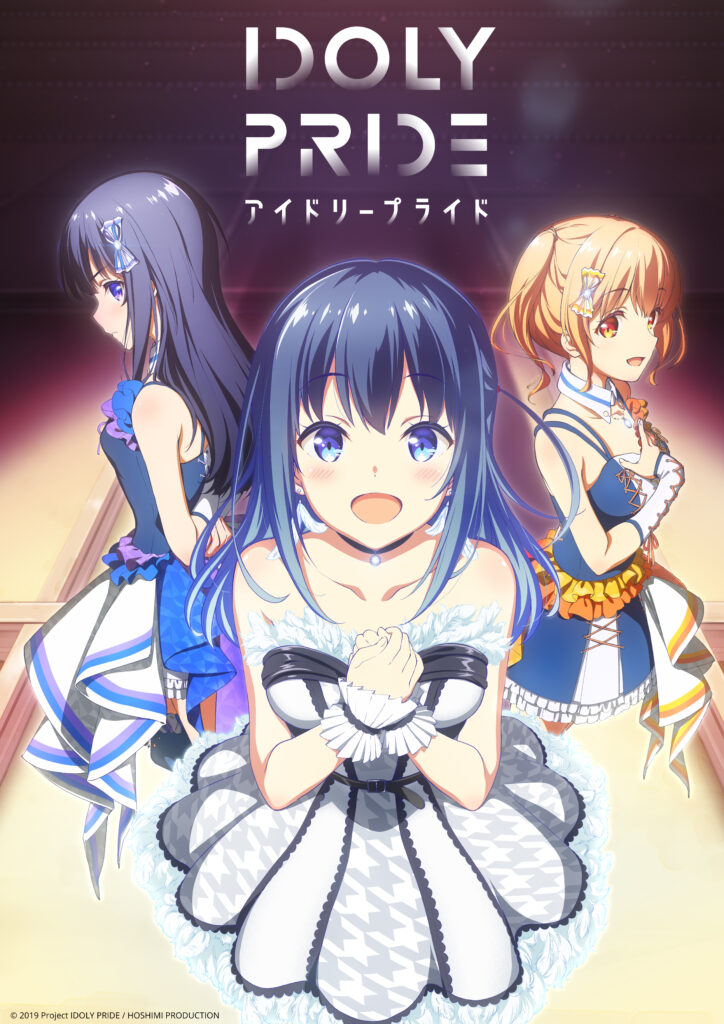 What has come as the biggest surprise for me this anime season, however, is the out-of-nowhere resurgence of idol anime, with IDOLY PRIDE, Gekidol, I★CHU: HALFWAY THROUGH THE IDOL, and Idolls! all lining up to help you stuff your face with idol goodness.  After watching the first couple of episodes of each however, the only one I'd really call anywhere near good is IDOLY PRIDE, as while each series seems to have its own gimmick, this was really the only one that actually carried itself well.
The first episode introduces us to high school student Kouhei Makino, who is dragged into the world of idols by his classmate, Mana Nagase. Assigned as her assistant manager, the two quickly climb up the ranks of the Venus Program, an AI-backed ranking system that sorts out who is the top idol in Japan. Having exceptional natural talent and being immensely popular, Mana seems a shoe-in for victory at the Venus Grand Prix finals, the competition to decide who exactly is the top idol. However, Mana tragically loses her life in an accident and the Venus Grand Prix is cancelled. Now grieving for the loss of his friend, Kouhei revisits their old high school sometime after graduation, where he suddenly encounters Mana's ghost! Now a fully-fledged manager at Hoshimi Production, Kouhei must guide another set of idols to stardom, including Mana's younger sister, without letting on that he's haunted by the former idol's spirit.
With an opening episode that was well written, and very much had a foreboding sense of "okay, when's something going to go wrong as this seems far too perfect?" the reveal of Mana becoming a ghost was still totally unexpected! I really like the idea of having her younger sister take up the mantle though, and try to reach the heights that Mana sadly couldn't, which may be a condition for her being able to pass on. It's definitely something a bit different than the standard template of "unknown idol group starts off at the bottom and miraculously makes it to the top", and it gives an extra incentive for coming along for the ride. With the way the characters are established, it's also easy fall in love with the leads, which makes the episode's climax a proper gut punch, but does well in managing to lift it with the surprise twist at the end. To that end, it's moving but still light-hearted in principle, as keeping the secret that Mana is now a ghost also seems like it's going to deliver some great comedy, if the second episode is anything to go by!
With this slightly different twist on the genre, and a well-introduced set of characters that is also set to feature actual idol groups TrySail and Sphere on the music side of things, this looks to be the one to follow for idol fans this season. That said, I also wouldn't count out I★CHU either, as I feel we haven't seen that show's full potential just yet.
Non Non Biyori: Nonstop is streaming on both Crunchyroll and HIDIVE, while Umamusume: Pretty Derby Season 2 is streaming on Crunchroll, and IDOLY PRIDE is streaming on Funimation.
HWR
Winter 2021 is providing plenty of continuations for popular series and this includes a continuation of one of my favourite slice-of-life series in Non Non Biyori Nonstop. Stepping back into the series was a joy as the first three episodes felt as consistent as ever with what came before in the preceding seasons, which I had rewatched in December alongside the film.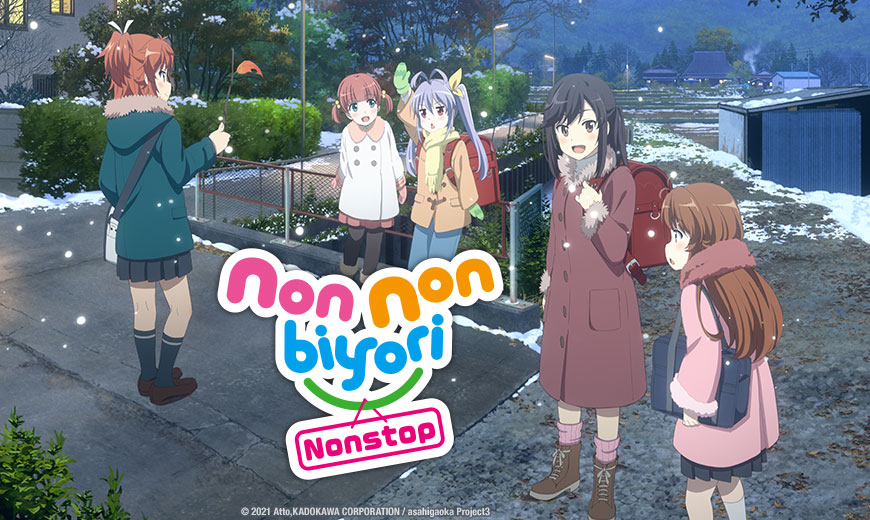 For those unfamiliar with the series, Non Non Biyori follows a group of friends living in the countryside within the small town village of Asahigaoka. As the village doesn't have a lot in the way of modern conveniences, the characters make their own fun in various ways. The memorable cast is made up of sisters Natsumi and Kotari, who are opposites in personality, Hotaru, a fifth grade student who moved from the big city and seems more mature than she really is, Renge – a precocious recorder-wielding first-grade student whose antics remain memorable throughout, and a newcomer in Akane, a shy junior and flute player who quickly becomes a part of the proceedings.
A series like this carries a certain laidback vibe that the best slice-of-life anime can deliver. If you haven't already delved into the franchise, the release of this third season is a good incentive!
I'd also like to highlight a new series which I hadn't heard much about but decided to watch, due to its premise: Heaven's Design Team. The premise is summed up in the opening – God had created the heavens and the earth, and then, light, waters and the land. "Then He created the many animals that would inhabit it. Or… that was the plan. It got too tedious so He outsourced it."
Heaven's Design Team follows a group of inventors as they devise new animals and creatures, who are then assessed for compatibility with the earth. The designers do this whilst juggling unreasonable demands and also exploring the possibility beings like dragons and the pegasus, before discovering why they can't exist in our world.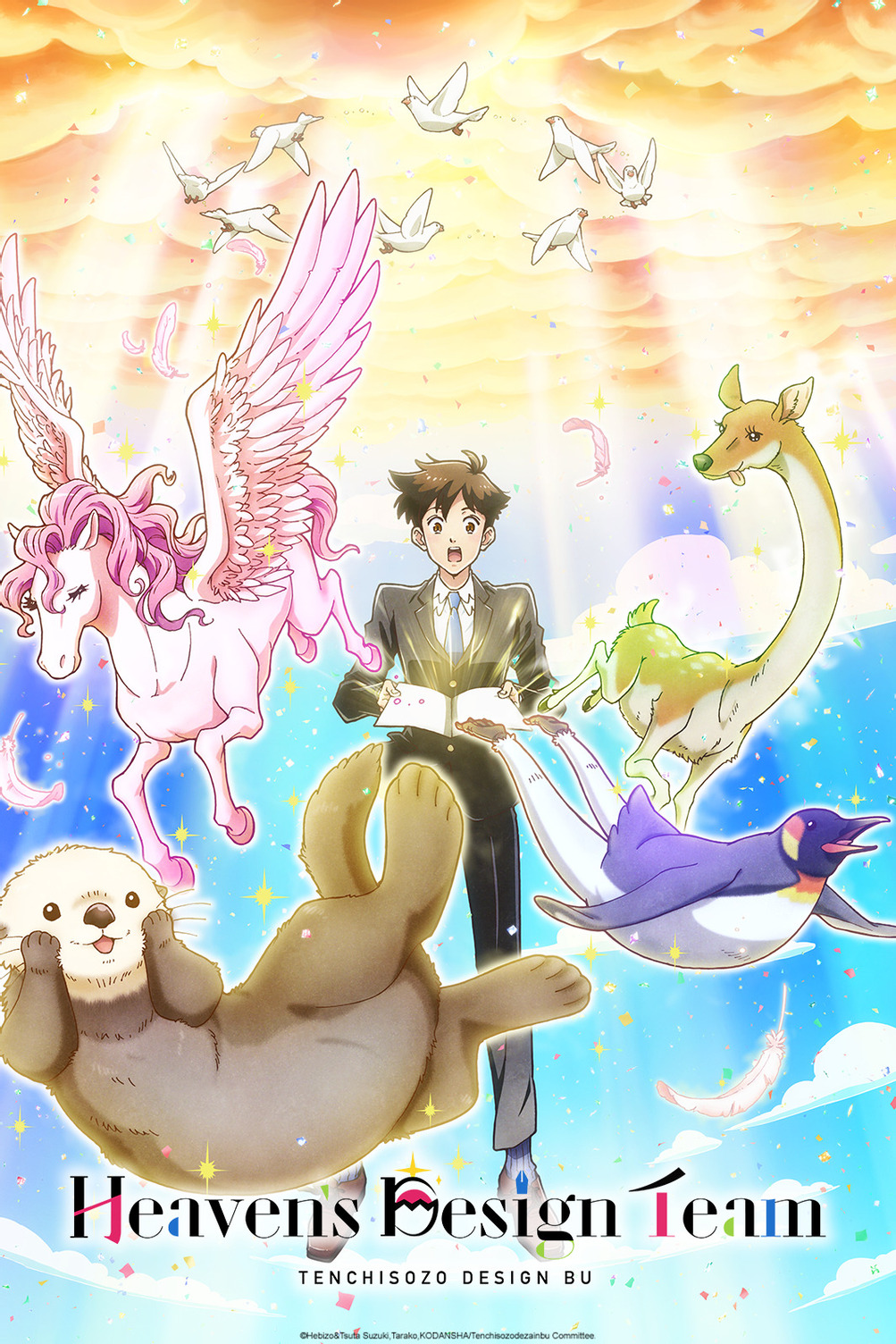 A humorous example of this is the creation of a unicorn – though majestic in appearance, its horn causes malnutrition (amongst other things) which leads to the idea being rejected.
The members of the team often butt heads over their creations, getting frustrated that their ideas aren't chosen over others, with some cases of animals being chosen despite seemingly just being a previous design with something basic added on. For example, the creation of the narwhal comes about after the unicorn idea goes astray and the horn is stuck onto a sea mammal instead.
I'm looking forward to seeing what creative concepts come across throughout the rest of the series – there's even little educational segments in the middle of the episodes too. [It's very faithful to the manga. Ed.] 
Non Non Biyori: Nonstop is streaming on both Crunchyroll and HIDIVE, while Heaven's Design Team is streaming on Crunchyroll.
Sarah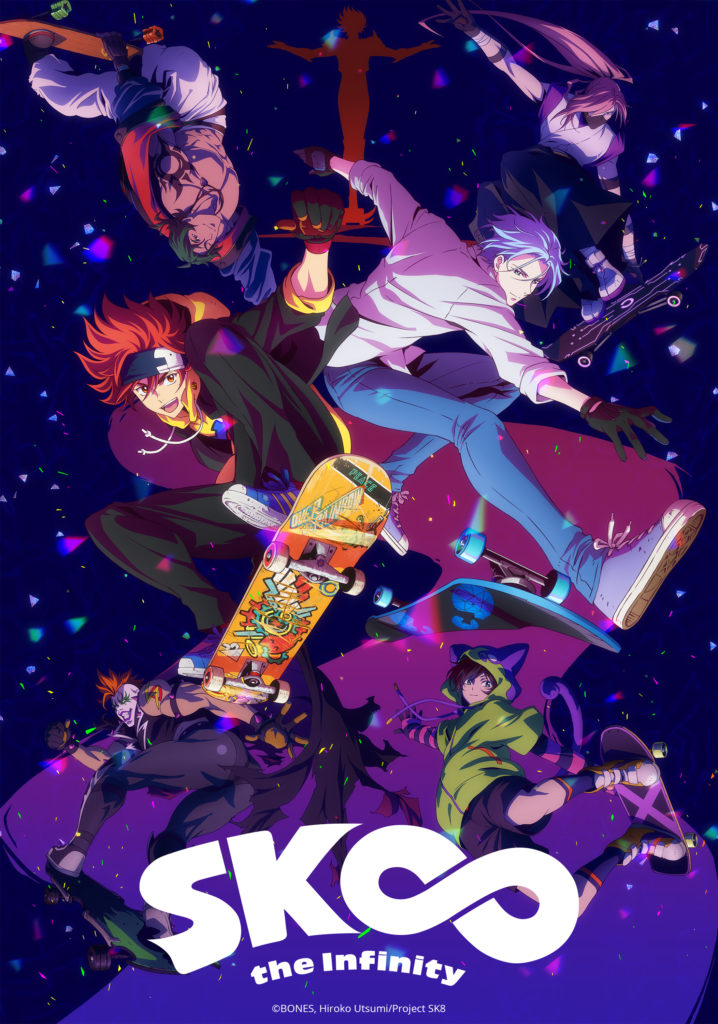 Winter 2021 has, for some reason, delivered four bishonen sports anime (I'm not complaining). Sk8 the Infinity is all about skateboarding (and reminds me in some ways of Oh! Great's futuristic roller-skating epic of the noughties, Air Gear). WAVE!!Surfing Yappe is set in the world of surfing (natch) and Skate-Leading Stars invents a new crossover between ice dance and team formation dancing. 2.43 (reviewed by Demelza above) is the odd one out, in a way, in that it deals with the more familiar anime sport of volleyball, inviting the inevitable comparisons with Haikyuu!! even though they're very different shows. So, for once, this season's not all about sporty girls. Sk8 the Infinity follows transfer high school student from Canada Langa, who falls in with skateboard obsessed Reki, is whisked away to watch 'S' the illicit 'dangerous, top secret, no-holds-barred downhill skateboarding race' – and ends up participating. Langa, it turns out, could be a natural as he's a gifted snowboarder who's ended up in Okinawa (definitely no snow!) but there's a world of difference between the two sports, so Reki sets out to train his new friend. Brash and colourful as its main protagonist, red-haired Reki, Sk8 relies on its dazzling and nail-biting depictions of the illicit races to catch the viewers' attention. But it also has a strong sense of the physical toll the sport takes on its participants, not least Langa whose many falls and crashes as Reki trains him in Episode 2 will have you wincing as you watch.
Quite where Sk8 is going with the plot is difficult to tell at this stage. The director is none other than the talented Hiroko Utsumi (director for FREE! and Banana Fish.) Hopeful signs? Reki is not just a keen skateboarder, he's also good with his board-making/modifying skills. The touches of humour are refreshing – especially in the ED "Infinity" by Yūri. Potential strong rival skateboarders are being introduced – but with c. nine episodes still to go, there'd better be some more intriguing drama lined up than the usual predictable shonen fare, no matter how amazingly animated the 'S' races prove to be.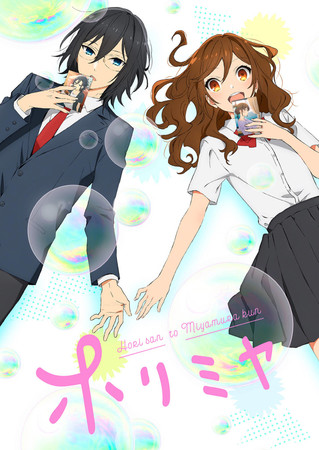 Horimiya, based on the long-running manga by HERO and Daisuke Hagiwara, is a chalk-and-cheese, 'opposites attract' school story. Kyoko Hori is a popular and talented girl at high school and hardly notices glass-wearing, nerdy Izumi Miyamura, even though they're in the same class. But one day, a good-looking young man brings her little brother Sota home after the child has fallen over in the street. Hori is shocked when she realizes that Sota's knight in shining armour is none other than Miyamura, who projects a very different image when out of school uniform, with piercings and tattoos. Sota has taken a genuine liking to Miyamura who starts to hang out at their house. And so an unlikely out-of-school friendship begins to develop between the two high schoolers. By Episode 3, we're learning more about Miyamura and the lonely school life that he's experienced up till now, being labelled 'weird' and 'gloomy' by his classmates since grade school. But now, as part of Hori's group of friends, he's accepted – even if there's going to be some conflict as to who is closest to Hori. Picking up on Onosume's theme of comfy/feelgood anime (above) Horimiya definitely falls into that category: gentle slice-of-life humour, likable characters and one of the cutest EDs so far this season: "Yakusoku" by Friends.
Sk8 the Infinity and Horimiya are streaming on Funimation.
And there you have it! These are our first impressions of some of the many titles available to watch this winter. What's caught your attention? We'll be back in a few weeks to talk about ongoing series: Jujutsu Kaisen and Attack on Titan. Until then…