A Galaxy Next Door Volumes 2 and 3 Review
Demelza
•
In Volume 1 of the romcom manga A Galaxy Next Door, we met manga artist Ichiro and his new assistant Shiori, to whom he accidentally got engaged. Thankfully, despite the situation they've ended up in, the two liked one another and by the end of the volume began dating. But how will their relationship go? Let's find out with Volumes 2 and 3!
Going into Volume 2 the biggest concern our duo face is telling Ichiro's siblings about their relationship. So far his siblings have been fond of Shiori since her help as an assistant has already prevented Ichiro from spending quite a few all-nighters working on his series. But when it comes to being a couple, Shiori worries that his siblings will see their relationship as taking away precious family time. 
Elsewhere in this volume, Shiori faces setbacks when she tries to work as an assistant for a mangaka beside Ichiro and vows to better her skills to find more work for herself. But this event also knocks her confidence and leads her to wonder what Ichiro sees in her and if his feelings for her are truly love or influenced by their complicated living situation. 
While the first book was a mixture of slice-of-life and manga industry, Volume 2 is more firmly focused on the relationship between Shiori and Ichiro as well as developing some of the side characters. If I had to describe it in a single word, it'd be 'peaceful'. There are emotional ups and downs, but on the whole, this makes for cosy reading.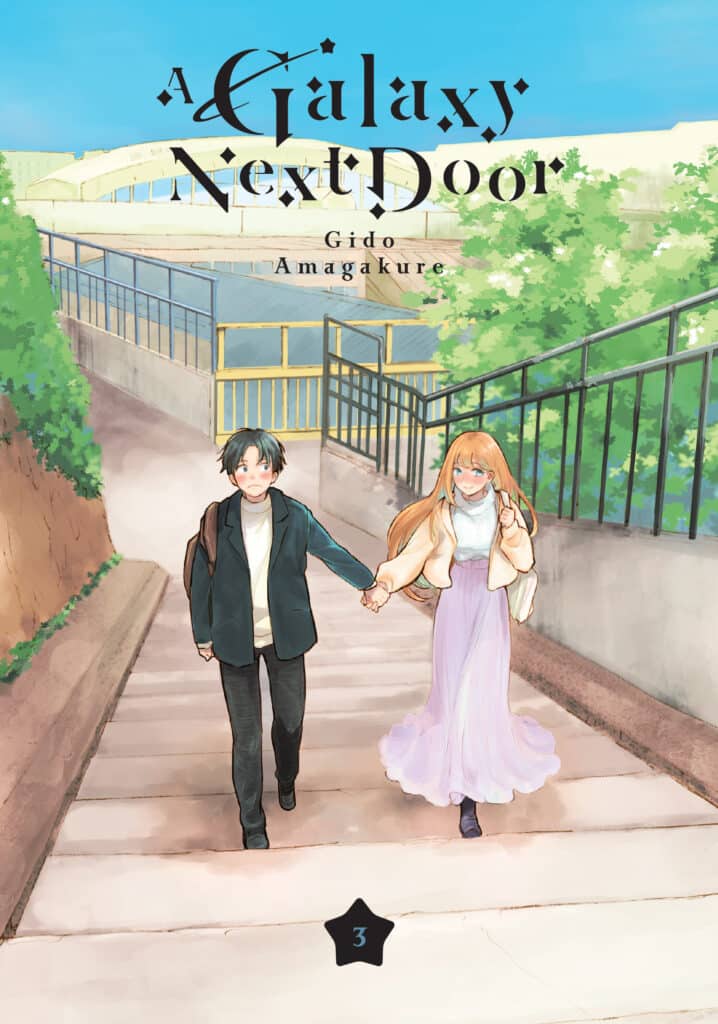 In Volume 3 the drama is turned up a notch when Shiori's parents visit, having learned of her relationship with Ichiro and fearing she's being taken advantage of. Shiori's relationship with her parents is complicated and has been further strained by her mother's demands for her to return home. The only reason Shiori was allowed to leave the island she called home in the first place was thanks to her grandmother's dying wish for her to do as she pleased, so her parents have never been supportive of it. 
But it's not all bad news because with Shiori's parents visiting, she and Ichiro realise this may be a good opportunity to figure out how to annul the engagement pact. Although the thought of that also brings problems of its own, including our duo wondering if their feelings will change if the pact is cancelled… 
Reading these two books back-to-back makes it clear that author Gido Amagakure is writing this series with clear goals in mind. As much as it is a fluffy romance series, there's also plenty of emotional weight to the various storylines and not just those revolving around the main couple. And it never feels like the drama comes out of nowhere. If you flip back through the previous chapters, you can see where it started and how it has developed up to the point of becoming an actual issue that the cast needs to deal with, such as the arrival of Shiori's parents, which had been foreshadowed since early Volume 2, only to come to a head in Volume 3. 
The only part of the plot that is going a bit under the radar is Ichiro and Shiori's work in the manga industry, but since it does get some occasional focus throughout these two books I'm hoping it'll become a bigger theme soon. Especially now the two characters have dealt with their relationship troubles more or less and should stay comfortably stable from now on. The fact it has stuck around means Amagakure is unlikely to shelve it completely, but it's still going to be disappointing for some readers to find it has taken such a backseat in these releases compared to the initial volume. 
A Galaxy Next Door Volumes 2 and 3 come to the West thanks to Kodansha where they continue to be translated by Rose Padgett with lettering by Lys Blakeslee. The translation reads well for both books with no problems to note and there are a couple of pages of translation notes at the back of both, which are always nice to have. Volume 4 of the series is out now with #5 set for an English release in July. 
Overall, A Galaxy Next Door continues to be an interesting read in these two volumes. Some readers may be a little disappointed that the manga focus has slipped between the cracks, but there's still plenty to enjoy here provided you're a fan of the romance side of the series. This is a manga that I am sure will continue to delight in the months to come.