Something's Wrong With Us Volumes 9 and 10 Review
Demelza
•
Volume 8 of Something's Wrong With Us substantially changed the story's direction after a particular set of events led to a time skip. Now protagonist Nao is in charge of her own sweets shop, which she's opened to compete with Tsubaki. What will fate have in store for the two former lovers in Volume 9? 
So we know Nao has opened a shop to rival and eventually take down Tsubaki, but what happened in the three years leading up to that? Well, that's what Volume 9 takes us through first. Here we find Nao who disappeared after the fire at Kogetsuan and is working part-time in a remote town. Here, no one knows her history, although she is often visited by Takigawa a friend of her mother's who has been helping her behind the scenes throughout the story so far. 
Just when Nao was considering giving up on taking revenge for her mother, the police arrive, looking for answers about the fire. This makes her realise that there's no escaping her connections to Kogetsuan and Tsubaki. Rather than continue to run away, Nao asks Takigawa for help establishing her store, which brings us back to the present day. 
Now Nao's store Hanagasumi is facing off with Kogetsuan in a wagashi selection contest, but when she's reunited with Tsubaki, will Nao be able to put her past feelings aside? And what about when she learns that Tsubaki isn't in the best of health? 
The wagashi contest then leads us into Volume 10, where Nao and Tsubaki have been invited to stay at a hot spring and the client is hoping the two stores will be inspired to create a truly exceptional sweet. Now the two are forced to spend a weekend together and it becomes even more difficult for Nao to deny that she still holds romantic feelings for Tsubaki, but to achieve her goal, she must put all that aside.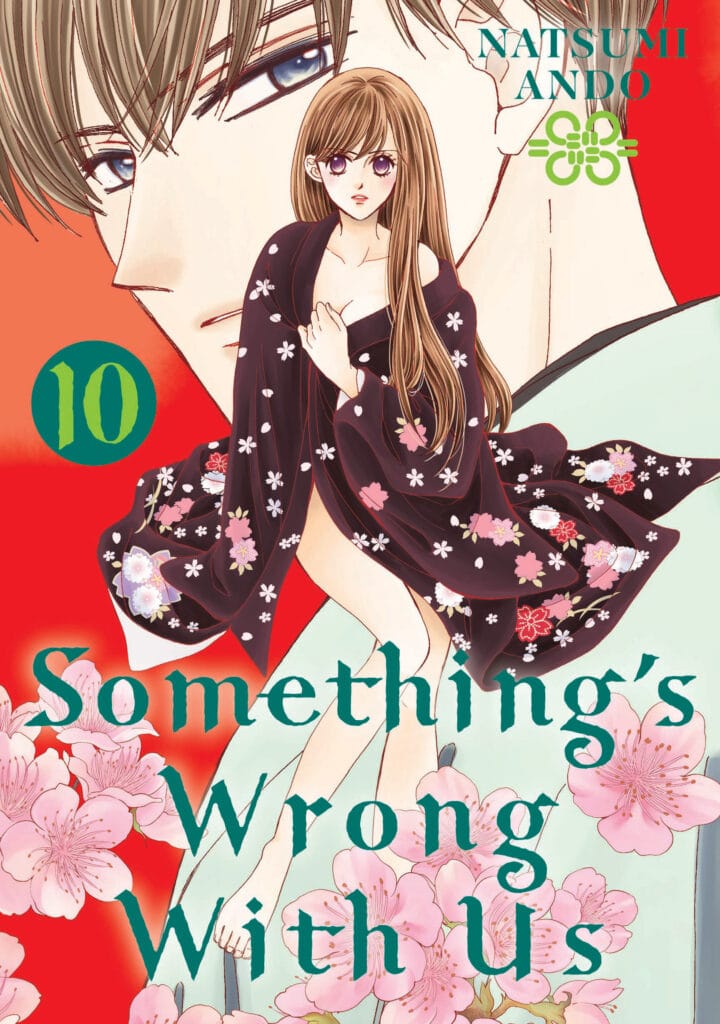 Elsewhere, trouble is brewing as Tsubaki's ex-fiancée Shiori grows jealous and concerned about Nao coming back into their lives. Wanting to keep a firm hold on the home she's made for herself at Kogetsuan, she's cooking up a scheme. And worse still. Tsubaki's mother is busy throwing a spanner into the works at every turn for Hanagasumi – including getting them cut off from their azuki bean supplier. But no matter what she does, she just can't seem to get rid of Nao and the longer this goes on, the more she worries Tsubaki will find out what happened on the night his father was murdered by (supposedly) Nao's mother. 
So it's fair to say there are plenty of twists and turns in these two instalments of the series. Now that Nao has her store, the storylines she can be involved with are quite different to the ones we've seen in the series to date. Now that Tsubaki knows she's his childhood friend/crush Sakura, their relationship has also changed quite substantially, giving the author plenty to work with in that department too.  
With six more volumes of the main story to go (and a further three afterwards that seem to be an entirely separate arc/after-story), it seems like the end-goal of the series is now in sight. Nao wants to take Kogetsuan for herself and whether that means crushing them or getting back together with Tsubaki, I can't imagine the goalposts will change from there. Either way, it's a story I'm on board with and I think it makes sense based on the history of the series so far. 
Of course, there's still a lot of melodrama and depending on how you've gotten on with that so far, you may find yourself wanting to drop out of the series. This is especially true of Shiori's new storyline, which feels like a rehash of things that have happened before but dialled up to be even harder to believe. Still, there's enough here to keep me on the hook but I have a high tolerance for these soap opera-like twists which not everyone else will. 
Something's Wrong With Us Volumes 9 and #10 come to the West thanks to Kodansha where they continue to be translated by Sawa Matsueda Savage. The translation for both books reads well with plenty of insightful translation notes included at the back of the releases that teach us more about the sweets we see. Volumes 11-13 are already available with the next release from Kodansha being #14 in April. 
Overall, these two volumes of Something's Wrong With Us firmly place us into a new arc that's proving quite different to what's come before. The series is leaning into some melodrama that might put some readers off, but nevertheless, there's enough to keep people hooked here.