Overwhelmed by the sheer number of new anime series this Winter Season? We were too! Nevertheless, the writers at Anime UK News are here to share the titles that turned out to be their favourites – and some that were a (pleasant) surprise, as well as those that, sadly, turned out to be a disappointment.
We love our anime music too – so we've picked out our favourite OPs and EDs as well. Please share yours too – we'd love to know what became your earworms of the season!
Onosume
Favourite – New Series
Romance series have been hitting hard this season with some good entries, however not everything quite reached the peak. I latched onto The Angel Next Door Spoils Me Rotten quite early on thanks to its very comfy atmosphere, but its excruciatingly slow character and relationship development ended up being a turn-off, where multiple fake-outs towards the end of the series had me metaphorically banging my head against the wall.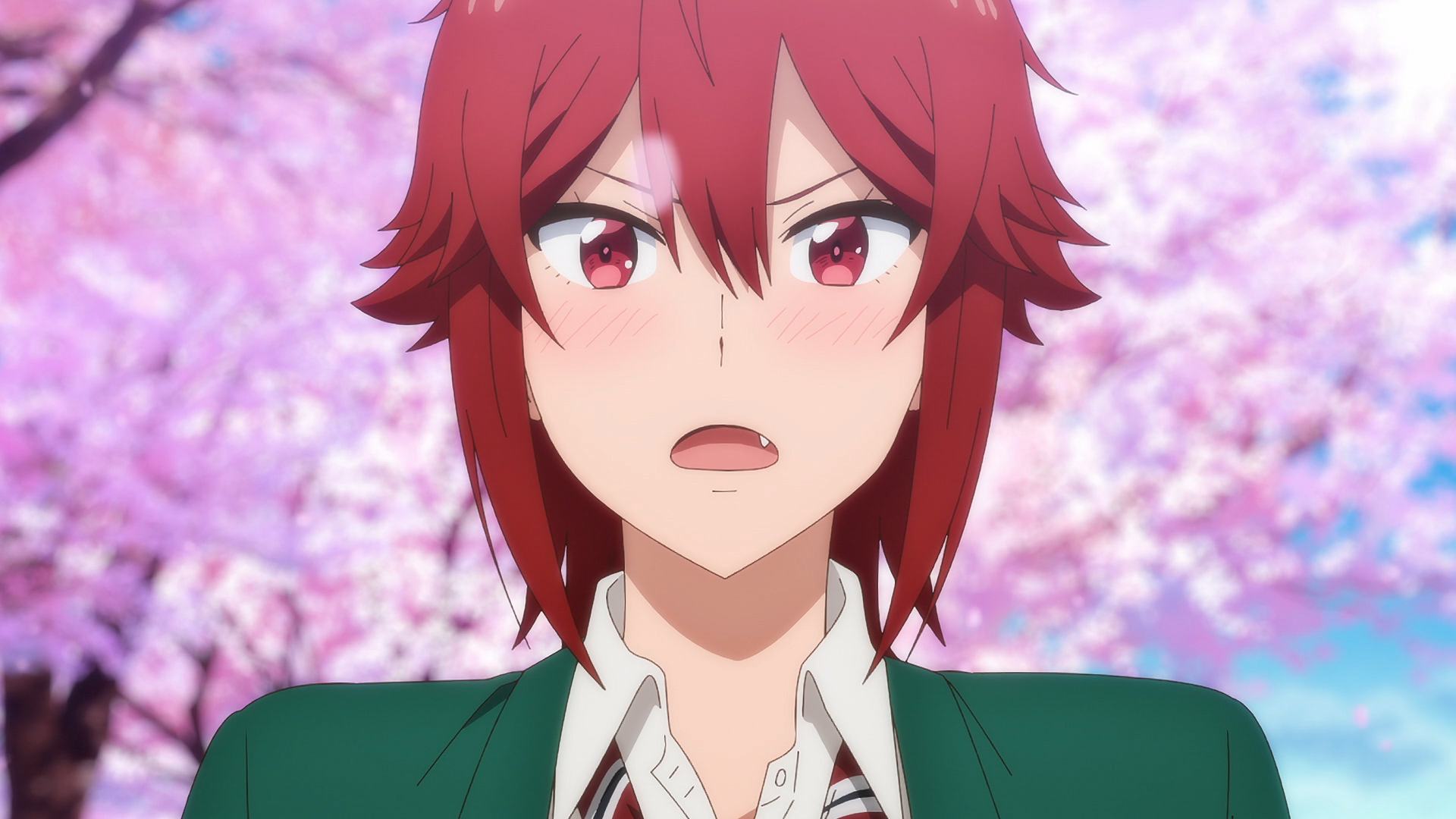 Because of this, I think I'd actually put my favourite new series (that I actually finished in time for this article anyway!) down as Tomo-chan is a Girl!. As a rom-com rather than being more of a straight-faced romance story like The Angel Next Door, I appreciated that it was both sweet and funny, putting Tomo, a muscle-headed tomboy of girl, through hell as she tries to become more feminine to pull on the heartstrings of her crush and childhood friend, Junichiro.
While I'd say the relationship development in this is also slow, it at least makes up for it through its idiocy and charm as it pulls its characters through dumb situations that play to their strengths, like beating up a group of thugs or having a hyper-powered dodgeball showdown, which ultimately help build the bond between the two leads. And I think that this is where it offers a great message,  saying it's better to be yourself rather than trying to change to appeal to someone else or try to act how other people want you to act. As cute as Tomo is when she's dressed very femme, her true appeal is when she's being boyish and rowdy, charging full speed ahead without thinking, and it was fun watching her realise that this is what Jun loves her for as we go through the show.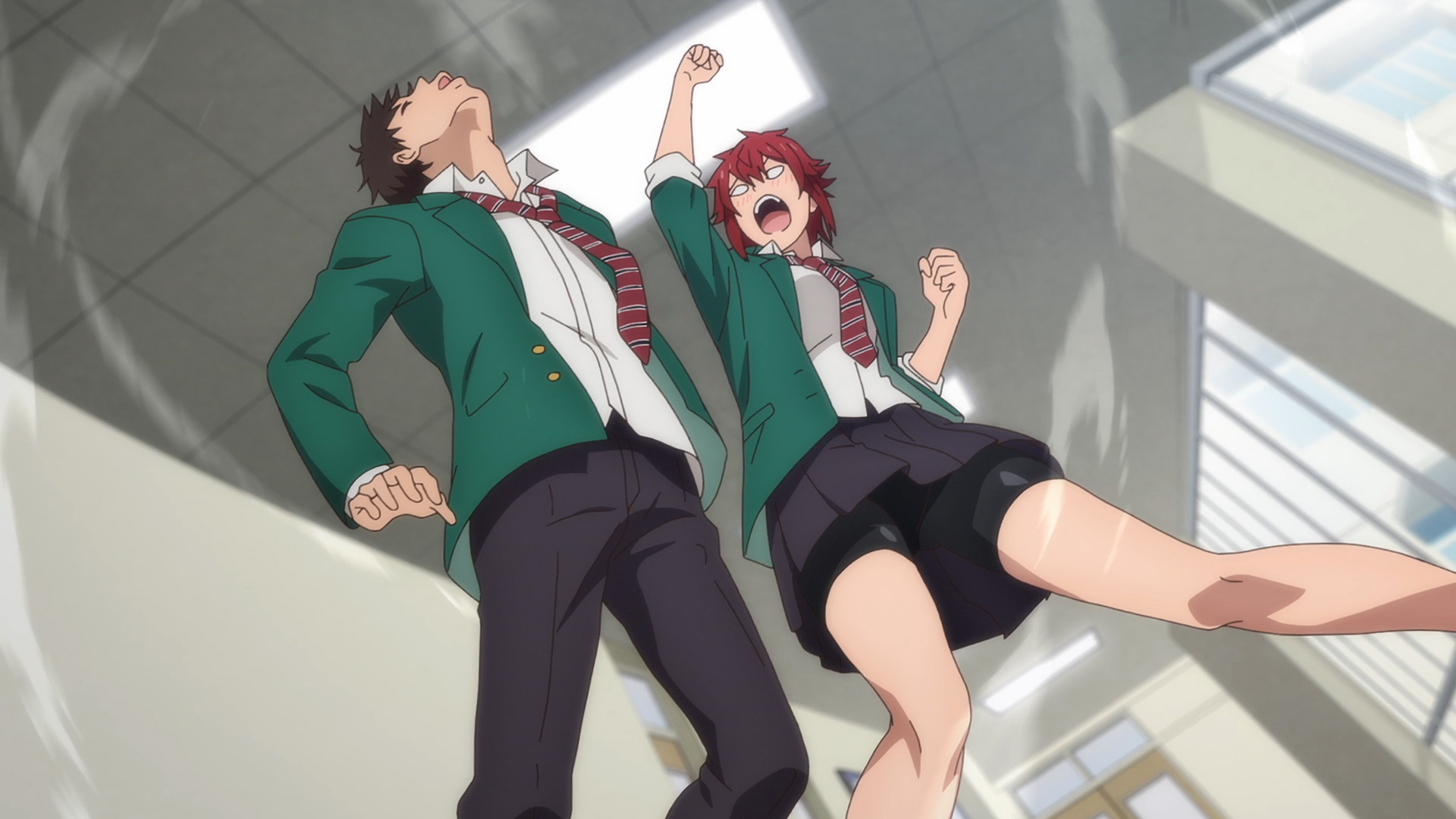 I'd also like to shout out the supporting cast who are honestly kinda nuts? Misuzu, Tomo's best friend, has a very dark demeanour which makes her a dangerous influence as she forces Tomo into dumb ideas in order to build her feminine appeal. This makes her very fun to watch early on, but as things go on you also get a sense of vulnerability there in her not wanting to lose her best friend to the guy she briefly went out with in middle school. Carol can also come off as a right piece of work sometimes, being a snide and sickeningly sweet rich girl, particularly at the start where she's the main object of the class's affections. However, she opens up as the series continues and becomes an airheaded idiot that you want to protect. She's voiced by Sally Amaki in both the Japanese and English dubs too, which offers pleasantly surprising consistency no matter what language option you prefer.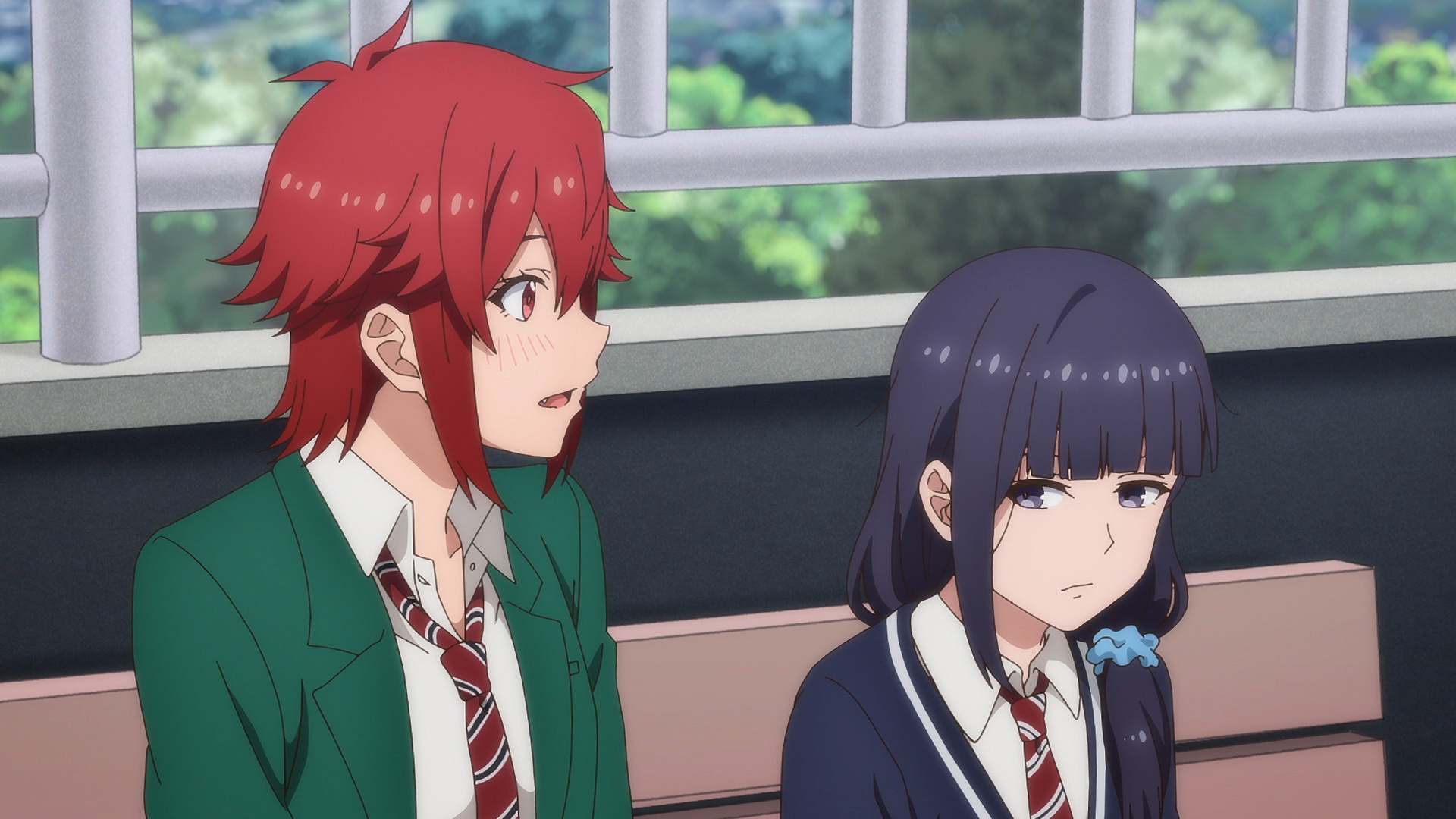 Overall, then, this is a fun romantic comedy with some great jokes and brilliant characters with a positive message conveyed throughout, so this is definitely one I'd recommend checking out!
Favourite – Returning Series
My returning pick sits in the same romantic comedy space as my new pick, as I'm choosing to recommend the second season of Don't Toy With Me, Miss Nagatoro. While the beginning of its first series was controversial, it's been really interesting see this evolve into a weirdly enjoyable rom-com that's easy to get along with because you know the reason Nagatoro teases Naoto "Senpai" is actually because she likes him. Meanwhile, Naoto has also grown fond of Nagatoro and as much as he gets embarrassed over it, he's actually pretty into it.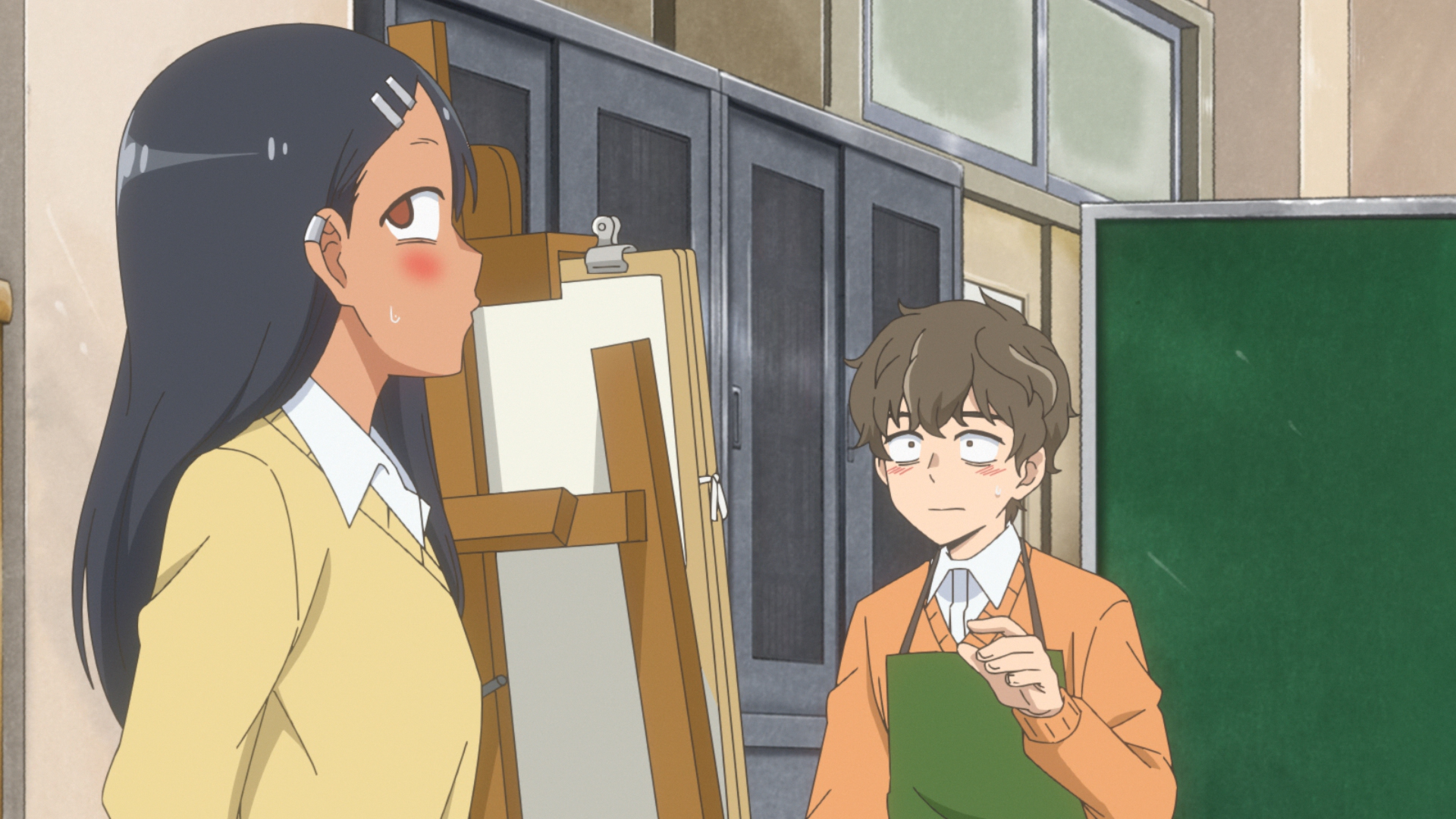 What I've liked about this one is the character development, and the way it can look past the simple teasing jokes to show deeper sides of the two leads as they get to enjoy either just hanging out or actually defend each other in certain situations. As much as Nagatoro tends to hide her true feelings behind that devilish persona, she's at her best when she shows herself to be strong, resolute and surprisingly kind. Naoto is also slowly evolving, and although he's still portrayed as a wuss most of the time, he does start building the courage to take things into his own hands and trying to advance his relationship with Nagatoro as he begins to see her as an actual love interest. The moments where you can see them as an actual couple are incredibly cute, and on-screen the characters just work really well together.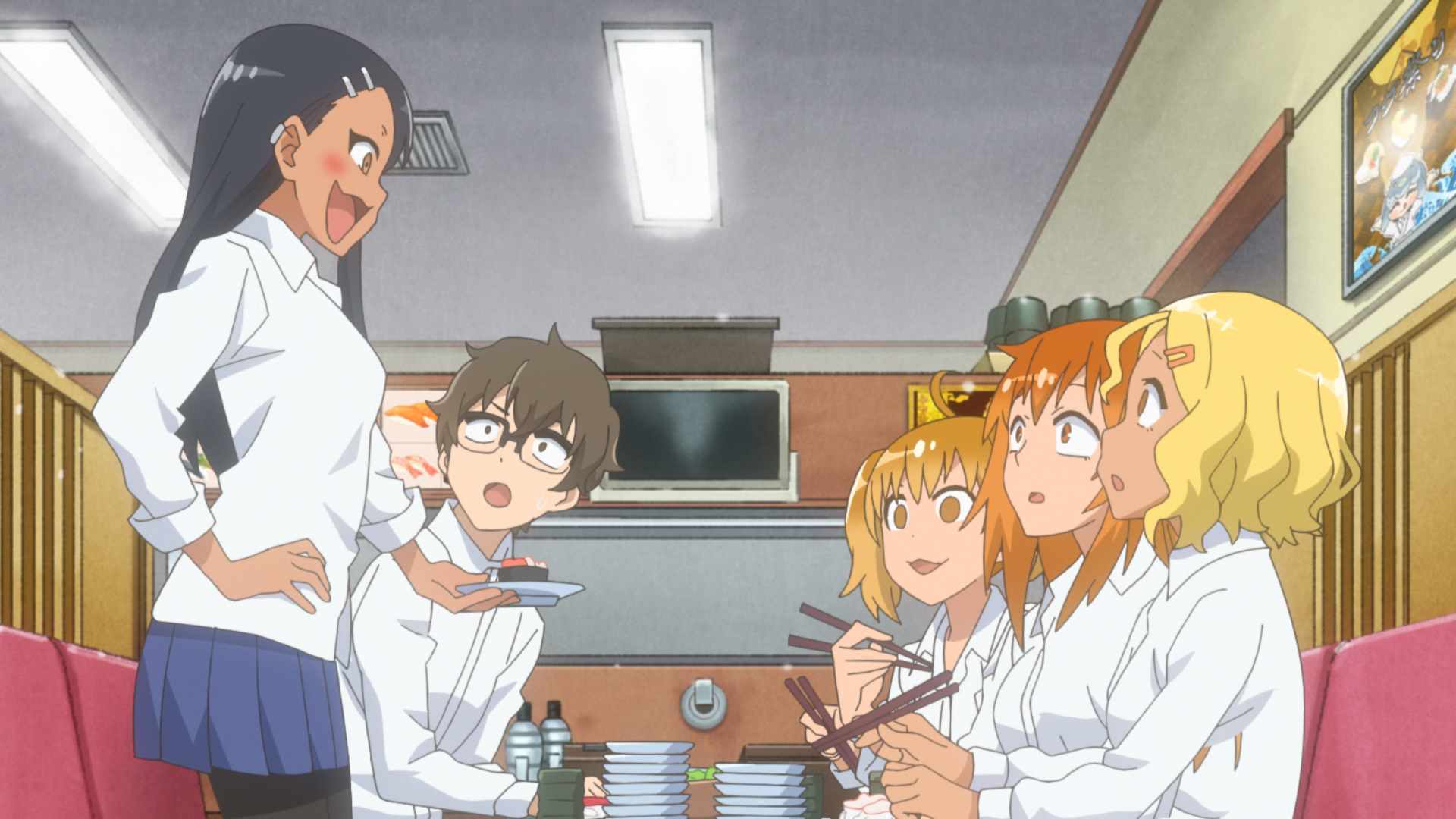 Still, this remains a show that certainly isn't for everyone as it does keep some of its sketchiness in hand, particularly with Sana's (the now graduated art club's nudist president) younger cousin Hana who is just as depraved but in other ways. The "Friends" (Gamo, Yoshi and Sakura) can also be pretty abrasive at points until they've sufficiently warmed to Nagatoro and Naoto being a kind-of item. There's also a couple of gags that come off as particularly fetishistic which I can appreciate not everyone is going to be into.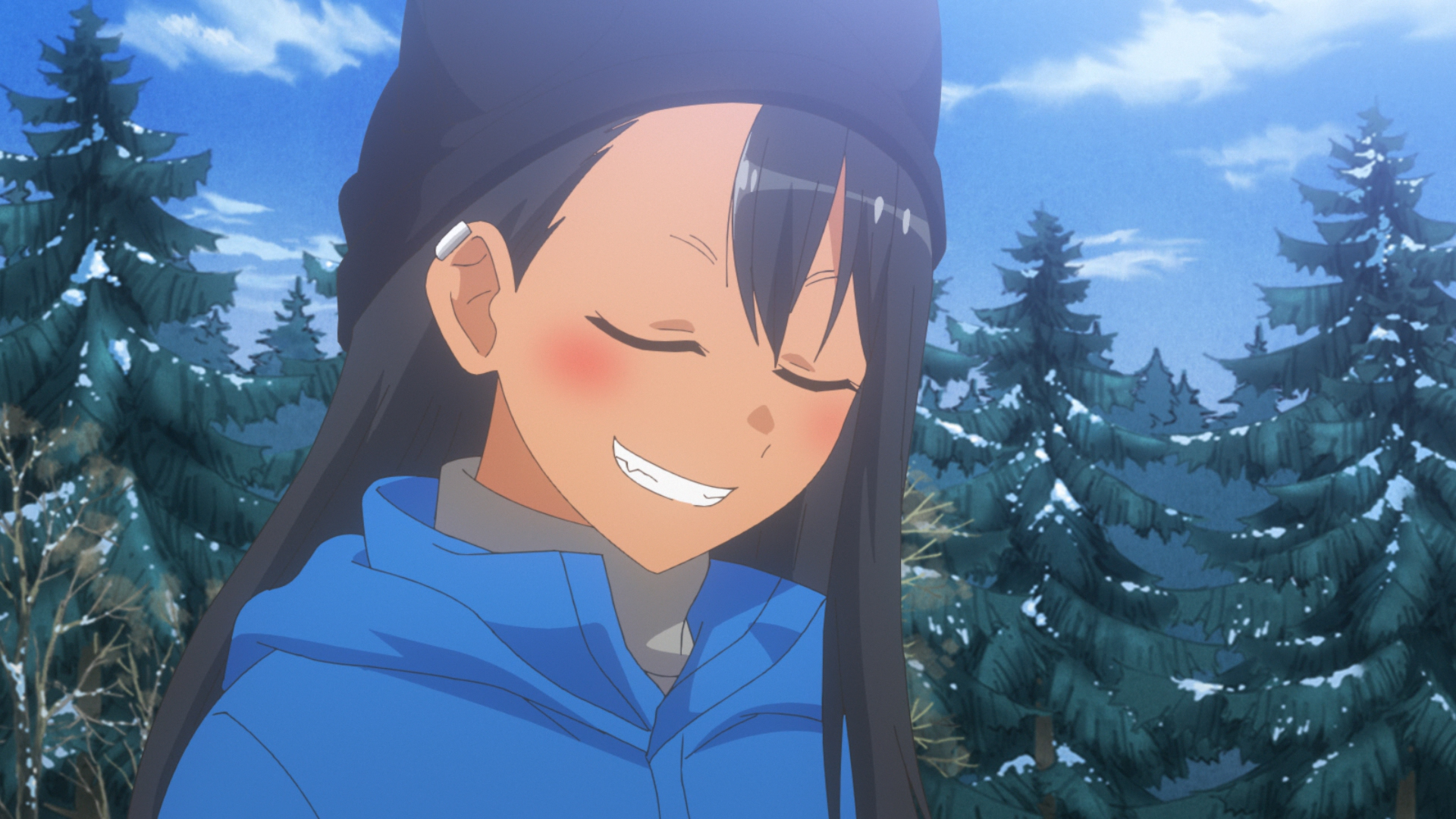 Nevertheless, I had a lot of fun with this one and found it in parts to be stronger than the first season. It's crazy and stupid, but also cute and heart-warming at the same time, combining the two into something you can't take your eyes off. If you did enjoy the first season, then I'd highly recommend continuing with it.
Surprise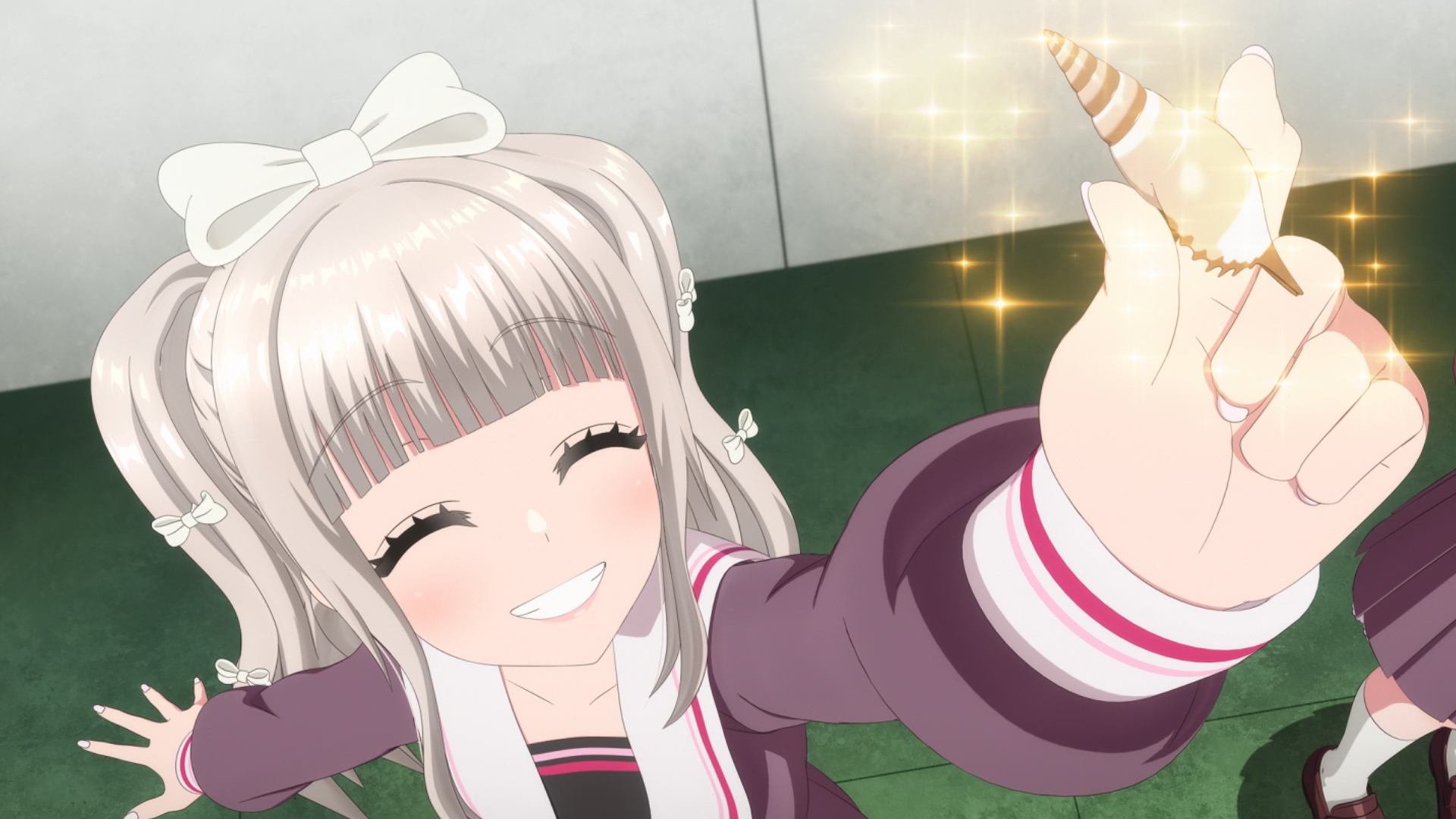 While not really a surprise in the quality of the show, but more in its execution is D4DJ: All Mix, which spun out an interesting story concept of having a month-by-month showcase of a year-long event, where in order to boost the local shopping district, the girls from Lyrical Lily rope their friends and rivals from the other local DJ groups into helping putting on live shows every month. It's not as simple as just "do a show every month" though, as the girls have to break down barriers with not just the local business owners and shoppers, but between themselves as well.
While we've had other anime in the franchise with the other groups, I found this to be a massive departure from First Mix, as that was a more conventional take on the music genre that takes a rookie group to the top of a competition (in that case Happy Around!! taking on Peaky P-Key in their school festival). There's still an end-goal here of getting through all the events, but there's a much bigger focus on showing each of the different groups as friends and rivals, with them working together to better themselves and trying to "find a different colour" than what they would normally paint themselves as.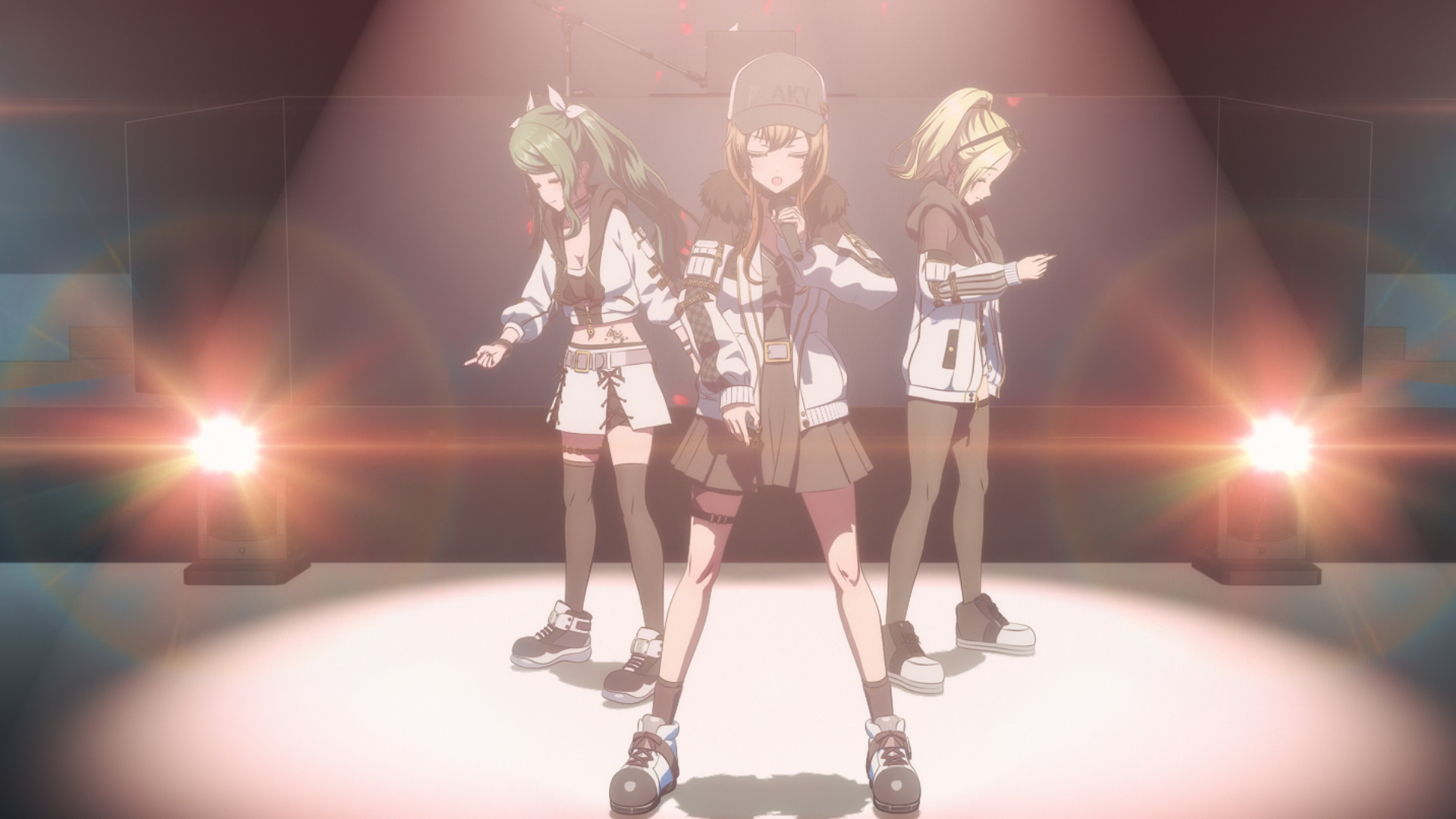 I think the concept really works to give you something different every week, and it gives all the different group members the development they need, particularly those who might have been underserved by other entries. It does however have a large requirement of being into the mobile game, as I did struggle at times to get into the groups that weren't really featured in the original series. That said, it did enough to pique my interest in them with some touching storylines, and it did make me feel more connected to some of the groups I wasn't as familiar with, particularly Lyrical Lily and Merm4id.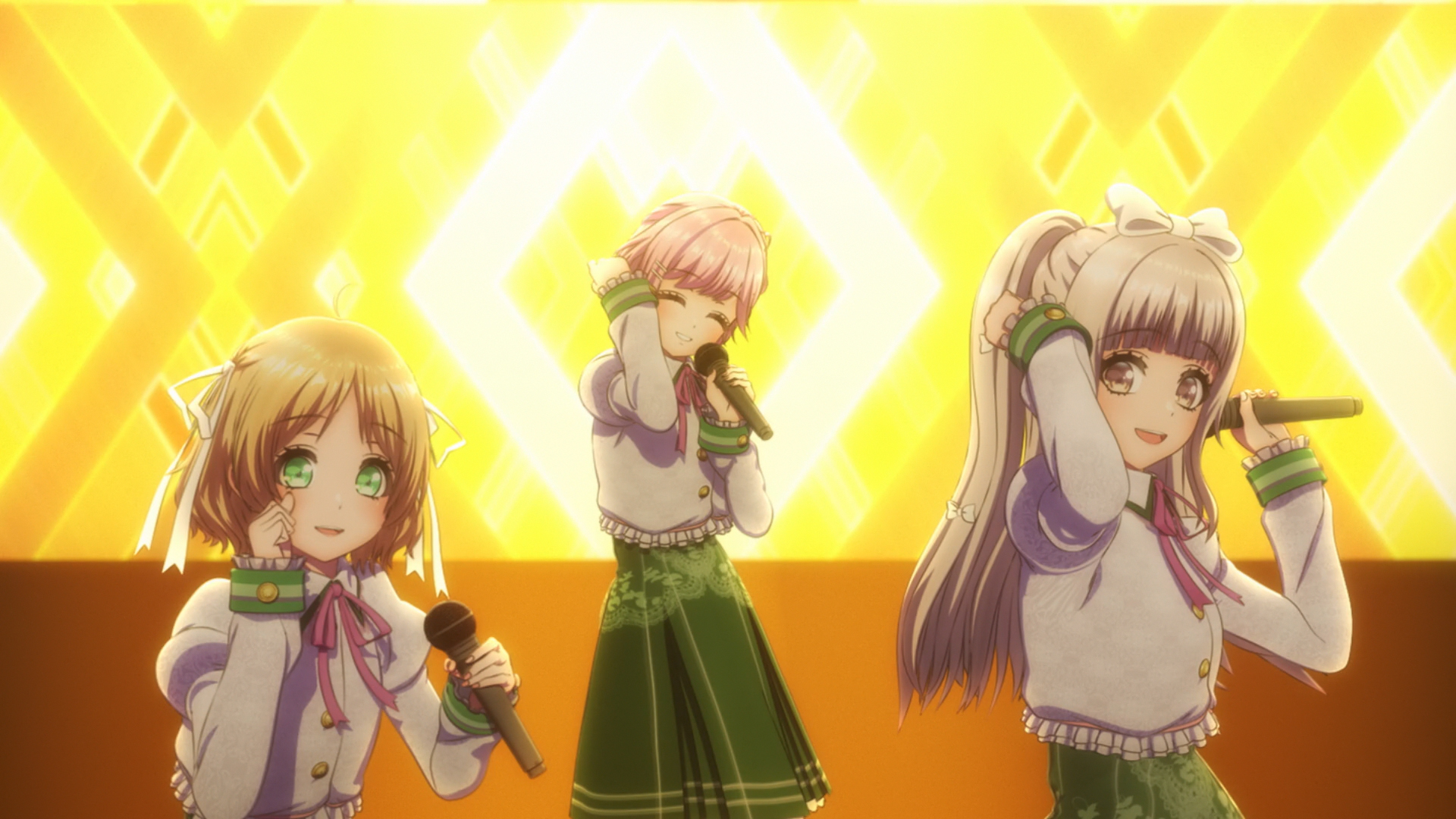 If you're looking for a series that aims to try something different and evolve from its first season I'd recommend giving this a go, although definitely watch the Season 1 first so you know some of the recurring cast.
Favourite OP and ED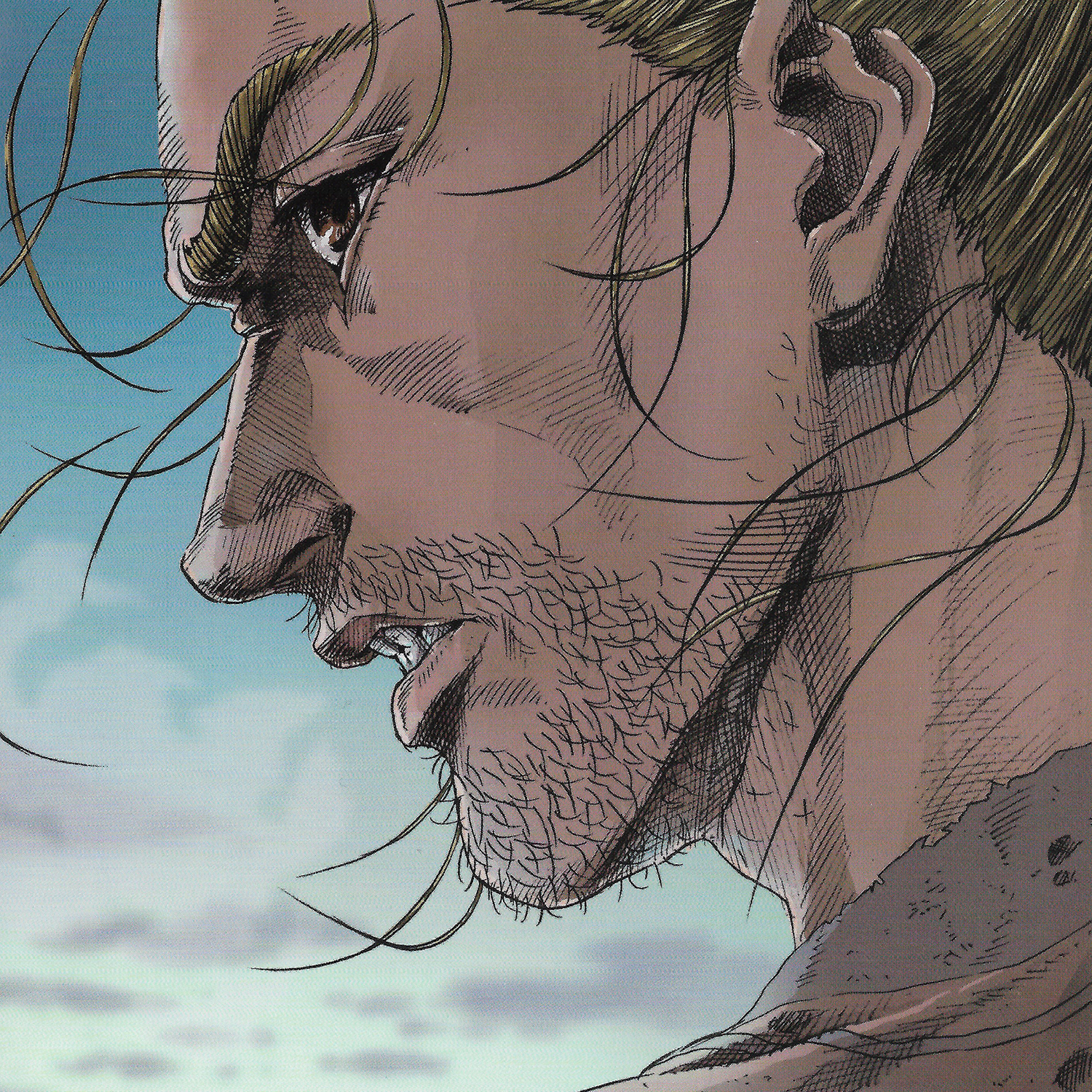 I haven't had time to watch it yet, but I picked up Vinland Saga Season 2's opening, "River" by Anonymouz while I was over in Japan and I've sure had it on repeat a lot over the past week or so after getting round to ripping the CD. I love the sound of Anonymouz's voice and she gets across both the struggle to survive and the wanderlust to explore in a dark and moody piece that fits the show perfectly.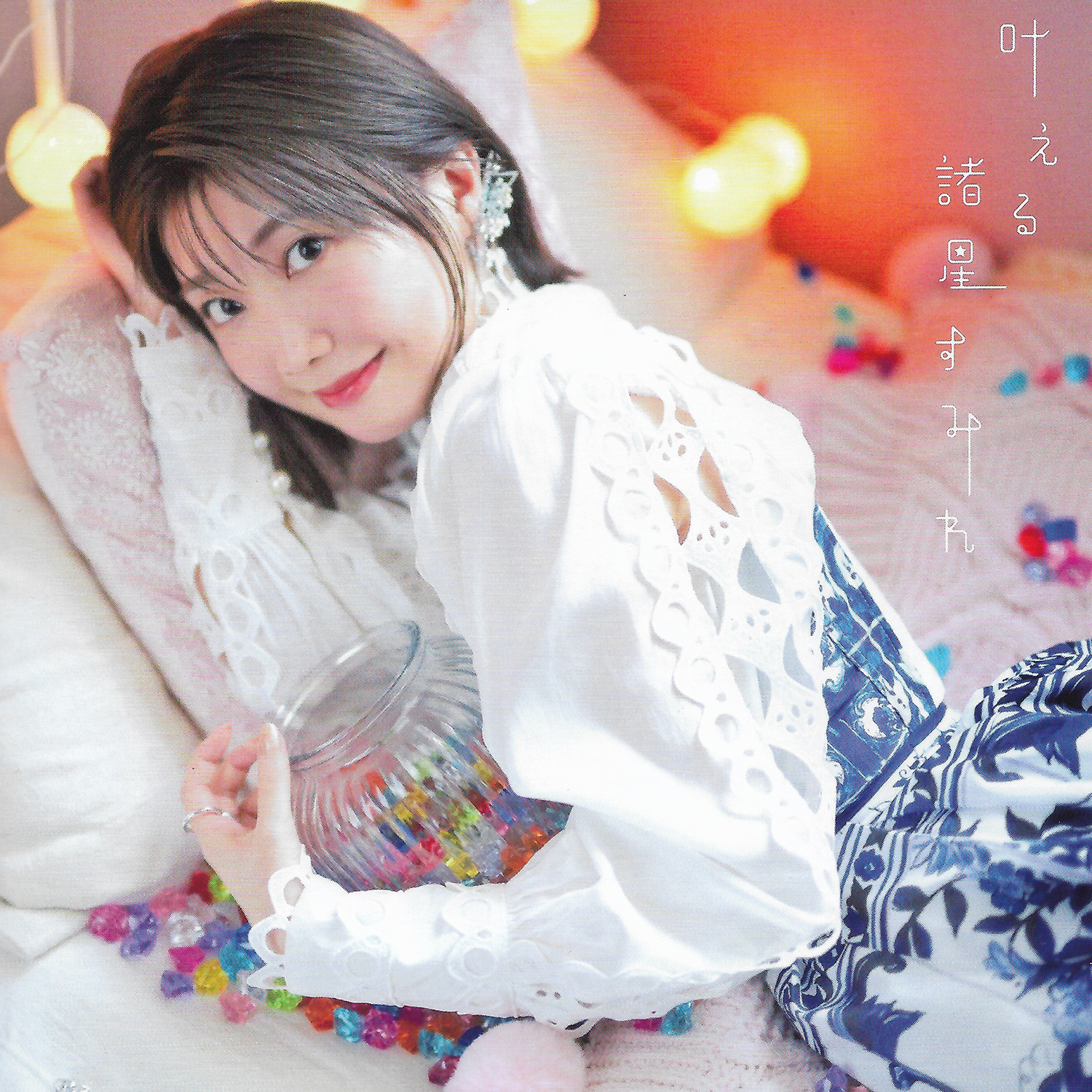 I'm also a fan of Sumire Morohoshi, so I also picked up "Kanaeru", the ending to Sugar Apple Fairy Tale. This one's a pretty sweet and jaunty song that I think offers a good bookend to each episode of Ann's adventures.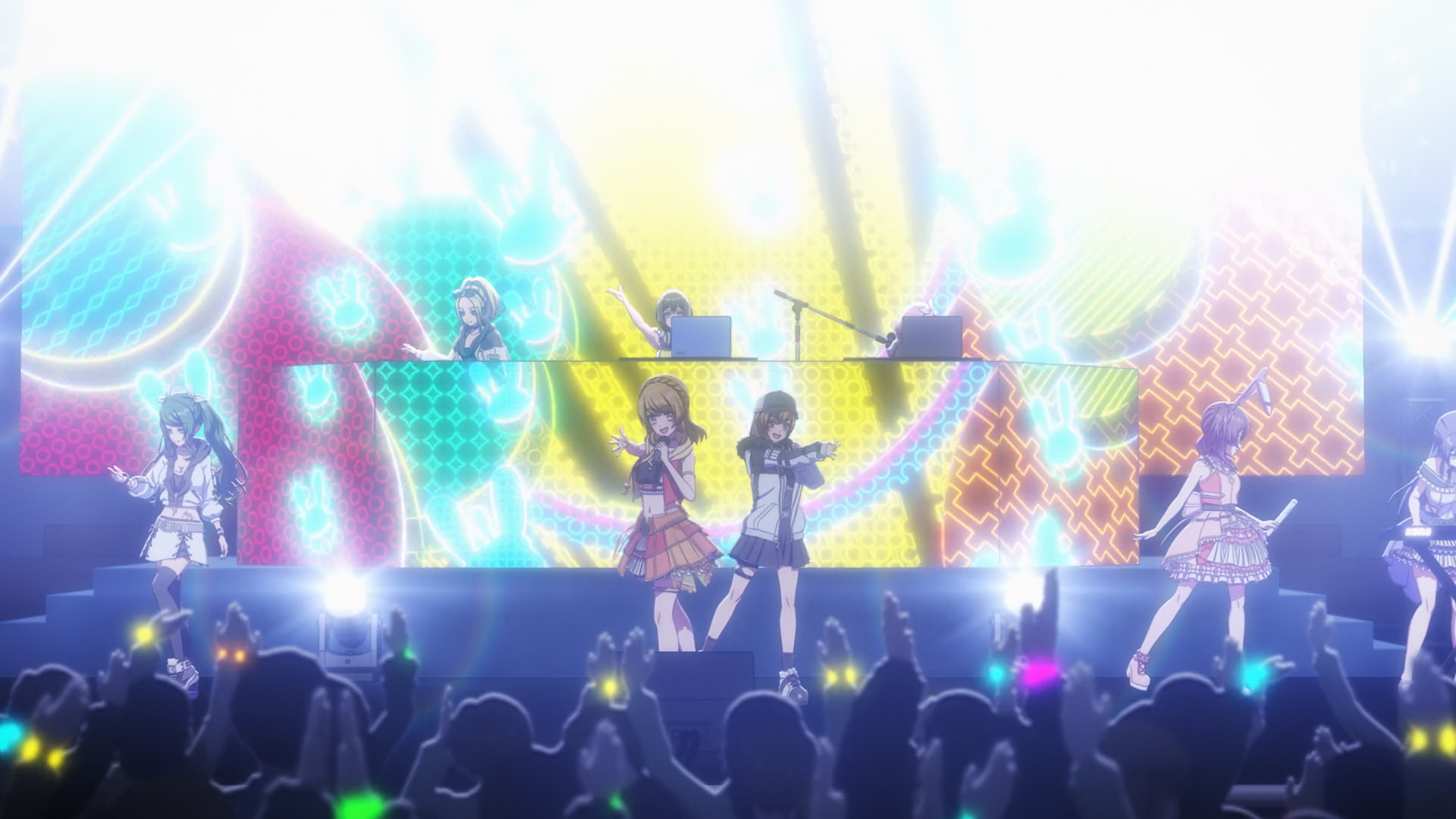 I'd also like to give a shout out to D4DJ: All Mix for having some banging tunes. Although I've been conflicted in some ways with the series focusing on one of my least favourite groups from the franchise, Lyrical Lily, I've come to like the opening, "Maihime", as a more sentimental tune when I'd more gravitate to the tracks that go in harder. I did get my fill of that with the Happy Around! and Peaky P-key collaboration, "Peaky Around!!" though! If you are into electronic music though, I'd recommend digging into the D4DJ song library as it's filled with tunes by some great Japanese composers and producers, many of which get their music played at clubs like MOGRA.
*
Demelza
Favourite – New Series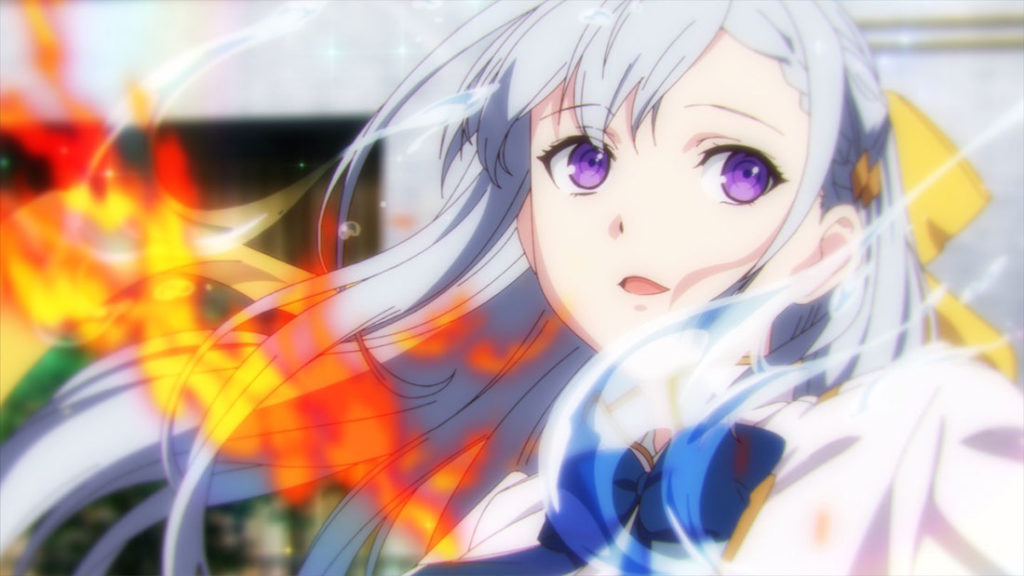 I went into this season looking forward to quite a few adaptations of manga and light novels I'm already a fan of, but the one that stood out from the crowd and became my favourite is The Magical Revolution of the Reincarnated Princess and the Genius Young Lady. This series follows the tale of Princess Anisphia and Euphyllia who get embroiled in all kinds of trouble as they try to figure out what their relationship is (is it love, admiration, or something else?) and what they want to do in their lives going forward, which is a question that rapidly changes around Anisphia as the series goes on.
There's a lot more depth to the cast and setting than you might expect from something that happens to be in the isekai genre. Animation studio Diomedea adapted the first three volumes of the light novel series, which gives viewers plenty to get invested in as they make up the first 'arc' of the story. But more than that, handling those three books also means there's a great stopping point for the series so viewers don't have to go and seek out the source material to answer any questions they may have left over. The downside is that content from Volume 3 (and #2, but mostly #3) was changed or left out to better suit the time the anime had left – but I think it comes out of this okay. At the very least anime-only viewers wouldn't notice the way I did having read the books and that means the changes have done their job.
This is one of those series that sounds generic if you just read the synopsis, but once you watch the first few episodes you'll see that it has a lot of heart. Certainly, this is on track to be one of my favourites of the year, never mind the season, so I highly recommend readers check it out for themselves.
Favourite – Returning Series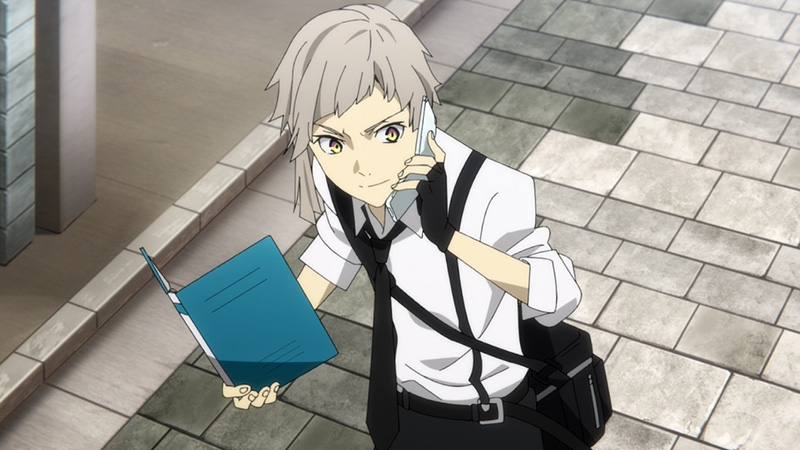 This was a tough category to choose, given so many of my favourites made their return this Winter. In/Spectre, Tsurune and DanMachi have been absolutely wonderful to watch every week, but I think the series I've enjoyed most of all is Season 4 of Bungo Stray Dogs. Opening by adapting a light novel storyline showing how Ranpo and Yukichi Fukuzawa first met, the show started strong and immediately got me invested in the world once more. After Ranpo's story, we immediately launched into the next arc from the manga, one that's currently still ongoing and sees the Armed Detective Agency framed for crimes they have not committed. The world has turned against them through the use of a special power and now the group are wanted fugitives, fighting for their lives and to find proof of their innocence.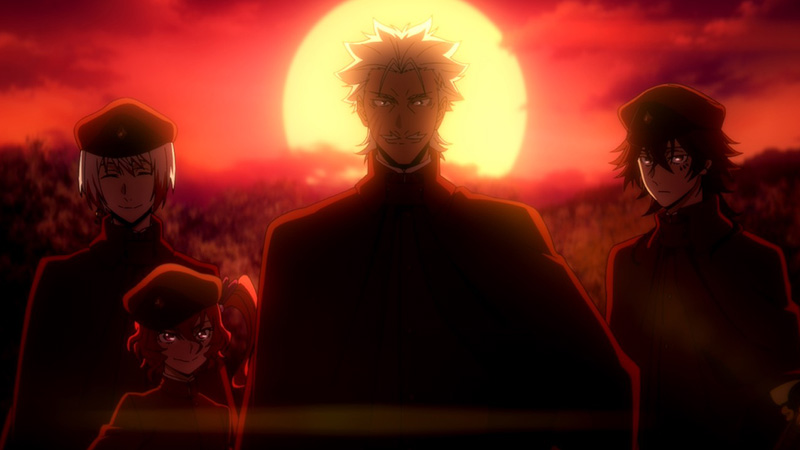 When I originally read this storyline in the manga, I felt it got a bit silly but after experiencing it again in anime form, I've changed my opinion a bit. Maybe simply the fact we've gotten through it so much faster has helped, since the twists and turns are delivered just fast enough to prevent your mind from wandering and wondering how much of this makes sense. But perhaps what I enjoyed most about Season 4 is that it introduces us to a new group of antagonists and in true Bungo Stray Dogs fashion they're not at all one-note villains. Just like the Port Mafia, they're well-rounded characters whom you can't help but take an interest in even if they are the enemy and that to me has always been a strength of the franchise. No matter whose side someone is on, you as a viewer or a reader will find yourself eager to learn more about them, especially when foes often become friends.
Unfortunately, the anime has stopped midway through the arc (perhaps unsurprisingly, given it's a long one and yet to end in the source material), but the good news is Bungo Stray Dogs will be returning to our screens in July for Season 5 so we won't have to wait long until we're reunited with these characters.
Surprise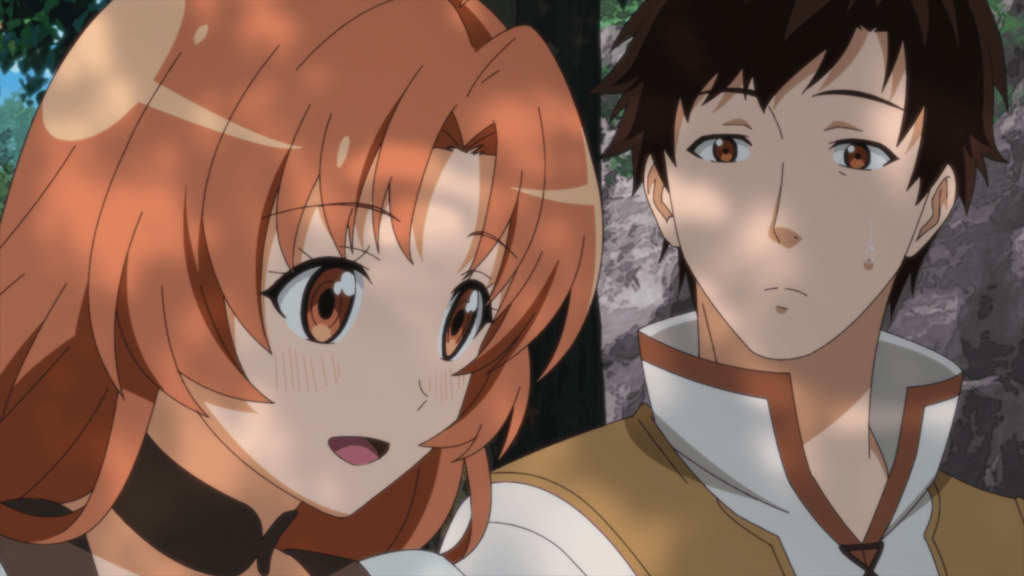 As is often the way for me, I picked up quite a few isekai this season that I knew nothing about in the hopes of finding something special. Among those the two that stood out were Handyman Saitou in Another World and the one I will discuss here, Chillin' in My 30s after Getting Fired from the Demon King's Army. This one followed the story of Dariel, formerly a soldier in the Dark Lord's army who gets fired and retires in a village of humans where he helps support the residents by defeating powerful monsters and settling disputes with the demons. He ends up living with Marika, the daughter of the town's mayor and how viewers would be forgiven for thinking she exists simply for fan service due to her large breast size.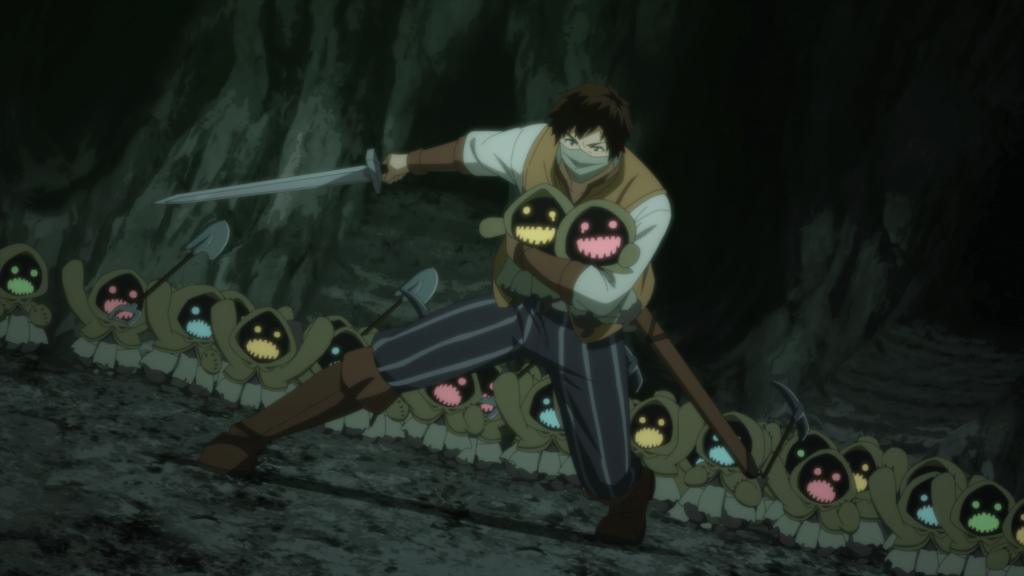 I will admit that when this first started and especially when we were introduced to Marika, I never thought I'd look back on it fondly. But now at the end of the season, I can say it ended up being a very sweet story, following the life of Dariel and those around him as he makes a new life for himself. It also handles the members of the Dark Lord's army well, showing us both those who liked and disliked Dariel and why his being fired has left the everyday running of the army in a difficult position. It turns out he was doing far more to keep things running smoothly than anyone would have imagined.
I'm not sure this is going to be the most memorable of series as the year goes on, but it's certainly a show I didn't expect to enjoy even half as much as I did and I imagine other fans of these kinds of fantasy stories would also quite enjoy it.
Disappointment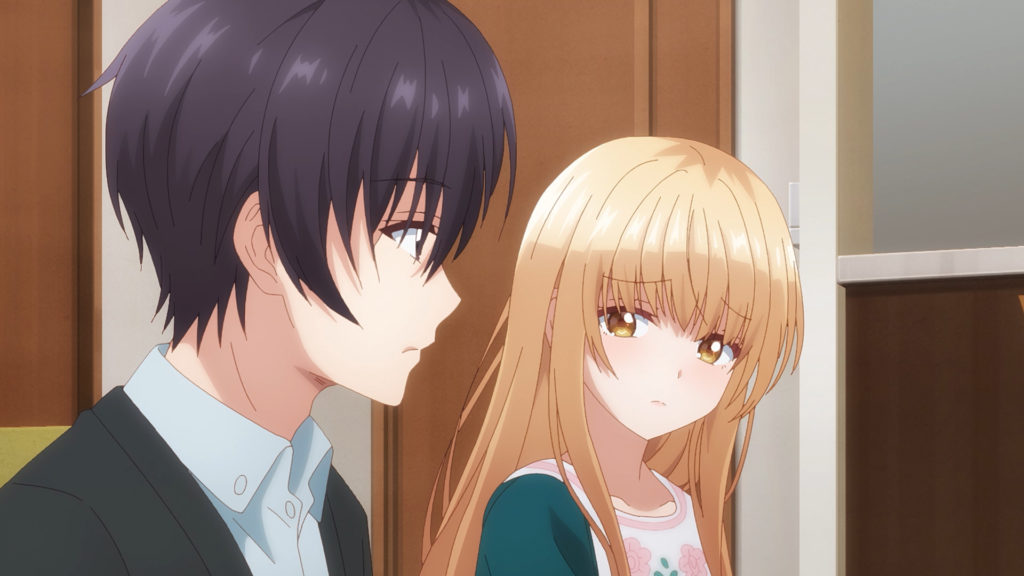 For as many of my favourite series that received wonderful adaptations this season, there are two that ended up subpar. One of those is Spy Classroom (which admittedly has gotten better in the last 2-3 episodes) and the other is my pick for this section – The Angel Next Door Spoils Me Rotten. This one followed the story of Amane, who becomes friends with his neighbour Mahiru, a girl known at school as an 'angel'. As Mahiru spends more time with Amane, cooking meals for him and generally hanging out, there are soon some romantic feelings blossoming between the two.
This is a slow-burn romance series and while the interactions between Amane and Mahiru should be quite cute, this adaptation has let it down considerably. Handled by Project No.9 (Higehiro, Bottom-tier Tomozaki), I was never a huge fan of the character designs which didn't capture the charming features of the light novel illustrations, but I could have lived with that if the rest of it had been okay. Unfortunately, things got worse toward the midpoint of the anime where it started to rush through the content of Volumes 3 and 4, cutting out substantial amounts of character development and ruining the overall flow of the narrative. It was rushing to reach a particular point in the story, which I can see the value in, but by doing so, it completely ruined the atmosphere of the series and left it feeling sloppy.  As it stands, this is difficult to recommend, even to existing fans of the series and is definitely my biggest disappointment of the season.
Favourite OP and ED
My favourite opening and ending themes this season are both from the band Luck Life, but it's not just because I'm a big fan of the band that I've gravitated towards them, since both themes capture the anime really well. My favourite opening is "℃" from Tsurune, while the ending I've picked is "Shirushi" from Bungo Stray Dogs Season 4. Both in terms of their lyrics and the animation that accompanies them, these tracks capture the importance of connections. For Tsurune this is related to how the club members need to come together and unite their feelings, while in Bungo Stray Dogs the Armed Detective Agency has lost the enjoyable way of living they're used to and must come together to take it back.
Favourite character/couple/mascot of the season
Given how highly I spoke of The Magical Revolution of the Reincarnated Princess and the Genius Young Lady, I think it would be a crime not to pick Euphyllia and Anisphia as my favourite character/couple. There's excellent chemistry between them right from the very start as this unlikely pair comes together and complement each other's strengths. In many ways, their personalities and interactions remind me of Chisato and Takina from Lycoris Recoil, which is no bad thing, given that was my favourite show of 2022!
*
HWR
Favourite – New Series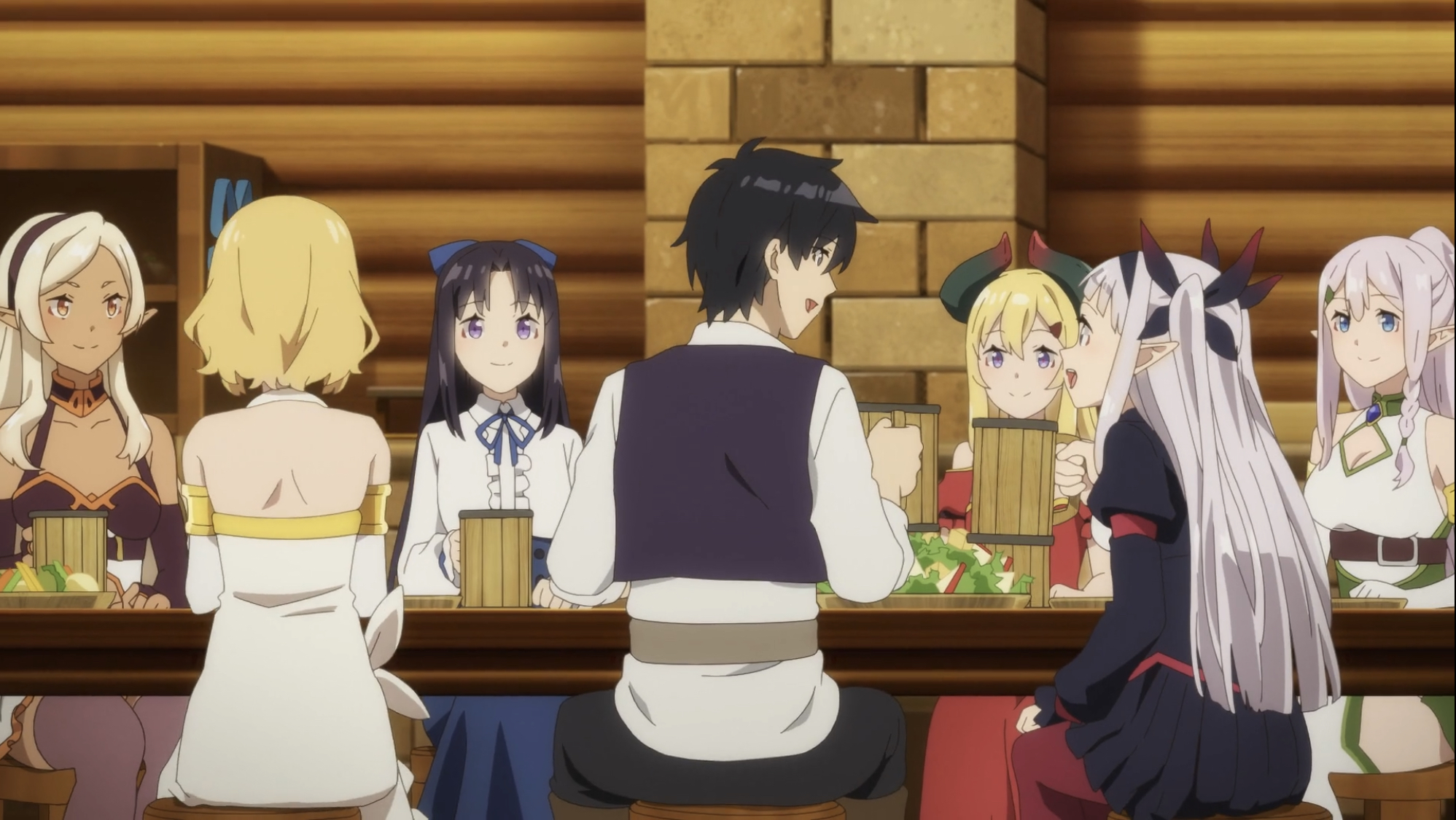 Though the "In another World" trope can produce mixed results nowadays, I was quite impressed with how Farming Life in Another World managed to not only exceed my expectations but also deliver a relaxing and fun excursion into both fantasy and farming slice-of-life. Much of the series' charm lies in its simplicity – the plot sees Hiraku Machio (Atsushi Abe) a terminally ill man who is  reincarnated by god and then takes up farming, eventually growing an entire community known as The Great Tree Village. It makes for a nice and gradual watch as Hiraku ends up surrounding himself with a commune of (mostly female) members of other races including elves and demons, and though there are some harem vibes, Ru (Shino Shimoji), a female vampire, becomes his wife towards the end of the series.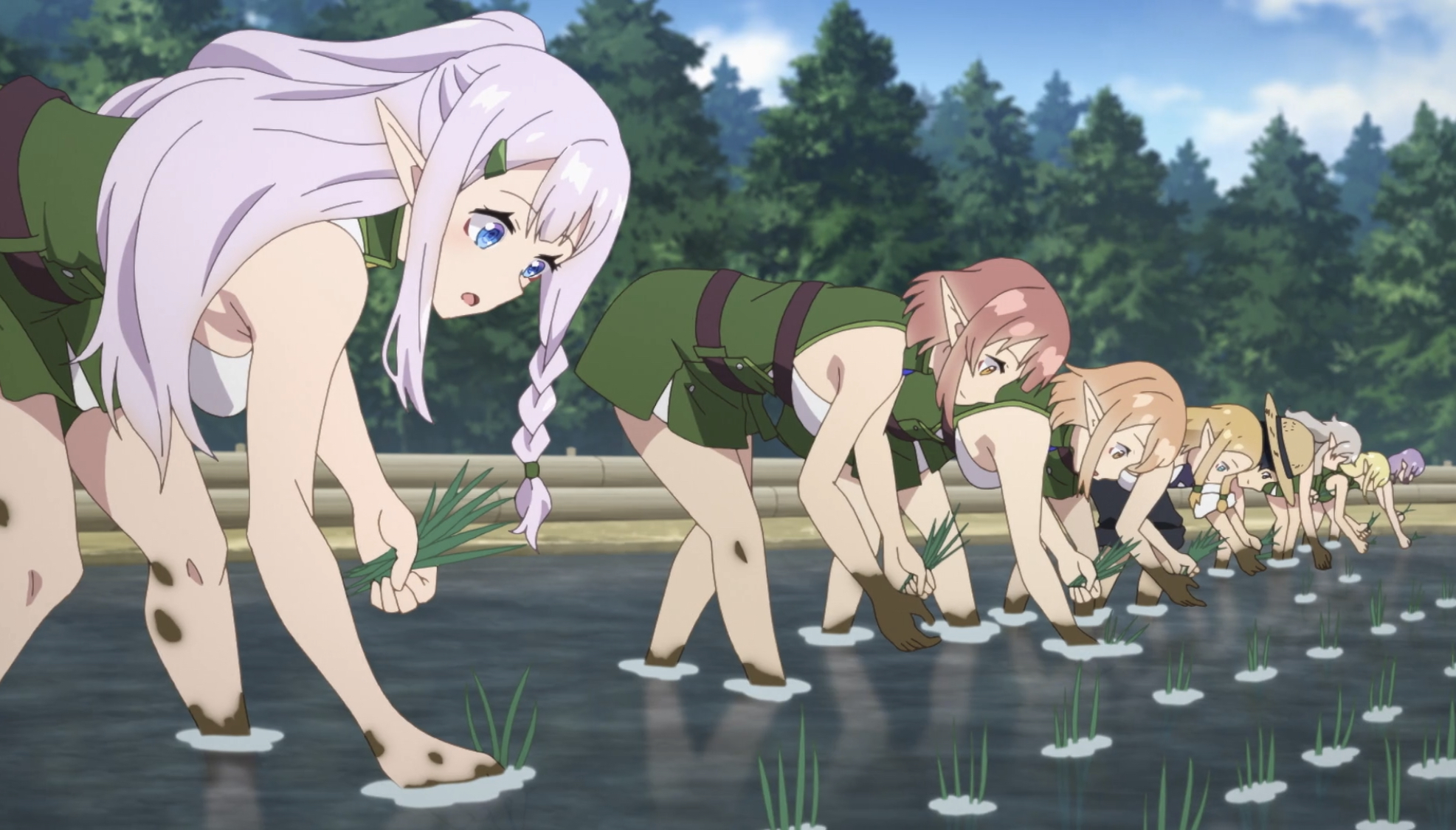 Seeing the farm commune grow to the extent that Hiraku becomes a full-fledged Mayor, dealing with currency and trade and allowing refugees under his wing was the real highlight of this run of episodes for me, and the pacing didn't feel too rushed. The final episode, which I won't spoil here, signifies a new beginning of sorts for the story, which focused on starting something from nothing, and delivered more than I expected from the premise.
Favourite – Returning Series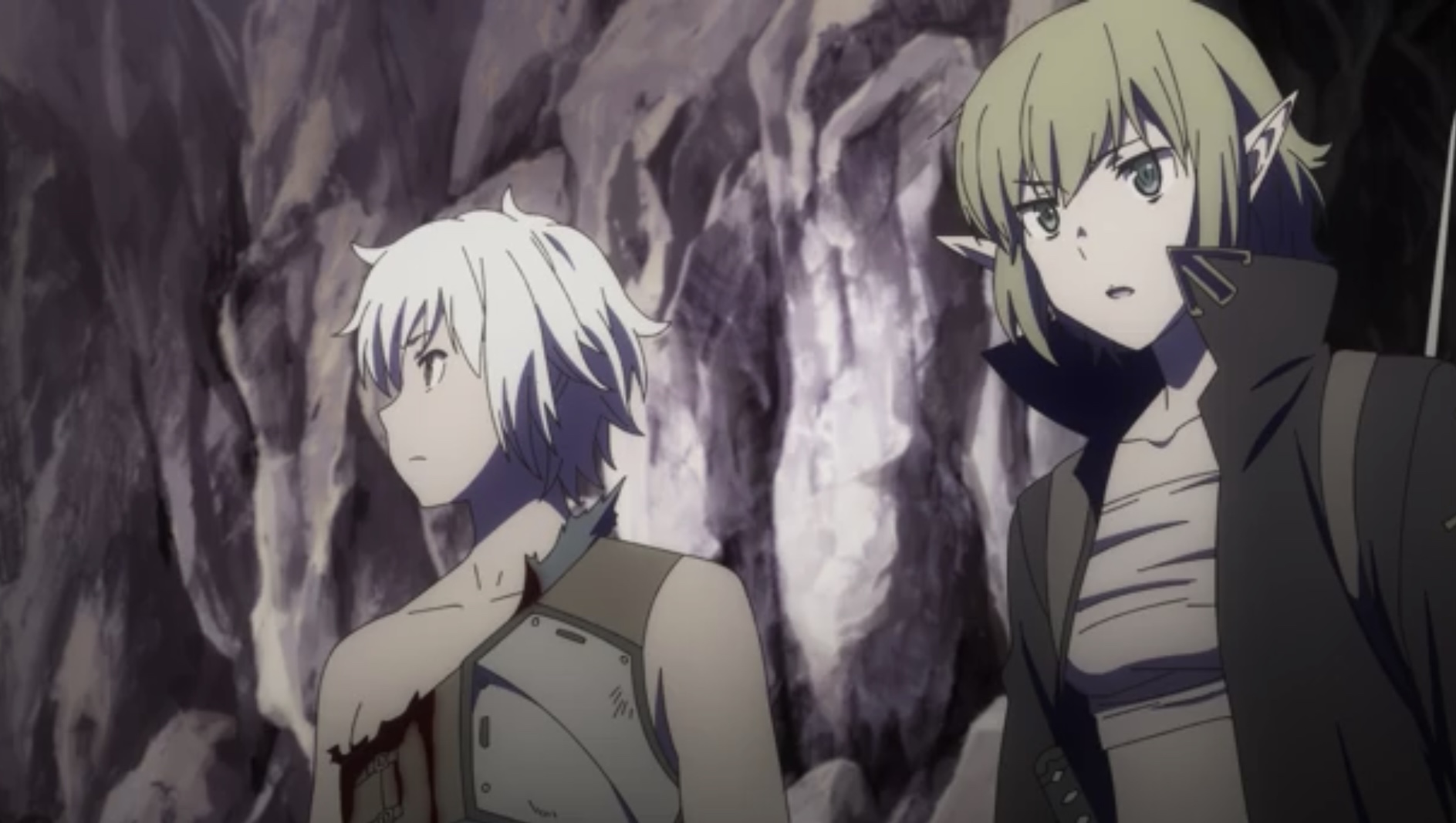 Is It Wrong to Try to Pick Up Girls in a Dungeon? IV Part 2, overlong English title aside, was a consistently tense and often brutal eleven episodes, for which the focal point is the relationship between Bell (Yoshitsugu Matsuoka) and Ryuu (Saori Hayami), as they try to survive a relentless onslaught of dangers, juxtaposing with Bell's party who also find themselves in too deep against the forces of the dungeon.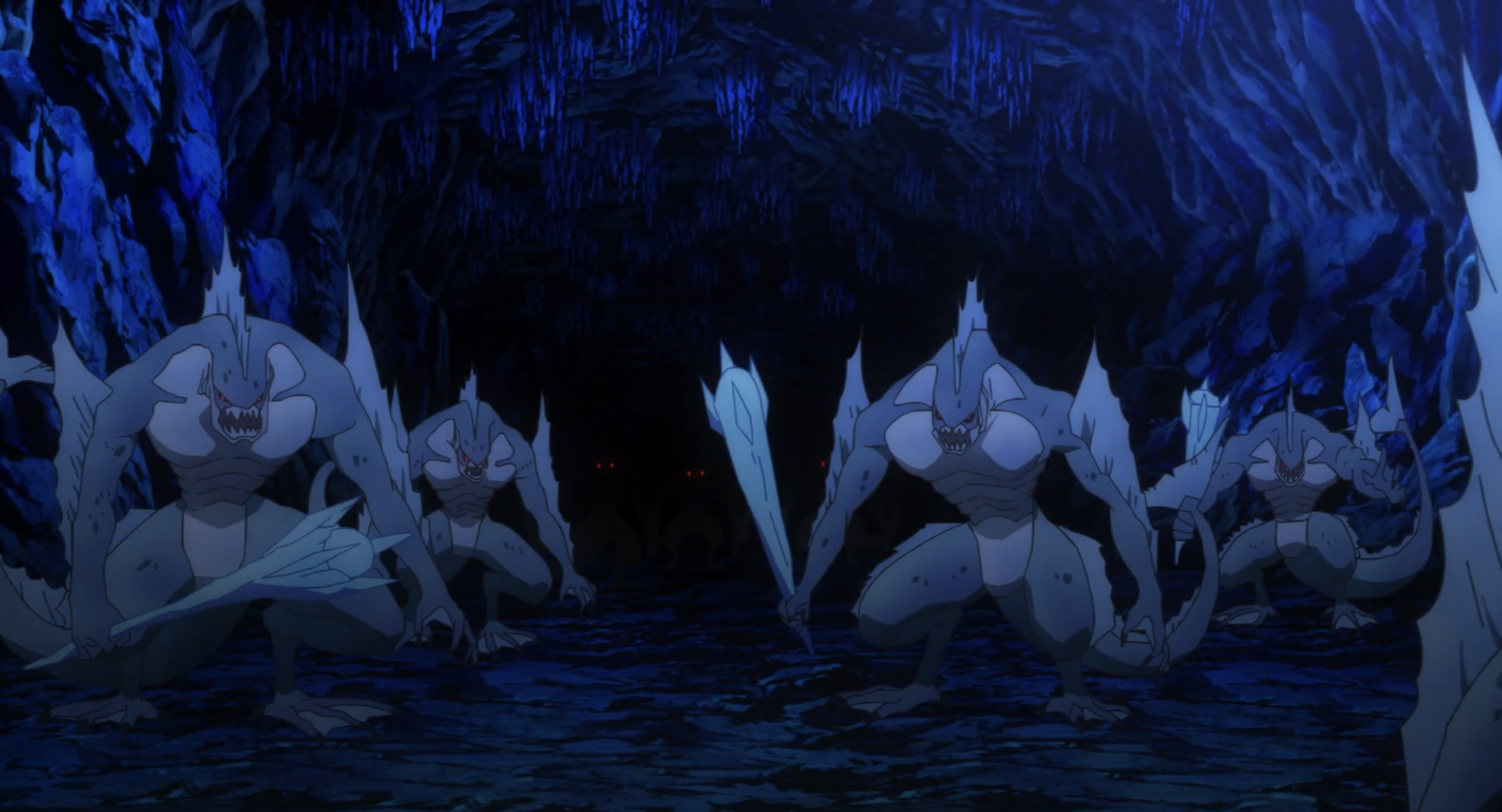 What stuck with me throughout the season is that the tension and the threats remained and didn't wane for me, especially as supporting characters got their moments to shine, and Ryuu's backstory and how it unfolded also worked effectively, making this my favourite season to date.
Surprise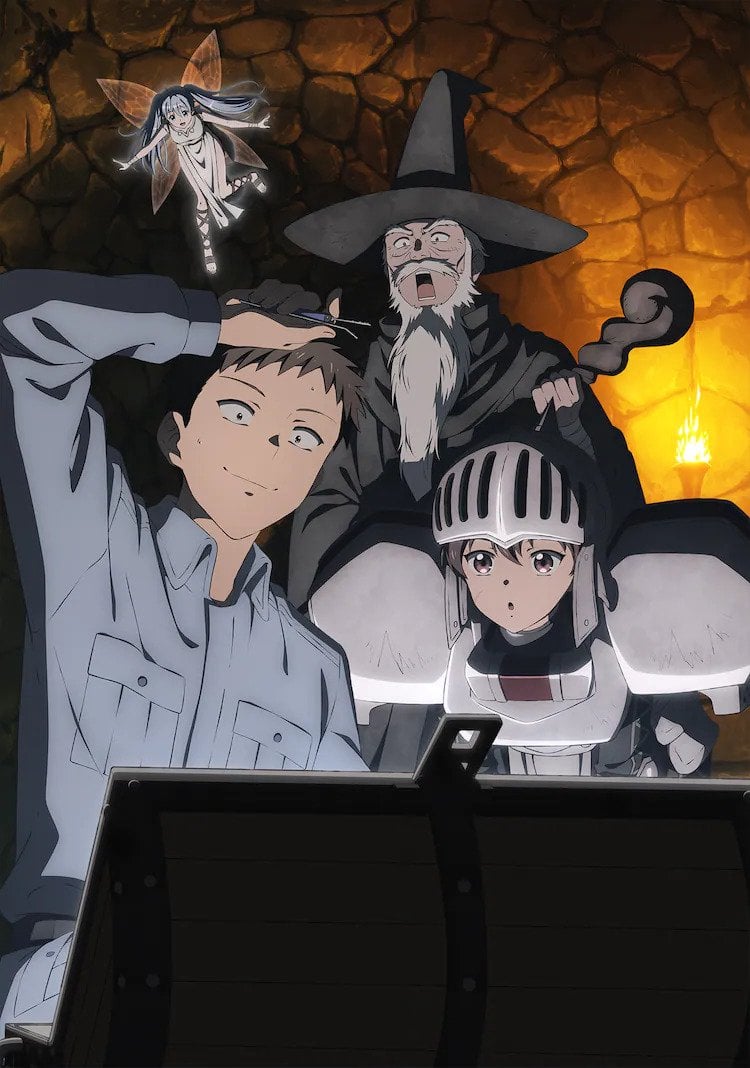 Handyman Saitou in Another World surprised me with how it maintained its balance of humour and more serious episodes, built on the strong team of characters and their quirks, with the kooky-yet-powerful wizard Morlock (Cho) being the highlight of the season thanks to his importance at certain points in the story, but also due to his comedic presence throughout.
Disappointment 
The Fruits of Evolution: Before I Knew It, My Life Had It Made Season 2 is one of the worst anime I've ever seen to date, and certainly one of the worst sequels, to an already mediocre first outing. The title took me longer to type than it would to think of a positive to write regarding the plodding story and worthless cast, and trying to recollect what happened across the twelve-episode run is drawing blanks. I, perhaps in vain, hoped that a midway decent plot would emerge, but I was very much mistaken, and this series very definitely didn't have it made.
Favourite character/couple/mascot of the season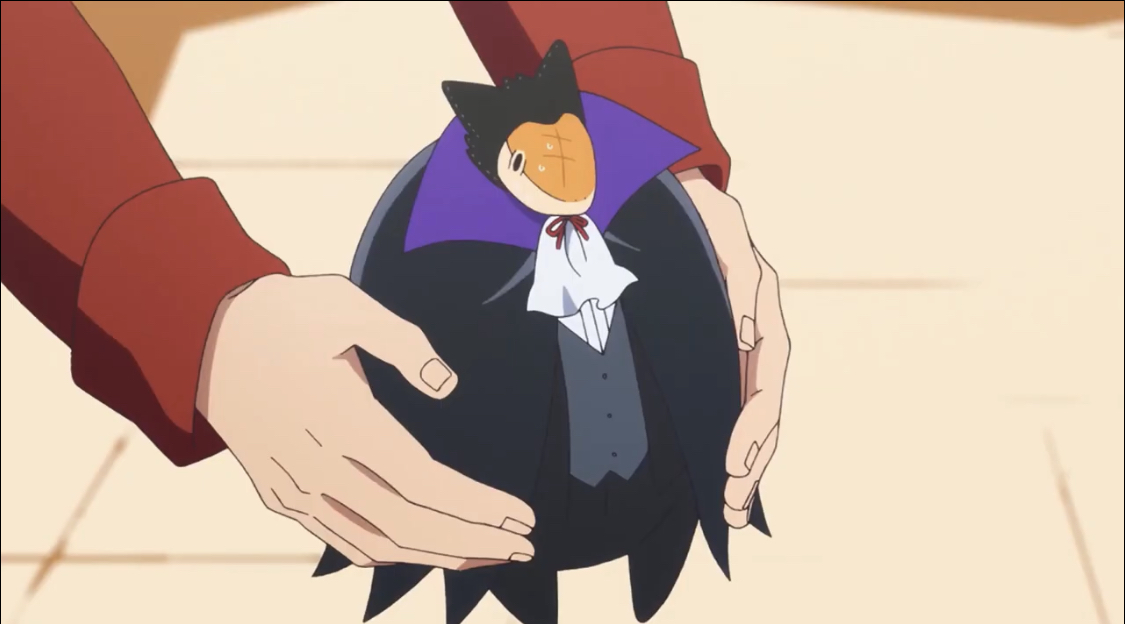 John from The Vampire Dies In No Time Season 2 is the cutest anime mascot full-stop, and a source of comedic joy within this quirky supernatural comedy. Despite only making sounds there's a lot of charm and personality within this pet armadillo, and his devotion to his master Draluc is adorable.
*
Sarah
Favourite – New Series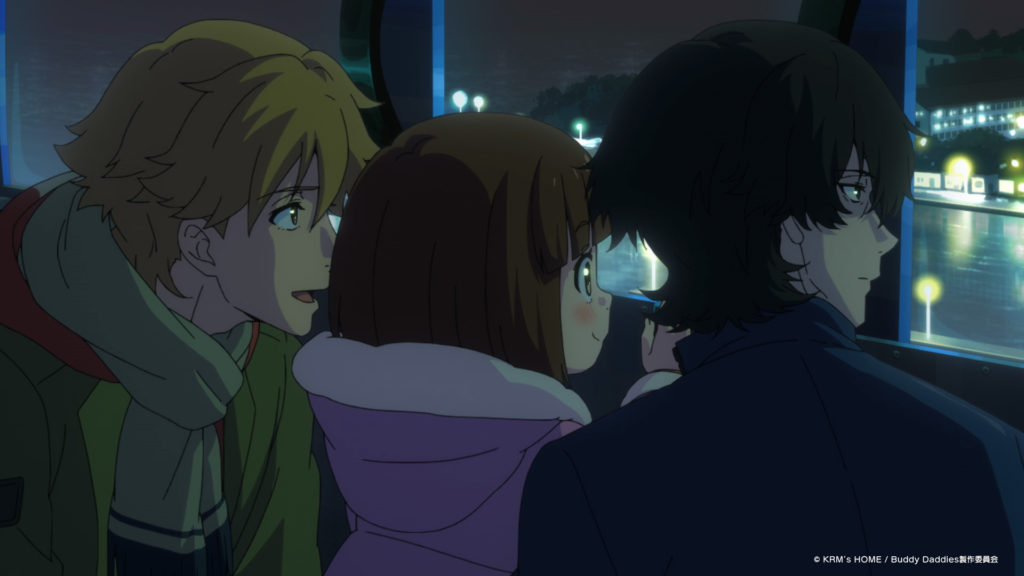 It's been really hard to choose a favourite new series from several possible contenders, but here we go… Buddy Daddies! Two young professional assassins, Rei and Kazuki, have just arrived in disguise at a swanky Christmas party given by their target, when a little girl appears and tells 'Santa' (Kazuki) that she's come to find her papa. In a hail of bullets, Kazuki whisks her up and away, telling her that he's her father. This little whirlwind (called Miri) brings about a great change – for the better – in both men's  lives. But their dark pasts are constantly threatening to catch up with them and now that they've let their guard down to care for Miri, all three are in danger. This original anime series was compared at first by many to Spy x Family but it's completely different, except perhaps in the theme of Found Family. It delivers a realistic portrayal of daily life with a lively four-year-old (a brilliant performance from Hina Kino) and some believable character development for her two papas, Rei and Kazuki, who both have to try to come to terms with those dark pasts as they come back to haunt them. If you take several of the shoot-out scenes with a very large pinch of salt, the series is well paced and the dramatic turns of events of the last episodes kept me (and many other viewers) on the edges of our seats. It looks good, both in terms of overall design and in character design too and it does a decent job of tying up most (though not all) of the dangling plot threads in a satisfying way at the end.
Favourite – Returning Series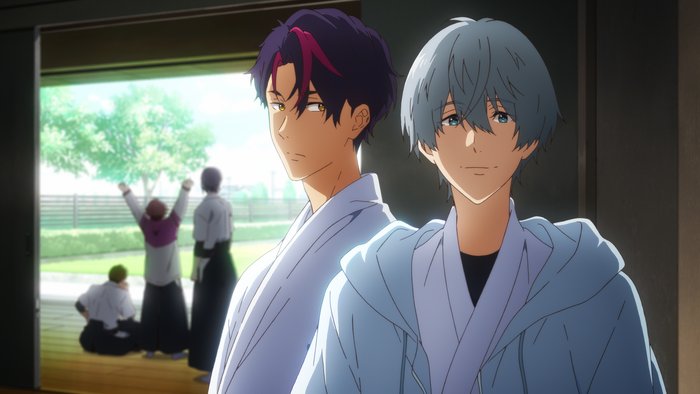 Tsurune – The Linking Shot is the long-awaited sequel to the 2018 KyoAni series about high school students forming a kyudo club and going on to compete against other schools. It looks wonderful, suffused with KyoAni's unique look, both in character design and settings – and, based on novels by Kotoko Ayano, the characterization is convincing and compelling. We've followed Minato from his first stirrings of interest in kyudo, through family tragedy to the present day where he and his team (coached by Masa who is also the priest at the local shrine) are going on to compete at national level. They're up against their usual rivals, Kirisaki – but a new contender has entered the competition: Fujimine High, who have hardly any resources at all but the five-strong team are coached by second-year Eisuke Nikaido who burns with resentment, yet is passionate about archery.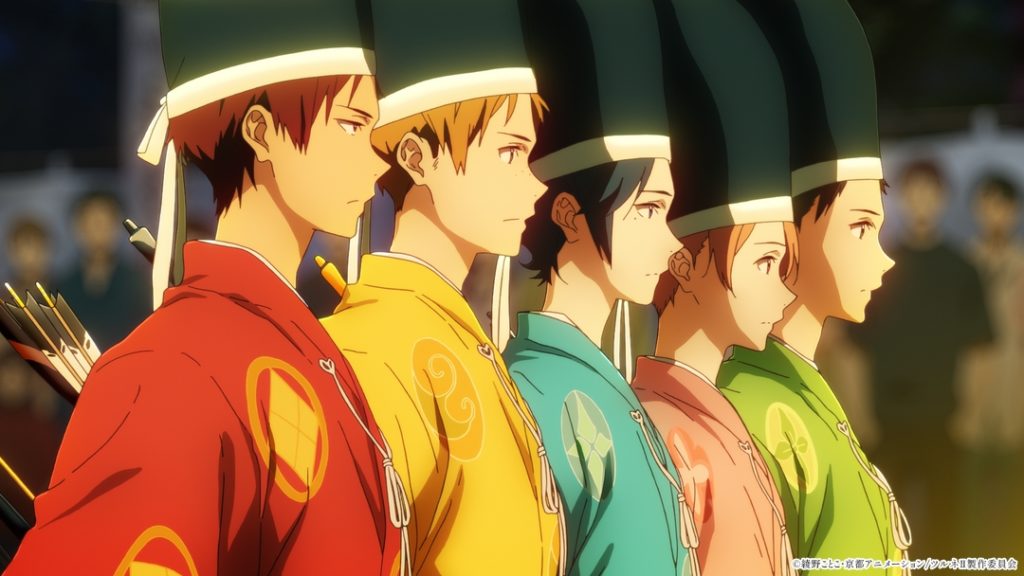 This slice-of-life drama moves at an easy pace yet holds the attention because we've been introduced to all the characters and have come to care about them. When there's a disastrous falling-out between cousins Nanao and Kaito, it takes a whole episode (#5) for them to come to a new kind of understanding – and we feel as if we've lived through the experience with them. Similarly when Minato is having trouble with his technique and Coach Masa tells him to stop using his bow and return to basics, we really feel his frustration. And in the competition scenes, the animation is at its most imaginative, depicting the archery range as if flooded with water and the ripples that spread outward as each competitor takes aim and looses their arrows. This, combined with the very effective use of sound – and silence – brings an added tension to the matches, as well as creating some of the most beautiful animation I've seen in a long while. The art – and the people – of Tsurune will stay with you long after you've finished watching.
Surprise
Several pleasant surprises for me this season meant that I followed series I hadn't originally intended to: Gen Urobuchi's Revenger, a samurai drama set in 19th century Nagasaki; Campfire Cooking in Another World with my Absurd Skill an isekai with a refreshing culinary theme and Sui, one of the cutest slimes ever (although eating orcs and goblins seems horribly close to cannibalism!) and Technoroid Overmind which looks as if it's another idol show (which it is in a way) but at heart is an intriguing SF tale about androids, sentience and what it means to be human. It also has some really good songs by Elements Garden and RUCCA.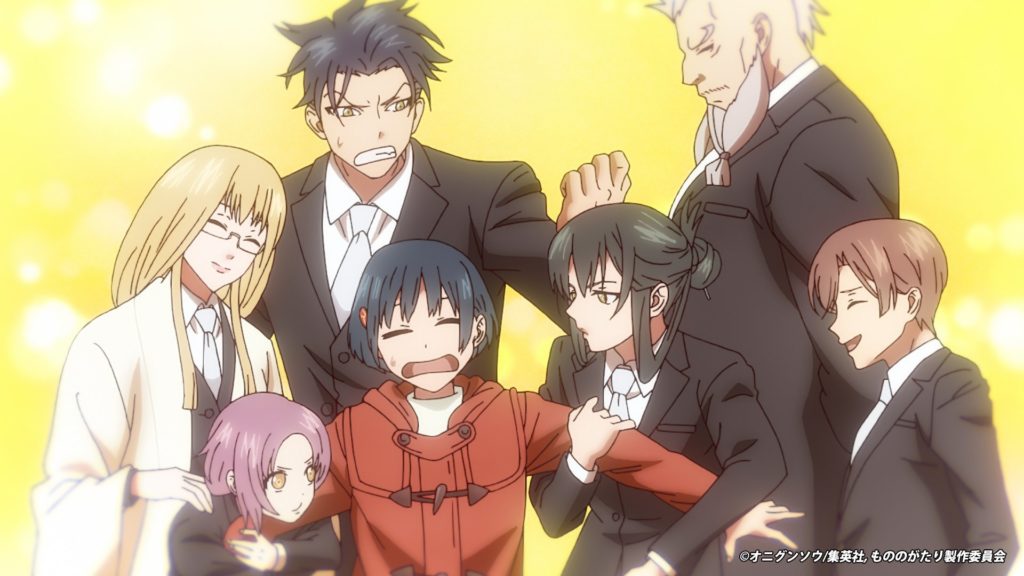 But my stand-out (because I always have a soft spot for a good fantasy) has to be Malevolent Spirits: Monogatari based on the ongoing manga by Onigunsou (Seven Seas) and set in present-day Kyoto. Tsukumogami are the spirits that possess everyday objects – but sometimes they become malevolent. Kunato Hyouma is a young member of the Saenome clan who are trained to send them back to the spirit world – but a tsukumogami killed his beloved older brother and sister. His grandfather sends him to the household of a young woman, Nagatsuki Botan, who lives with a 'family' of six tsukumogami who have brought her up and act as her beloved guardians – in the hope that they will help Kunato to come to terms with his desire for vengeance. In many ways, this is another Found Family story as the relationship between Botan and her guardians is very close and sometimes surprisingly moving (there's a special meaning here that is revealed in the ED). But there's genuine menace to be found in some of the older, more sinister tsukumogami – the character/creature designs are intriguingly 'different' – and some of the confrontations are thrillingly depicted. The series quietly convinces the viewer that this is urban mythology that could quite easily be happening right now in a side street or down an alleyway nearby. Thank goodness the series has been renewed for another season as there's so much more to unravel in Botan's mysterious past, not to mention the internal rivalries among the members of the Saenome clan.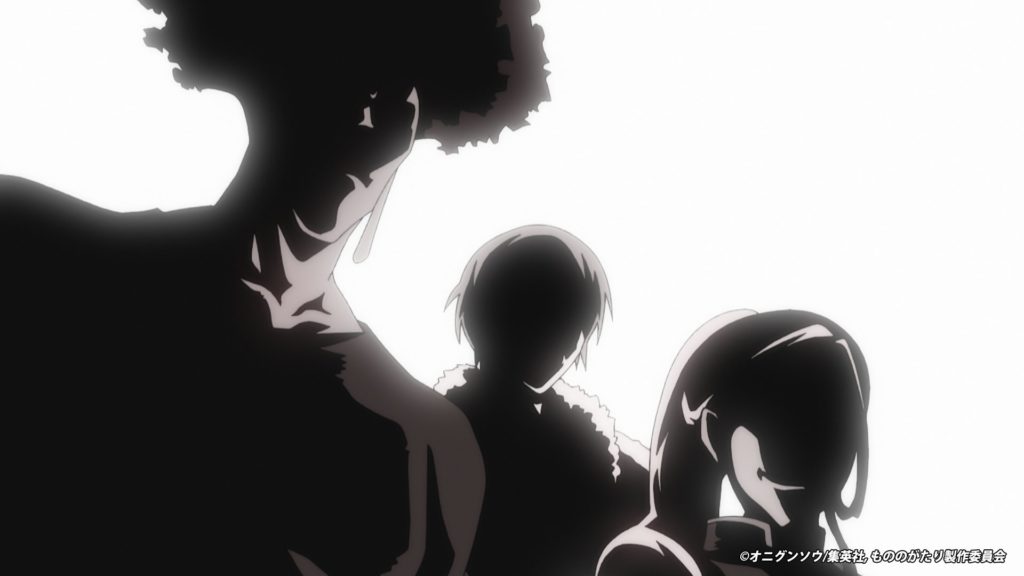 Disappointment
I had great hopes for another fantasy/supernatural series set in Victorian England and based on a manga by Makoto Hoshino (Seven Seas). The Tale of the Outcasts tells the story of orphaned girl Wisteria who is being used by an unscrupulous priest to beg for money while she searches for her older brother.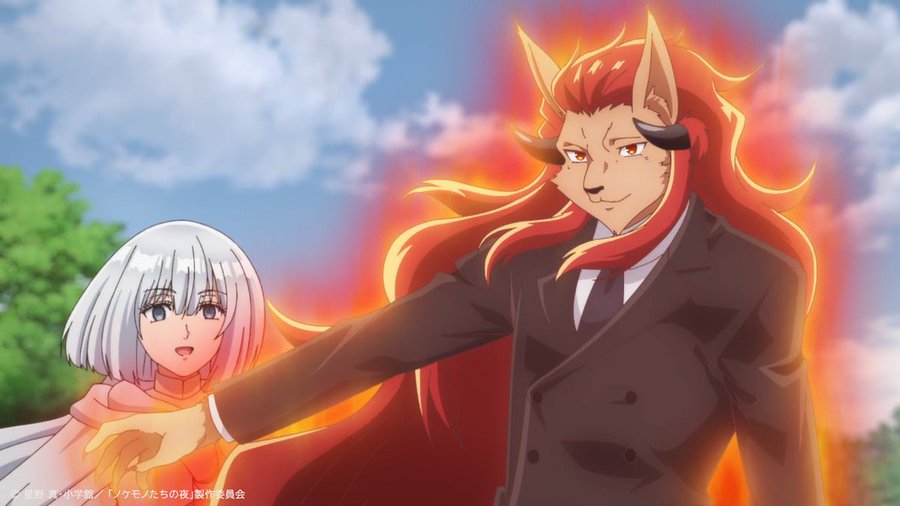 What the priest doesn't know is that she's been befriended by a powerful lion demon, Marbas – and Marbas forms a pact with Wisteria to help her in her search (although the price of the pact is her sight). Unfortunately, it turns out that her beloved brother has joined the Sword Cross Knights, a templar-like organization who have vowed to eradicate Marbas and his fellow demons. Sounds great on paper! But, whether the original manga is at fault (the unimpressive character designs, especially the demons are disappointing) or the transfer to animated form is weak, serving to highlight the deficits of the source material, this is in no way another Black Butler or The Ancient Magus' Bride. It lacks the gothic atmosphere and mischievous dark humour of the former and the imaginative evocation of the folklore, myths and legends of Great Britain that makes the latter stand out. Why is it so leaden? High Card delivers a much more convincing 'London' (not called London, but it's unmistakable) and the Victorian trappings are so poorly researched and presented that it could be set anywhere. Not even the appearance of Sherlock Holmes and Dr Watson can save it! What a wasted opportunity.
Favourite OP and ED
Favourite ED? Well, it's been "Squad!" (スクワッド!) by Meychan from High Card from the moment I saw/heard it; a brilliant pairing of visuals, characters and upbeat song that gets my vote. Isn't that what anime songs are all about?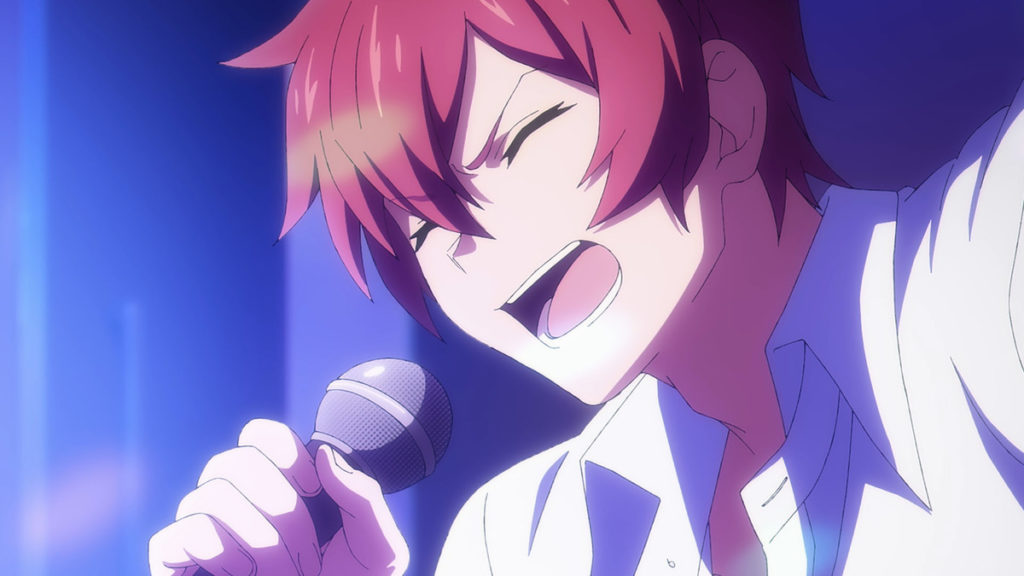 Favourite OP has been a harder choice. There have been at least two that start with incoherent yet ear-grabbing fistfuls of random notes (Revenger) and more than one that has an opening verse that has nothing whatsoever to do with the chorus that follows (Revenger again and Sugar Apple Fairy Tale) with unrelated key-changes that can only be described as a bizarre lurch or just a 'oh, whatever?!'. But for me, it's got to be an animated sequence that when it's paired with the song, suddenly creates something special – and so it's UniteUp!. This story of four idol groups could have fallen into the same-old formulaic pattern but has somehow kept things fresh, in spite of several COVID-related holdups along the way (it hasn't yet finished). The OP UniteUp! shows trainee idol Akira imagining what it's like to go onstage and perform to a vast crowd for the first time – and both music and animation combine to bring that thrilling experience to life.
Favourite character/couple/mascot of the season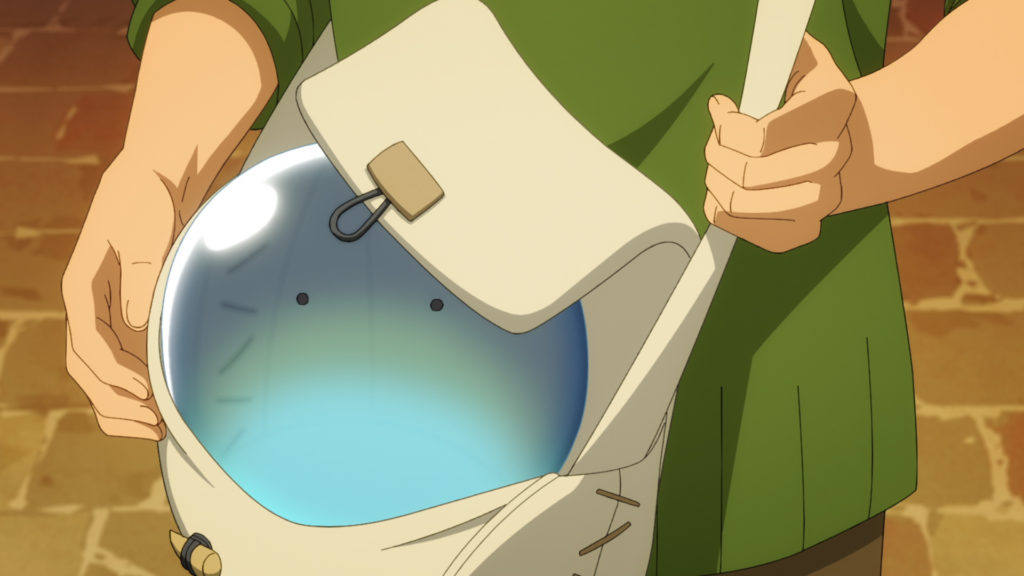 Sui – the sweet-voiced little slime adopted by Mukouda, unwilling hero of Campfire Cooking in Another World with My Absurd Skill – has probably won many hearts this season, including mine. The charmingly soft childlike voice comes from the versatile Hina Kino (see Miri in Buddy Daddies) – but don't be deceived! Sui acquires many extraordinary powers as the story progresses, although the little slime is still happy to travel around in Mukouda's shoulder bag…
 *
Rui
Favourite – New Series
A couple of my contributions this time are odd because of the current state of streaming; the shows I've most recently finished were both delayed streams which made their UK debuts in the Winter Season despite coming out a few months earlier in Japan. I'm not a fan of this model because it fragments the conversation about new titles and means that great shows end up falling through the cracks and never finding an international audience. Case Closed: The Culprit Hanzawa popped up on Netflix a few weeks into the season and immediately flew under the radar due to being a spin-off of a long-running shounen title with a needlessly delayed release. I suspect that most people who cared about The Culprit Hanzawa watched it through other channels during its original run, given the extensive trouble that western fans of Case Closed (Detective Conan) have had even getting access to the main series over the years.
The Culprit Hanzawa is a short series of ten minute episodes but it packs a surprising amount of heart into its runtime, kicking off with a peculiar – and rather retro – dance number during the opening and then lurching wildly between parody and slice of life to keep viewers on their toes. All of the Case Closed regulars are demoted to being background characters as the focus shifts to the series' latest throwaway murderer, Hanzawa. Or in this case, would-be murderer; Hanzawa is fully committed to leading a life of crime but can't seem to get a break since moving into Conan's neighbourhood. There's simply so much competition from all of the other criminals and the countermeasures put in place to deal with them!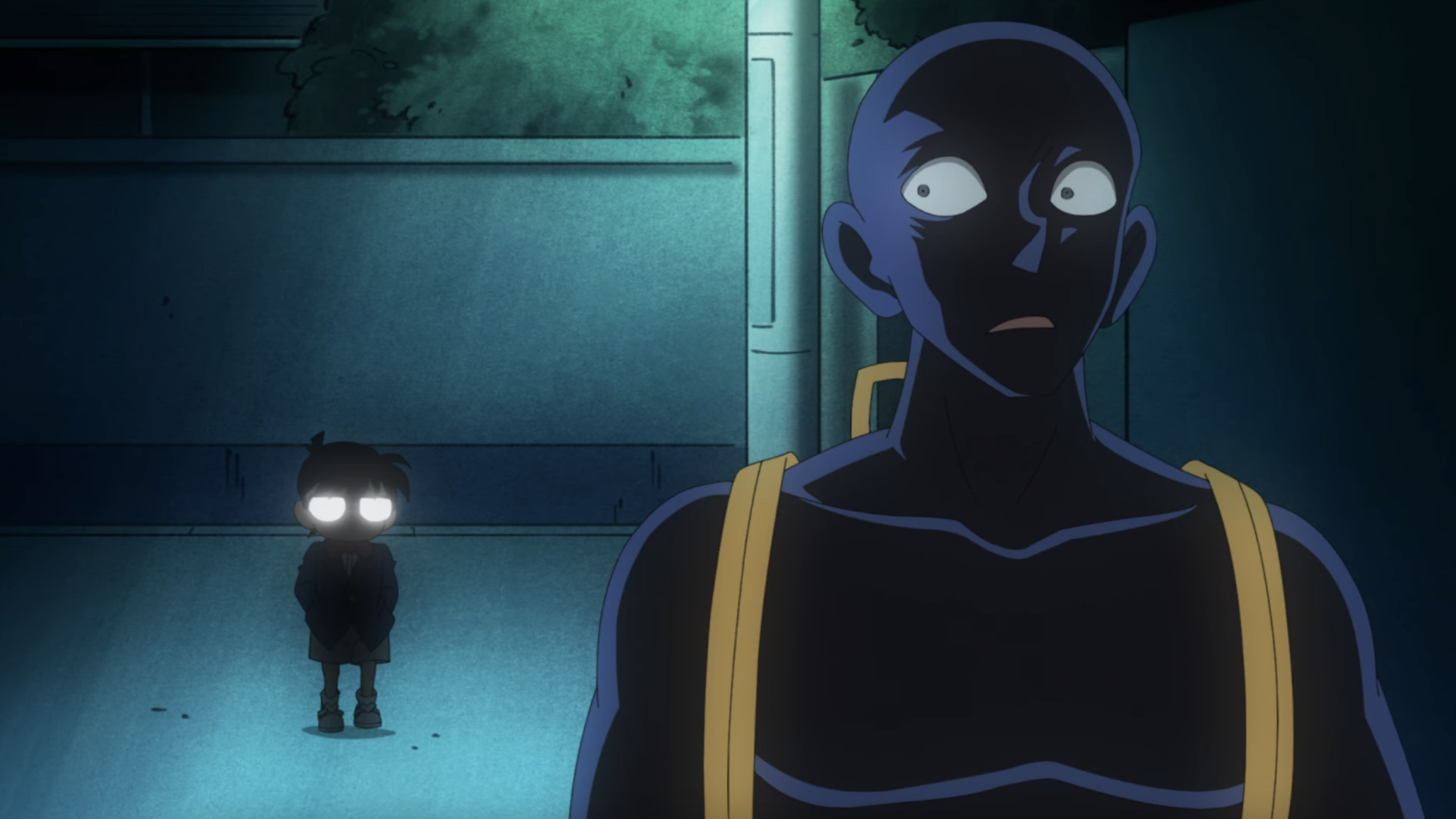 The staff know that the premise is ridiculous and don't hold back in poking fun at the absurdity of pint-sized amateur detective Conan having unmasked an endless supply of devious murderers week after week ever since the mid-90s, especially since very little time has actually passed in-universe since the series began. Many of the gags look at how the neighbourhood's insane crime rate might affect everyday life. There are also plenty of nods to situations from the original series but they're never presented in a way which alienates new viewers; the episodic nature of Case Closed has always been part of its charm and there's no need for prior knowledge before jumping in. Indeed, the best thing about The Culprit Hanzawa is that my partner loved the jokes even more than I did, despite knowing very little about Case Closed; it can be appreciated as a pure comedy so long as you understand the basic premise. I heartily recommend checking The Culprit Hanzawa out the next time you can't quite squeeze a full-length episode into your viewing schedule.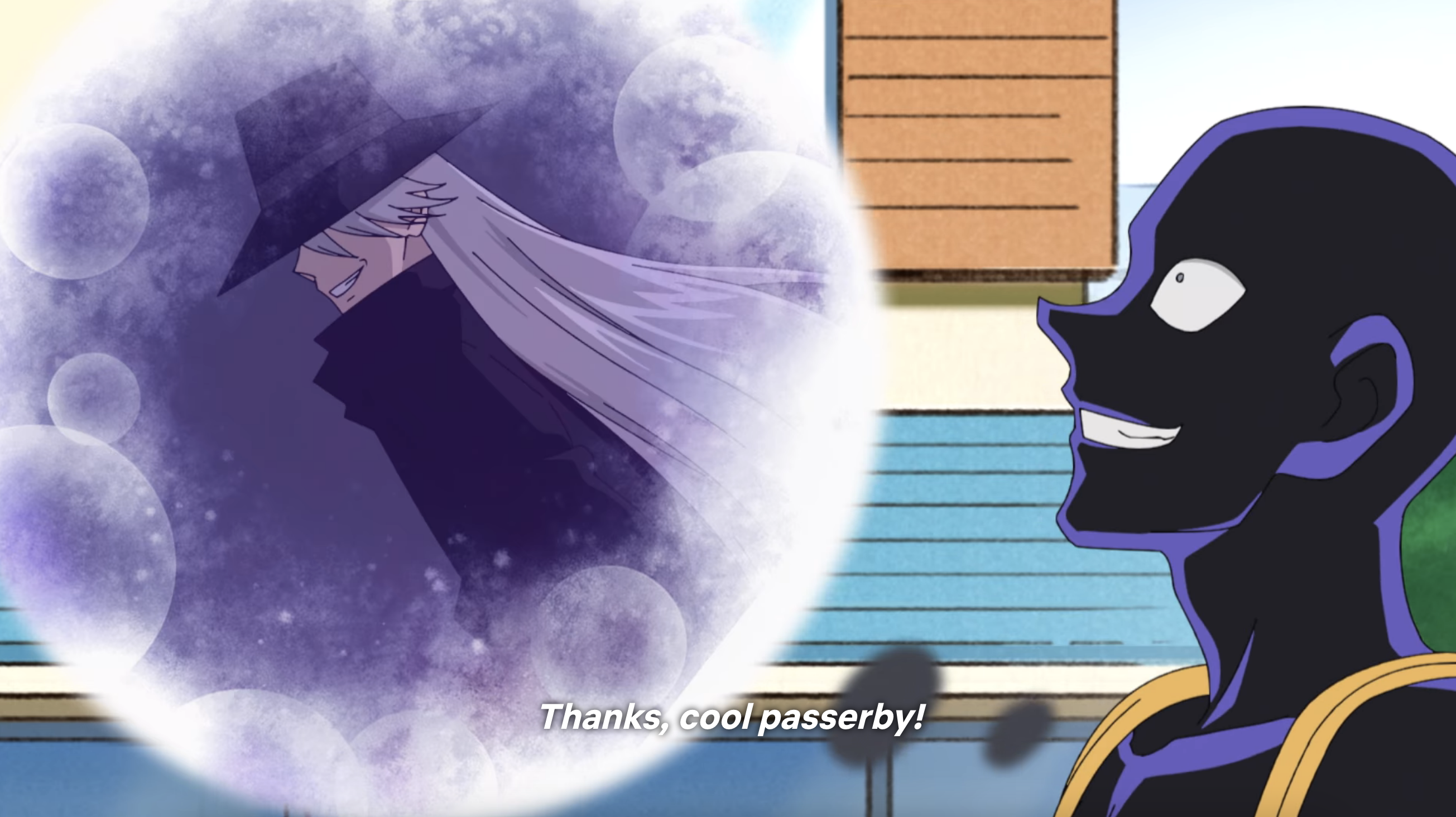 Favourite – Returning Series
Bungo Stray Dogs has always been one of those shows which I follow religiously without feeling especially attached to it. While I'm not sure whether it was the lack of real competition in its genre or the bombastic start with an excellent flashback arc, this latest season's offering felt slicker than ever and I've been enjoying it a lot. And that's not down to the central plot of the current arc, it's because we're finally at the point in the story where it's starting to answer questions I'd had about the wider cast for a while now and the extra context is really doing wonders for my engagement. It's telling that both fans like Demelza and anime-only viewers like myself seem to have had a good time; with its dynamic animation, stylish designs and exciting clashes, it felt as though the fourth season of Bungo Stray Dogs delivered on every front.
Surprise
I'm going to nominate another time-slipped delaycast as my surprise of the season: Summer Time Rendering, a mystery series which debuted last year in Japan and finally made its way to the UK with little fanfare over on Disney+. I managed to go in knowing almost nothing about it yet ended up marathoning most of the series over the course of a single weekend because it did such a fantastic job of escalating the suspense that I didn't want to stop watching! It's difficult to say much about Summer Time Rendering without spoiling the plot but fans of When They Cry, Erased, Shiki and other slightly creepy mystery series definitely owe it to themselves to take a look at this treat of a self-contained story.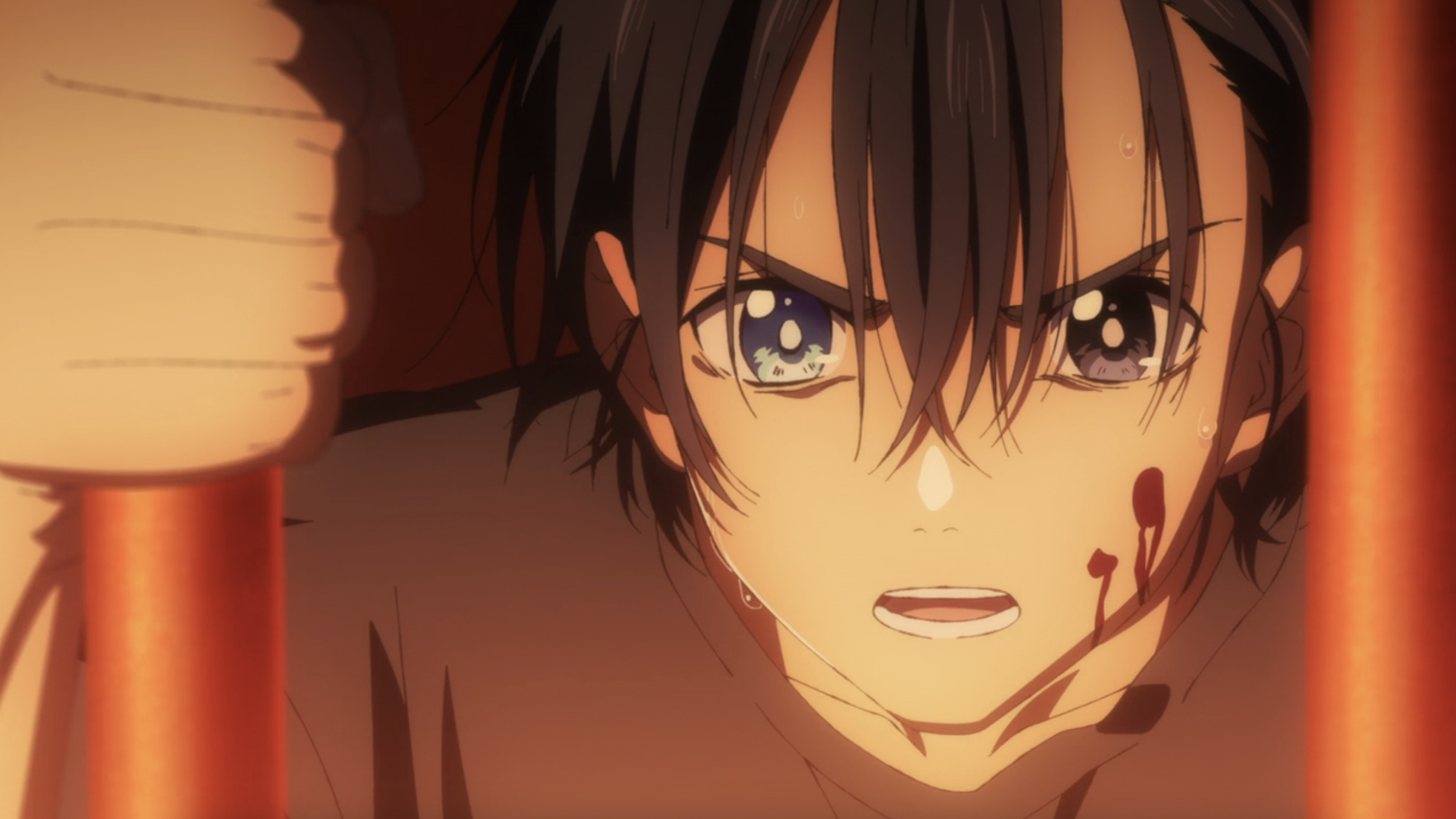 Disappointment
I didn't keep watching anything I hated so my disappointment of the season has to go to the finale of Sugar Apple Fairy Tale, the cute-looking cooking series which has the innocent heroine and her fairy companions confronting sexism, prejudice and other societal baggage in an attempt to earn her place as a recognised silver sugar artisan. The show itself was great but the way that it ended was utterly devastating! Fortunately a second helping is on its way later in the year and I have high hopes that it will make up for the sin of leaving me feeling as though I'd been punched in the gut when the credits rolled at the end of the first season. At least it managed to make me feel something, which puts it head and shoulders above the majority of contenders this season.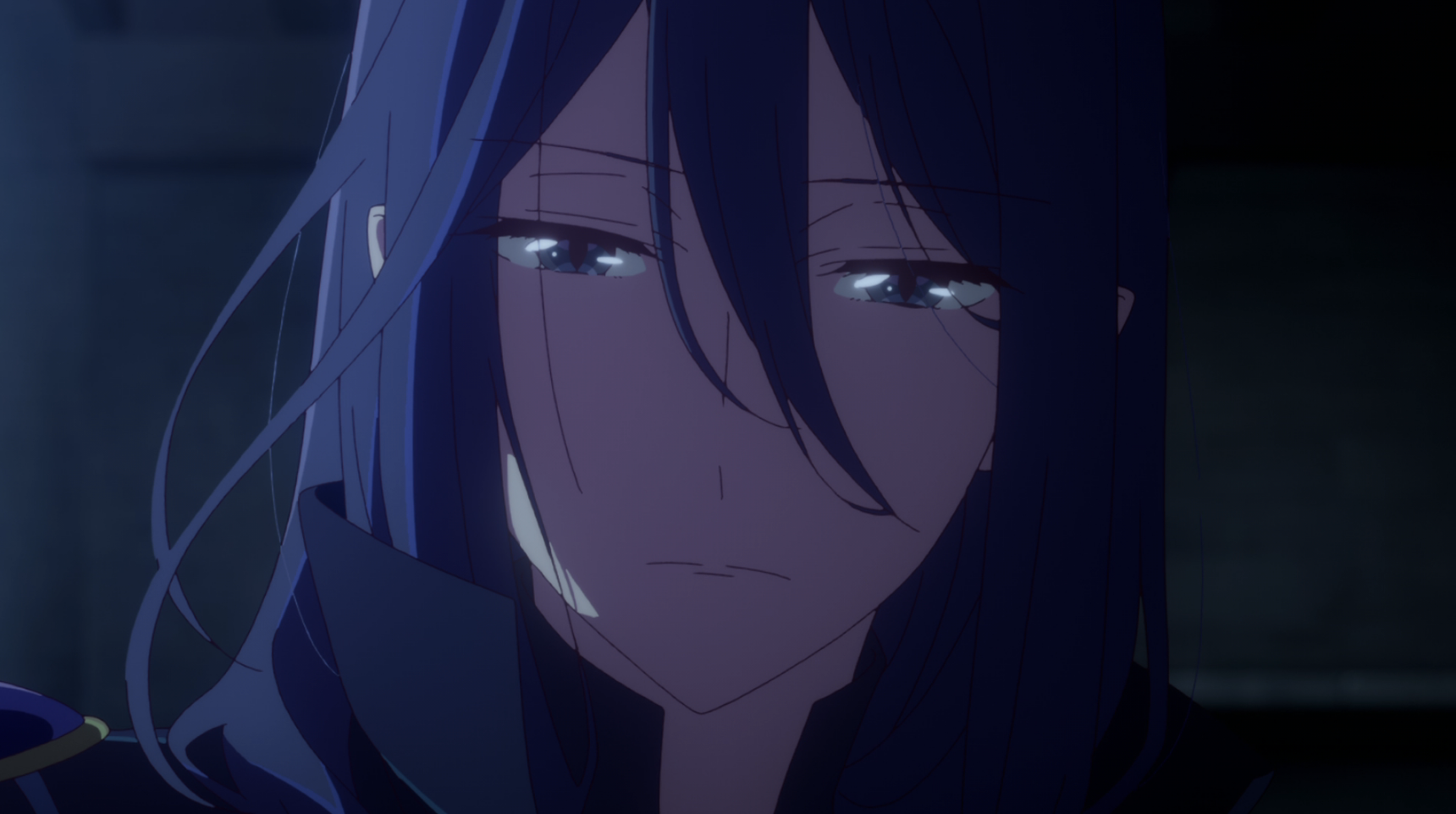 Favourite OP and ED
The Culprit Hanzawa's weird title sequence was my favourite opening and despite watching more than a dozen titles, none stood out for their ending songs.
Favourite character/couple/mascot of the season
While not a couple in the traditional sense, Kazuki and Rei from Buddy Daddies provided a wonderful 'found family' dynamic which I enjoyed a lot. I started off finding Kazuki the more interesting one but even though Rei ended up overtaking him by the end, they definitely come as a team (together with Miri!)
If we're including movies, then the leads from Kaguya-sama: Love Is War – The First Kiss That Never Ends (which had a short cinema debut in the UK this season) definitely win my award for the best couple.
*
Cold Cobra:
Favourite – Returning Series
While nothing brand new jumped out to me this season (and to be fair I am notorious for picking up shows after they've already had a successful season…) the returning series category is quite full this Winter. As several of my fellow writers have mentioned, Bungo Stray Dogs continued its extremely high hit rate with another great season, and I have to mention My Hero Academia had a great second cour for its sixth season as well, but out of all of them what still stood out to me the most was Vinland Saga's second season.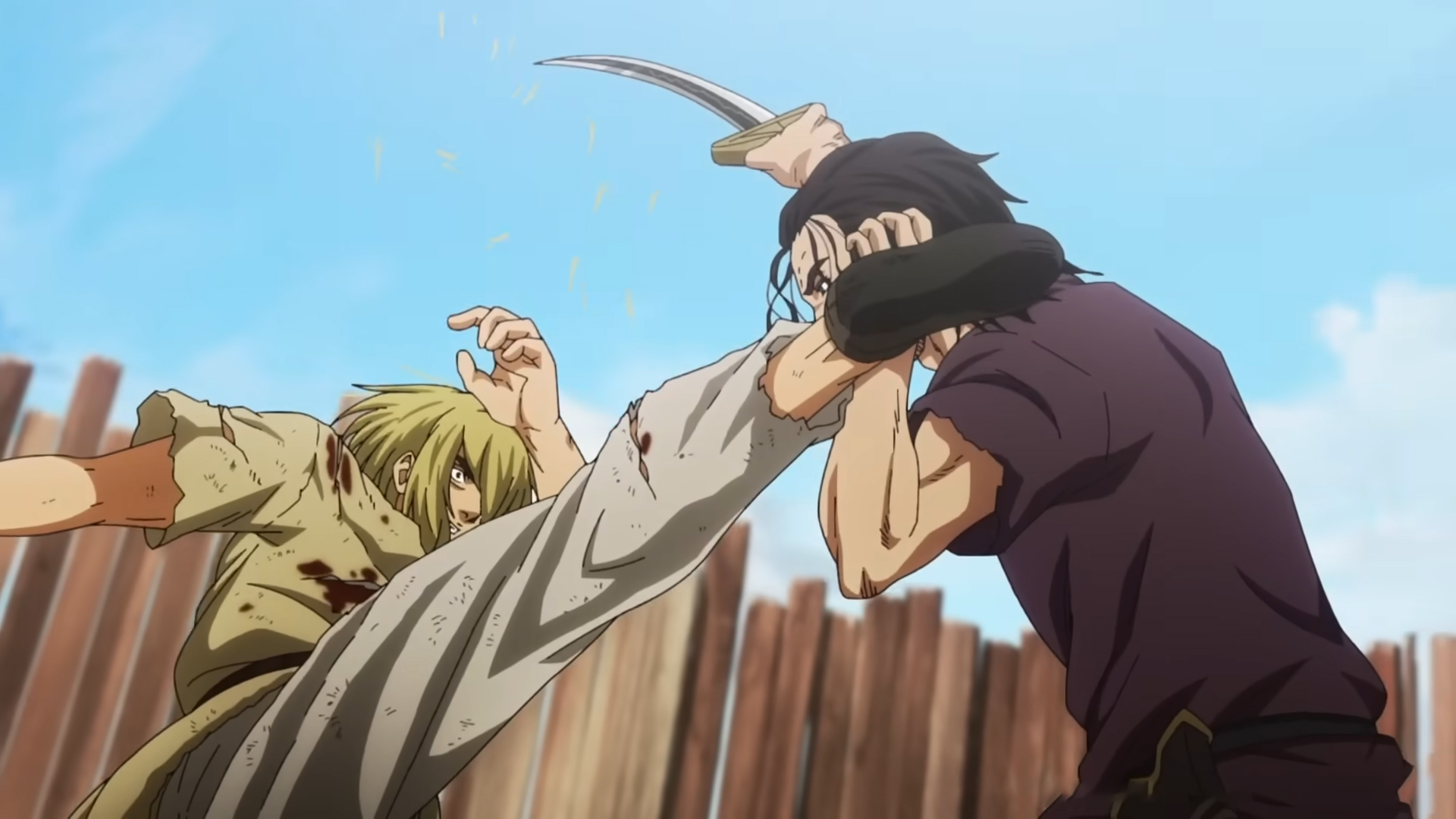 As mentioned in the preview, Season 2 kicked off with a shift in viewpoint as we met Einar, the fun-loving Northern famer, who ends up going through tragedy due to a Viking attack and winds up a slave. He eventually lands on the doorstep of a rich farmowner where he meets fellow slave Thorfinn and while as the season goes on, we do see some action and meet up with a few other characters, the main focus is actually on Einar and Thorfinn, who strike up an unlikely friendship and work together to clear out a forest so it can be used for farmland. Sounds incredibly dull but it works so well, with Thorfinn having lost all direction in life (due to his previous sole purpose being avenging his father that now can't happen) meeting someone who is trying his best to become free and set up a farm again because he knows searching for revenge is fruitless.
It leads to some great character development for our lead protagonist as he befriends Einar and begins to see the life of a warrior is no life at all, a lesson his father ironically tried his best to teach him at the start of the series before his life went down the path of blind vengeance. I won't go into too much detail but Episode 9 of the season was particularly good in terms of re-establishing Thorfinn as our lead but as a very different person, using the Viking idea of Hell to do it. As mentioned, we also got some updates on the likes of King Cnut and his men, where we're treated to some more high quality action, though still nothing on the scale of the first season. Season 2 had a very different tone but the switch to character-driven drama worked extremely well and I'm hoping the streak continues as the season goes into its second cour, even if it seems that now is the time when Thorfinn has no choice but to be thrust into the centre of the wars between the Vikings and the native English once again…
Disappointment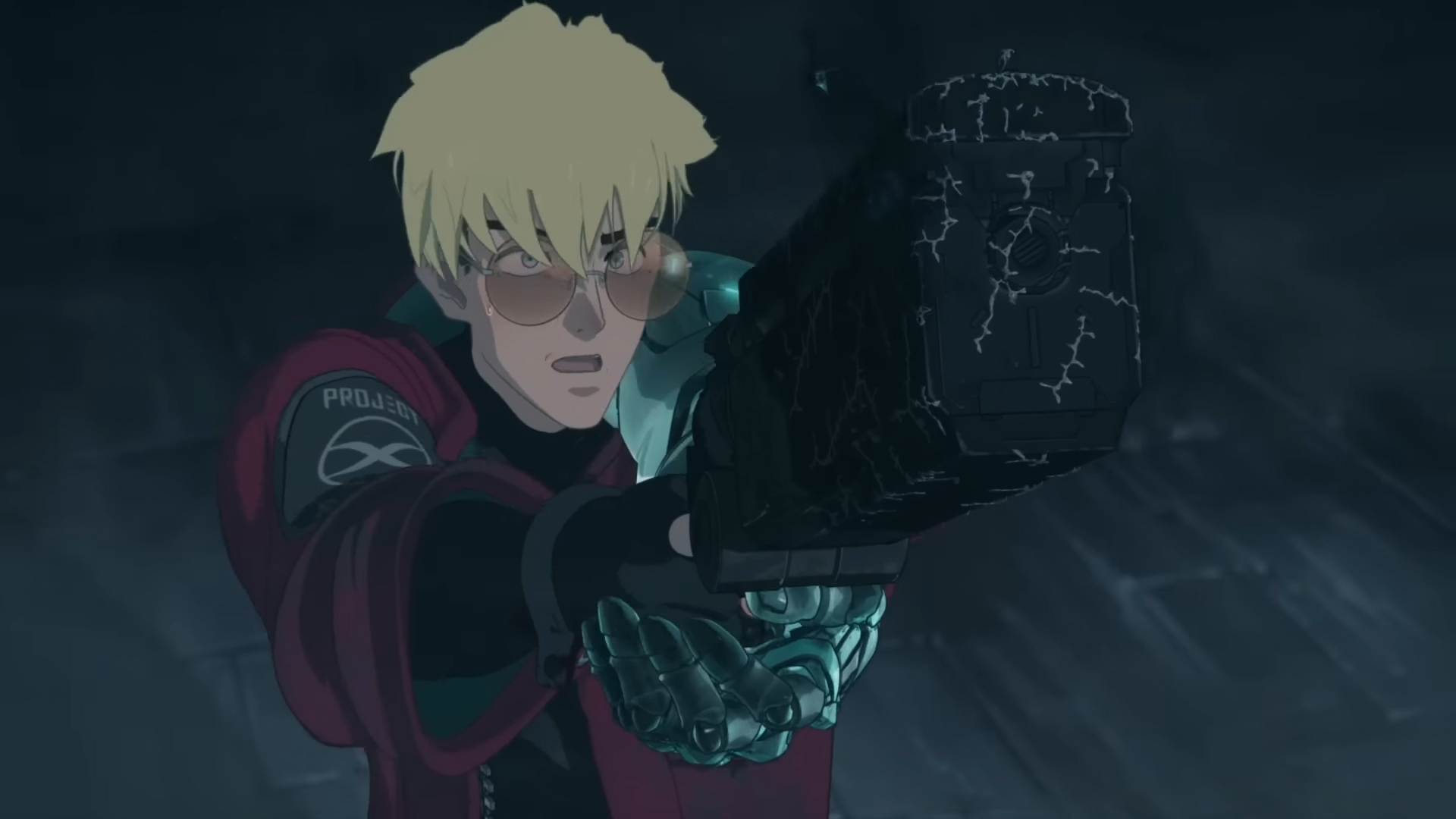 I ended up dropping Trigun: Stampede a few episodes in due mostly to the CG animation and general redesign of the characters just not clicking with me. From what I hear, both of those issues were addressed as the series went on and certainly from the clip I saw of the finale, Studio Orange nailed the chosen crazy over-the-top climactic battle scene. Even if it also didn't feel quite right for the series, they did build to a big flashy end, but I'm still not in a big hurry to play catch up. Credit to them that I am at least thinking about playing catch-up at some point rather than disregarding it completely as I honestly was going to do after I dropped it.
Favourite OP and ED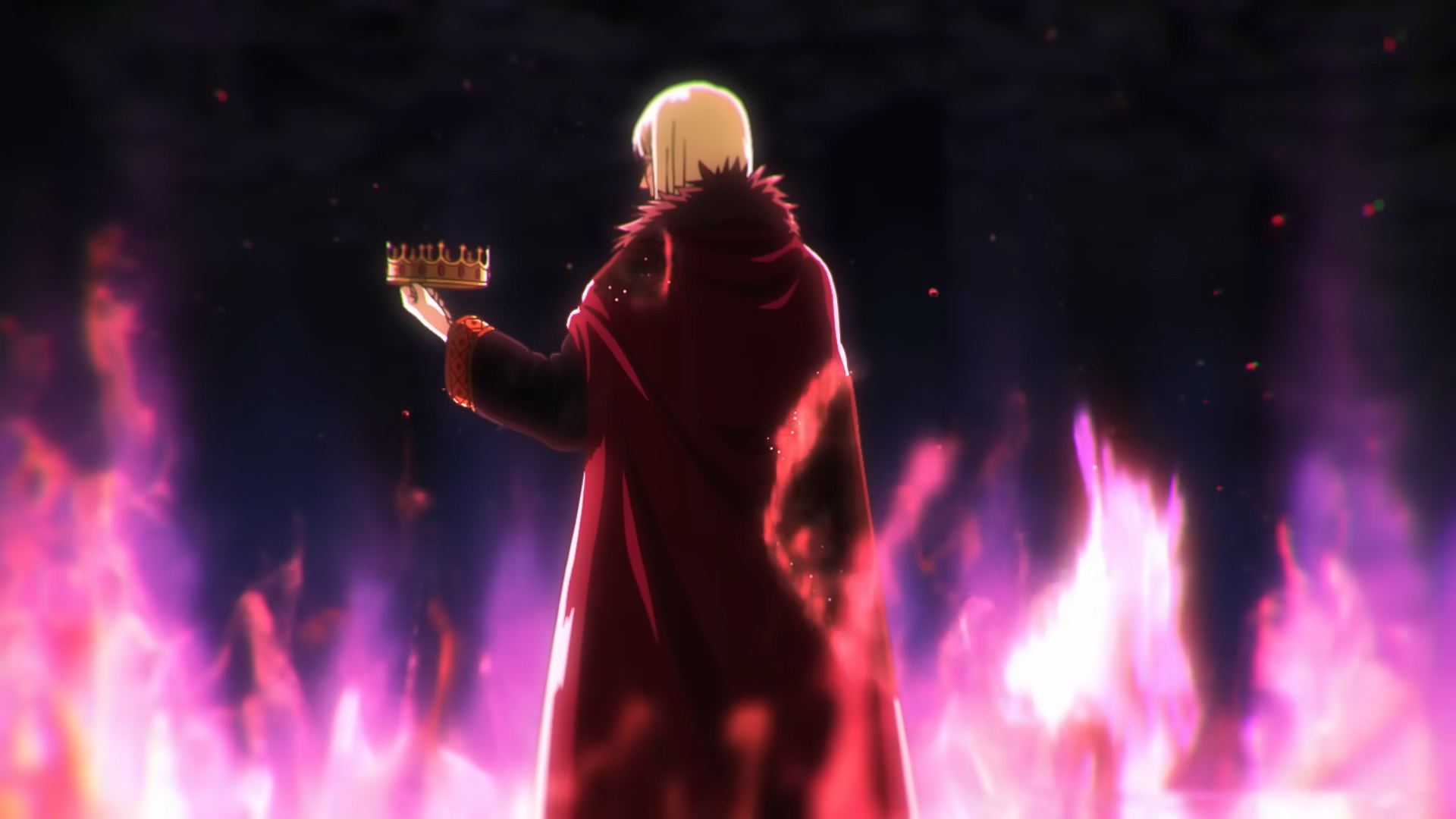 Nothing original here as I have to echo Onosume by picking "River" by Anonymouz as my favourite opening, as not only is the song great but the visuals accompanying it are perfect, using both interesting imagery and clever transitions to recount moments from the first season and tease moments to come in this one without being in-your-face about it. Great stuff.
As for the endings, while nothing was super-memorable, I'll go with My Hero Academia's "North Wind" by Six Lounge for being very catchy and telling the story of our protagonist struggling to run by himself, only to be shown flashes of his friends giving him strength right at the end, telegraphing the basic but well-told plot of the cour's arc. Admittedly it did this by doing the "character running in one direction while still images play in the background" cliché, but hey-ho. Can't win them all!
Favourite character/couple/mascot of the season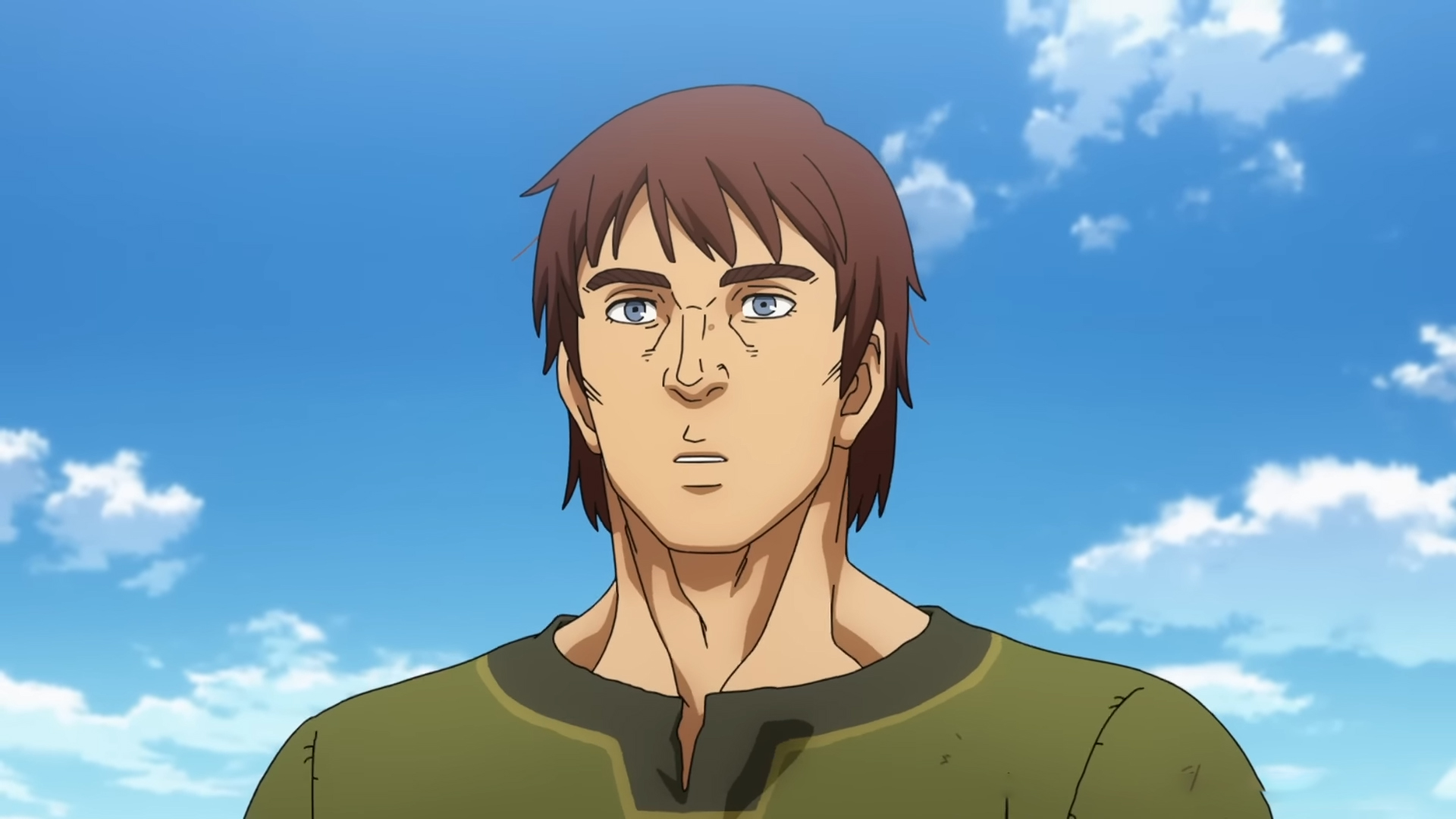 Not to make this part of the article over-Vinlanded but I have to go with Einar. It's refreshing to see someone suffer such horrible tragedy and decide to try and make a better life for themselves in honour of those he lost rather than go on some rampage in the name of revenge. He's such a well-rounded character by the end of the first episode, and only gets more interesting as the season moves on.