Anime UK News Review of 2022 Part 1: Anime
2022 is the year that Manga Entertainment/Funimation was taken over by Crunchyroll and an era in UK anime came to an abrupt end. By the autumn season, Crunchyroll had absorbed almost all the content streamed by Funimation. Strangely, this seemed to result in HIDIVE picking up some prestigious and intriguing titles – and then, not to be outdone by Netflix or Amazon Prime, Disney+ entered the fray with Bleach: The Thousand Year War (yes, there've been other anime on Disney+, but this is the Big One!). 2022 also has seen a great upsurge in anime films being screened in local cinemas in the UK, courtesy of Anime Limited and Crunchyroll, not to mention local anime festivals like Scotland Loves Anime and Kotatsu in Wales. Not all bad, then! But…what will happen in 2023?
Streaming/Simulcast
Demelza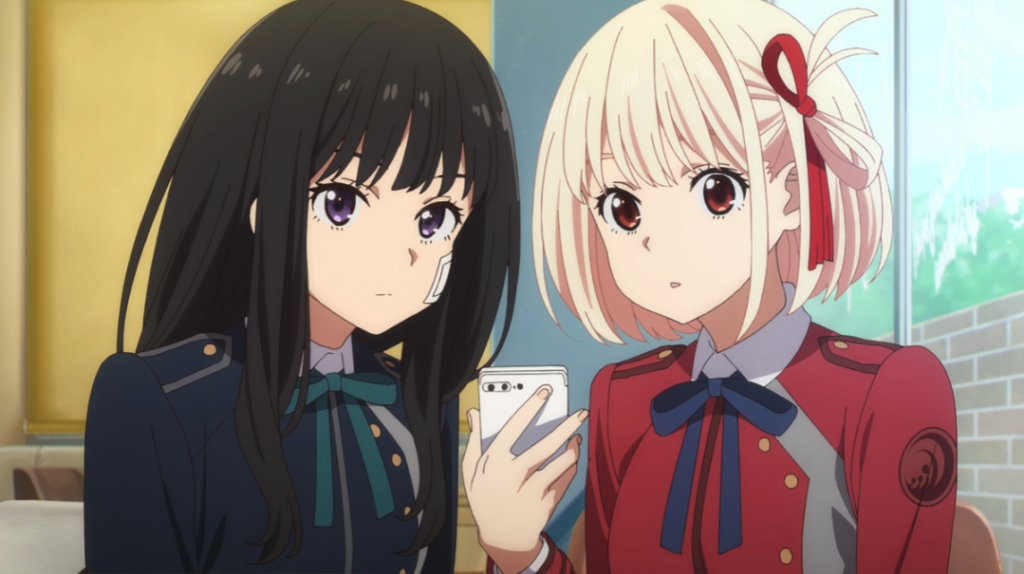 Last year I found it pretty underwhelming when it came to the streaming/simulcast scene, but 2022 has proved a major improvement. Some of this is due to favourites like Is It Wrong to Try to Pick Up Girls in a Dungeon? and Kaguya-sama returning, but it has also brought us the eagerly awaited Spy x Family adaptation. However, my favourite this year was undoubtedly Lycoris Recoil – an original anime project by A-1 Pictures and streaming on Crunchyroll. I talked lovingly about the series in the Summer 2022 Overview after the show reached its conclusion and even having had three months away from it, I still think of the anime fondly which is a good sign for me! It was something new, something that started incredibly well and never put a foot wrong as it went along, which is unusual these days. Hopefully, we'll get it on home video in the future so I can watch it all over again… This year also brought us the adorable Heroines Run the Show, which wasn't particularly unique but stole my heart with a cast that you couldn't help but root for.
Onosume
While the anime industry as a whole still has a problem with quantity over quality, I'd say we've had a really good run of shows this year, with something for everyone whether you're into action, rom-com, adventure, mystery, slice of life, or idol shows.
I haven't really talked about it much due to how difficult and cumbersome it was to stream, but Season 2 of Love Live! Superstar!! ended up being a much-needed improvement over the first that fixed a lot of its issues. The new character additions brought more life into the show, an actual stalwart rival appeared that gave our main group a run for their money as well as an interesting subplot, while there was less riffing on plot elements from the franchise's older series. I still think this isn't as strong as the original or Sunshine!, particularly with how this season does peter out towards the end, but after the massive disappointment of the second season of Nijigasaki, it was just good to get back to the basics of the franchise again.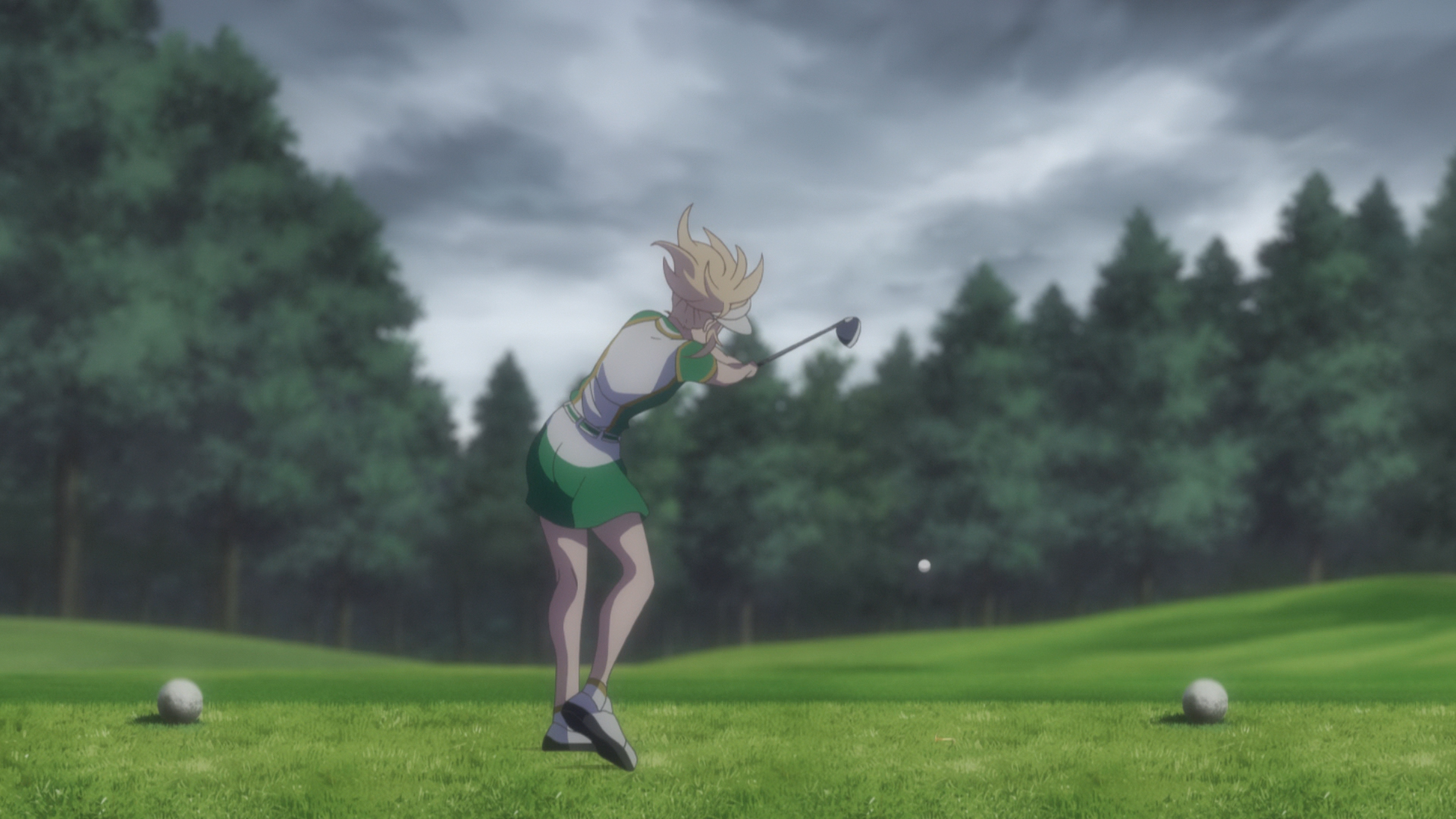 I wouldn't say it was Bandai Namco's best series this year however, as it has had a lot of competition with the likes of Mobile Suit Gundam: The Witch from Mercury and more Welcome to Demon School! Iruma-kun, but I think Birdie Wing – Golf Girls' Story was my favourite overall, based on just how ridiculous it was. Seeing shonen "this isn't even my final form!" power moves applied to golf was just an utter joy week-in-week-out, and I loved the burgeoning rivalry between its two female leads. I think some of this vibe has bled into what I'm affectionately calling "Witchy Gundam", but if you want something that truly excels on a pure entertainment basis, Birdie Wing sinks the hole in one.
HWR
2022 as a whole produced some very solid offerings each season, some of which were overhyped, some were worth the hype, and others felt like they snuck under the radar. 
Rather than lather yet more praise on this year's hype-driven heavy-hitters, I have opted to highlight a selection of titles from the year that I felt stood out as both personal favourites and also anime that might have gone under the radar for some viewers.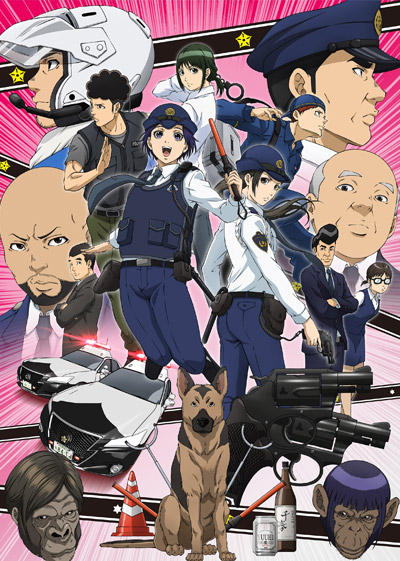 From the Winter 2022 season, Police in a Pod was a slice-of-life seinen series that focused on a police department setting, conveying mature and darker subject matters faced by a contrasting pair of lead characters in Mai Kawai and Seiko Fuji. Their growing bond offered a nice anchoring for the series and I also appreciated how the original creator Miko Yasu incorporated her own ten years of experience as an officer through the more mundane side of the workplace, with an attention to detail that helped to add realism to both the serious and lighter comedy-focused segments.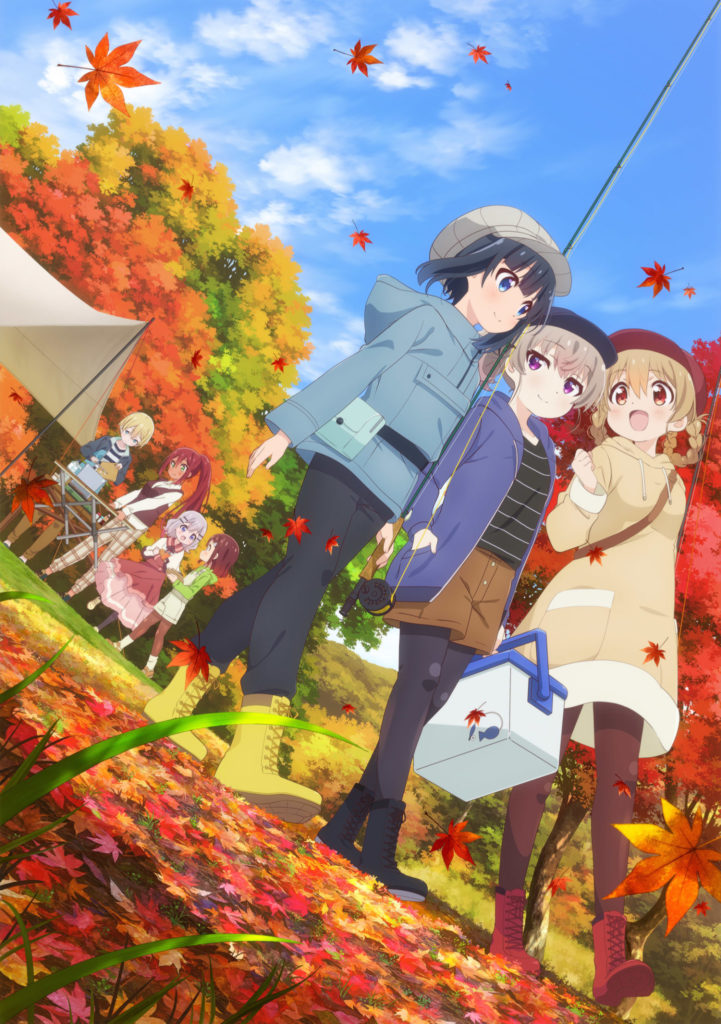 Also from this season came Slow Loop, a fishing anime that had me engaged thanks to its relaxing nature and simplistic yet substantial level of endearment, especially owing to the gradual growth between the lead characters, step-siblings Hiyori and Koharu who despite being opposites forge a nice bond as the series progressed.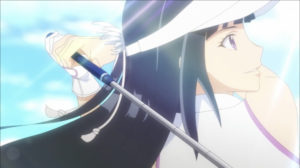 Another highlight of the year came from the Spring season, wherein Birdie Wing -Golf Girls' Story- unexpectedly ended up being one of the best titles. Going into the series the premise of stylised, over-the-top high-stakes games of golf could have become drawn out but the heart of the story, Eve and Aoi, were an example of opposite personalities working well as an ambitious and endearing duo.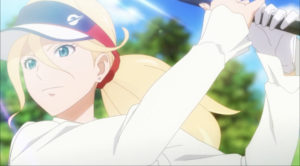 What also kept the series entertaining week-on-week were the tournaments, entrenched in trickery and schemes, like the opponent Vipère who uses a deadly perfume to distract and disorientate players. The best part about the series was the confirmation of a second season, as the series still has places to go and, I hope, some fun tournaments to showcase.
Moving forward to the current Autumn season, a standout for me overall has been Do It Yourself!!, a DIY-themed slice-of-life series that has been both engaging and relaxing to experience, but also endearing thanks to the cast of characters.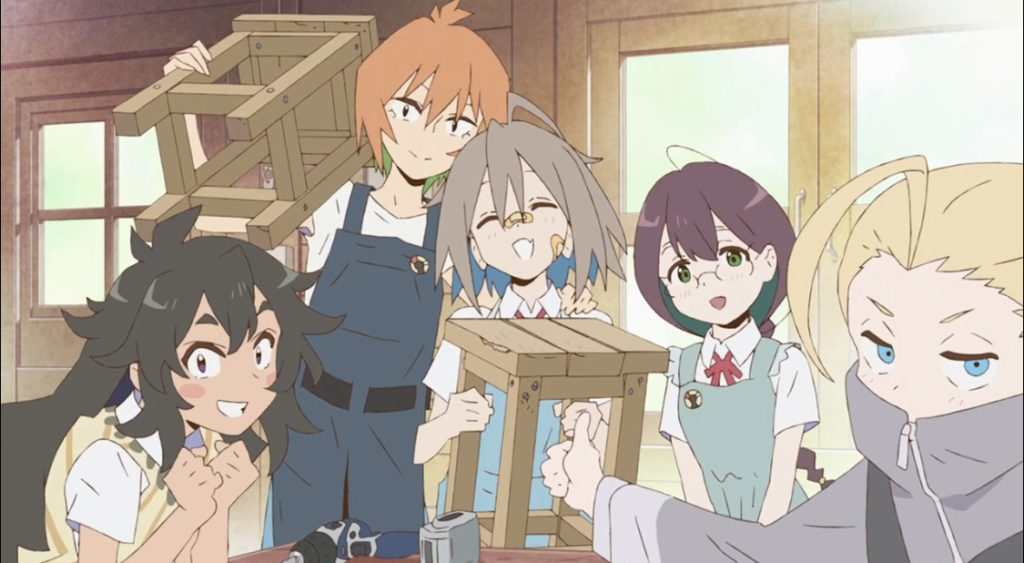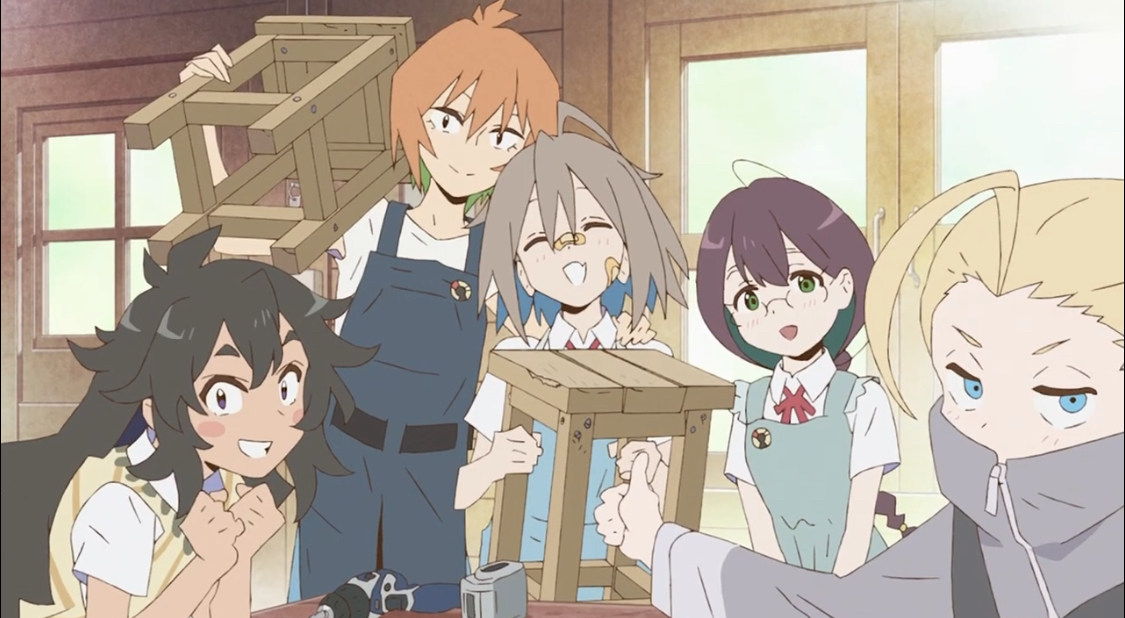 The premise is built around the titular "Do-It-Yourself Club" that stand with only one member, Rei Yasaku, whose handyman skills impress main character Yua Serufu, a clumsy yet enthusiastic girl whose drive for construction is motivated by her friendship with Miku, her neighbour who spends most of the series at a distance from the club, despite one of their members, foreign exchange student Juliet Queen Elizabeth VIII (yes, that's their name) becoming a houseguest for much of the series.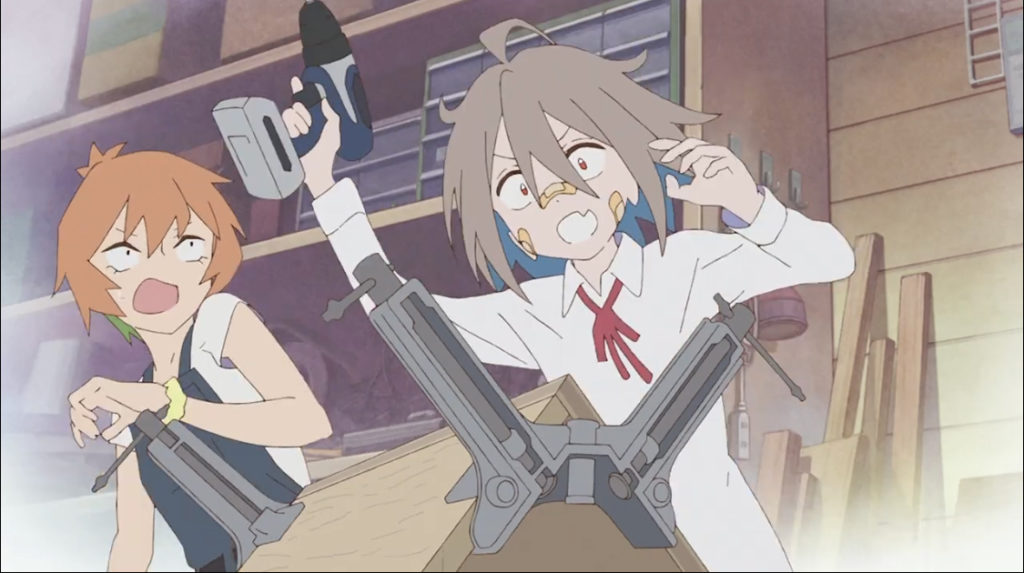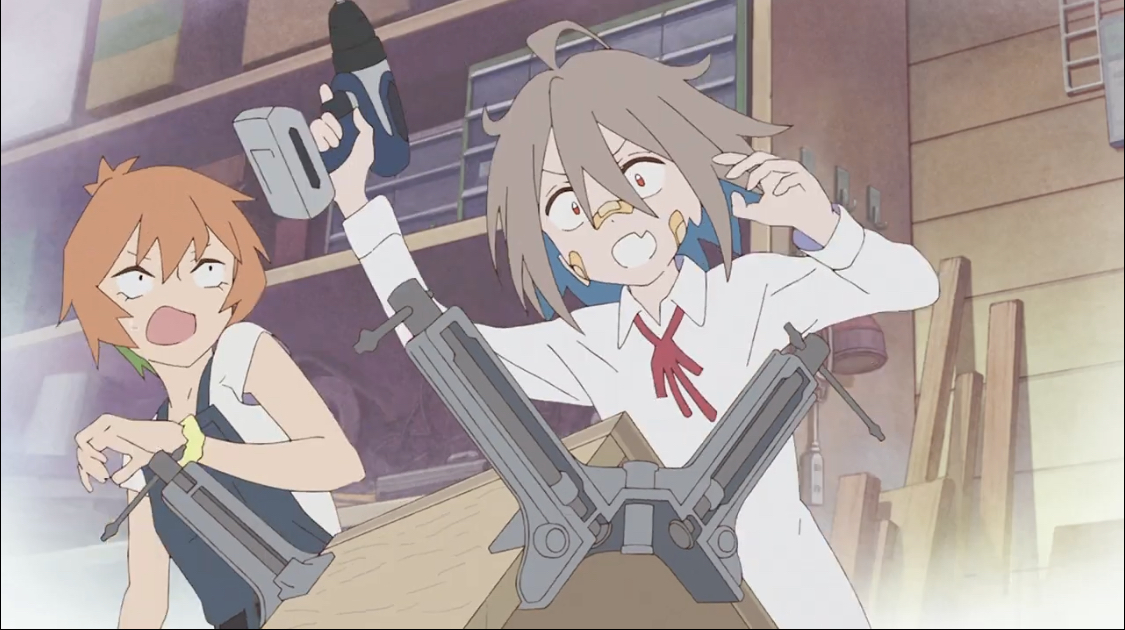 Do It Yourself!! also boasts one of the catchiest theme songs of the year and packs in a lot of charm, even poking fun at a story trope in a recent episode that I won't spoil here, but it suited the characters well. (All of the above series are available to stream on Crunchyroll.)
Sarah
My favourite anime TV series of 2022 is just coming to an end on Crunchyroll. Raven of the Inner Palace has been overshadowed this season by big hitters like Chainsaw Man and Spy x Family and it probably won't appeal to the audience that's looking for thrills and spills (even though those series deliver all that and then some). Set in a fantasy Chinese-based empire, it tells the story of the Raven Consort, a young woman with fabled magical powers, who lives alone in one of the inner courtyards of the imperial palace. The new emperor comes to consult her – but never to perform 'nightly duties' – and the two establish a friendship, and although she is often cold toward him, he values her counsel and her assistance in confronting and exorcising the many ghosts haunting the palace. There's never a dull moment in this beautifully drawn and animated series; the characters are intriguing and the harsh world of the imperial court, with its eunuchs and consorts, is all too believable. The music is by Asami Tachibana and the series has an unusual OP 'Mysterious' by Queen Bee and a soulful, yet passionate ED 'Natsu no Yuki' by krage; both make very appropriate introductions and conclusions to each episode.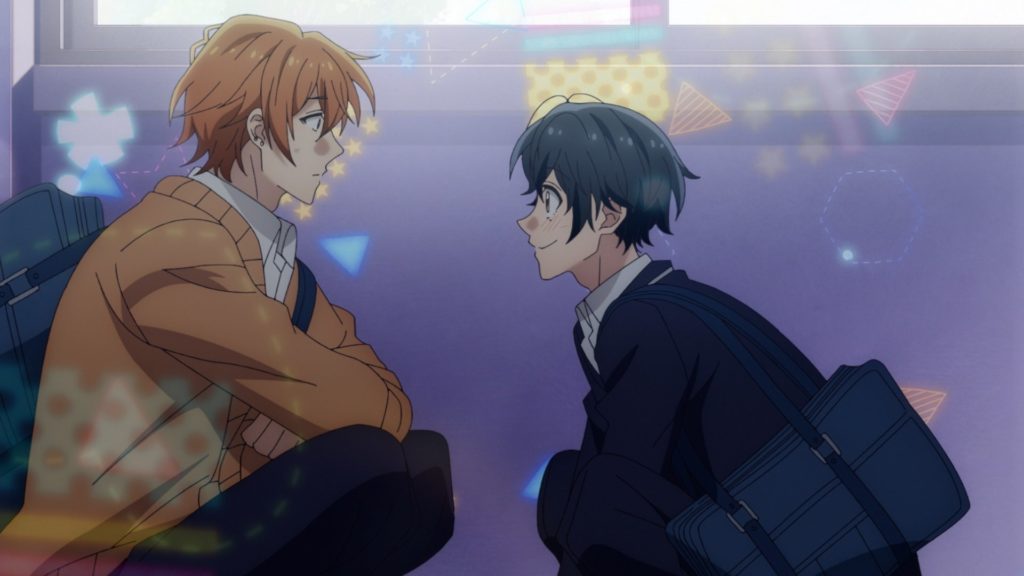 Hard to choose a runner-up as Sabikui Bisco and the second season of Shadows House came very close, but in the end, I had to settle on Sasaki and Miyano for creating such a likable slice-of-life Boys' Love which is really just about day-to-day life in a boys' high school and the friendship that develops between Miyano and his senpai Sasaki that gradually deepens into something else. Faithful to Shou Harusono's ongoing manga series in the best of ways, preserving and animating her character designs and above all, it has a very accepting attitude toward same-sex relationships. Check out the school cat – or is that cats? – too.
Cold Cobra
2022 was an odd year for me, in terms of new anime. I enjoyed a few newer series throughout the year like Spy x Family which, while not in a genre I normally frequent, kept me entertained due to its great characters and sense of humour, but it wasn't really until the back end of the year where I was suddenly overwhelmed with choice. More My Hero Academia, which is adapting a rather action-heavy and occasionally dramatic story arc; the new Gundam series, The Witch from Mercury, has managed to not only put a new spin on setting but also on the central character and has felt fresh yet still familiar due to it; and yes even Chainsaw Man has been a fun series to watch, more due to the crazy visuals than the more immature humour that doesn't always land for me personally. What I do want to bring special attention to though is Bleach: The Thousand Year Blood War.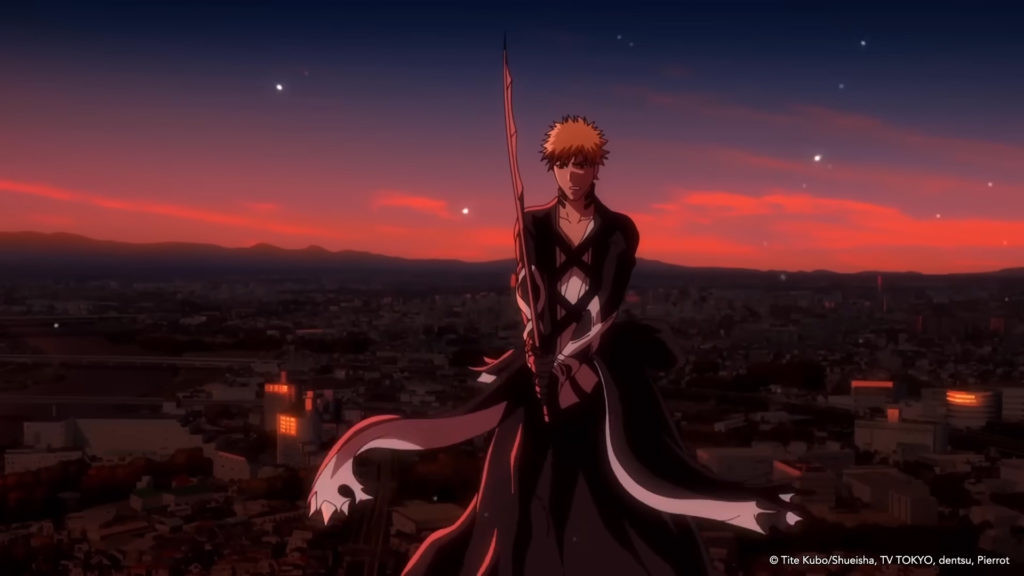 The Bleach series itself means a lot to me, the Aizen reveal at the end of the series' second arc blindsided me in the best possible way (the benefit of pre-social media spoiler-filled internet!) and my love for the show/manga only increased since, but I will admit the final arc is probably the weakest in the manga but apparently the anime team didn't get the memo because the anime adaptation has completely blown me away. The series has kept the extremely strong voice cast, many of whom who have gone on to become top-tier voice actors after the original anime ended, and the score by Shiro Sagisu is not only back but has been remixed and added to by the man himself. It has to be said though that the biggest star is the animation itself: bold, colourful, smooth as silk and completely uncensored each episode has been a real visual treat that has elevated the source material to heights I'm not sure if it deserves (though the start to the arc is stronger than the end…) They've even kept the manga's chapter titles being drawn into panels by having the episode titles do the same within the animation, and instead of a "next time" preview they have the cast read one of author Tite Kubo's manga-volume poems to do with a relevant character that will appear.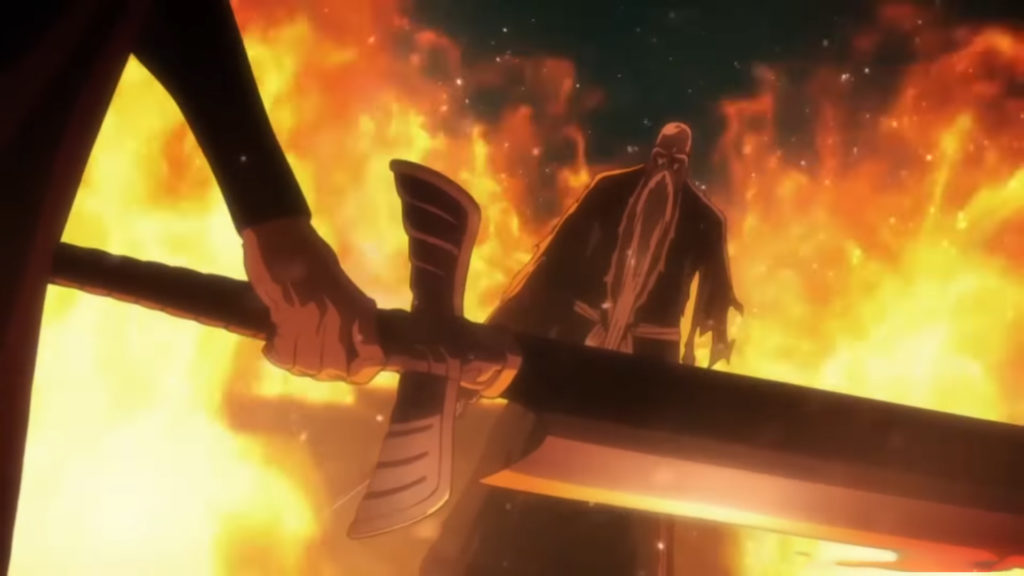 It's hard to think of any other manga adaptation that has both stuck to its source material as strongly as it has while also adding new little scenes or extended fight sequences just to add that little bit more depth. As we reach the end of the first of four cours, I'm excited to see some of the later fights and moments get adapted, which is funny given how down I was on a lot of the later volumes… just goes to show what a great adaptation can do! (Bleach: The Thousand Year Blood War is available to watch on Disney +, which is odd but thankfully each episode arrives promptly after it airs in Japan with good subtitles, so round of applause for their first simulcast being on point!)
Anime on DVD/BD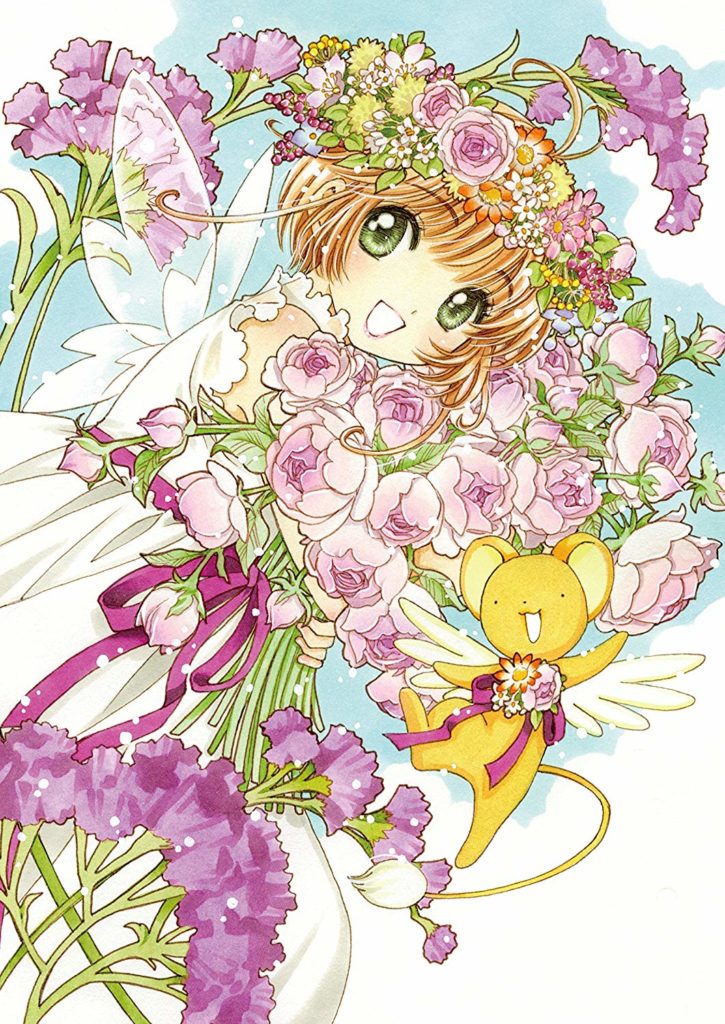 Darkstorm
This year seemed very slow in regard to new releases, for obvious reasons I won't elaborate on, but there have been some noteworthy Blu-ray editions from the cult classics to the more modern anime series. My favourite anime release however was decided the moment I pre-ordered it last year, Cardcaptor Sakura. Anime Limited have brought many classic series out of 'No UK release' hell and this one series I never thought we'd see, despite having the Clear Card series on Blu-ray. The Anime Limited release is not only gorgeous and compact on my shelf, but they also took time to get the release right – it had many delays, but they wanted to get the 4K conversion correct and the art book is super cute too. That's my pick for the year, but a special shout out goes to the final Fate/Stay Night Heaven's Feel movie; not only a really great film to end the trilogy on but also a stunning movie just to own on Blu-ray.
Demelza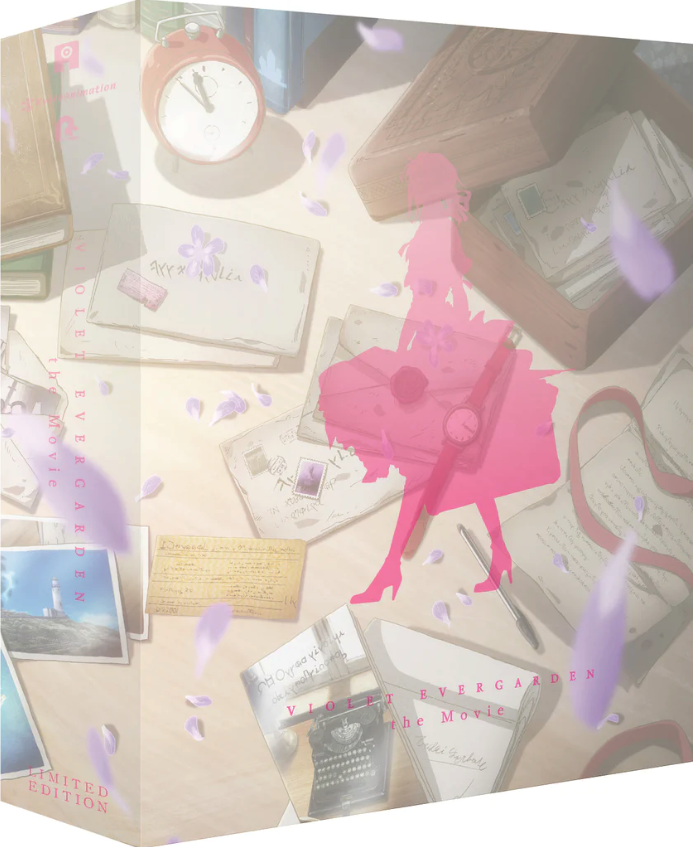 As usual, I didn't buy a lot of new releases this year and some of what I have brought has been delayed into 2023. My favourite of what I did buy is the Violet Evergarden: The Movie, which was expensive for having a 4K Blu-ray in it but matches up wonderfully to the previous releases in the franchise. It's easy to see that Anime Limited put a lot of love and care into these releases and they're filled with goodies that fans of the series will appreciate. I am probably one of the only people who cared about this one, but I think the In/Spectre Season 1 Collector's Edition also deserves a shout-out for bringing a really interesting mystery series to the UK.
Onosume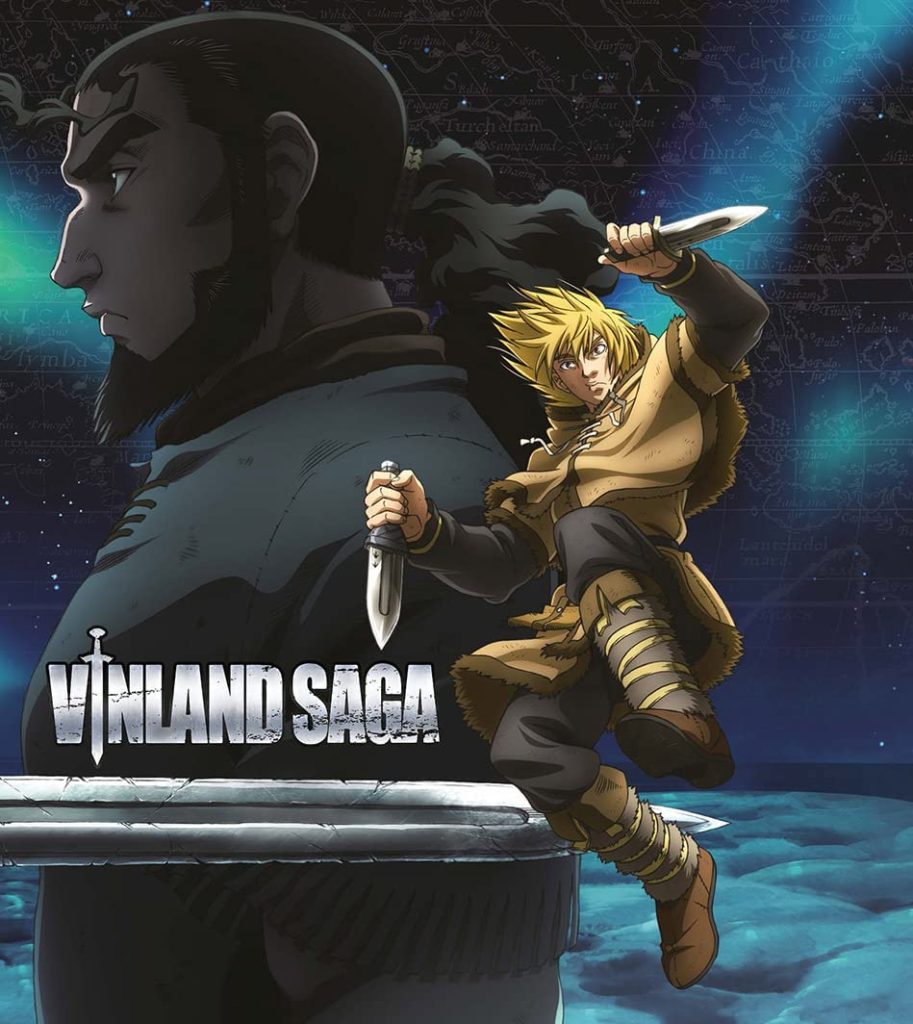 2022 has indeed been a rather quiet year for physical releases, with fewer announcements, hold backs and delays due to continuing logistical problems, and at times confusing marketing as the West's major distributors continue to be consolidated or bought out. However, I think we've seen strong collector's edition releases across the board this year, as the format has been standardised in terms of what consumers expect. While Anime Limited has really pioneered this over the years and continues to pop out fantastic-looking sets like Cardcaptor Sakura and the Violet Evergarden movie as mentioned, I've also appreciated the stuff coming from MVM, such as Vinland Saga and Release the Spice, as well as some Crunchyroll releases, like Hinamatsuri. While taking up more room, collector's boxes do give each release a more premium feel and look great on your shelf. My only wishes at this point are maybe less physical tat, and more exclusive content like soundtracks or acquiring more on-disc extras from what the Japanese release offers. Oh, and can we have more alternatives to Anime Limited's book format? As nice as they look on paper, I don't think the overall quality of them is very good, and they need some work to protect the discs from either being scratched or falling out completely.
Sarah
Is this the first year since whenever that I haven't bought any R2 anime on BD or DVD, for myself or as a gift? (Just The Ancient Magus' Bride, it turns out.) I'm still buying plenty of manga and even light novels, so why? As my fellow reviewers have noted, there hasn't been much in the way of new releases for various reasons and many of the releases are re-releases of titles that I already own. However, I've spotted plenty of R1 releases I'd be delighted to own and I wish would get picked up in the UK: The Case Study of Vanitas; Heike Story; Given the Movie; Sabikui Bisco; Sasaki and Miyano etc. (the last two are being released in 2023). Hint, hint…
Cold Cobra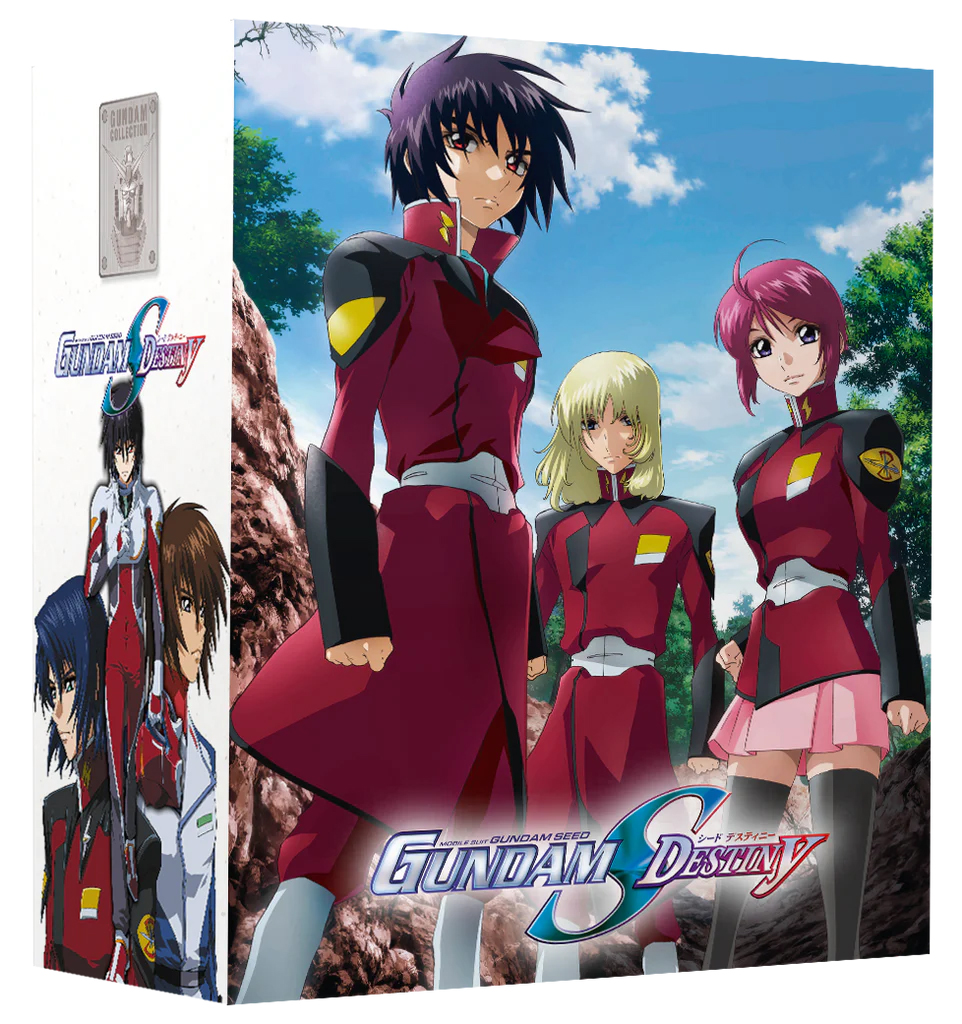 Much like everyone else it's been a quiet year for new physical media purchases for me too. A few new part releases of some series I started collecting long ago, an odd film here and there (most of which weren't released in 2022 anyway). What I will bring attention to though is the latest of Anime Limited's Gundam collection in Gundam Seed: Destiny. While this "Ultimate Edition" retains the same general look as the rest, I just want to bring attention to the fact that it not only has the whole HD remaster and the original series together but it also has a separate Blu-ray case for the Stargazer OVA, making this, combined with the previous Seed Ultimate Edition, really feel like the whole "Cosmic Era Timeline" of Gundam in two neat boxes, plus the usual goodies like art cards and posters and the like. By far my most expensive anime purchase of the year, but I'm pleased with the end result.
Anime Film Theatrical Screening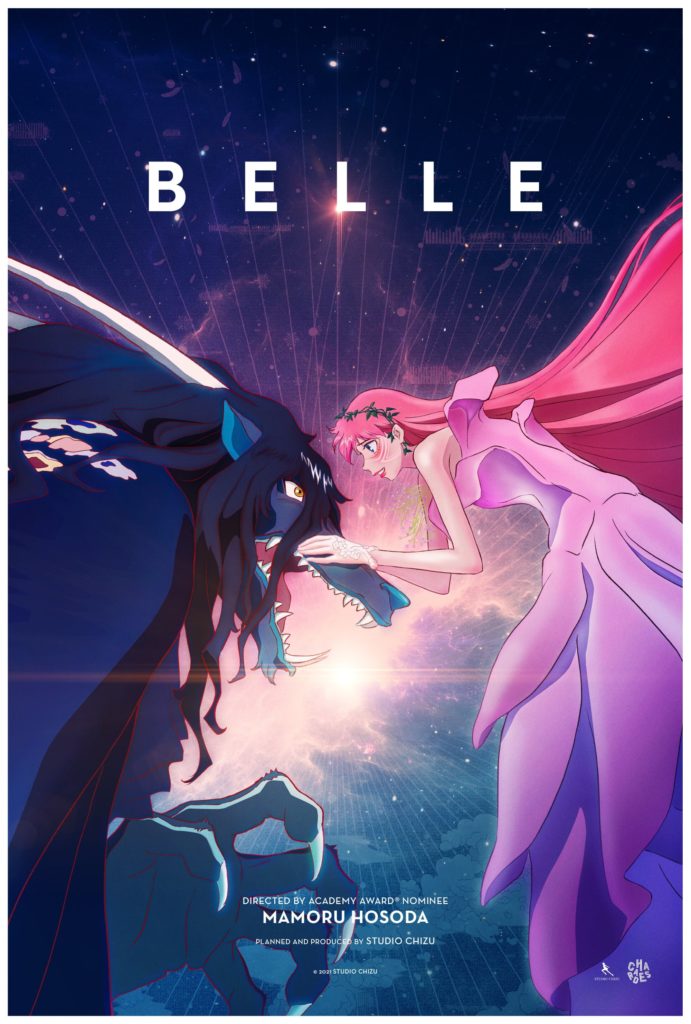 Darkstorm
I only saw one anime movie in cinemas this year, and that was BELLE, so it wins mostly by default, but I do have to say that it's a film I still enjoy to this day and do think it's worth mentioning here. Due to COVID, I was very uncomfortable with going to cinemas for a long while, but I did manage to see BELLE again, many months after my review, with a friend who hadn't seen a Mamoru Hosoda movie since The Boy and The Beast. Not only did her reaction to the film made me appreciate it in a new way, but there were many things I didn't pick up on in my initial review, and I think it's that magic that Mamoru Hosoda, despite his flaws, is always great at bringing to his films. BELLE is a film I recommend everyone should see at least once, in either dub, because it's an experience to behold.
Demelza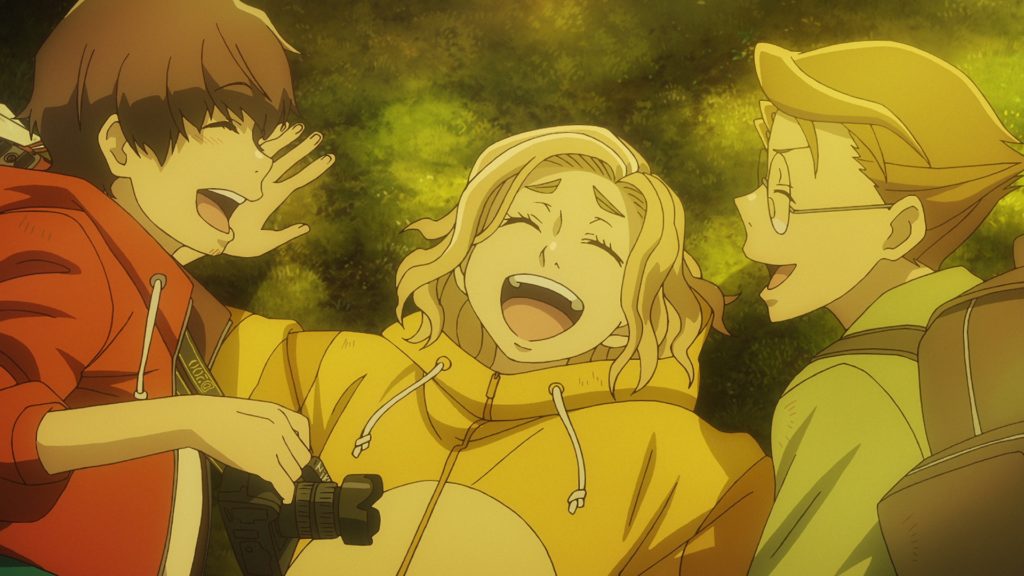 This year a lot of my theatrical anime viewing didn't happen until Scotland Love's Anime, a festival I was delighted to attend after a couple of years since I was last there. There I finally got to see Her Blue Sky, which I was delighted about, but I also got to see Goodbye, Don Glees! ahead of its nationwide release and that has firmly cemented itself as my favourite film of the year. A lot of what has been hitting cinemas lately are franchise films, part of a big shonen series (or perhaps just something very beloved like Fruits Basket), so it's refreshing when an original project gets a chance to shine. I'm still not convinced Goodbye, Don Glees! is for everyone, but I'm a fan of director Atsuko Ishizuka's work and this one makes me eager to see her future projects.
Onosume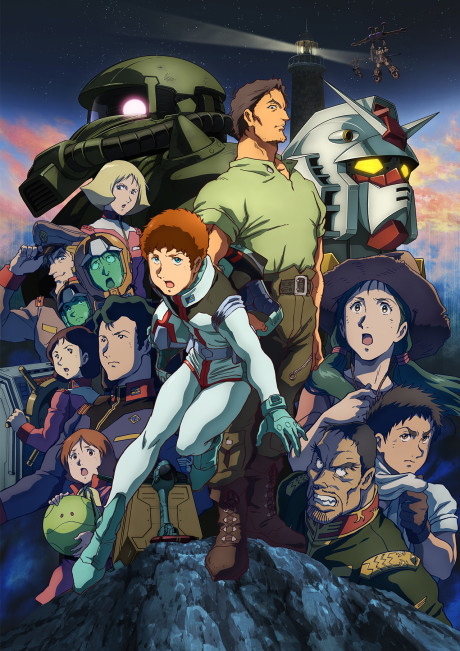 It has been great to see theatrical releases getting a boost this year as the recovery from the main bulk of the pandemic continues – it's just a shame I haven't been able to attend many due to either illness or bad timings! It's been interesting seeing Crunchyroll make more of a grab in this market and putting out the majority of the films this year, when say a few years ago that might have been Anime Limited. I won't list them all here but seeing Sword Art Online Progressive, Mobile Suit Gundam: Cucuruz Doan's Island and The Quintessential Quintuplets Movie all getting decently high-profile releases (and in some cases longer runs than a single evening) was great to see. In terms of a recommendation, I'd probably put forward Cucuruz Doan's Island, as it takes an inherently dumb idea for a slice of Gundam – Amuro gets marooned on an island with a farming family – and builds up a plotline and bunch of characters that you can actually really connect with. It's also pretty well animated and does a good job in taking the style of the original series and dropping it into the more modern Origin adaptation. It's goofy, it's fun, it's Gundam!
Cold Cobra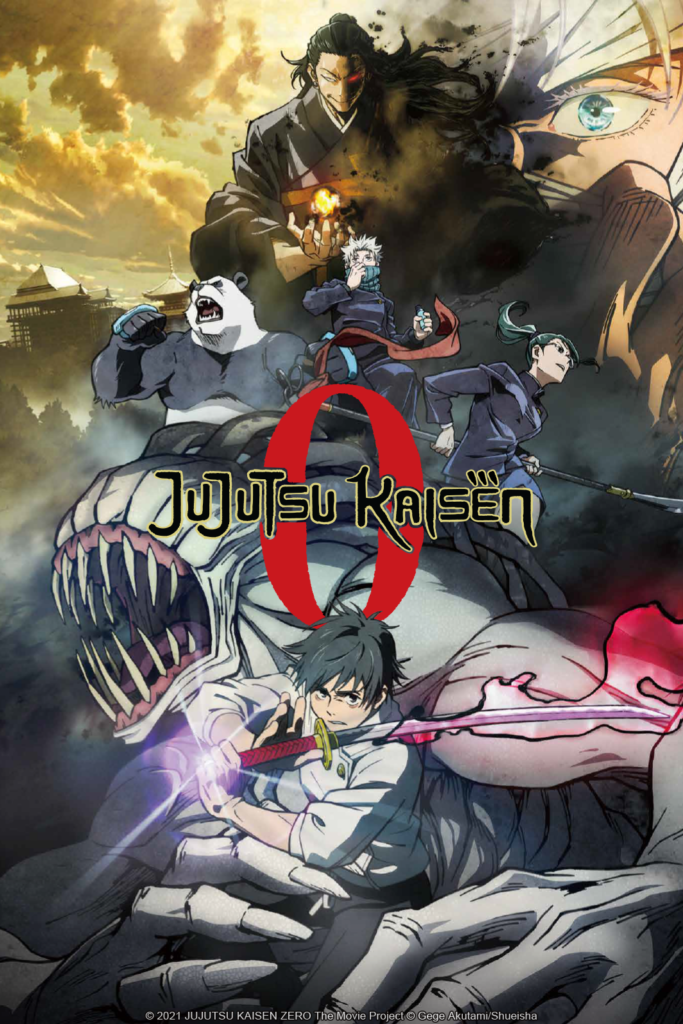 Back in February I had the pleasure of watching Jujutsu Kaisen 0, the prequel to the surprise hit of 2021. It had a fun story, strong visuals and great action, plus tied into the actual anime series itself, much like the original one-shot manga chapter ended up doing to the actual Jujutsu Kaisen manga. Not much else to say in this category, but it was a fun film.
Looking Forward to 2023…
 Darkstorm
So far Anime Limited have rescued several well-known magical girl series, Revolutionary Girl Utena, and Cardcaptor Sakura, that had never been released in the UK. Can we hope for more in 2023 like Princess Tutu or dare I say… Sailor Moon? As for actual releases, I think it'll be great to see more series outside of classics and sequels come out in the UK in the future.
Demelza
In 2023 Anime Limited is bringing Ascendance of a Bookworm to Blu-ray and Crunchyroll has Horimiya coming out, so that's at least two anime physical releases I'll be picking up! With streaming, we'll see the return of Bungo Stray Dogs, Bofuri, In/Spectre, DanMachi and Konosuba (plus a spin-off!), so I find myself incredibly excited about the return of these firm favourites. There are also anime adaptations scheduled for The Angel Next Door Spoils Me Rotten, Spy Classroom and A Galaxy Next Door, several series I've been enjoying the source material for so far. It would be nice if there's something that steals my heart as much as Lycoris Recoil, but we'll have to wait and see.
Onosume
My main personal thing for 2023 is hopefully getting to see Aikatsu! 10th Story: Mirai e no Starway in the cinema when I'm over in Japan in February. This movie in the long-running idol franchise is set to not only close off the original series from 2012, but potentially the entire franchise as Bandai Namco looks increasingly to Love Live! as its main offering in the idol genre, being backed up by The Idolmaster (which gets a new Cinderella Girls TV series from CyGames Pictures next year). Closer to home we obviously have Suzume, the latest Makoto Shinkai film to look forward to in April, which I've heard a diverse range of opinions on from folks I know in Japan who have already had the chance to see it.
Looking to streaming services and seasonal anime, there are some cool sequels on the way in 2023 which I am pretty excited for, namely Vinland Saga, Birdie Wing, D4DJ, The Ancient Magus' Bride, Tokyo Mew Mew New and Kuma Kuma Kuma Bear. I'm also looking forward to some of Anime Limited's recent Christmas announcements which I've been wanting to check out for a while, like Liz and the Blue Bird, as well as getting films such as the excellent Goodbye, Don Glees! and The Deer King on home video to watch again.
Sarah
Buddy Daddies! They're assassins. They're looking after a cute little girl who just happens to be the child of a human-trafficking mafia boss. What could possibly go wrong?! On a more serious note, the much admired anime series about kyudo (archery) Tsurune returns from KyoAni for a second season called Tsurune: The Linking Shot on January 4th. As ever with this studio, the advance publicity material looks amazing! These are just two of the new shows streaming in 2023 that I'm looking forward to, although – dare I say it? – I also have hopes for the new Trigun…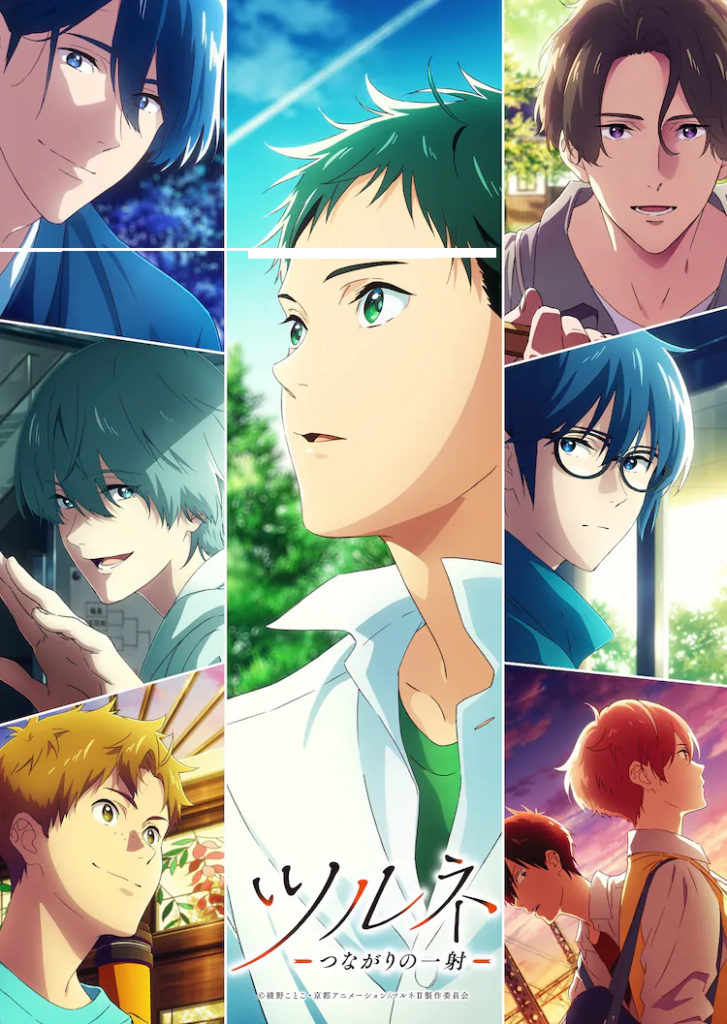 Cold Cobra
While I don't really have my finger on the pulse when it comes to new series I might like that are on the way, I will say that alongside more episodes of shows I mentioned in my part of the "Streaming/Simulcast" section I'm looking forward to the return of both Bungo Stray Dogs and Vinland Saga plus, like Sarah, I have one eye on the new Trigun adaptation, the trailers for which manage to both get me excited and get me worried in equal measure…