If My Favourite Pop Idol Made It to the Budokan, I Would Die Volumes 2-4 Review
Demelza
•
Back in February, I reviewed the first volume of If My Favourite Pop Idol Made It to the Budokan, I Would Die which introduced us to idol fan Eripiyo and the idol group ChamJam. Now I'm back with Volumes 2 through 4 to find out if this series has remained as charming as its introduction! 
As we reunite with Eripiyo for Volume 2, we find her in a crisis as ChamJam has just announced a popularity contest! For idol groups such as ChamJam, the members are ranked by their popularity and take different positions in the group when performing, based on whoever is ranked first during events like these – whoever comes in first gets to take the coveted centre spot. 
Eripiyo naturally wants Maina to earn first place or at the very least not be dead last, but to do that she will need to save up money to spend on merch. Each CD sold counts as a vote, but with Maina having only Eripiyo as a dedicated fan, it's going to take a lot to move the needle! So Eripiyo decides to work every part-time job she can to save money, but that means spending less at the regular ChamJam events, which causes Maina to worry that she's upset Eripiyo somehow. And then she happens to overhear some rumours that Eripiyo only supports the worst-ranking member, which causes Maina even more anxiety now she's not dead last in the rankings!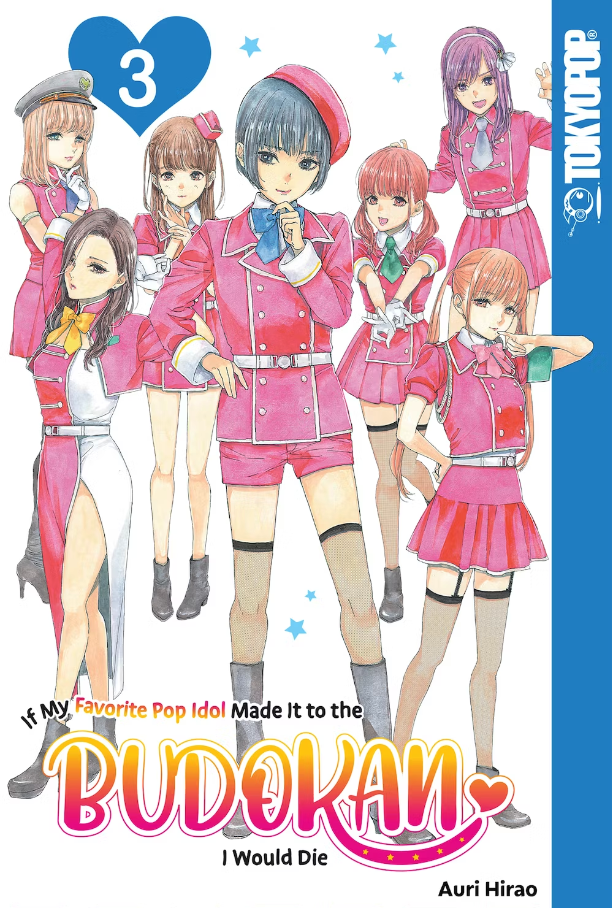 The popularity storyline extends into Volume 3, where we've reached the last few days of the contest and Eripiyo is continuing to work hard to send Maina to the top. But when disaster strikes just before voting closes, will a wedge be driven between idol and fan? Then as we move into Volume 4, ChamJam look to the future as they get scheduled to perform in a festival alongside other idol groups. Their dream of reaching the Budokan may still be out of reach, but progress is certainly being made, which is reassuring for both the members and their fanbase. 
Across these three books, a central theme is the relationship between Eripiyo and Maina. While they're in the position of being an idol and fan, it's clear that Maina has a lot of respect for Eripiyo and wants to get to know her more on a personal level. They can briefly talk for five seconds during the handshake events, but with Maina being so shy and Eripiyo being equally starstruck, that largely results in misunderstandings between them. However, slowly but surely Maina is beginning to work up the courage to convey her feelings to Eripiyo and perhaps as the volumes go on, they'll develop some kind of friendship away from ChamJam.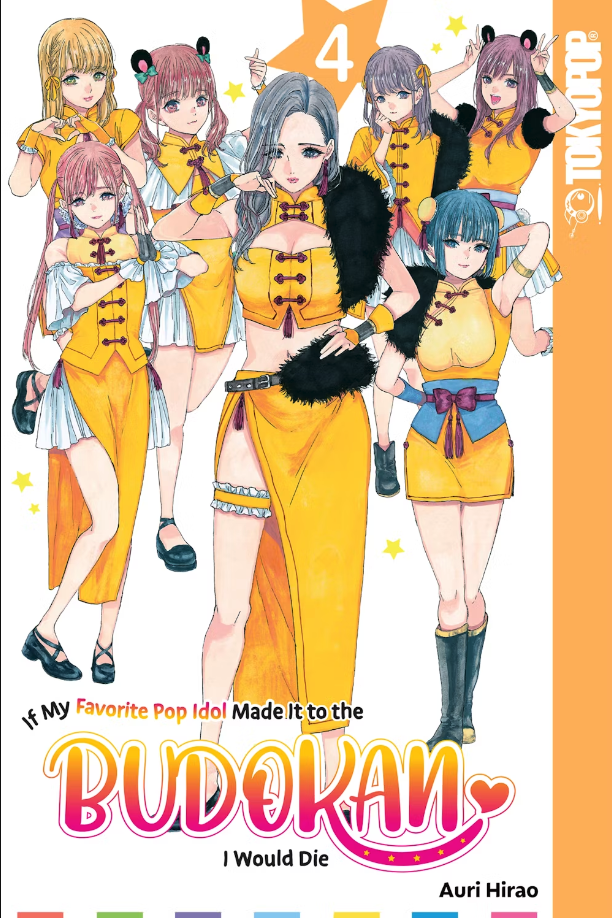 But even outside of the relationship between our main characters, author Auri Hirao has plenty to say about idol culture throughout these instalments of the series. With Eripiyo often busily doing part-time work, the spotlight instead moves to friends Kumasa and Motoi as well as ChamJam. The members of this idol group are largely newbies to the industry, but there are also people like Reo who were in a group before this and have mixed feelings about ChamJam's growing popularity. 
I think the author has done a successful job of giving each of these characters focus throughout these books, which is not easy to juggle, given the sheer numbers involved, including both the idols and their fanbase. It's not often I come away from a series with this expansive a cast feeling like I understand each character on an individual level, which is a testament to Hirao's skills here. I also appreciate that while the relationship between Eripiyo and Maina is developing slowly, it still feels like the two are taking small steps forward. I'm not saying they're going to be actual friends or even lovers anytime soon, but there's a sense of progress which will help keep readers engaged. 
If My Favourite Pop Idol Made It to the Budokan, I Would Die Volumes 2-4 all come to the West thanks to Tokyopop and continue to be translated by Claudia Takizawa. All three releases read well, with no issues to note. 
While Volumes 2 and 3 are available in both print and digitally, Volume 4 is currently only available as an eBook with a print release set for December 12th. Volume 5 doesn't appear to have a digital release date at the time of writing but is set to come to print in March 2024. 
Overall, these three volumes of If My Favourite Pop Idol Made It to the Budokan, I Would Die prove a charming read as they continue to focus on the relationship between a pop idol and her very devoted fan. And if that wasn't enough, we get to spend a substantial amount of time with the rest of the cast! 
Our review copy was supplied by the publisher Tokyopop.