Attack on Titan: The Movie Part 2 Review
Demelza
•
When I reviewed the first part of the Attack on Titan live action movie I came away from it intrigued to know more about the story and the world it presented us with. Sure, the movie had some flaws, but overall I was looking forward to seeing part 2. However, having now watched it I don't think my feelings are quite the same as they once were.

As a general note, this is a review for the second part of the live action movie so there are some spoilers for the first part.

This movie picks up just after Eren, who had gone out of control after transforming into a Titan, is saved by Mikasa. Eren has been captured and chained up due to the chaos he caused at the end of the first movie. His transformation ability throws whether he's human or Titan into question, and whether he's a risk to humanity.
Ultimately Captain Kubal decides that Eren must be killed, and despite protests from Armin and others in the Survey Corps (who feel he could be a tremendous aid in sealing the hole in the outer wall), the order is given to shoot Eren. However, before Kubal's squad is able to kill him, a new, seemingly intelligent Titan drops into the prison to capture Eren (killing numerous Survey Corp members in its path) and quickly flees the scene with the boy in tow. When Eren next wakes he is greeted by Shikishima, who explains that he rescued our hero from the Titan and brought him to safety. The Titan apparently escaped, which Shikishima suspiciously glosses over, but Eren never questions this further. Instead, after a "philosophical" exchange about how Shikishima wishes to change the world, Eren decides to fight alongside him and use his newfound power for good (starting with blocking the hole in the wall). Will the two, combined with the Survey Corps, be able to make a difference?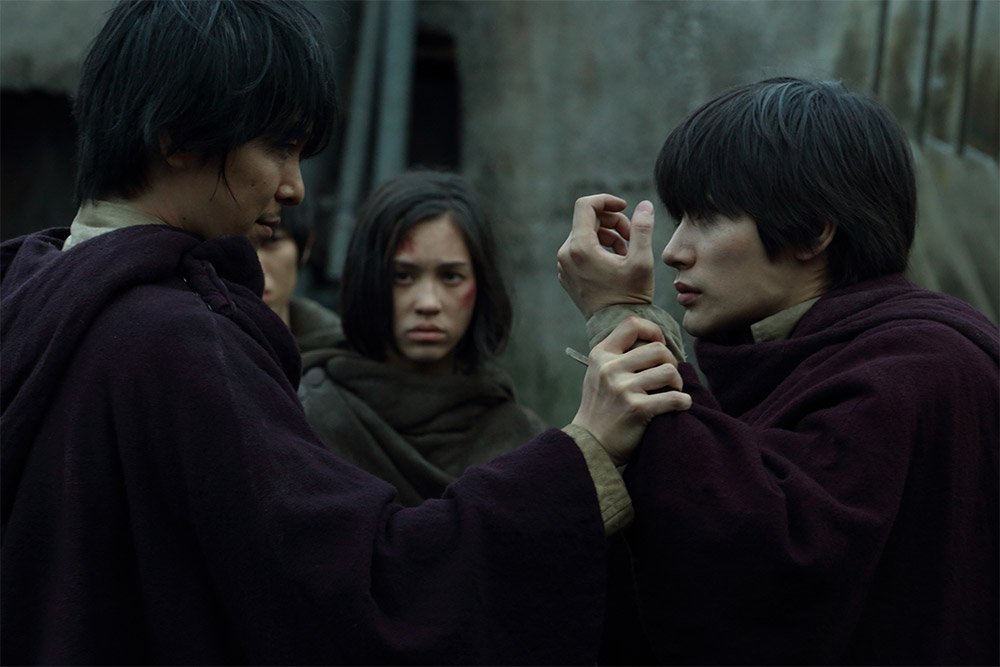 As this whole movie is a bit of a mess and full of plot holes I need to warn you now that it's unlikely to make much sense from this point onwards. From what I can piece together, in this world the government experimented on humans to change them into a stronger form. The government succeeds in their pursuit but it's not long before everything goes horribly wrong (because don't it always?). Not only does the first transformed human (which later comes to be known as a Titan) turn on the scientists, other humans begin transforming without warning and wreaking havoc all over the world. The remainder of humanity comes together to build up the giant walls to protect themselves. With little land, room, and food available inside the walls, humans had to coexist peacefully to preserve what was left of the human race – something that the government was seemingly aiming for all along.

Eren appears to have the ability to transform into a Titan due to his father experimenting on him as a child (perhaps he wanted to bring down the walls and go outside?). This is conveniently revealed through a dream sequence. It's also mentioned that Eren has an older brother, but this is only talked about for a single line and then never resolved. On top of that, do you remember the big bomb that I talked about from the first part? The one that meant nothing but Titans could apparently survive beyond the outer wall? Yeah, that plot point wasn't mentioned during this movie whatsoever, which is not surprising but would have been nice for consistency's sake.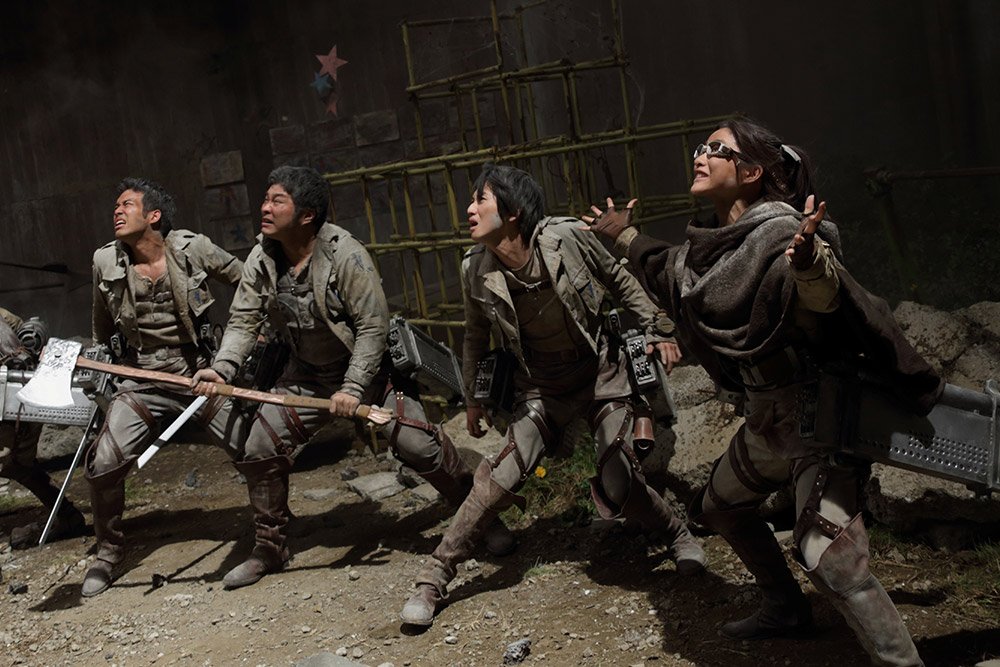 Even if we leave the plot holes aside, this movie is full of issues regarding continuity and convenience factors. The entire movie is set within the area that was invaded by Titans in the first part of the film yet we rarely see any beyond a few select scenes. They're often briefly mentioned as being in the distance but even though human activity is meant to attract them, they never pose a problem for the group. Likewise, many important characters are protected from fatal injuries/mishaps because of convenience, like my personal favourite, Hans (the woman who creates the Vertical Maneuvering Equipment the group use). She really should have died a few times over. On the flip side though, any characters who aren't classified as important are simply killed off without a second thought. It's a mess of a story and very difficult to put any emotional investment into because you're never given a reason to care.

The characters overall aren't handled too badly, as long as they're either Eren or Armin. Eren, Mikasa and Armin all get their time to shine and are a good mix of personalities that make for a somewhat interesting group. Regrettably Mikasa loses some of her fearless attitude from the previous movie and instead stumbles about wishing to know if Eren is safe or not, and even when she discovers that he's fine this behaviour doesn't really improve. However, Armin is much better than I found him in the original Attack on Titan series, so perhaps it's not all bad. The rest of the Survey Corp members are good enough but don't stand out. While Hans and Shikishima are the best characters on offer here they're also laughably stupid if you take them too seriously – but then so is the movie itself. All of the actors do a fine job in their roles though, so at least I can say that the characters aren't being let down by those playing them.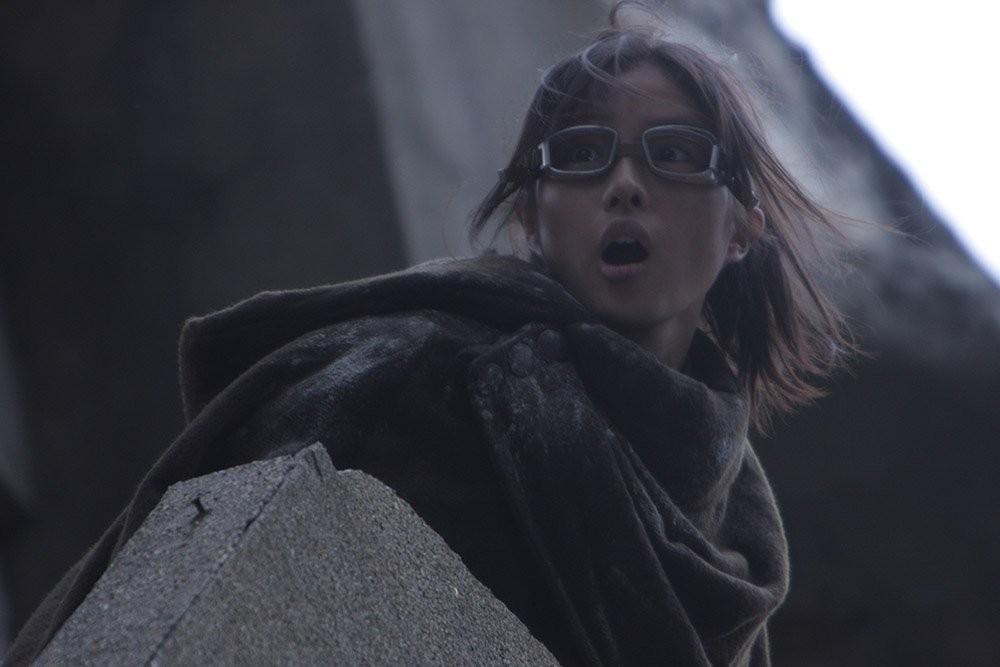 There isn't a great deal on offer here in terms of soundtrack. The vast majority of tracks are reused from the first movie and even the new stuff isn't really memorable because its usage is either badly timed or overshadowed by the action on screen. Animation for the Titans also falls into the category of being ineffective as although the normal Titans are done well, the human-Titans, like Eren, just look like Power Ranger monsters. They're not scary at all.

This release comes to the UK thanks to Animatsu and is on both DVD and Blu-ray. This is a subtitle only release and there are no extras to speak of on the disc.

Considering all of the above, I'm now left in the sad position of not being able to recommend this movie at all. Part 1 seemed like the story had potential and it was genuinely scary at times, but part 2 had so many problems that I'm not even disappointed – just sad. I'm sad because of wasted potential and wasted time on my part because these movies could have easily been so much more. The Attack on Titan live action movie is only worth your time if you have nothing else in the world to watch, and even then your time is better spent elsewhere.

Score: 2/10
Quick Information
Title: Attack on Titan: The Movie
UK Publisher: Animatsu
Genre: Horror, Drama, Action.
Director: Shinji Higuchi
Year: 2015
DVD/Bluray Release Date: July 25th 2016
Run Time: 83 minutes
Classification: 15