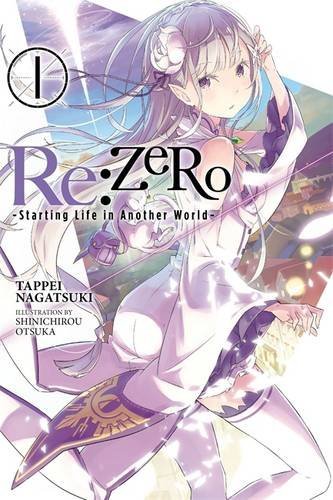 If you asked me which anime was being talked about the most from the Spring/Summer 2016 season then I'd answer without a doubt with Re:Zero. For better or worse the series has captured viewers and held them on the edge of their seats. Today I'm here to review the first volume in the original light novel series and find out if it holds my attention the same way as the anime does.
Re:Zero tells the story of a fairly average teenager, Subaru Natsuki. One day Subaru is magically transported from his local convenience store to a fantasy world. There's no one in sight to inform him why he's been brought there.  Surrounded by unfamiliar sights and sounds, just what has Subaru gotten himself into? Filled with determination to work out why he's been summoned to this place (and to live his life like you would in a video game), Subaru sets out to explore this brave new world.
Okay, I know this all sounds very generic but stick with me. I promise by the end of this review it won't feel quite as familiar as those fantasy stories you're used to.

It's not long before Subaru gets himself into a spot of bother with three thugs. Just when things begin to look their worst, he's saved by a silver-haired girl, who introduces herself as Satella. Satella uses ice magic and has a spirit familiar named Puck, who introduces himself as Satella's father and is quick to mention that he works from 9 am till 5 pm. It turns out that Satella has had something very important stolen from her and was in the process of searching for it when she encountered Subaru. As thanks for saving his life, Subaru agrees to help her find the thief and reclaim the item.

It's not long before Subaru and Satella work out where the thief intends to sell off the stolen item, but when the two arrive at the tavern/storehouse they find that everyone inside has been murdered. Stumbling upon this gruesome scene ultimately leads to the deaths of Subaru and Stella as well by the hand of the killer (who was still lurking in the darkened tavern). In his dying moments Subaru wishes that he could have protected Satella and spent just a little longer in this world.

Unsurprisingly the story doesn't end with the deaths of our protagonists. It turns out that Subaru has some kind of special ability that allows him to return from death, which he's dubbed "Return by Death" as upon dying it sends him back to a designated point in time. Perhaps with this ability he can prevent the deaths of himself and Satella, while also helping her retrieve her stolen item.

Return by Death is an interesting ability and author Tappei Nagatsuki handles it rather well. You would think that reliving the same day multiple times over would become boring, especially in book form where there isn't much to distract you from the fact you're rereading the same situations over and over, but that's simply not true here. The first time Subaru experiences the day over again, some things are very similar but they're also different just enough to keep it interesting. However, as the plot progresses we get the chance to see a new plot line where instead of travelling with Satella, Subaru ends up becoming close to Felt (the thief) and comes face-to-face with the one who killed everyone at the end of his first 'life'.

Nagatsuki has written Re:Zero from a third person perspective, which works very well for the drama and character interactions. I'd say it's a shame that we're not inside Subaru's head but as he has a tendency to voice all of his thoughts aloud there wouldn't be a notable benefit to writing the story from his perspective. I found this to be an interesting style of writing because it's not one that I've personally stumbled across in my light novel collection (although when a good portion of my collection has been written by Reki Kawahara perhaps that explains some of it).
Re:Zero started life like a lot of popular light novels, in that it was originally a web novel that was later edited and published as a series. Some of the exchanges between characters go on too long and there is a bit of awkward wording here and there, which has no doubt resulted from the original web novel being rough around the edges compared to a professionally published book. That said, I think Nagatsuki has a good handle on how to write this story and future volumes will likely solve all of the problems in Volume 1.

Illustrations for the series have been provided by Shinichirou Otsuka, who currently doesn't appear to have worked on anything beyond Re:Zero (at the very least I couldn't find mention of anything online). Either this is the first (now major) work Otsuka's produced art for, or the internet just cannot provide me with answers! Regardless, what we have on show for the first volume of Re:Zero looks very nice and character designs are suitably detailed. Volume 1 opens with various colour pages that showcase the characters which, I have to say, look a lot better than the fan-service- laden images we'd usually have for other series. It's sad that none of the action scenes have been drawn in favour of a picture of each of the main characters, but hopefully future volumes can deliver. I'm definitely looking forward to seeing more of Otsuka's work.

I've spent a lot of time talking about the writing and the story, so let's talk about the characters now. It's worth saying that Subaru is not going to win any awards for being a likable member of the cast. He's annoying, doesn't know when to stop talking, and more often than not I wanted to punch him. Having said that, Subaru has a good heart and his determination to do his best (despite really not having any redeeming qualities) is perhaps what keeps him from being a total waste of space. In a way it's actually refreshing that Subaru wasn't made to be a likable character. There are far too many series that try their hardest to make a lead that you'll be rooting for from the start and I appreciate the fact Re:Zero hasn't fallen into that cliché.

Satella, Puck, and Felt are all interesting characters whom I grew immensely fond of. Satella has a cold manner but inside she has a good heart. There is obviously more to her than what we see in this volume, and having watched the anime I know just where her story is going. Puck and Felt don't get quite as much time in the spotlight as Satella but when they are present they, too, shine and leave me wanting to know more about them. It's a good cast which is only going to grow to become even better as the story progresses.

For those of you who are watching the anime (as I am) it's worth noting that the light novel handles itself better than the anime adaptation does in certain ways. To begin with, the light novel doesn't spend as much time on how Subaru was in Japan one minute and then the fantasy world the next. Rather than dealing with his shock and surprise we're dumped into the scene about 20 minutes after, where things have calmed down and Subaru calmly explains what happened to him. I found this a much better way of starting the story because it's refreshing to not have the protagonist overreacting to every little thing in a fantasy world. Overall the light novel also has a much better handle on the flow of the plot due to the anime studio creating certain inconsistencies in the story. For example, in one anime scene Puck knows Subaru's name despite not yet having met him in that life. Subaru is also a lot more tolerable in the light novel than I found him in the anime, which has got to count for something.

Overall Re:Zero Volume 1 makes for a good read and handles the 'transported to a fantasy world' idea in an interesting way that, hopefully, won't become stale anytime soon. Subaru might not be the most likable character but his future in this world seems like it'll make for an interesting story. I'm a huge fan of the anime and reliving the story through the light novels is something I'm very much enjoying.