KonoSuba: God's Blessing on this Wonderful World Season 2 Review
Demelza
•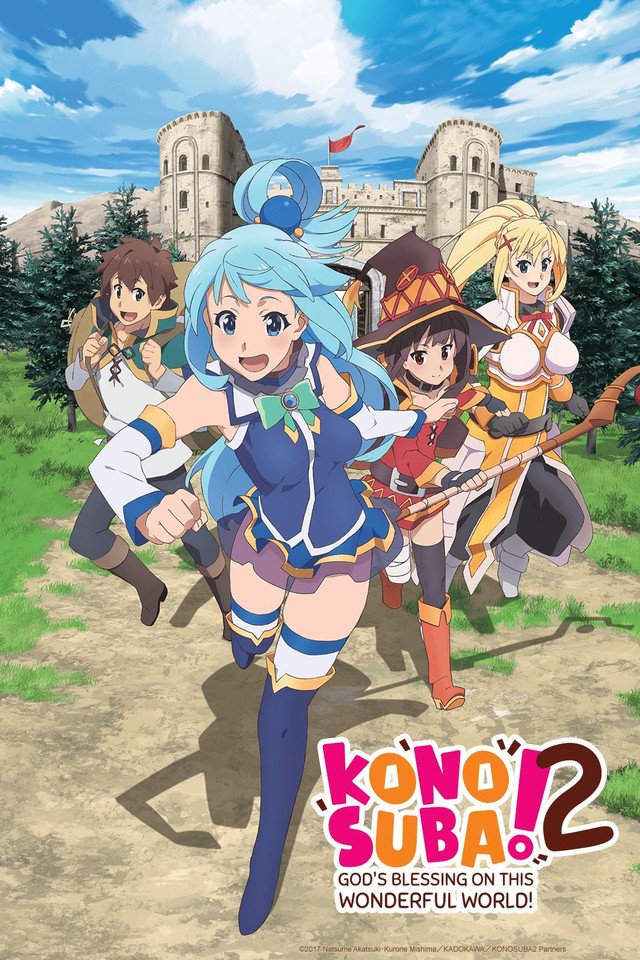 This time last year I sat down to review the first season of KonoSuba (a review you can read here) and at the end of the article I mentioned how excited I was for the second season. Fast forward a year and I've just finished watching Season 2. Has it held up to my original love of this fantasy anime?

The short answer to my question is yes: I am still deeply in love with this whacky comedy. This season kicks off with Kazuma and his party of idiots (Aqua, Darkness and Megumin) in deep trouble. It turns out that during the heated battle that took place at the end of Season 1, the team managed to destroy a nobleman's mansion. Kazuma is quickly arrested and put on trial (a trial that cheerfully parodies the Ace Attorney series). Nothing could go wrong, right?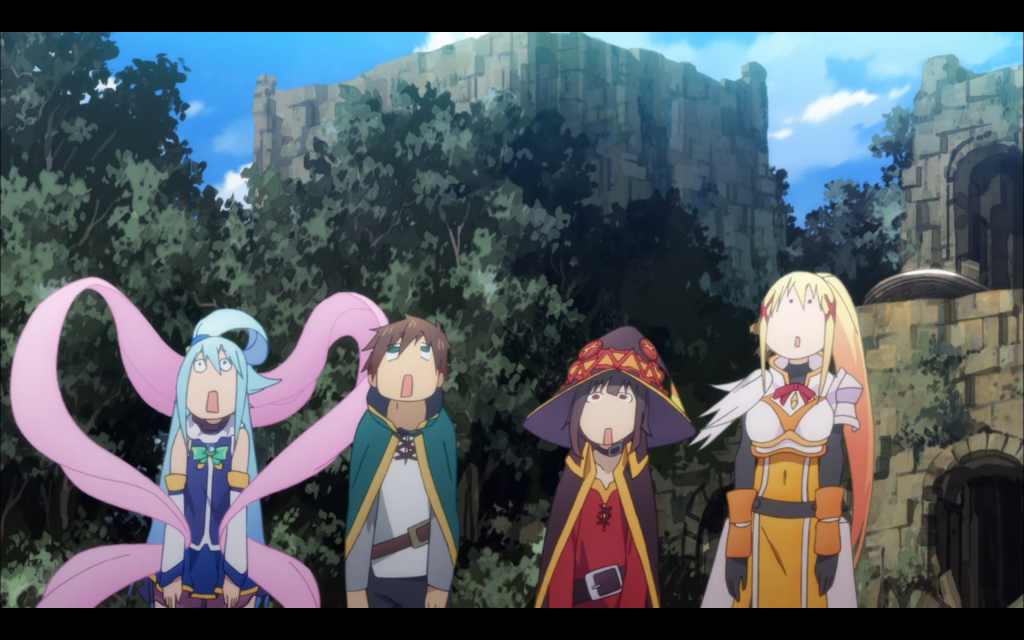 When Kazuma is put on the stand, many crimes seemingly come to light (although most have been committed by his party members!) and with only Aqua and Megumin to defend him (who quickly give up on the idea)  things can only go from bad to worse. It's only when Darkness uses her own name as a noble that Kazuma is saved from certain death and lumped with a massive debt to repay instead. He might now owe millions and has had all of his belongings seized as partial repayment, but at least he's alive and we've been welcomed back to this world with a bang.

This season follows the trend of last season with mostly self-contained stories early on and then one final big arc to finish the series. KonoSuba has always been at its best when the tales are short because it means the odd episode that you might not enjoy doesn't spread into the following week – although unenjoyable episodes are overall less of a problem than last season. On the whole, the stories are a lot more fun (and sometimes even genuinely moving), offer ample character development and, most importantly, continue to show just how useless our team of adventurers are.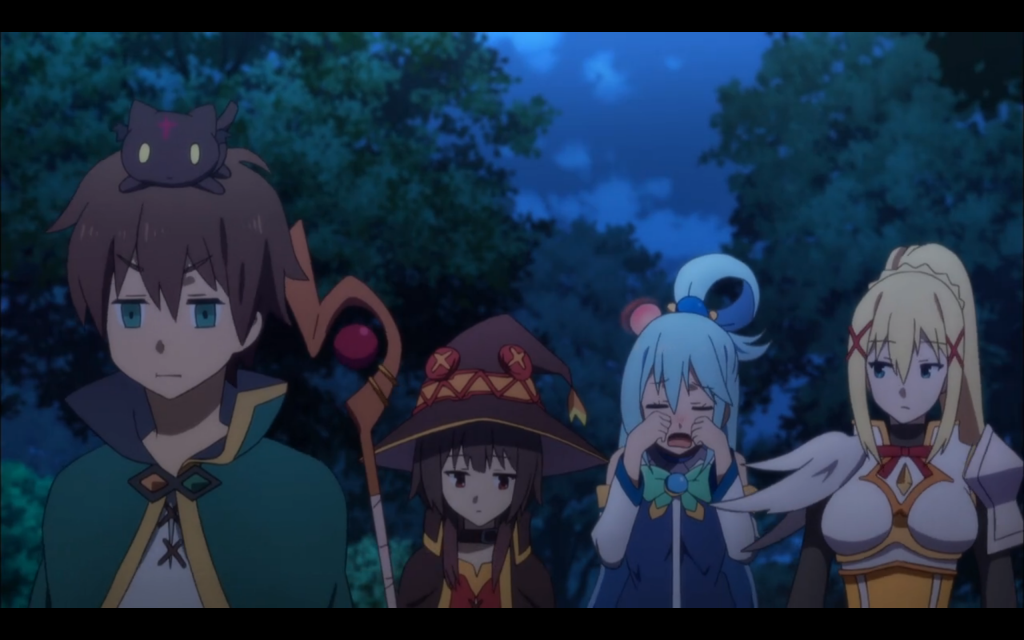 Although our cast are still pretty useless, between this season and last they have made some progress as a team. Kazuma and Aqua have both learnt new skills since we last saw them and Megumin, although still limited to a single explosion a day, has also powered up. It's not just their skills that are improving, as it's quickly apparent that their teamwork is also getting better and Kazuma better fits the leader role he fills.

This season offers an arc dedicated to Darkness and explains some more of her backstory, something I was very happy to see as until now we've not known much about her life. Meanwhile, the final arc of the season spends quite a lot of time with Aqua and Wiz, who again we're glad to see more of. This is especially true for Wiz, whose introduction story last season was told in flashbacks in an effort to save time in the anime.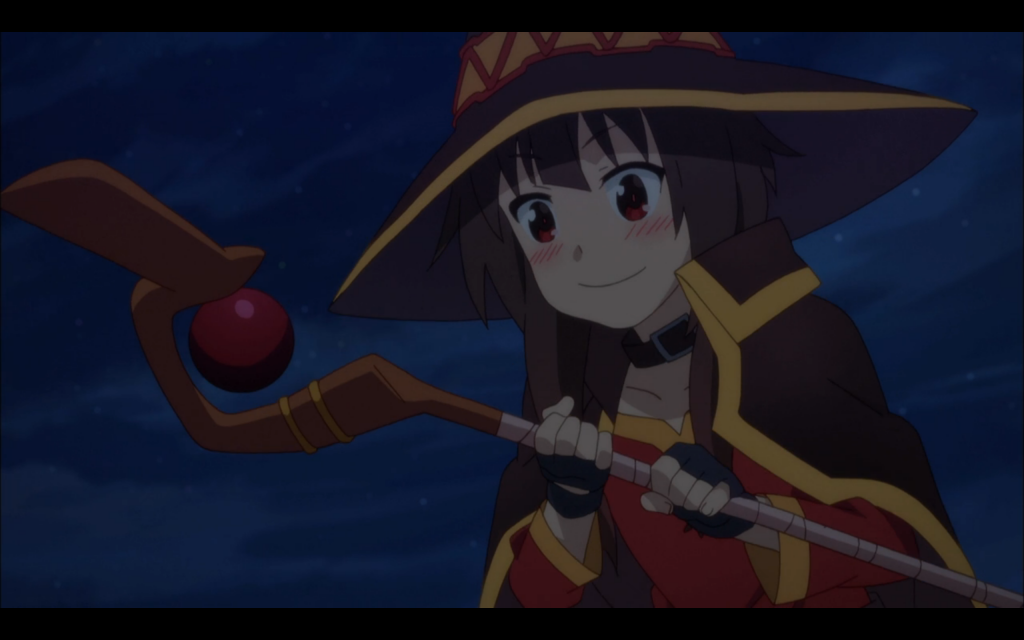 My only major complaint is down to Megumin, who is given a story arc involving a childhood friend. Once the episode involving their story is finished, Megumin's friend, Yunyun, is mostly pushed aside and not seen again for any great length of time. Perhaps because of Megumin's inability to produce anything but one explosion a day, she is also shelved for the majority of the season and only used for a few comedic scenes despite the fact that she's usually always present. At least they gave her a new companion in the form of a cat, Chomusuke, to keep her busy, who is presumably the adorable mascot of the series now. It's not that Megumin's character feels undeveloped or lacking, it's simply that she is my favourite among Kazuma's team and I'm just disappointed that we didn't see more of her.

It has to be said that overall the second season is very satisfying and the conclusion delivers one of the best anime endings I've seen in quite some time. It doesn't finish off the overall KonoSuba story (the novels are still on-going in Japan), but it finishes off the tale it set out to tell very well while leaving the door open to return to this world someday.  The final episode is full of the silly humour I've come to love the series for, but most importantly it also shows just how much the characters have progressed as a team. Above all else, it's just good fun.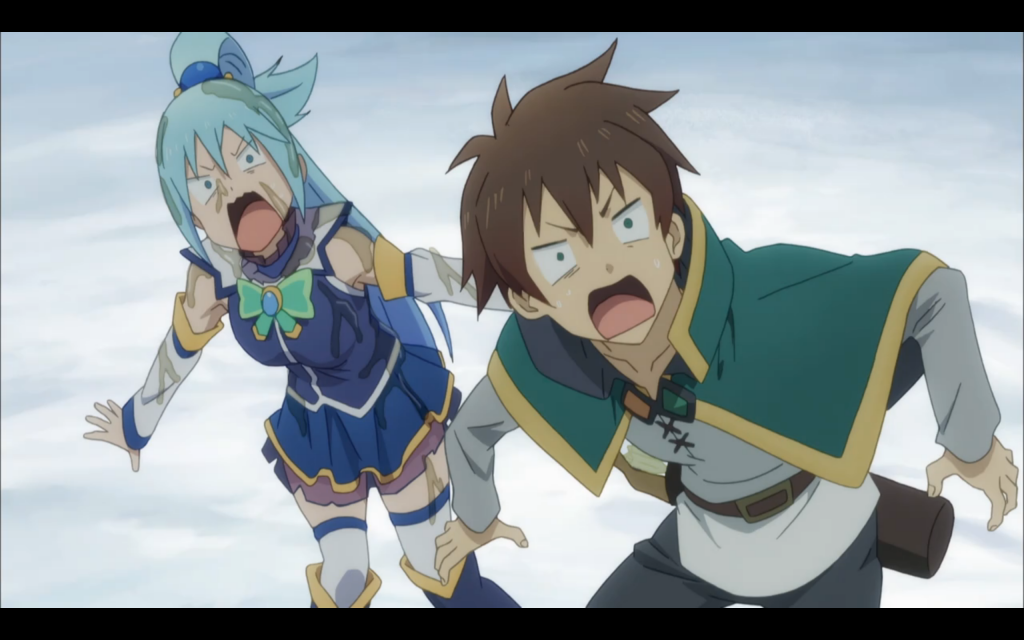 The series has once again been handled by Studio DEEN and where animation is concerned the show does seem to have been given more budget (and it has to be said that the final episode looks much better than anything else the series has ever put out). Despite this newfound budget however, the animation is still terrible. The first episode is all over the place and even once things become more stable, it's clear that DEEN have made a stylistic choice to lean into the idea of KonoSuba never being the prettiest show in the world. Character designs on the whole are smoother and I think the world has more varied colors and looks sharper, but overall things haven't changed much at all.  I commented in my review of the first season that the poor animation adds something to the charm of KonoSuba and I still firmly believe this because fixing up the animation might have ruined the fun a bit.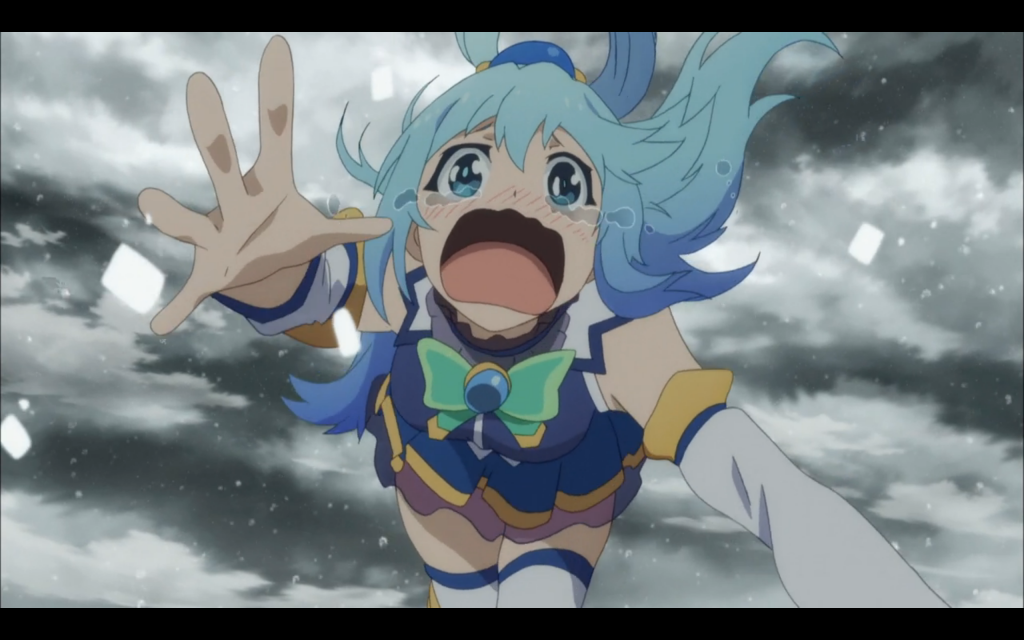 When it comes to the music, composed again by Masato Kouda, things haven't changed much since the first season. The soundtrack isn't something I'd listen to away from the show itself, but within context it does wonders to ramp up the action scenes and play into the silliness of everything. The opening theme "Tomorrow" has been provided by Machico, who also worked on the Season 1 opening, and I have to say it's a brilliant track that really captures what KonoSuba is to me. The animation for the song sees our heroes embark on a quest and throughout we're shown the various trials and tribulations they face before they return home, bruised but successful. I love it. It's fun and really sets up well for the show. The ending theme is "Ouchi ni Kaeritai", sang by the voice actors for Aqua, Megumin and Darkness much like with the first season ending. The song is a slow and more somber affair than the opening but it works in contrast to the fast pace of the anime. It also wins points in my favour for featuring the flying cabbages in the animation (that I adored in the first season).

All of the voice actors do a wonderful job in their roles but my personal highlights this season are Jun Fukushima (Shoukichi Naruko in Yowamushi Pedal, Shinsuke Chazawa in Shirobako) as Kazuma, who manages to go from a very deadpan tone of voice to utter hysterics in seconds, and Sora Amamiya (Touka Kirishima in Tokyo Ghoul, Elise in Bungo Stray Dogs), who plays Aqua and manages some pretty impressive screaming for the goddess.
KonoSuba Season 2 certainly hasn't left me disappointed and I highly recommend it to fans of the previous season. With many tales still left to tell in this Wonderful World (the anime series has only adapted four of the ten light novel volumes released in Japan), I hope that we get a season three sometime in the future. Even if the show doesn't return, I think this wouldn't be a bad way of ending it because the conclusion is so strong. My only hope now is that someone finally licenses the series for a release on Blu-ray and DVD in the UK (preferably with plush cabbages). Whatever happens, KonoSuba remains a firm favourite in this reviewer's heart.