Yuri!!! on Ice Review

Sarah
•
Yuri Katsuki's long-cherished dream of winning a medal for Japan in ice skating at the Gran Prix Finale has crashed and burned. Deeply depressed, the 23-year-old goes home to the family hot springs in Hasetsu. But who should turn up unexpectedly but the charismatic (five times!) world champion, Victor Nikiforov, Yuri's idol, who announces that he's decided to retire and is going to coach Yuri. Unfortunately for Yuri, his self-avowed rival, sullen teenage Russian wunderkind Yuri Plisetsky ('Yurio'), follows Victor to Totsuki and demands that he coach him too. The modest local ice rink suddenly finds itself hosting a display of world quality skating. As Yuri Katsuki, fired with new ambition, works hard to pass all the gruelling competitive stages, we see just how talented his rivals are – and how difficult it will be to match up to them, let alone win gold.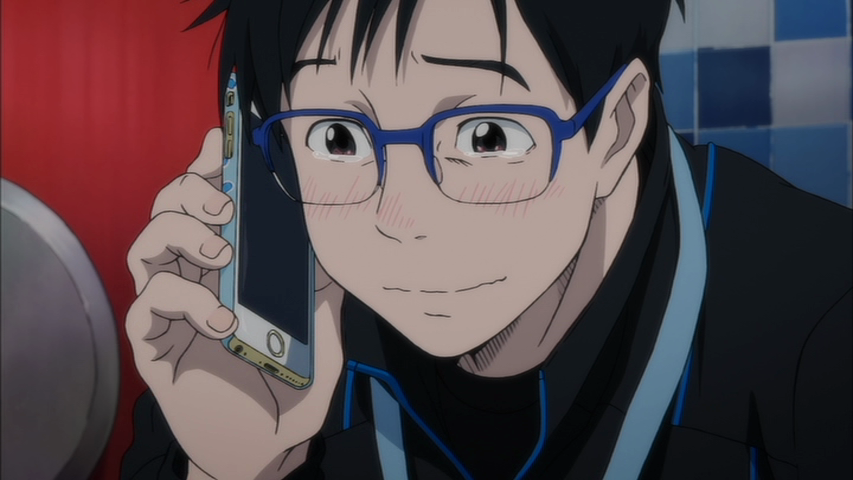 What is the secret of Yuri !!! on Ice's success? Because there's no denying that this series has been a phenomenal success worldwide. Ice skaters have even adopted the specially composed performance pieces and created their own routines to great acclaim. So it can be hard to look past the mountains of doujinshi, fan art and fan fiction (some of it very accomplished), the special events and concerts that YOI has spawned and focus back on the series itself. The innovative team of Sayo Yamamoto (Director) and Mitsurou Kubo (Original Character Design and Co-Creator) combined their writing talents on the project, going to former professional figure skater Kenji Miyamoto to choreograph the skating routines. And with MAPPA as the studio, these routines are dazzlingly animated. The series looks good throughout with the different locations attractively portrayed, from Japan to snowy Moscow and finally Barcelona with its bustling Christmas market, the Sagrada Familia interiors glowing with light.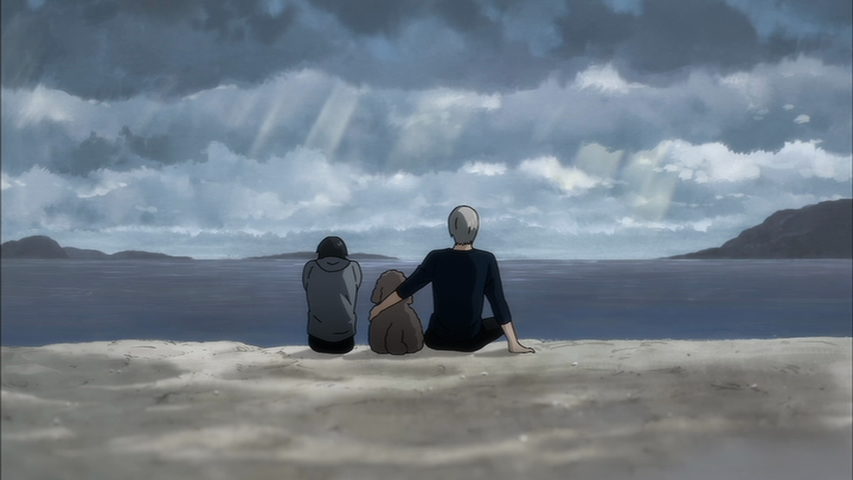 From the stirring first notes of the OP, "History Maker" by Dean Fujioka, matched with magically fluid animation showcasing the three main characters on the ice, Yuri!!! on Ice announces itself as unapologetically different – and revels in its difference. The show sparkles with sequinned costumes, chips of ice scythed by sharp silver skates, sparky exchanges between skaters and coaches.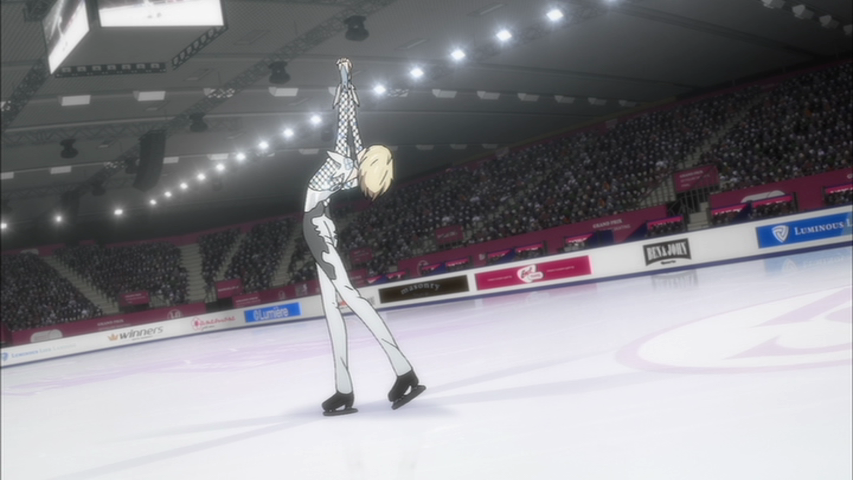 The fact that the series is so entertainingly constructed (especially in the first episodes) draws the viewer in effortlessly. Yuri Katsuki, aspiring ice skater whom first we meet just as his dreams of winning medals for Japan are dashed, is a very relatable character, riddled with insecurities yet filled with an unquenchable passion for his art. Yet the show is filled with wicked little touches of humour, from Victor's frequent appearances stark naked (but always tastefully framed) in the hot springs, the merciless teasing of Yuri (who's gained rather too much weight after losing) as 'little piggy', not to mention the innumerable photos and selfies of the skaters shared on social media and the adorable reactions of Yuri's supportive family and friends.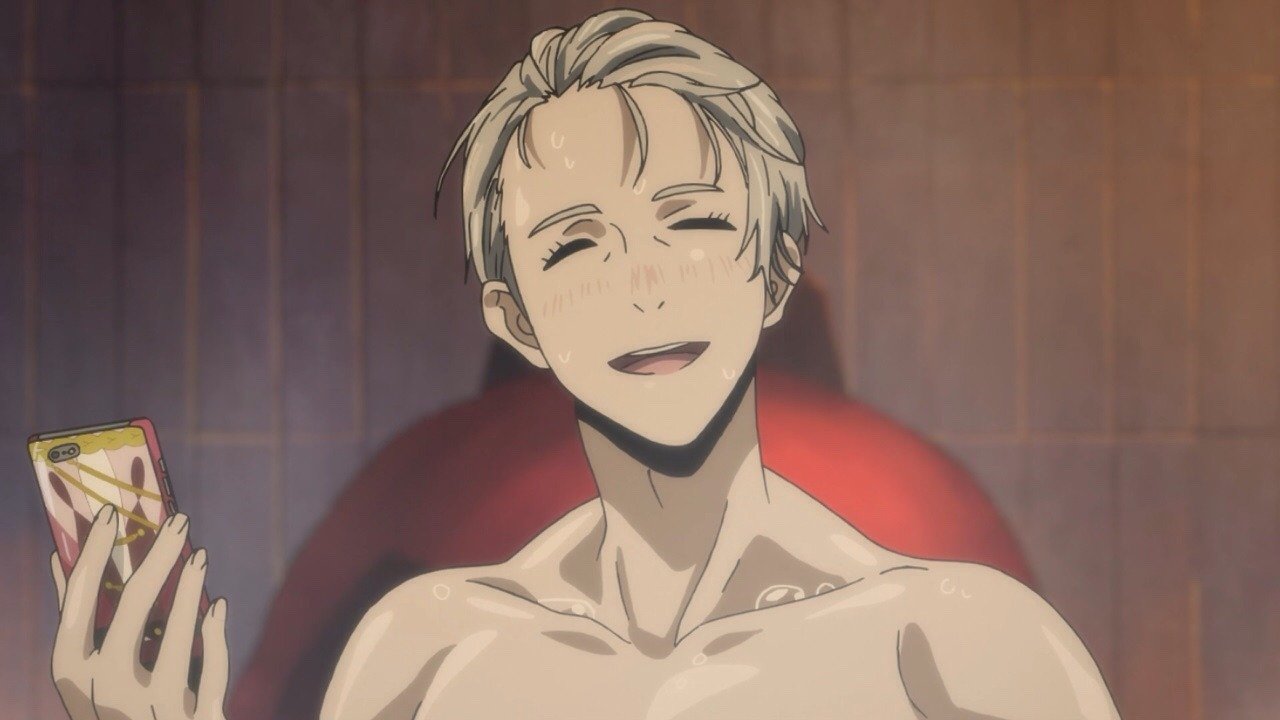 Above all, it's a story about love. The irony is that Victor realizes that he has put his own life and love on hold to devote the past years to skating. The theme that he sets the two Yuris is love: 'Agape' (pure love) for Yurio and 'Eros' (erotic love) for Yuri, using two contrasting arrangements of the same piece of music. Of course, both young men object as Victor is casting against type! But it's an inspired choice, bringing out hidden aspects of their personalities. And Yuri goes on to choose 'Love' as the theme of his programme overall, although touchingly, he admits in his press interview that he's not yet sure he understands if that is the right name to give what he's feeling.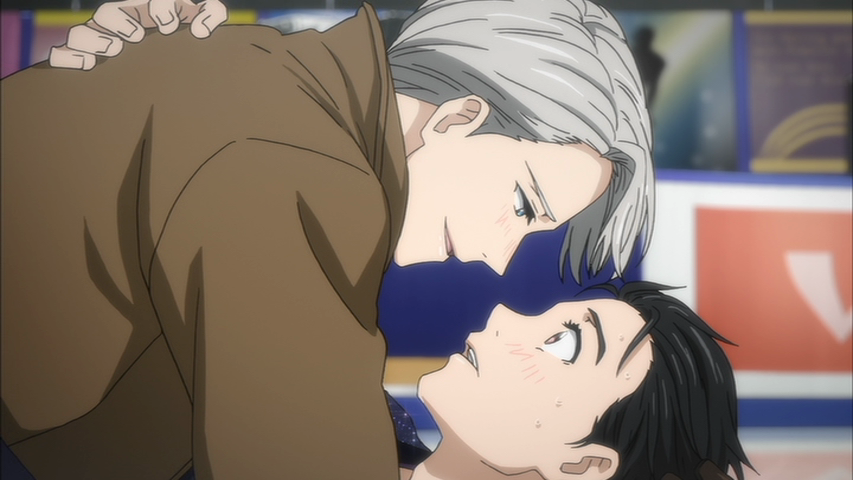 So, why is this such an entertaining watch? The human drama. The characters are believable; it's difficult not to sympathize with Yuri  – or with Victor – as the relationship between worldly-wise coach and awkward protégé changes, and Victor begins to draw out the gifted performer hidden beneath Yuri's anxieties and self doubts. The tensions of the performers in the wings waiting to take their turn can feel almost unbearable, especially in Episode 8 at the Rostelecom Cup in Moscow where Yuri is so overwhelmed by nerves that even the imperturbable Victor doesn't know what to do to calm and motivate him.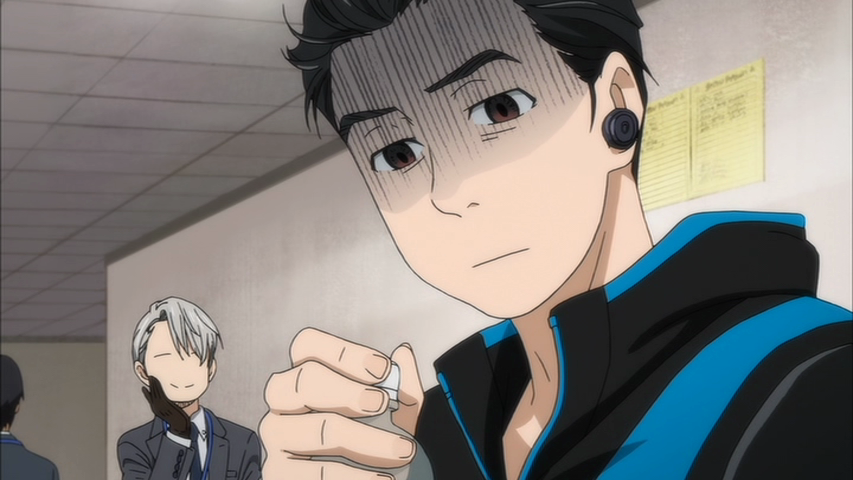 At what moment do the roles of coach/student change as their feelings for each other deepen and mature? When this show first aired in 2016, this question kept the audience collectively holding their breath as the final episodes in Barcelona kept delivering one surprise after another. But Yuri!!! on Ice is not just unusual in the world of anime in presenting a positive and accepting view of a same-sex relationship, it's also quite innovative in the way it makes this just one part of the overall narrative. The rivalries and camaraderie of the skaters are also very important; the anime soon introduces us to Yuri's talented, colourful and lively rivals. The performances on (and off) the ice reveal the bitterness of jilted Russian Georgi Popovich, the over-the-top charisma of Christophe Giacometti (another skater inspired by Victor) representing Switzerland, the over-confident swagger of Canadian champion Jean-Jacques Leroy ("J-J style!") with his vast fan entourage who sing along as he performs on ice. We hear the skaters' interior monologues as they perform, and the animation sometimes drifts as their minds wander (fatal distraction!) to moments from their lives that have brought them to this point in time. Anyone who has ever performed in public will identify with these intimate glimpses of the skaters' thoughts and reactions; it's realistic and a clever narrative technique.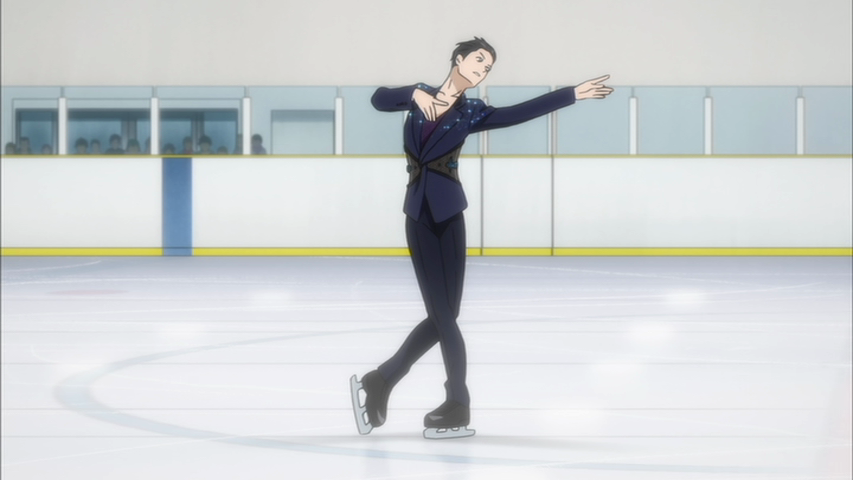 It was always going to be hard for the US dub from Funimation to compete with the original Japanese cast in which Junichi Suwabe as Victor, Toshiyuki Toyonaga as Yuri and Kouki Uchiyama as Yurio give stand-out performances. But the US cast are genuinely convincing as well and there's no getting away from the fact that, with an excellent dub script from Bonny Clinkenbeard, it's a better viewing experience when it comes to watching the (vital) skating sequences without subtitles (unless you're fluent in Japanese). Jerry Jewell really nails Victor's mercurial personality and Josh Grelle conveys Yuri's vulnerability as well as his determination. One performance that really surprised me is Chris Sabat's depiction of Christophe Giacometti; the voice actor best known for playing All Might, Vegeta and Piccolo, reveals a new smexy side to his dramatic repertoire!
The soundtrack has been composed by Taku Matsushiba and Taro Umebayashi, producing between them an impressive range of different styles for all the skaters' performances, ranging from classical to contemporary. The Ending Theme is the relaxed track "You Only Live Once" by Wataru Hata set to a charming and intimate series of stills of Victor and Yuri at the beach with Maccachin, Victor's beloved dog, contrasted with amusing cellphone shots of the other skaters.  Ian Wolf's article about the soundtrack for Anime UK News can be found here.
The extras on Sony Pictures' UK Blu-ray and DVD combo comprise: Yuri Plisetsky GPF in Barcelona EX "Welcome to the Madness" OVA (a must-see!); a Cast Discussion with ADR Director Sonny Strait, Jerry Jewel and Josh Grelle, Eleventh Skate Commentary by the US voice actors; Textless Opening Songs; Textless Closing Song; Textless Closing Tenth Skate and Textless Closing Final Skate. The Blu-rays are easy to navigate and the subtitles, although in white, are legible (the DVDs were not seen).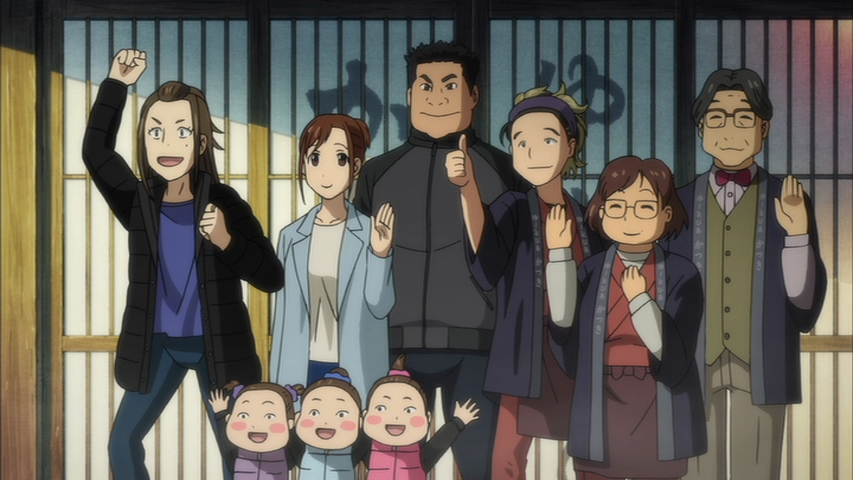 Yuri!!! on Ice is that rare thing: a genuinely feelgood watch. It's entertaining, alternately heart-warming and heart-breaking, and delivers a dazzling array of figure skating routines. It's important also for its positive portrayal of the nascent relationship between Victor and Yuri. This is an anime series that repays frequent viewings.
Oh – and the Japanese website is promising us a film: Yuri!!! on Ice the Movie: Ice Adolescence – 2019!