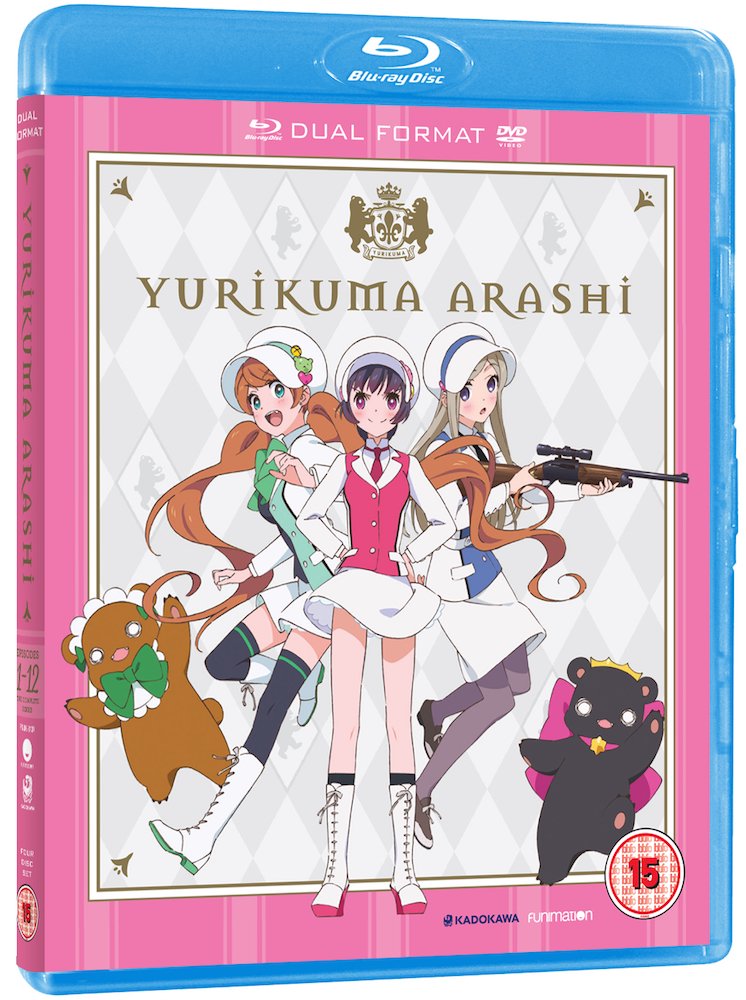 "Always respect Mother Nature. Especially when she weighs 400 pounds and is guarding her baby." – James Rollins
It rather rare to see a yuri anime released in the UK. I, for one, don't recall ever reviewing one before so it makes for an interesting experience. It certainly becomes more interesting when a lesbian romance series features a surprisingly high number of murderous bears.
In Yurikuma Arashi (Lily Bear Storm) the world has undergone a dramatic change. A minor planet called Kumaria exploded and the resulting meteor storm showered the Earth. The result of this was that it made the bears on Earth intelligent, man-hunting killers, and thus bloody conflict between humans and bears took place. In the end, a giant barrier called the Wall of Severance was built to keep bears and humans apart. If a bear makes its way into the human side it is shot on sight.
It is possible for bears and humans to cross from one side to the other, but in order to do so they have to go on a Severance Trial before three male bears named Life Sexy (the judge), Life Cool (the prosecutor) and Life Beauty (the defence attorney). If one agrees to the terms they can cross, which normally means having to give up on the thing you hold most dear to you.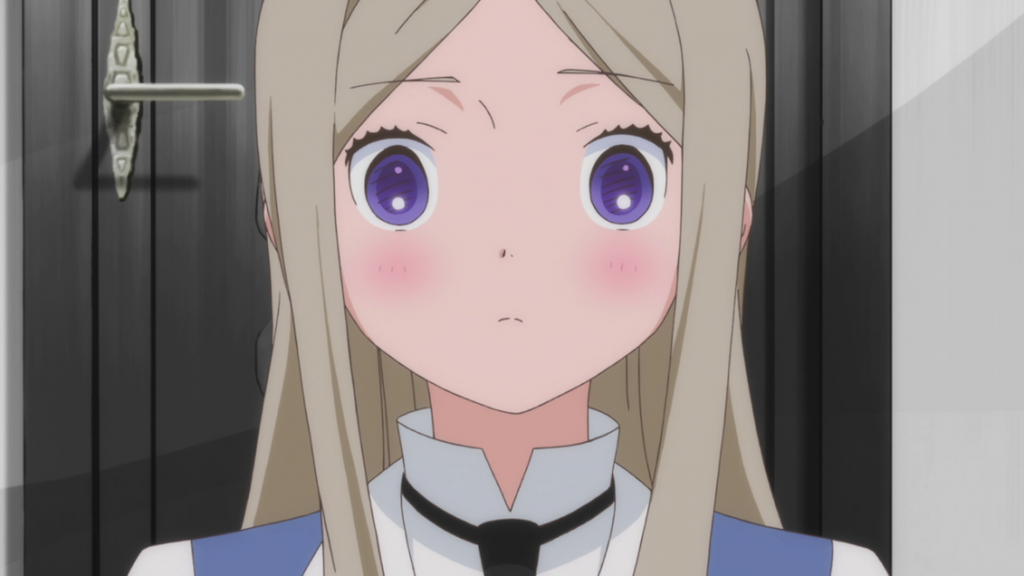 On the human side of the Wall, at Arashigoku High School, schoolgirl Kureha Tsubaki is in love with classmate Sumika Izumino. She also has a deep hatred of bears, her mother having been eaten by one. One day her class gets two new students: Ginko Yurishiro and Lulu Yurigasaki, who are actually both bears in disguise – admittedly not very good disguises due their habit of constantly saying "growl" at the end of each sentence.
Soon things start to go wrong for Kureha and Sumika. First, the flowerbed at school which they have tended so lovingly is vandalised; then when they tell the class rep Mitsuko Yurizono they narrowly avoid being hit by a brick. Then, worst of all, the following day Sumika vanishes.  Kureha gets a mysterious phone call asking whether her love for Sumika is genuine, and tells her to go to the school roof to prove it. She does so, rifle in hand, where she finds Ginko and Lulu in (chibi) bear form. What follows next is a Severance Trial with Ginko and Lulu in the box, the result of which appears to be some form of dream sequence in which they transform into beargirls and lick nectar from a lily growing out of Kureha's torso, and you can't help be feel that the lily stamens are meant to represent a penis. While this is a yuri series, the target demographic is seinen.
Anyway, after this Kureha wakes up in the nurse's office at the school. She wonders whether what she has experienced is a dream and goes outside. There, behind the flowerbed, she discovers two bears eating a girl. She then learns that Sumika has been declared dead, but she refuses to believe it. Thus she attempts to prove that Sumika is alive, while all the time the human forms of Ginko and Lulu keep pestering her. As the series progresses, we learn that there are several humans and bears keen on Kureha's past and future. Some are in love with her, some want her dead, and some think she is evil. The result will ultimately change the relationship between the humans and the bears.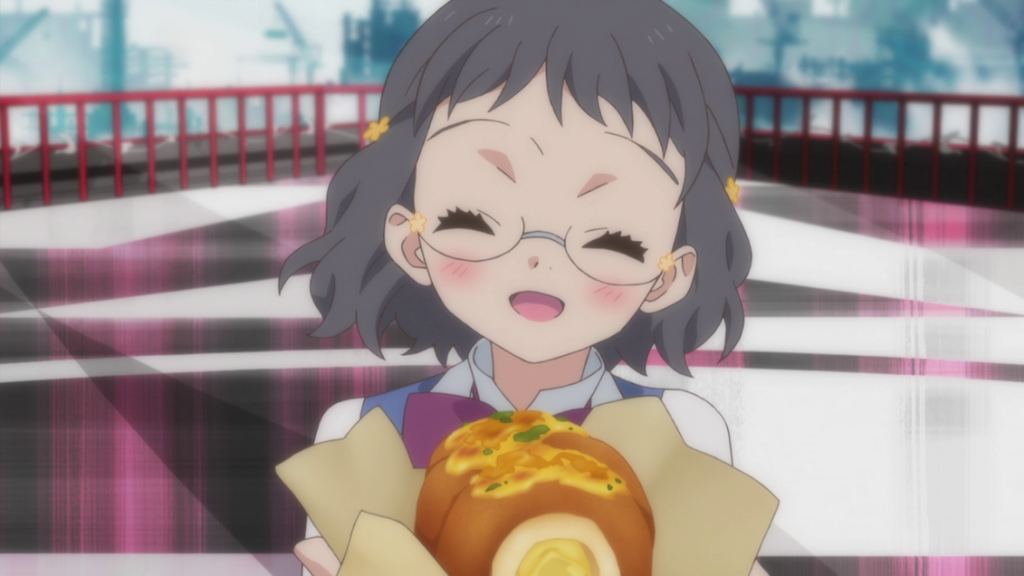 There is an awful lot going on in these twelve episodes. For starters there is the romance. You have the relationship between Kureha and Sumika, then between Ginko and Lulu, then Kureha, Ginko and Lulu together, and then other characters become involved too. While there is a lot of nudity, it is never full frontal and don't see anything untoward. There is hugging and romantic relationships, but anything more physical is normally just implied, like in the stamen-licking sequence.
Another recurring theme is that of prejudice. You obviously have the whole case of the bears and humans excluding one another, but in this series "exclude" can have many meanings, even going as far as murder and execution of those who stray outside of what are considered social norms. As the series progresses, we learn that Kureha is someone who is excluded by her classmates and frequently treated with disdain, and thus Sumika is treated similarly because of their relationship. Further on in the series, we see this exclusion has been dogging her for a long time, and ultimately the series is about the bears and the humans being able overcome the prejudices of human society with the power of love.
The artwork is probably the best thing about Yurikuma Arashi, partly because of the designs used, such as the chibi bears, but also because of the use of certain visual images to deliver messages to the viewer. A frequent one is that when one of the girls begins to form a new loving relationship with one of the others; it cuts to a shot of a white lily opening and someone singing the line: "the lily opens". As you may have gathered, "lily" in Japanese is "yuri", so it indicates the blossoming of lesbian love. However, when it is one of the bears who develops similar feelings, the shot is of a black lily and the line sung is: "The bear opens."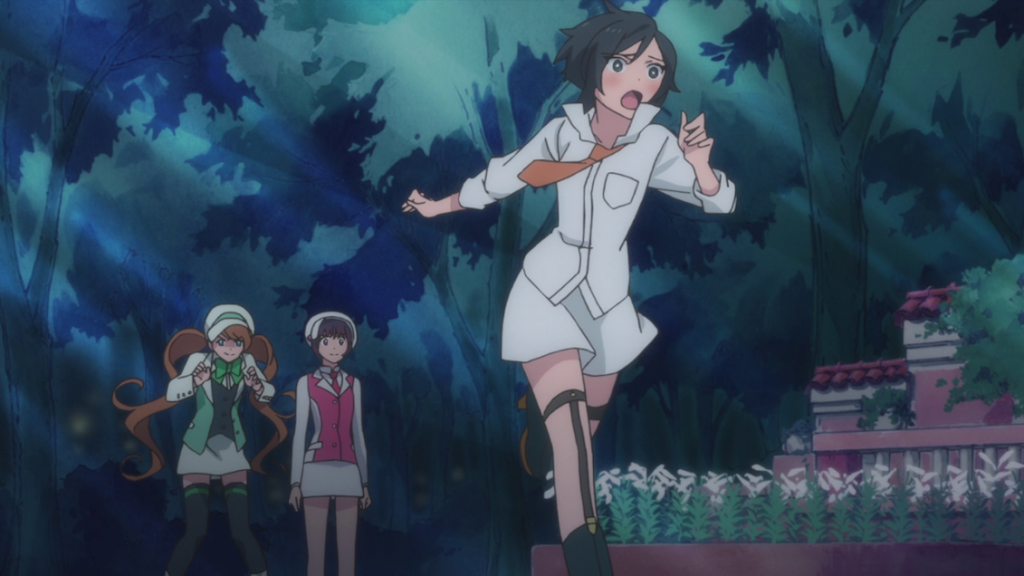 Regarding extras in this collection, you have some episode commentaries, promos, trailers, and the textless opening and closing. Personally, I thought that the end song, "Territory", sung by the actresses who play Kureha, Ginko and Lulu, is better than the opening "Ano Mori de Matteru" by Bonjour Suzuki. However, concerning these releases and others ones recently made from Anime Limited, I have become annoyed by the way Funimation have affected them. Namely, when you load the disc you have to sit through adverts that you can't skip through. They must also annoy Anime Limited in some way because some of the stuff advertised is content they don't sell. For example, the second disc advertises Michiko & Hatchin, which in Britain is released by MVM rather than Anime Limited.
The anime itself however is an enjoyable watch with many elements going for it. What would be really interesting, however, would be a release of a yuri title that is actually aimed at women.