Yona of the Dawn Part 1 Review

Sarah
•
Yona of the Dawn Part 1 (Eps 1-12)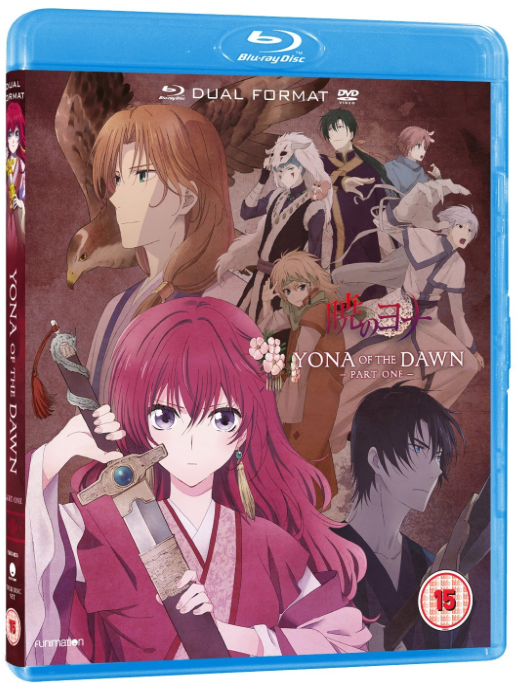 "Upon her sixteenth birthday, the cheerful Princess Yona intended to tell her doting father of her love for Su Won, but her life was turned upside down after witnessing the man she loves cruelly assassinating her father. Heartbroken by this painful betrayal, Princess Yona fled the palace with her loyal servant Hak. Now, she will take up the sword and the bow on a quest to gain new allies and protect her beloved people. "
Yona of the Dawn is a good old-fashioned (but none the worse for it) fantasy adventure-quest in which the betrayed heroine, forced to flee for her life, seeks out the descendants of the four legendary dragon warriors who once made a sacred vow to protect her ancestor. It's also a coming-of-age story as Princess Yona, having led a sheltered existence in her father's palace, has to learn how to survive on the run and in the wild. And, because it's based on an ongoing shoujo manga by Mizuho Kusanagi, there's a central triangle of childhood friends: Yona, Hak of the Wind Tribe and Lord Su-Won, Yona's cousin. Or is it more of a reverse harem as the doughty 16-year-old princess gradually acquires more handsome young men in her entourage?
Everything about this anime series has a traditional feel to it, from the character designs (faithful to the original manga) through the stirring orchestral score by Kunihiko Ryo. And yet it has a certain charm, good humour and narrative flair that keeps you watching. Yona makes for a likable, sympathetic heroine and her struggles to learn to become stronger and adapt to life on the run are very relatable. General Hak (aka the Lightning Beast) is the stern, gruff-natured (but loyal and warm-hearted) bodyguard that most heroines would yearn to have at their side – although he's constantly teasing Yona (a clever tactic as this distracts her from feeling sorry for herself, even when they're in desperate danger.) But by the end of Part 1, the quest is only half underway and it's by no means certain that Yona will achieve her aims, find all four dragon warriors and regain her kingdom.
I first watched this series when it streamed in 2014 on Crunchyroll and genuinely enjoyed following it from week to week. So how does it stand up to a second viewing – and does the addition of a US dub do it justice? And what makes it stand out from other similar series?
Thanks to a tight script and slick direction from Kazuhiro Yoneda, the pacing of the story is good; even though the quest proper doesn't get underway until Episode 8, it never slackens, letting us get to know Yona and Hak better as they flee the treachery at court and face life on the run together. Comedy chibi moments lighten the tension and show us a different side of the main characters. And the legend of the Four Dragon Warriors is irresistible; even though the Kingdom of Kohka (based on Korea?) never existed, Mizuho Kusanagi has crafted a story that has all the atmosphere and appeal of an authentic historical adventure. Although Su-Won's treachery – and Yona's feelings about his act of betrayal – is not explained here, he is not portrayed as a one-dimensional villain. There are hints at complex motivations for his actions which will be further explored in Part 2.
The US dub has Monica Rial as the heroine with excellent support from Christopher R. Sabat as Hak and Micah Solusod as the duplicitous Su-Won. At times Monica Rial veers into the shrill and strident, especially when Yona is being teased by Hak, compared with Chiwa Saito (Homura in Puella Magi Madoka Magica) who makes a more convincing sixteen-year-old heroine. Chris Sabat easily matches Tomoaki Maeno (Tenga in Kiznaiver) as snarky yet charismatic bodyguard Son Hak. The US dub script works well on the whole, with only a few jarring moments ("Hey, you guys!" doesn't sit well with me in a fantasy context.)
The opening for the episodes is unusual (these days) in that it's an orchestral piece, "Akatsuki no Yona", which showcases the atmospheric pentatonic theme Kunihiko Ryo has created for the central character. This opening was so widely liked that when the second set of episodes aired, many fans were disappointed to hear it had been replaced with a more conventional opening song. The mysterious animation here shows the legend of the dragons, whose relevance is explained later on, before a montage of moments from Yona's imminent flight. The ending song "Yoru" is a rather undistinguished sentimental ballad from vistlip.
This BD/DVD combo release is the first Funimation series to be officially issued in the UK on R2 by Anime Limited. Extras include commentaries on Episodes 4 and 8, Promotional Videos (TV Spots, BD/DVD trailers, Promo videos), Textless Opening and Closing title sequences. The edition reviewed here is the Blu-ray which delivers excellent picture quality and sound, as well as easy navigation.
In Summary
With epic battles, nail-biting cliff-hangers, dragon warriors and sympathetic, relatable main characters, Yona of the Dawn is one of the most enjoyable fantasy anime to be released in long while. I'm looking forward to Part 2!
Score 8/10
Classification: 15
Studio: Funimation
DVD Release Date: 25 July 2016
Run Time: 300 minutes