Fullmetal Alchemist Collector's Edition Part 1
Demelza
•
I think it goes without saying that the original Fullmetal Alchemist anime is an important series for the anime industry. It paved the way for a whole new generation of people to stumble into Japanese media, and the series is still well renowned to this day. It's also a very special series for me on a personal level as it's one of the very first anime I ever watched – and a solid part of the reason that I decided to watch more. After all these years, does the series still live up to what I remember?
The story of Fullmetal Alchemist is based around brothers Edward and Alphonse Elric, who are in search of the mysterious Philosopher's Stone that Ed hopes will allow them to change their bodies back to normal. Edward has a prosthetic arm and leg made from automail (a sort of robotic metal substitute for limbs), while his brother Alphonse lost his whole body (his soul is now tied to a suit of armour) after the two tried to perform a forbidden act of alchemy: bringing a human back to life. Some time after that day Edward became a State Alchemist, and now he and Alphonse travel the world working for the military while seeking a way to restore what they have lost.
The first two episodes focus on introducing Ed and Al while also painting a picture of what this world is like. Anyone working for the military is considered a dog of the state and hated for it. This is largely down to a war that happened a few years before the beginning of Ed and Al's present day story. The war and the people's hatred toward the military comes into play later in Fullmetal Alchemist but after the introductory episodes, the series jumps back to the past to tell the story of how Ed became a State Alchemist. Furthermore, and perhaps more importantly, it also shows us why the brothers performed such forbidden alchemy to get themselves into this state.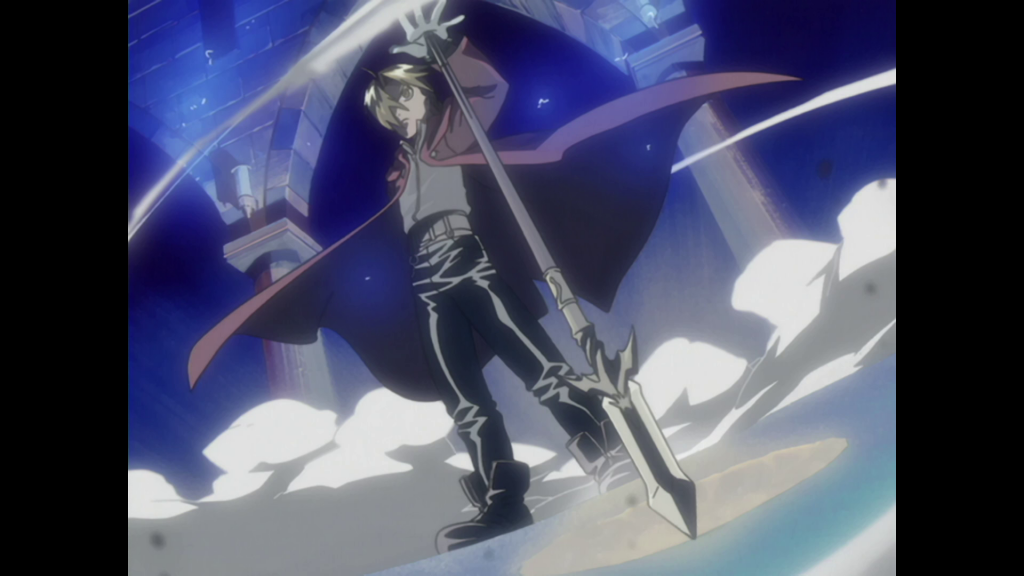 The rules of alchemy in this world are fairly straightforward. In order to perform alchemy, you must first draw a Transmutation Circle and provide something of equal value to what you're trying to create, which is in accordance with the Law of Equivalent Exchange. The only things that an alchemist is forbidden from creating are gold or humans, and anyone who tries succumbs to a fate similar to that of our young protagonists. Ed and Al believe deeply in the idea of equivalent exchange.
The brothers' devotion to the Law of Equivalent Exchange is one thing that's always stuck with me since originally watching the series. At heart, Fullmetal Alchemist is your typical shonen series filled with impressive battles and powerful characters, but it also has a very important story to tell about loss, growing up, and the hardships of the world. The plot pushes Ed and Al into dangerous situations, situations that question their beliefs and (at times) childish views of the world. Doing so paves the way for Fullmetal Alchemist to really impress the viewer. It toys with ideas that no other series had explored at the time, and that few have since. It's truly remarkable in its storytelling and really connects with me on so many levels. With this set I've only watched the first 27 episodes of the series but already I'm completely immersed in this world once again.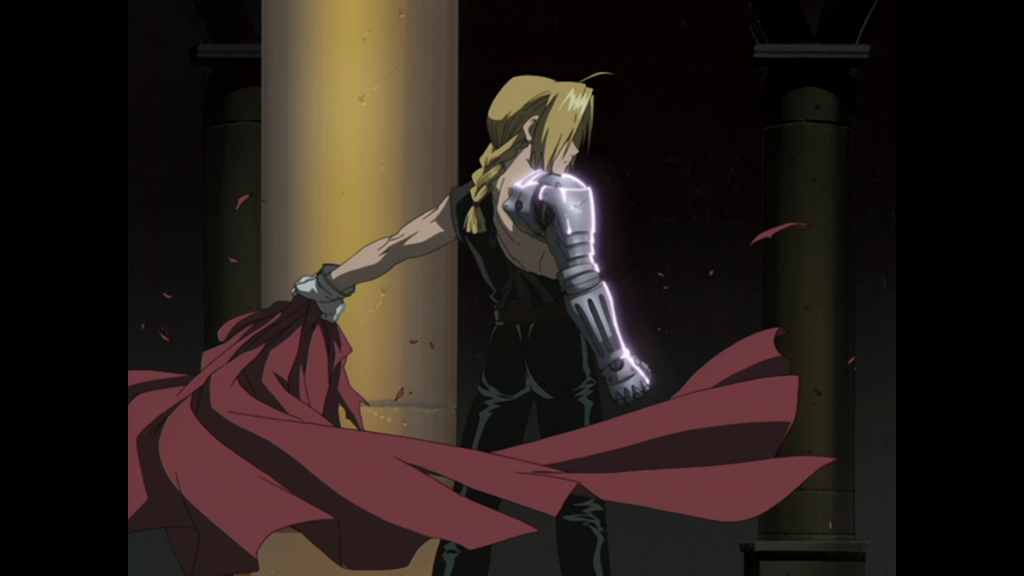 One of the notable elements of the original Fullmetal Alchemist anime is that much of it was anime original content, because at the time of its airing the manga series was not yet complete. In saying that, a lot of the episodes in this first set do follow the manga quite closely, but already it's easy to see (if you've read the source or watched Brotherhood) where it differs. Usually being anime original would be a bad thing – not many studios have the ability to truly carve out their own stories in a world they're adapting – but studio BONES do a wonderful job with Fullmetal Alchemist. They do such a good job that I actually prefer the 2003 anime to the manga and Fullmetal Alchemist: Brotherhood series (although I still liked both quite a bit). It never feels disjointed or like it's missing anything and, from what I remember, the story that BONES create for the second half is just wonderful.
On the subject of BONES, I have to point out how good the animation on offer looks. This is not an anime that was created in HD but despite that the show looks very sharp on Blu-ray. The world is full of the usual BONES style that many of us have come to know and love, and the characters make similar comedic reactions to those found in their most recent adaption, Bungo Stray Dogs. Fullmetal Alchemist just screams that it's a BONES series and, admittedly, it is the series that made me fall in love with this studio and the way they create anime.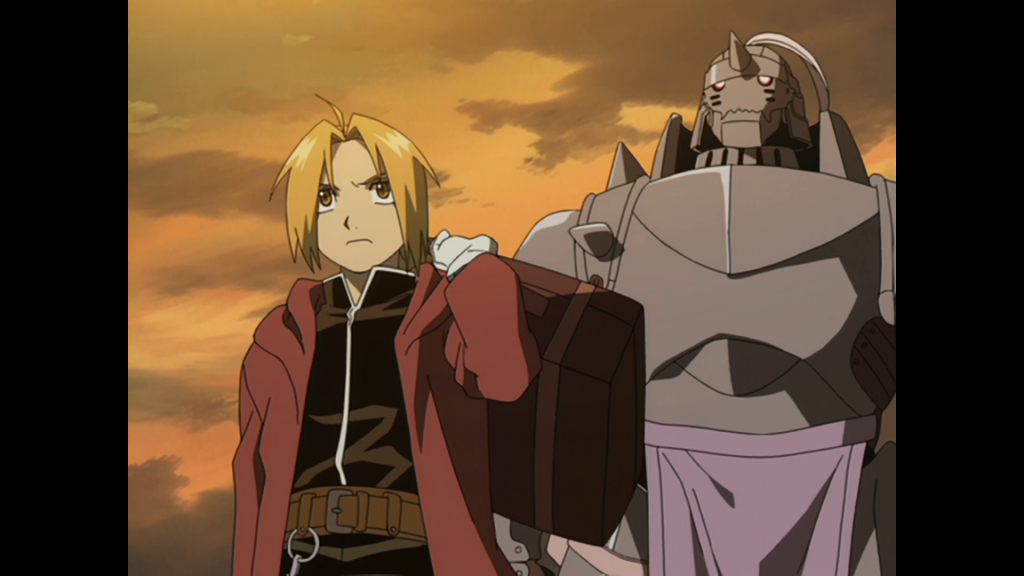 The soundtrack has been handled by Michiru Oshima, who has brought something really wonderful to the series. She has also worked on Snow White with the Red Hair, Blast of Tempest and provided some arrangements for the Legend of Zelda: Twilight Princess video game. With scores full of violins, pianos, and the odd guitar piece, Fullmetal Alchemist has something for everyone and it always blends nicely with the action on-screen. My favourite track is one titled "Brothers" and there are a few different versions of it used throughout the series, but the most memorable is a version played just on the violin. It's a thought-provoking and truly emotional piece of music. During the 27 episodes on this set there are three opening themes and three ending themes on offer, and while I won't name them all my favourite opening is the second OP titled "Ready Steady Go!" by L'arc~en~Ciel. The better ending is the first ED named "Inerasable Sin" by Nana Kitade.
Where voice actors are concerned, I actually find myself with a completely different opinion to my usual reviews. For Fullmetal Alchemist my favourite track is the English dub, and despite having attempted to watch the series numerous times in Japanese, my opinion hasn't changed. To me, the series is just better dubbed. From watching the Japanese version again for the purpose of this review I can say that there certainly isn't anything wrong with it, but I found myself quickly flipping back to the dub and ultimately I just don't think the Japanese track works as well as the English dub does.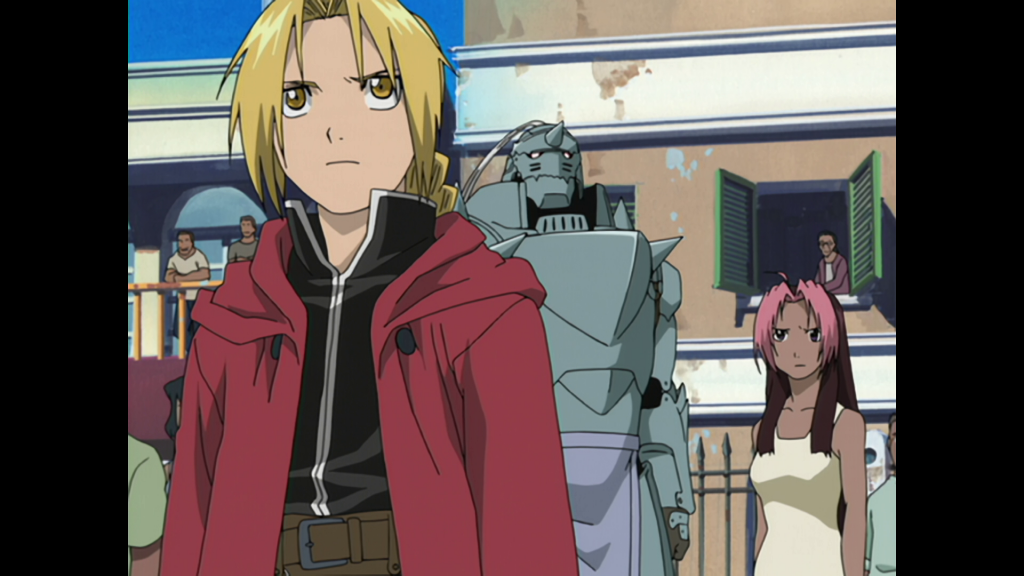 For the dub, Edward is voiced by Vic Mignogna (Matt Ishida in Digimon Tri, Rin Matsuoka in Free!, and Zero Kiryu in Vampire Knight), who manages to put a great deal of emotion into Edward's character. Sometimes his pitch comes off as a bit sharp, but for a young kid like Ed this works in favour of the role. Alphonse is voiced by Aaron Dismuke (Yasuchika Haninozuka in Ouran High School Host Club, Lucifer in The Devil Is a Part-Timer!) and, quite impressively, he played the role at the age of 12. Allowing a young boy to play the role of a young male character is a rarity and something that also works in Fullmetal Alchemist's favour, because it makes the performance feel much more realistic.
This Collector's Edition has been brought to the UK thanks to Anime Limited and marks the first time that the series has been released here on Blu-ray. It includes 27 episodes both subbed and dubbed across three Blu-ray discs and features clean openings and endings. The Collector's Edition also comes packed with seven art cards.
Overall the first half of Fullmetal Alchemist has proven to be everything I remember. It's a fun shonen series that also packs a lot of emotional punch and reliving these first 27 episodes all over again has been a true joy. It still remains one of my favourite series from BONES and one of my favourite series of all time. Fullmetal Alchemist is a true wonder of animation and something that everyone should take the chance to check out.