Konosuba: God's Blessing on This Wonderful World! Light Novel Volume 1 Review
Demelza
•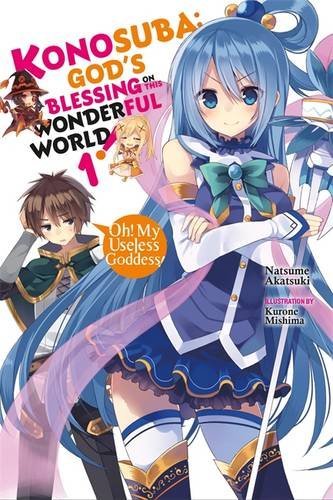 When the anime adaption of Konosuba first aired back in Winter of 2016 I was intrigued by the cast of characters and its setting but I wasn't convinced that I'd really enjoy it. However, by the time I sat down to review the series, I'd fallen in love with it and hoped someone would license the light novels. Fast forward a year and now the first volume of the light novels has been released thanks to Yen Press, and I'm revisiting this wondrous world in text form to explain why you should give it a shot.

The series follows the adventures of Kazuma Satou, who wakes up in the afterlife having died saving the life of a girl. He meets with a goddess known as Aqua, who offers him three choices:

1. To be reborn as a human.
2. To live in heaven.
3. To be transported to a fantasy world where he'll retain all his memories and can take one item with him, to help him live out his life to the fullest.

Kazuma chooses choice number three, but while considering the item he could bring with him he suddenly realises that perhaps the best thing to do is take Aqua herself! Surely a goddess would give him a much better shot at defeating the demon king that plagues this world? Well, little does he know that this is a terrible decision. Upon arrival in this new world, Kazuma makes his way to the adventurers' guild, where he can register as an adventurer and take on quests. Sadly Kazuma's dreams of being a mighty hero are quickly crushed when it's revealed that, apart from Luck and Intelligence, his stats are terrible. On the other hand, all of Aqua's stats are amazing apart from her Luck and Intelligence, which are simply dreadful.

Not to be deterred from his new life, Kazuma decides that he and Aqua should take on a quest that requires the two to kill five giant toads in three days. Unfortunately this doesn't quite go to plan the first time around, so Aqua advertises for some new party members to help balance things out. This advertisement attracts the attention of Megumin, a powerful wizard who specialises in explosion magic. This all seems great at first but Megumin's powerful image is soon shattered when it's revealed that she can only fire off one blast of explosion magic per day! Worse still, once she has unleashed her magic she becomes unable to move and an easy target to attack. When the team is then joined by a Crusader, Darkness, who's unable to hit a single target and loves to be hit, it seems life is going from bad to worse for poor ol' Kazuma. Will he ever make use of this useless party?

Now I'll be the first to admit that this story sounds fairly generic and like something we've all read before, especially considering that it's technically a 'character is transported to a fantasy world' plot. That said, there is some real charm to the Konosuba cast and the various situations they find themselves in. For example, back in Japan Kazuma was a high-school shut-in who loved nothing more than to spend his time playing video games, so he's stumbling through this world thanks to his gaming knowledge – and it's great fun to watch this unfold. It also means that the series can comfortably take jabs at common video game tropes and make you smile by doing so.
One of my favourite parodies comes thanks to the "Cabbage Quest". When I reviewed Season One of the anime, this quest was one of my favourite moments in the series, and that also rings true for the light novel. The quest involves Kazuma and co. rounding up flying cabbages (for some reason all fruit and veg in this world appears to have the ability to move around) and our hero comments about how this is such a low level quest that you'd ultimately want to skip it in a game. Being an avid JRPG player, the whole quest brought a smile to my face and left me excited to see what other quests the team would take on next.

Perhaps what's most important for Konosuba is that Kazuma is an utter failure. He's not someone who's been transported to this world and become rich and famous; no, he struggles to make ends meet every single day and has no special powers to speak of. Aqua, Megumin and Darkness all have the potential to be overpowered characters but thanks to their flawed personalities or skills they've also been firmly grounded. Despite how flawed they are, the party works well together and it's hard to imagine Kazuma working with anyone but these three idiots (although he would have an easier life if he could at least ditch Aqua).
Having watched the first anime adaptation of Konosuba (and what has aired of Season Two) prior to reading the original light novel, it's difficult not to compare the two works and judge how the novel holds up against the anime. Although this first volume is quite short (only 160 pages), it covers quite a lot of the story we've been given in the anime. This volume was adapted into about 5 or 6 episodes of the first season of anime (and that's after they skipped a shorter arc in the book, which was briefly told later in the anime), but surprisingly the anime didn't rush anything. In fact, compared to the light novel, the two tell the story in a similar manner. This is great because I love this world and I'd hate to recommend the book or the anime to someone and have them miss out on something that the other did. Although that said, I do think the anime handles the cabbage quest better, simply thanks to the whole sequence being animated.

Konosuba is by Natsume Akatsuki and for the most part is well written. The series was originally a web novel (although according to the afterword some sections have been rewritten) and, like the early works of Reki Kawahara and his Sword Art Online series, this is fairly obvious. It's not that the writing is bad, it just doesn't feel quite up to the standard of Is It Wrong to Try to Pick Up Girls in a Dungeon? or Re:Zero, which are perhaps the best series I can compare Konosuba to. For example, a lot of words are repeated quite often instead of being substituted for something better. Ultimately though, Konosuba is a comedy and its writing doesn't have to be perfect for the jokes to come off well. I have confidence that, in time, the writing will improve to the point of its roots no longer being noticeable.

The series has been illustrated by Kurone Mishima and the images scattered throughout the book are all really clean and well drawn. For such a short volume there is quite a lot of art on offer, including colour pages and a big character profile section at the start of the volume. Considering that at least three of the illustrations feature Megumin, who happens to be my favourite character, I was satisfied with the offerings. I think Mishima knows which scenes of the story are best to bring to life, such as when Aqua is eaten by a giant frog and only has her leg sticking out of its mouth…

Overall the first volume of Konosuba makes for a good read. It's a short enough book that I finished it within a couple of sittings, but that also gives it an advantage against the other longer fantasy series on offer right now. The world and the cast are a fun combination and the comedy has translated well into English. While Konosuba has been one of my favourite anime series for a while, I think the light novel might also become a firm favourite. I'd definitely recommend it for fantasy or video game fans. You'll find a lot to like here in our kooky collection of characters.