Seishu Handa, a talented young calligrapher, flees in disgrace to a remote island, after a searing public critique of his work provokes him to physically attack his eminent critic. Will he find a new artistic vision in this idyllic but cut-off paradise? Can he find the courage to face up to making a formal apology to the director?  Befriended by the islanders – and adopted by the local children – his preconceptions about life and his art begin slowly to change.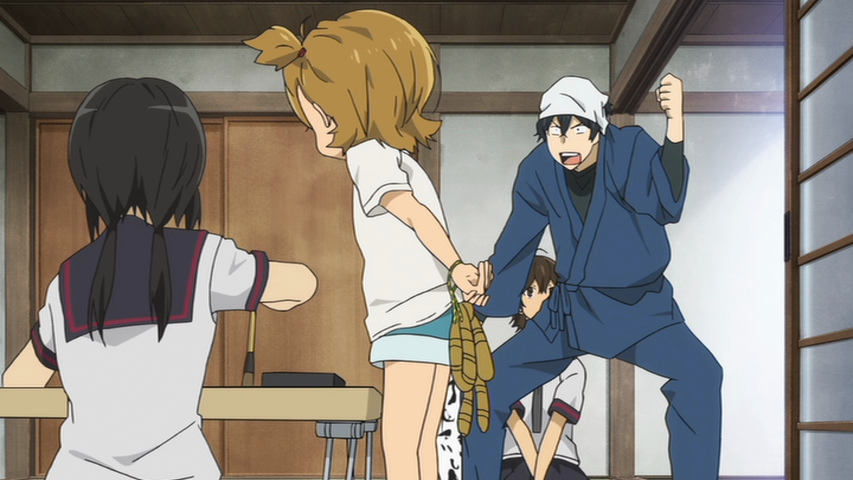 This 12-episode anime series based on the well-loved manga by Satsuki Yoshino radiates a relaxing, warm summer glow. Golden sunflowers, sparkling blue sea, whirring cicadas: the viewer finds themselves as captivated as Handa – once he slowly unwinds from the pressures of modern Tokyo life – begins to discover aspects of himself that will enrich and change his work. But first Handa (called 'Sensei' by the islanders) has to undergo all manner of indignities heaped upon him by the children, who are in no way dazzled by his reputation, chief among them six-year-old Naru Kotoishi who takes him under her wing.  He's been allocated the empty house that she and her friends have been using as a secret den, so they still pop in and out, uninvited, at all hours. How is he ever going to rediscover his inspiration as a calligrapher and restore his ruined professional reputation?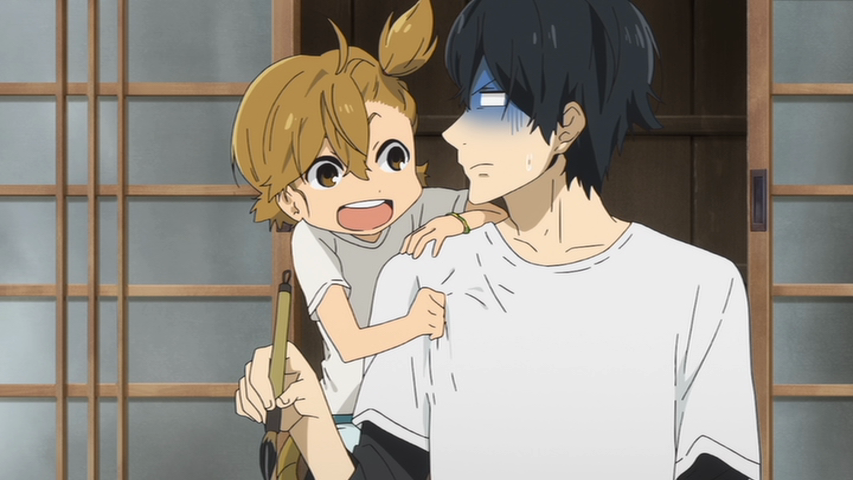 The viewer alternates between identifying with Handa as he undergoes some toe-curlingly excruciating  initiations into island life (bugs, fishing mishaps, broken boilers) and rejoicing as the uptight artist begins to thaw under the influence of Naru and her friends. Barakamon takes us on his journey of self-discovery in the lightest yet most persuasive of ways. The island people Handa meets, from irrepressible Naru and her lively friends, through Miwa and Tama, insatiably curious middle-school girls, to the laid-back village chief and the grannies who run the little local shop, all slowly help to effect a change in him.  It's as if he's forgotten how to enjoy the simple pleasures of life or, given his strict calligrapher father, has never been allowed to – until now.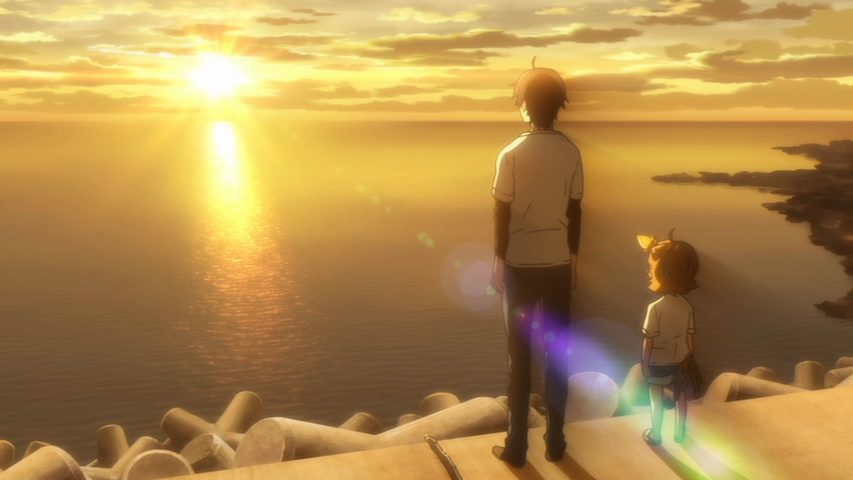 One big plus for this series are the tightly written storyboards and script which result in a well-paced piece of animated storytelling that delivers in all the right places and never flags. Another plus is the voice acting. The performances by Daisuke Ono (original Japanese) and Robert McCollum in the lead role are sympathetically done without hiding the fact that Handa 'behaves like a jerk' (Robert McCollum) at the start. The US dub overall is well scripted and acted by the Funimation team with Alison Viktorin coming in a very close second to Suzuko Hara as the unquenchable free spirit, Naru.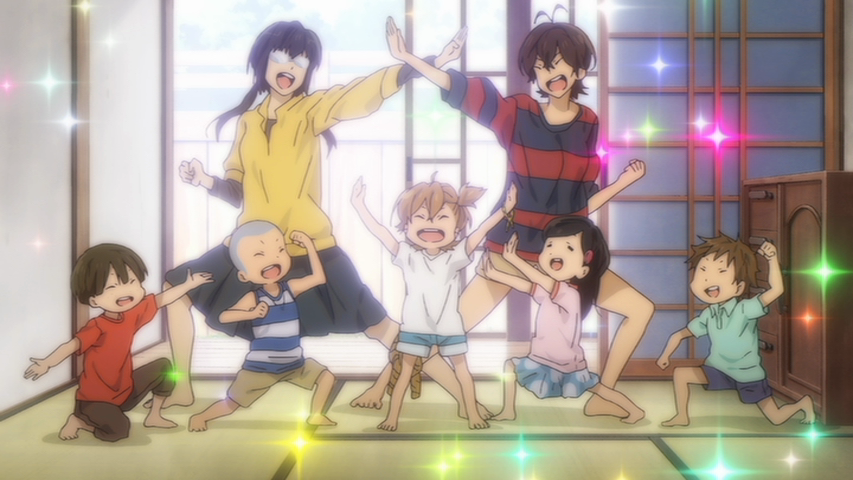 The delightful soundtrack comes from veteran Kenji Kawai (Eden of the East,Fate/Stay Night, Mob Psycho 100) and introduces some catchy little nostalgic 'island' melodies (delivered in different instrumental versions) redolent of carefree childhood holidays. The Opening Theme "Rashisa" by SUPER BEAVER doesn't really stand out as a song but delivers an apt visual introduction to the show, panning along a neatly arranged collection of calligraphy tools before showing Naru pushing open the door. The Ending Song, "Innocence" by NoisyCell, seems to be in English, and accompanies a warm sunset- coloured wash of fleeting images of Naru and Sensei.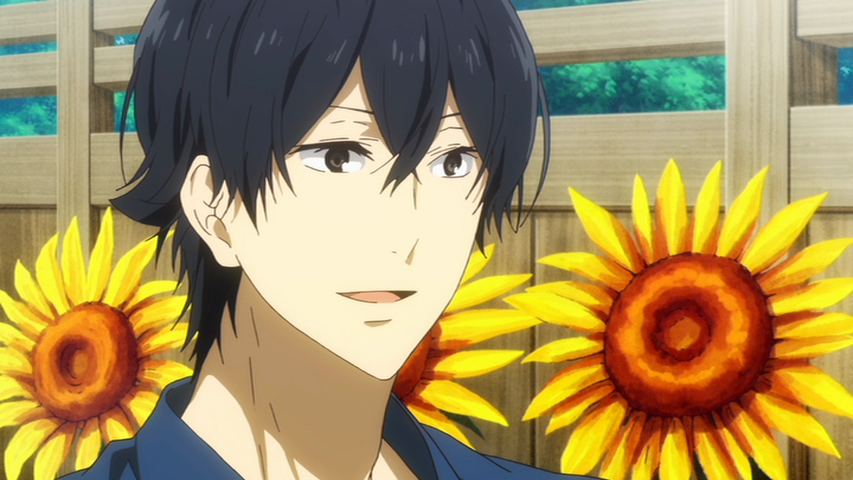 Summer on the island is wonderfully evoked by the animation and the sunny colour palette used which makes a striking contrast with the stark black and white of Handa's calligraphy. The Goto Islands tourist board were involved, so it's a sure bet that many of the seascapes and street scenes are based on real places. The character designs are attractive and faithful to Satsuki Yoshino's manga originals; in a series where much depends on the interactions between the characters and Handa's reactions to the new experiences he's undergoing, his facial expressions are depicted especially well.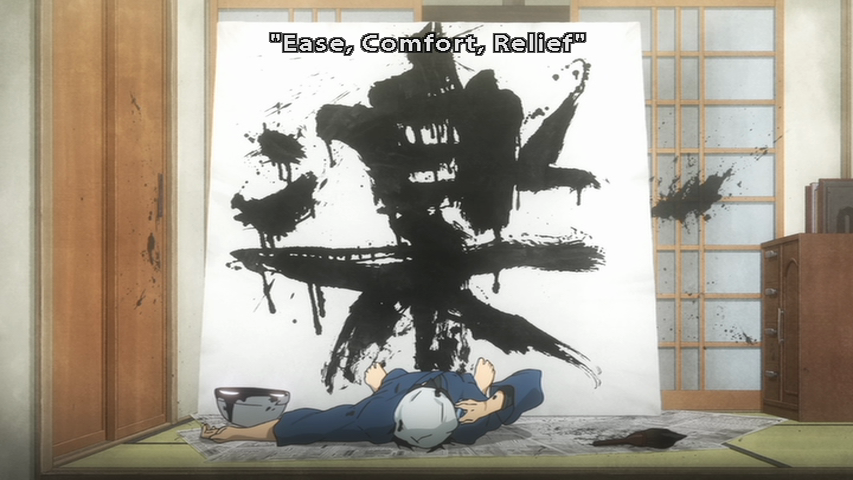 This dual-format edition from Funimation comes to us courtesy of Anime Limited: the extras are commentaries on Episodes 1 and 12, textless Opening and Ending, the US trailer and other trailers.
 On one level, Barakamon is the story of a young man's journey to self-discovery and self-fulfilment as an artist. On another level, it's a wry yet endearingly funny portrayal of his pratfalls as he attempts to adjust to a very different environment from the one he's used to. True to the witty tone and pacing of the original (ongoing) manga, Barakamon is a Slice-of-Life anime that repays many viewings and makes ideal summer-time entertainment.