Mikagura School Suite – The Complete Series Review

Cold Cobra
•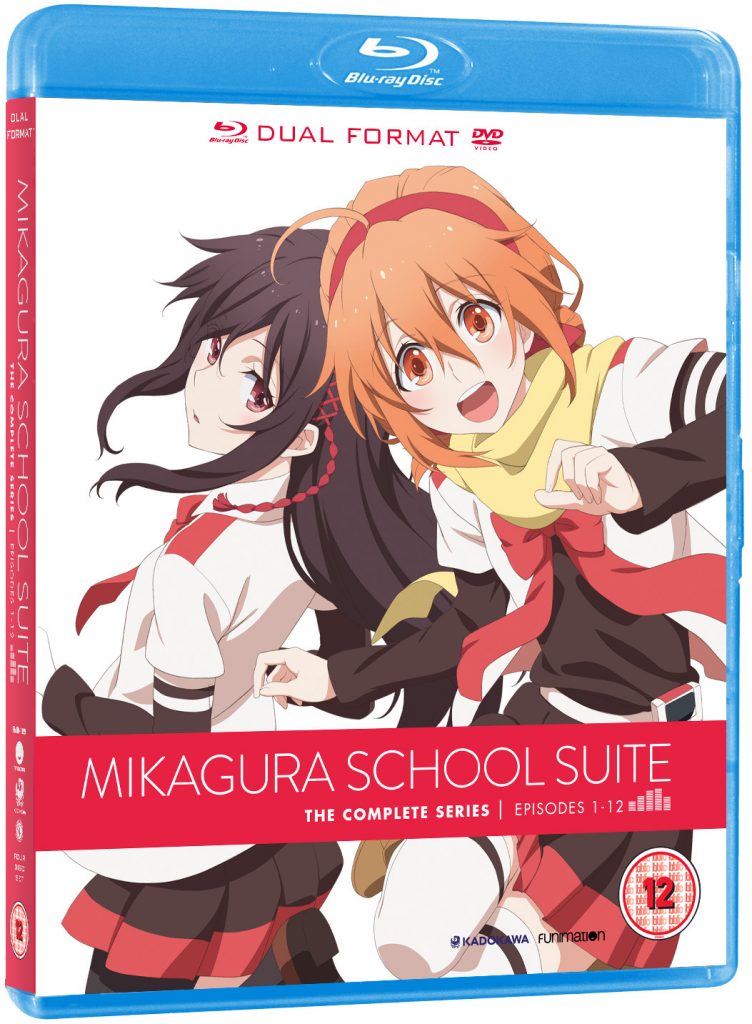 So, see if you can follow me on this one. Mikagura School Suite is an anime based on a light novel series by the band Last Note. that was itself based on their own Vocaloid-assisted songs. Now not being full acquainted with the music scene in my own country, let alone Japan, I wasn't actually sure what that meant, apparently it just means Last Note. (who have a full stop at the end of their name just to annoy people who use auto correct grammar) wrote the songs via a computer program, including the vocals being done by said program, and released them. They then wrote a light novel series "based on the songs" (which is odd because songs are short and don't really open themselves up well for novelisation) then these light novels were adapted into this 12 episode anime series. Got that? Good.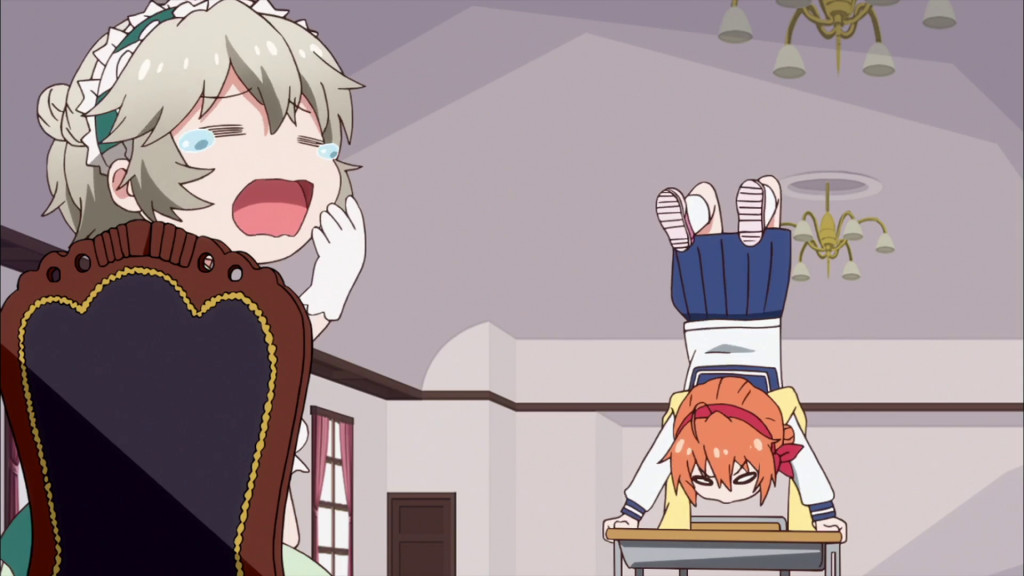 The series at its heart is a light-hearted slice of life-style comedy, but with weird and super-powered things happening around the place. Slice of weird life? Anyway, our lead character is Eruna Ichinomiya, a hyper-active young girl who seemingly falls in love with pretty much any woman she sees, whether it be on her portable gaming system (that is clearly just a PSP, but you know, rights issues etc), in her head, or in real life. It's nice that the fact the lead is a lesbian is not pointed out as weird or perverse, nor is it played up to give horny real-life teens some … imagery, it's just… she's your classic over-the-top horny teen who happens to like girls. It's a rare act of maturity, in a series that's anything but mature! Anyway, she has trouble picking a high school to attend until her cousin shows her a pamphlet of Mikagura Academy, featuring attractive student Seisa Mikagura in it, so that immediately "inspires her" to sign up for it. After a surreal test which includes a floating, talking cat (which doesn't seem to phase her much) she is accepted.
What Eruna doesn't realise, however, is that the school has a strange set- up: every student has to join a club and each club battles the others in over-the-top shonen-style battles with powers based on whatever club they're a part of. Accommodation, food and other things are based on what club you're a part of and where that club stands in the school rankings. During the battles each participant has three hearts appear above their head; once all three are destroyed, they lose. It's like a weird Dragon Ball-esque version of Mario Kart's battle mode. As amusing and occasionally really well animated as these fights are, they aren't the focus of the show, and for a while in the middle they just don't feature at all.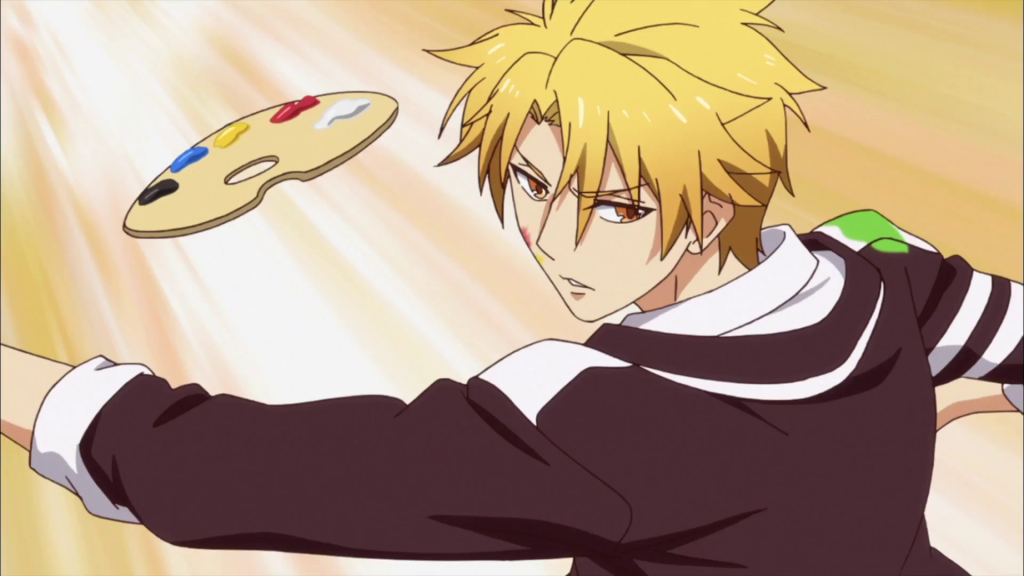 The focus of the show is seeing Eruna going from someone only interested in the fantasy girl on her not-PSP dating sim to slowly gathering a large group of friends that she loves hanging out with. That's really the main story. There is a storyline about Eruna's ancestors and hidden powers locked away and so on, but it isn't given any real importance. Some of the friends she gathers have backstory, even tragic backstory, that adds a little to them, but once again it's never really necessary, often being created so they can have a quick fight before going on to the next comedic adventure. Her group includes: previously mentioned stoic shut-in Seisa who slowly comes out of her shell; Otone Fujishiro who is similarly anti-social but quickly comes around; smiley and bubbly Himi Yasaka of the Calligraphy Club; Eruna's perverted cousin Shigure Ninomiya and Kyoma Kuzuryu of the Art Club, who is blunt and intimidating, but nice when you get to know him. There are a few more, mostly from the Drama Club, but I'd be here all day.
The Opening is "After School Revolution" in which the music and lyrics were done by Last Note. themselves, but the performance comes from a trio known as Hōkago Rakuen-bu. There are three Endings, either done by all three Hokago Rakuen-bu or just one member of the trio, which are After School Stride for Episodes 1, 9, 10, 11 and 12, Paradise Fanfare for Episodes 2-7, and Naked Candy for Episode 8. Why a 12 episode series needed three endings I can't tell you, but I guess given the origin of the series can be traced back to a band writing songs on a computer, it makes a sort of sense. The English dub is as accurate as you can get, the FUNimation cast do their best to match the over-the-top shouty rants that somehow don't sound as bad when they're done in Japanese, but in English… it tends to get old – and loud – fast. Still, several of the voice actors, some of whom also acted as directors or in script adaptation, appear in a set of episode commentary tracks for Episodes 9 and 10, which is a nice change from the usual clean Opening, Ending and trailers you normally just get (which are present here as well, for the record).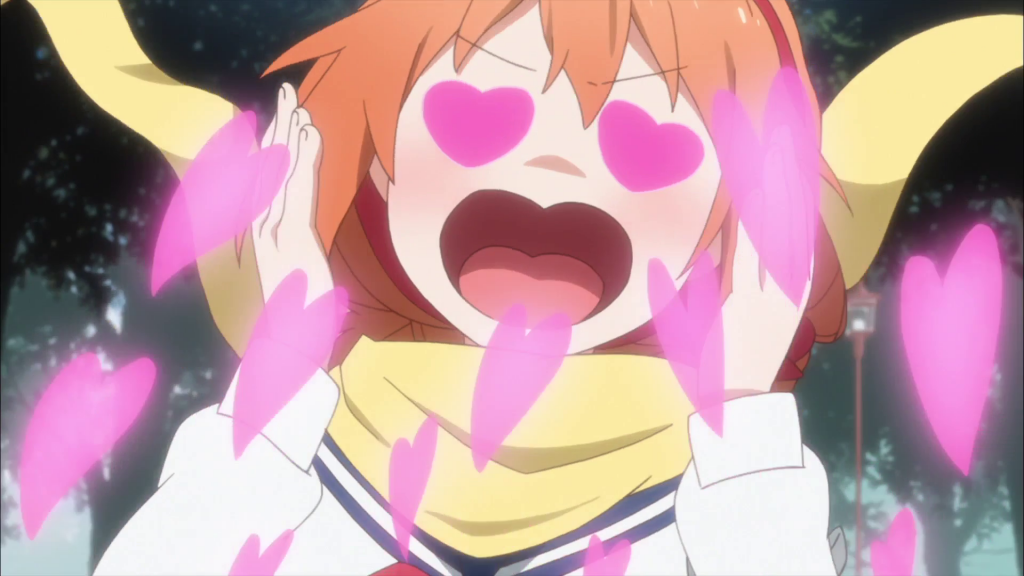 In summary, Mikagura School Suite is a perfectly fine distraction. For 12 episodes you get plenty of humour and crazy over-the-top reactions, plus you occasionally get a good super-powered fight thrown in. However, there are obviously many better examples of this kind of school-based slice-of-life comedy out there, so maybe this is for diehard fans of the genre who love to watch and collect them all, rather than someone dipping their toes into this part of the anime world for the first time. If you're in it for the action you'll be disappointed, but one look at the title and box art should have told you what you were getting! To sum it up, the show is fun in parts, slow in others, making it a solid show to watch; just don't buy it expecting it to blow you away, instead buy it to have something to relax to for a few days.