"People try to put us d-down.
Talkin' bout my generation.
Just because we get around.
Talkin' bout my generation.
The things they do look awful c-c-cold.
Talkin' bout my generation.
I hope I die before I get old.
Talkin' bout my generation." – The Who
Among the things I wasn't expecting to hear when watching this movie was for this song to be used as the opening theme. Nor was I expecting an English dub that was not only worth listening to, but was actually enjoyable.
A Silent Voice begins with teenage boy Shoya Ishida about to commit suicide, but coming to his senses before he does the deed. In flashback we see why he was driven to this. When he was in elementary school, a new girl named Shoko Nishimiya joined Shoya's class. Shoko is deaf and when she speaks she has an impediment, which leads him to make a big exclamation: "Holy crap!" Shoya, along with many other kids in the class begin to bully her in various ways, from throwing her conversation books in a pond to damaging her expensive hearing aids. The bullying is so much that Shoko eventually transfers schools. When the principle asks who is responsible, Shoya is the one who gets all the blame. In turn, he gets bullied, and eventually he stops interacting with everyone at school. Even at high school he is still a loner. In his mind's eye, everyone at school has a big blue cross in front of their face.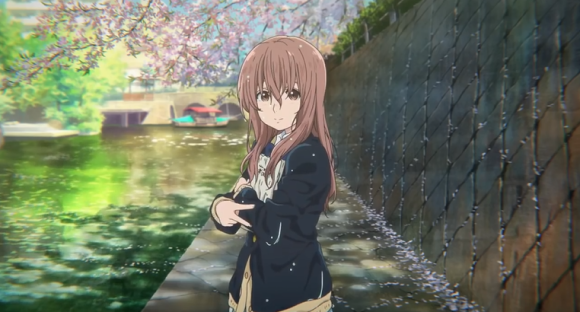 During this time, though, he has improved himself, and has even started to learn sign language. To try and make amends, he goes to a sign language class to return one of Shoko's notebooks, only to find Shoko in the class. He decides to use this as an opportunity to make friends with Shoko and try to repair the damage he did. Over time Shoya begins to form new friends, and rekindles old friendships too. However, he still has the thorny issue of dealing with Shoko's family. Her younger sister Yuzuru is at first unfriendly but eventually she warms to him, while their mother is understandably openly hostile.
As time rolls on, Shoya and Shoko become closer, even starting to fall in love. However, while they're trying to be friendlier, old wounds open up which could damage all the good that Shoya has carried out, and Shoko's family suffers their own tragedies that in turn threaten to destroy everything.
A Silent Voice is certainly a great movie. As someone with a disability myself (Asperger's syndrome) it comes as no surprise that I find this sort of movie appealing, especially if it can help other people, in particular children, understand disabilities more. It's also good to see a film where we witness the damage that bullying can inflict: not just on the ones being bullied, but on the bully themselves once they realize what they are doing and try to reform.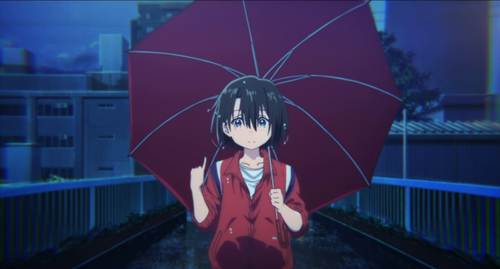 There are some also great animation sequences. One particular shocking one is in the flashback when Shoya is pulling out Shoko's hearing aids from her ears, which causes her ears to bleed. It makes a gripping scene that you are not expecting to witness.
However, the most interesting aspect of the movie is the voice acting. The Japanese voice acting is certainly good enough, with Saori Hayami in the role of Shoko. However, I also covered the English voice dub of the film. Now, those who have read my reviews in the past will know that I'm not a fan of dubs, and tend only to cover them when I have to. The dub of A Silent Voice is of interest however, as in the English version Shoko is played by a deaf actress, Lexi Cowden. When listening to the English dub some scenes are more impactful. For example, in one scene Shoko announces to Shoya that she loves him, but he fails to understand because of Shoko's impediment. When watching it subtitled, you, the viewer, can clearly read what Shoko is trying to say, but in the dub you understand more clearly why Shoya misunderstands what is being said to him.
There are still some oddities in the dub script. When in the scene where Shoya, Shoko and Yuzuru make a cake, in the Japanese dub Yuzuru tells Shoya that his mission is to bake a cake for Shoko and Yuzuru's mother. In the English dub the dialogue is altered so Yuzuru says: "Your mission, should you choose to accept it, is to bake a cake…" Why the person adapting the script felt the need to reference Mission: Impossible I don't know. However, this is more of an issue with the script rather than the dub. Thus, A Silent Voice is one of the few English dubs that's as good as the Japanese. Never thought I would write that.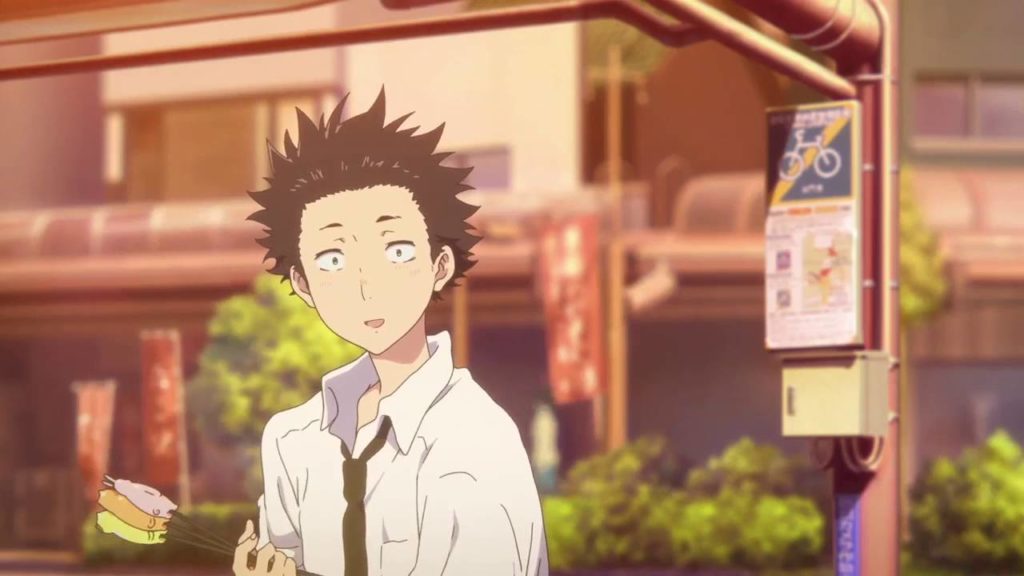 Among the features in this collection, if you get the Blu-ray and DVD combo, they include a 76-page booklet featuring character profiles, storyboards and contributions from Andrew Osmond and Jonathan Clements. While on the discs there are two music videos, featuring "Koi wo Shita no wa" by AKIO, and "Koe no Katachi (A Silent Voice)" by Speed of Youth; trailers; TV spots including ones especially made for the UK; a look at the real-life locations that appear in the film; and interviews with director Naoko Yamada, character designer Futoshi Nishiya, art director Mutsuo Shinohara, and composer Kensuke Ushio.