Anime UK News – Our Favourite Halloween Specials
Christmas seems to come earlier and earlier each year, with many shops forgetting that we have two holidays to celebrate beforehand: Bonfire Night, and more importantly, Halloween, the spooky (or should we say 'spoopy') time of year. As great as Christmas is, why do we in the UK seem to forget about Halloween? It has something for everyone: an excuse to eat as much sweets as you'd like, it's party season, there's endless reasons to dress up and you get to watch some of the scariest entertainment in media.
Whether it's a creepy film, a more Gothic-inspired tale or a cheesy Halloween special in a running series, anime has many offers and options to help you get into the Halloween spirit. This year, the Anime UK News wish to share some of their favourite creepy offerings to help your Halloween night be filled with tricks and treats!
Darkstorm
Although there have been plenty of Halloween or at least 'spooky' one-off episodes in anime series, such as Ouran High School Host Club and Hetalia Axis Powers, whenever I think of anime to best watch at Halloween, I cast my mind back to a lot of 'old school' stuff. Maybe it's because a lot of the older anime had a lot more atmosphere or at least reveal in the Gothic imagery that modern anime seems to have grown out of. So, my suggestions may be something you've already seen or perhaps overlooked due to their age; first suggestion is Perfect Blue, this seems a bit obvious as the movie came out on limited cinema run on Halloween last year, but it's still a brilliant horror film that cemented director Satoshi Kon as one of the greats in anime. You can read my full review from last year to get a bigger picture as to why, but as it's still widely available on DVD and Blu-ray from Anime Limited, so there's little reason to not give it a watch.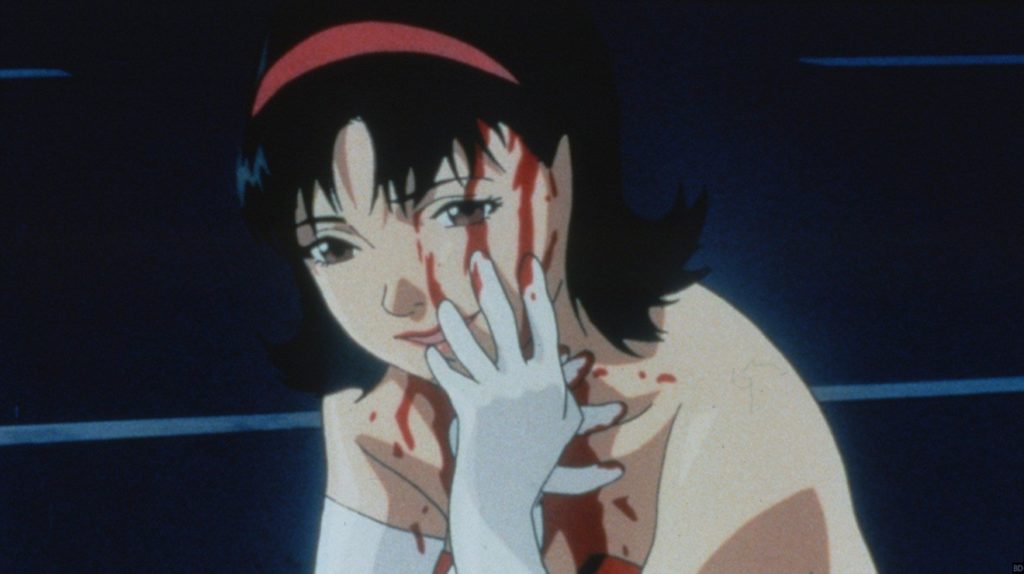 My other suggestion is also an older title, one I reviewed way back in 2010; Pet Shop of Horrors. This mini-series was one of the earliest I reviewed for AUKN but is still one that I think of fondly to this day; it has great atmosphere, interesting stories and due to the episodic nature of it you can drop in and out of any episode and easily follow what's going on. Each episode plays out like a Gothic folklore tale that warns others about being careful what you wish for, with really creepy imagery and unique takes on what is normally seen as a monster. It may not be the prettiest looking anime and the dub hasn't aged well, but I still recommend it for this spooky season. There's no Blu-ray release, but the DVD is still available cheaply via MVM.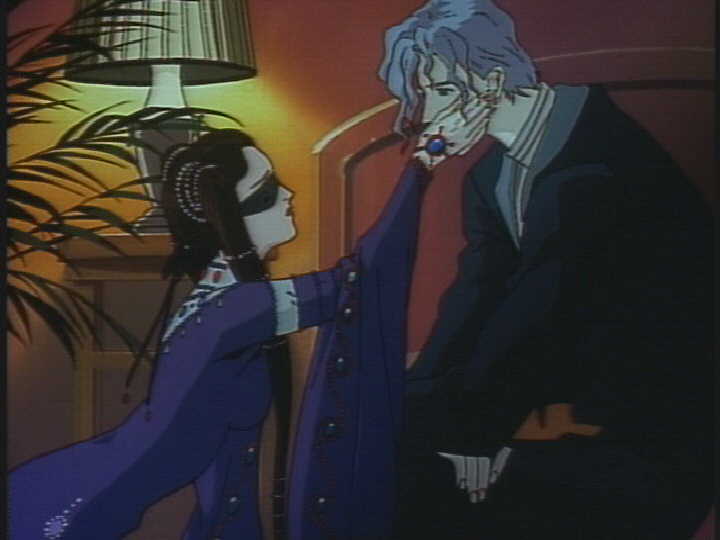 Onosume
The western idea of Halloween is becoming ever more popular in Japan and is a time in the anime world when creators can have a lot of fun with their work. Long-running, kids-oriented shows will get their spooky special episode with things like Aikatsu, Precure, and even Pokémon getting all ghouled up. Then you'll see more horror-oriented anime in the Autumn Season, and some seasonal anime in general will insert a Halloween episode just to keep in the spirit of things.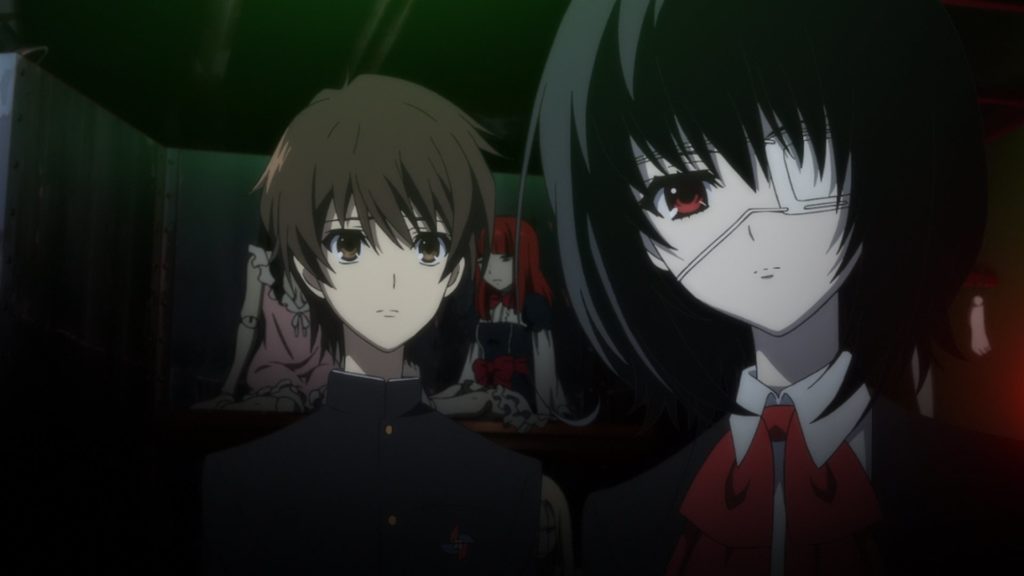 If you're looking to spend a spooky night in, there's plenty to get your teeth stuck into then. While it's not the best thing around and a lot of its major plot points are predictable, the first thing that comes to mind is P.A. Works' anime adaptation of Another, released by MVM in 2013. The supernatural thriller sees transfer student Kouichi Sakakibara try to unravel the mystery of the cursed class 3-3 as his classmates start dying in mysterious and gruesome circumstances. While it tries to keep up an air of mystery, the show foreshadows a lot of the major deaths so you generally know what's coming, but I still had a whole lot of fun with this show because each one ends up being more preposterous and impactful than you expected. With a high body count and a slasher-style epic finale this is definitely one I'd recommend.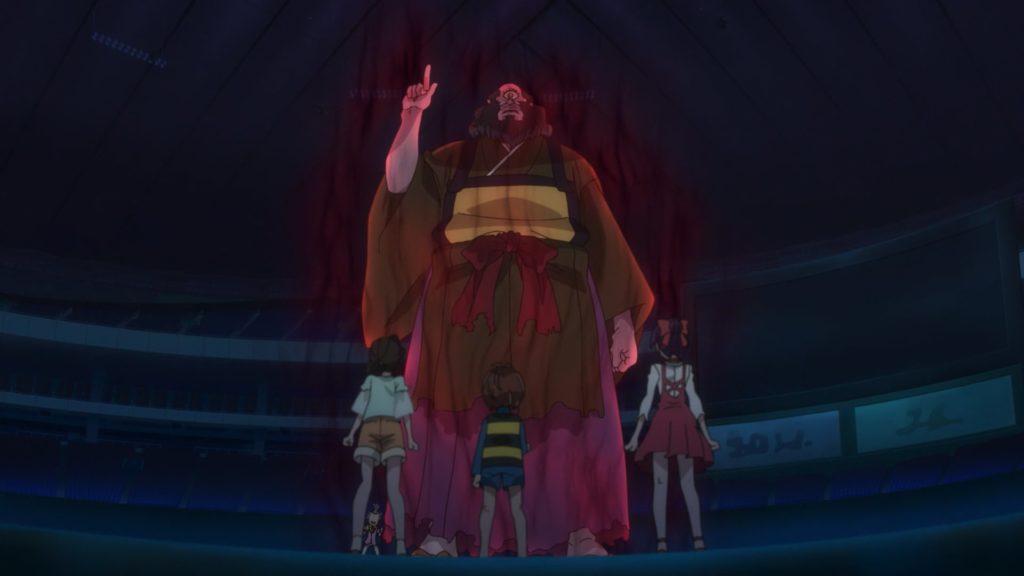 If it's more ghouls and ghosts you're into, then maybe have a look at Gegege no Kitaro, which is currently streaming on Crunchyroll. An episodic monster-of-the-week affair, the series follows the titular Kitaro and his other yokai friends as they try to stop the bad yokai from interfering in the human world. While it's very much a shonen show, the series has pulled some great punches so far in its run, being very culturally aware, as with the first episode which starts with a reference to a certain unscrupulous YouTuber. There are also quite a few episodes that are deep and poignant, exploring people's relationships with both ghosts and the dearly departed. A more recent episode about a soldier killed in the Pacific during World War II was particularly stellar and heartfelt. It's just incredible how much this series, supposedly for kids, has to offer an adult audience.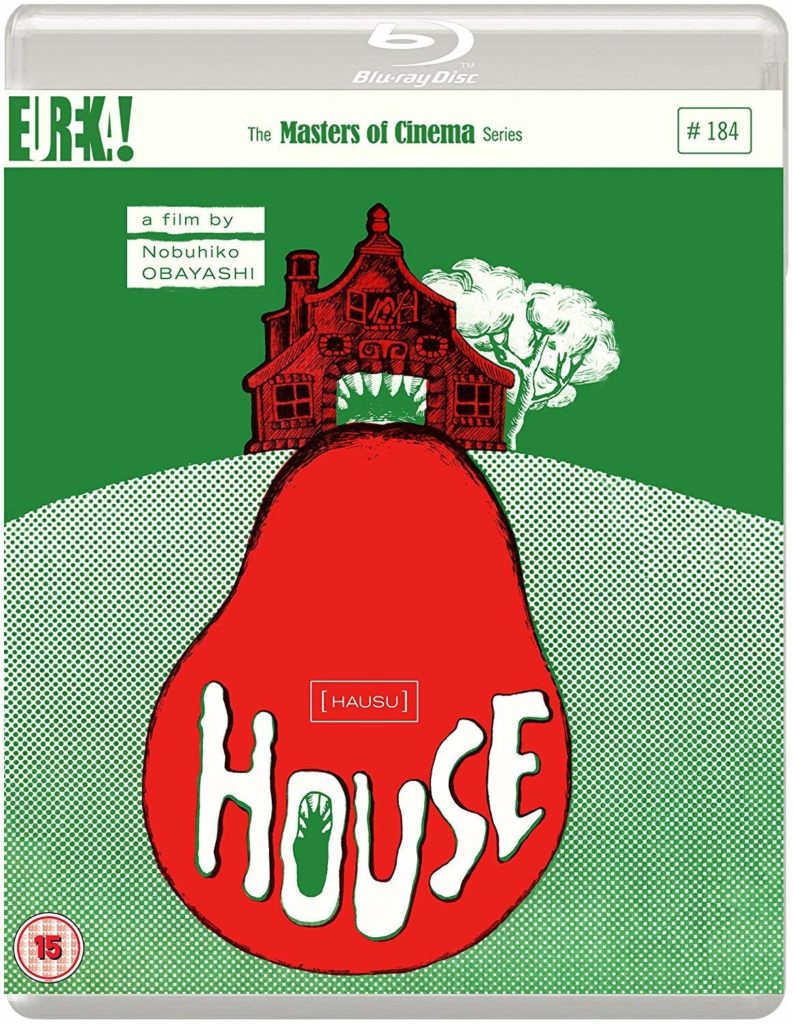 I do want to step out of anime for a moment and make one live action recommendation. Japan has some great horror films but none has bemused me more than Nobuhiko Obayashi's House (available from Eureka Entertainment's Masters of Cinema range). This 1977 horror comedy sees schoolgirl Gorgeous stay over at her aunt's house with a bunch of friends only to discover the house is cursed as it kills the girls off one by one. I was first introduced to this by a friend several years ago and was utterly bemused at how trippy and outrageous it was. It's very much of its time with shoddy, old-style special effects and purposefully bad acting. Get a few friends around, stick this on and I guarantee you'll have a blast.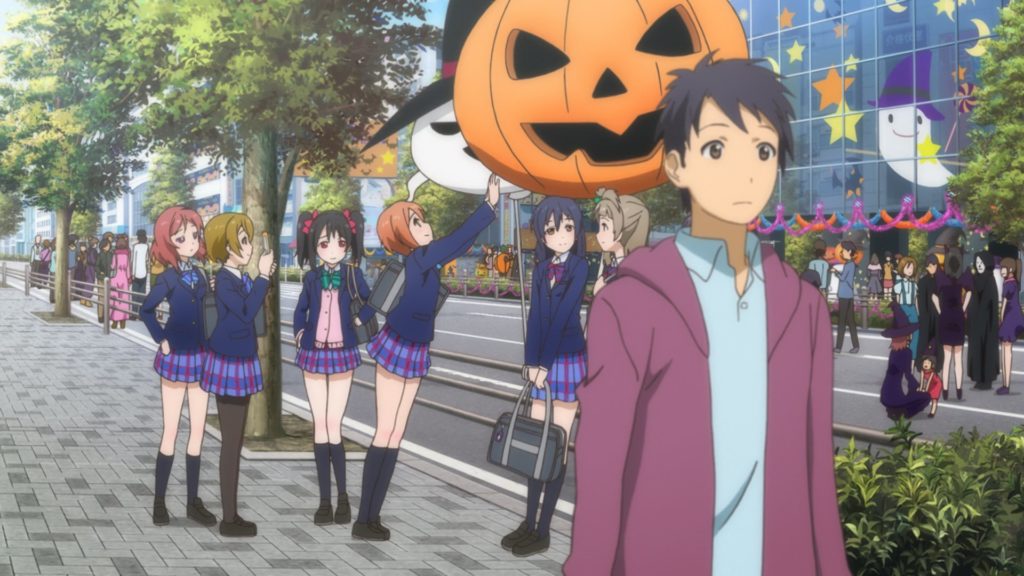 Back to anime and if you don't have time to sit through an entire series there's plenty of one-off episodes to watch. If you're an idol fan like me, Episode 6 of the second season of Love Live! offers some spooky idol hi-jinks as the girls from both µ's and A-RISE are invited to perform in a Halloween event. For something short and light-hearted I'd also recommend Episode 13 of The Melancholy of Haruhi-chan Suzumiya where Haruhi and the gang try to celebrate Halloween but don't have a clue how to do it. Let's just say crazy things happen when the SOS Brigade get involved!
Sarah
Halloween is traditionally the time for telling (and reading) spooky stories – and Japan excels in creating some of the best. So I'm going to recommend a couple of manga titles guaranteed to send a chill up your spine! My first choice is Tomoko Yamashita's wonderfully creepy The Night Beyond the Tricornered Window which although it's published (ebook only) by SuBLime has almost no BL (except by implication!) but weaves a truly unsettling tale.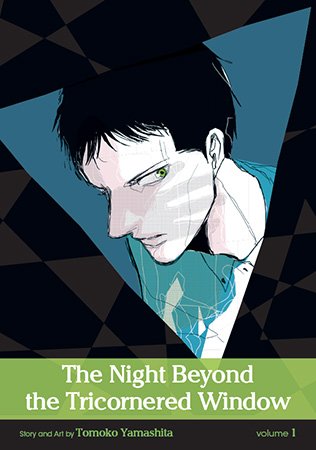 "I have this strange ability to see things other people can't." Kosuke Mikado, a young bookstore clerk, can see dead people. And the worst thing is that he can't confide in anyone – because no one will believe him. They can't see what he can – and so he must endure in silence, unable to do anything until he meets Rihito Hiyakawa, a seemingly affable, good-looking young exorcist who recognizes Mikado's 'gift' and persuades him to go into the exorcism business with him. Mikado is torn between his profound relief at being believed and the increasingly disturbing nature of the cases they take on. Yamashita spins a compelling narrative and her portrayals of some of the 'things' Mikado sees are truly chilling. Volume 5 is just out; don't miss it!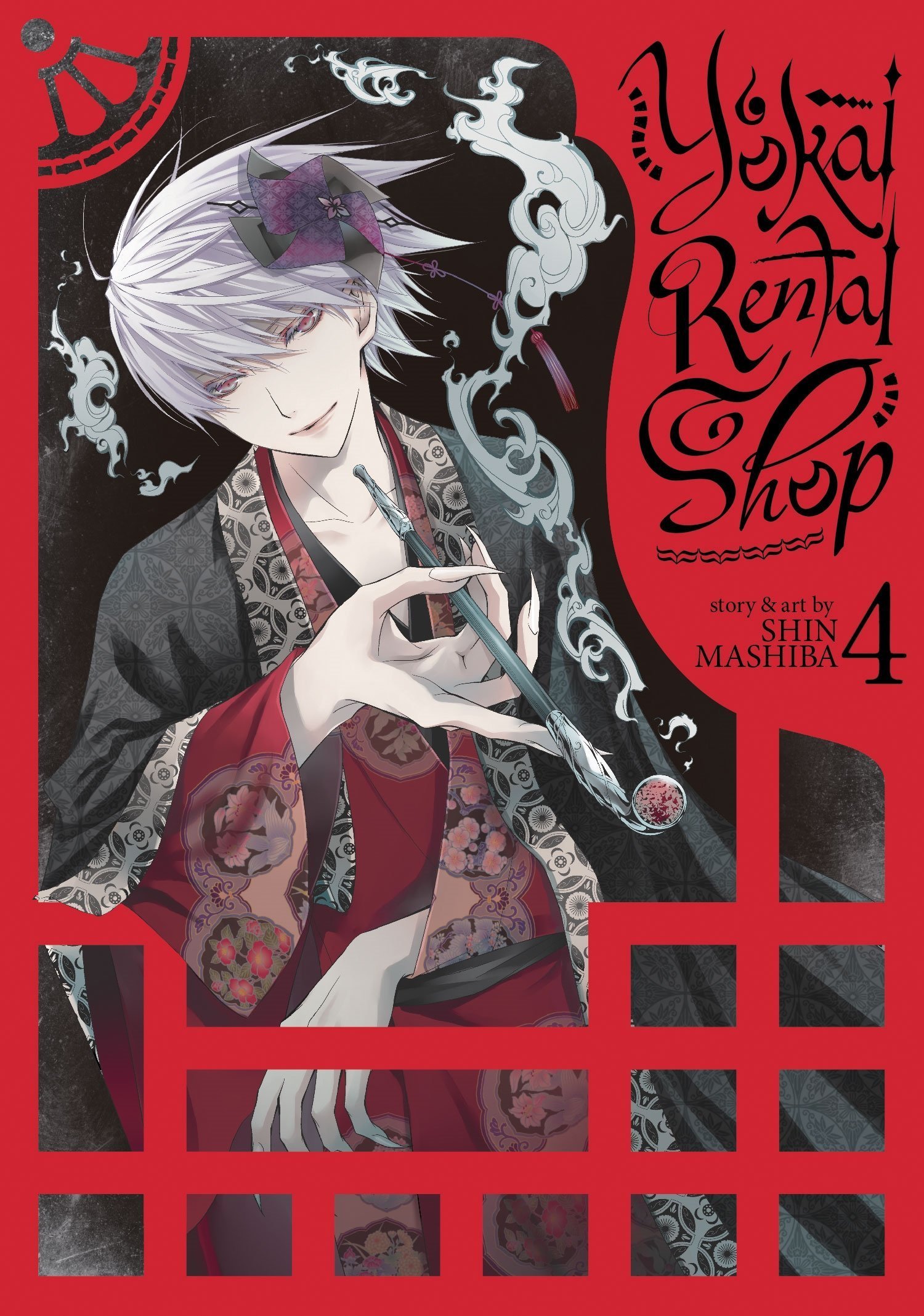 Yokai Rental Shop will definitely appeal to those who like their 'horror' to be rooted in Japanese folklore – although there's also a nod to Petshop of Horrors in Shin Mashiba's 4-volume series  published by Seven Seas. The words of his dying mother lead respectable civil servant Hiiragi Yasase to seek out his older half-brother Karasu who – he discovers- is running a rather unusual exotic pet shop. The cute fluffy pets are only a front for another more sinister business conducted in the basement – for Karasu also rents out yokai to fulfill his customers' wishes. And as the old saying goes, 'Be careful what you wish for…'
Josh A. Stevens
Earlier on, my colleague Onosume mentioned Toei Animation's latest adaptation of supernatural series GeGeGe no Kitaro, and I must second their recommendation for the series. While some episodes certainly feel more like cheesy children's anime than Halloween horror, the twisted world of yokai can throw an unexpectedly sinister sucker punch every now and then. One particularly shocking standout is the latest anime's seventh episode, where the tone is quickly set with an opening scene of a drunk salaryman falling into the path of a moving train. The episode follows this same abusive businessmen as he accidentally stumbles into a literal train to hell, complete with ghostly imagery like skeletons rowing a boat, where frightening visions torment him until a climax that cuts to an uncomfortable core of Japanese business culture.
What makes this episode even more haunting however, are the actions of usual hero Kitaro. This time, there's no comically villainous yokai to hurl geta shoes at, so he merely plays the role of the observing ticketmaster as we spend 23 minutes watching a man slowly descend into madness – frankly, Kitaro can be really disturbing himself when he wants to. While one of the series' more iconic stories, it's surprising that this tale was even allowed in the series at all, as other episodes are simply too sugar-coated and kid-friendly to suit the adult tastes that would appreciate this one. It definitely deals with far darker stuff than IT department kappa taking over Japan!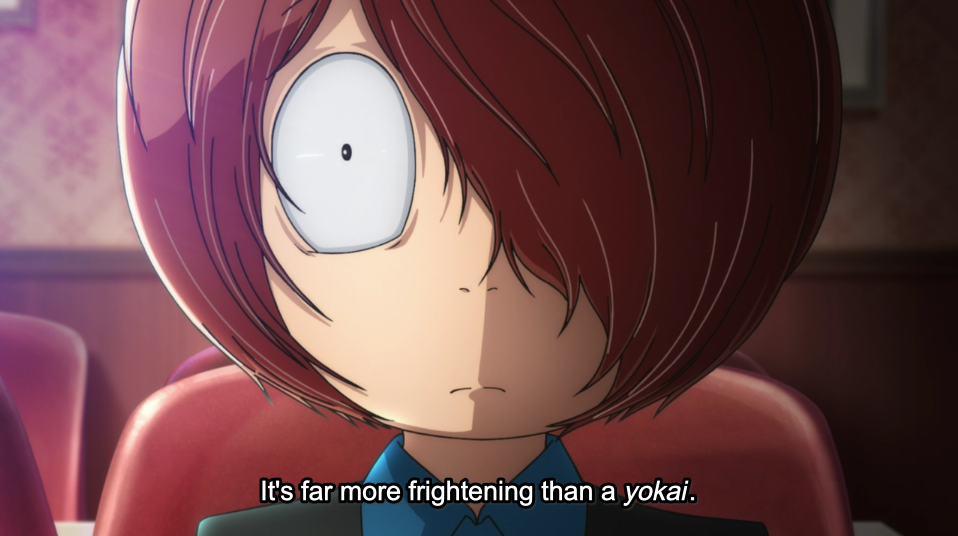 One of my favourite anime series however, is one I discovered years ago on ADV's long-since defunct Anime Network programming block, and is said to have even inspired Netflix's hit Stranger Things! Notorious for its twisted violence, Elfen Lied is a dark fantasy series that will rip your heart out both emotionally, and literally. After the captive Lucy wreaks carnage in her escape from an offshore research facility, a near-fatal head wound leaves her washed up on a beach without her clothes or memories. When she's found by well-wishing Samaritans Kouta and his cousin Yuka, her personality has split in two, with one having the mentality of a toddler being dubbed "Nyu". What Nyu has forgotten however, is still remembered by the moralless individuals on her tail.
The reason for Lucy's imprisonment and experimentation, is that she isn't human. Suspected to be the next stage of evolution, "diclonius" closely resemble us, but can be recognised by their horn-like protrusions, and invisible additional arms dubbed "vectors". While the world thinks them monsters and the actions of Lucy and other diclonius certainly live up to that reputation, Elfen Lied is ultimately a story of humanity, wrapped in a gory and ultra-violent bow. Every key player of Elfen Lied is broken in one way or another; some torn apart by tragedy, others plagued by guilt, and some are survivors of abuse. The idyllic coastal city of Kamakura becomes a melting pot for these tortured souls, with each bloody confrontation bringing them one step closer to discovering the dark past they share.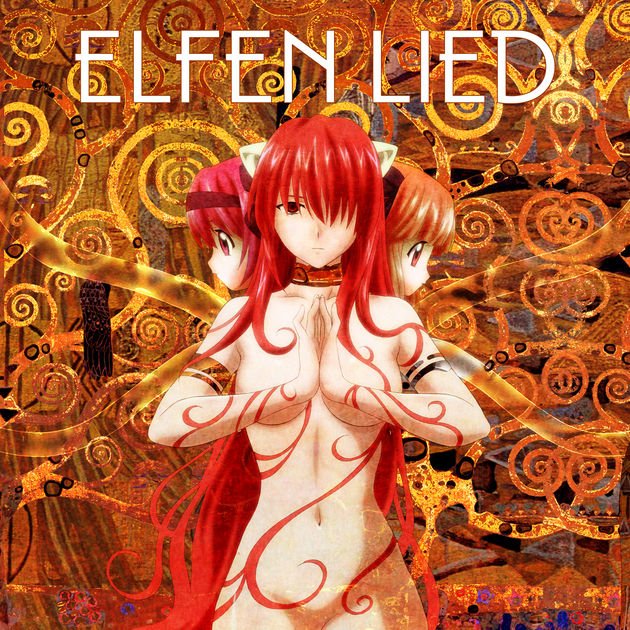 The series' opening theme is a striking work of art in itself, and perhaps sparked my love of Gregorian chants. "Lilium", performed by opera singer Kumiko Noma, is a sombre composition of Biblical passages in Latin and Greek, set to visuals superimposing the cast onto the works of artist Gustav Klimt's Stoclet Frieze. Director Mamoru Kanbe would also later go on to direct another all-time favourite anime of mine, the wartime slice-of-life Sound of the Sky.
With blood, gore and nudity dialled up to the max from its opening scene, Elfen Lied is definitely not for younger eyes (rated 15 by the BBFC). So it's embarrassing to mention that as a toddler, my youngest brother once stumbled into my front room to be accidentally treated to a particularly grisly sequence of a character having her limbs torn off and her fingers sliced into chunks! Around a decade later, he's fortunately yet to show any signs of it affecting or influencing him, but lesson learned – always make sure little ones are kept away from your grisly anime picks!
N.E.C
The other AUKN staff have already aptly outlined many of the aspects of Halloween that I, and many others, enjoy. An excuse to exercise my sweet tooth well beyond what my dentist would like me to, and to have another costumed night out equipped with an ever-growing list of excuses to explain why "I'm not too old for this yet!" The part of Halloween I struggle with, that appears frequently at this time of year, is the very part this article concerns: horror media.
I can appreciate a good horror story, but due to an overactive imagination and perhaps the world's sharpest "jump reflex" I rarely enjoy them. So my recommendations are a combination of anime, manga and the like, that have a style that fits perfectly with this spooky season, or just really get under my skin.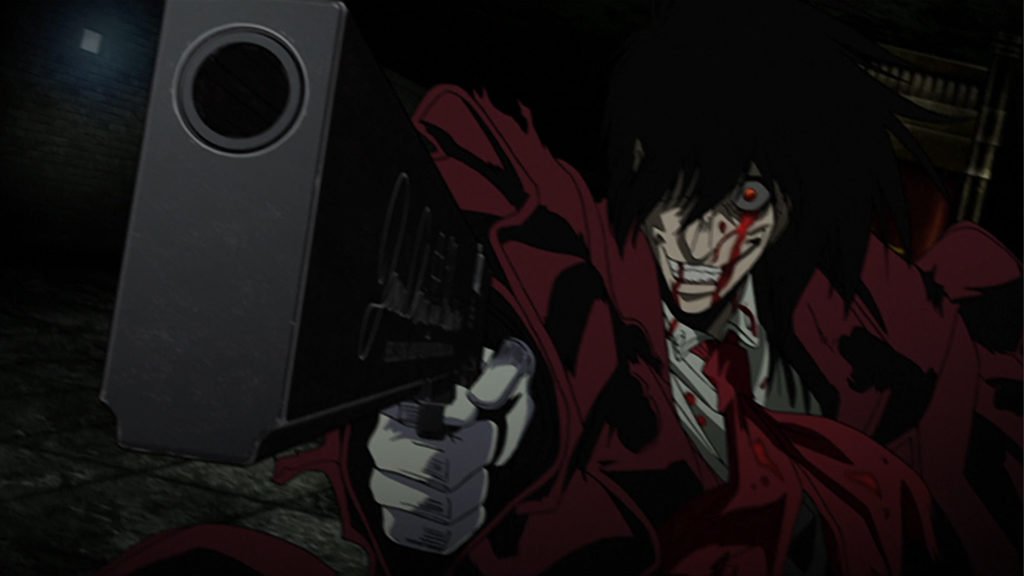 My first choice is the original Hellsing anime, adapted from the manga of the same name by Kouta Hirano. The series is named after the secret organisation established by the vampire hunter, Abraham Van Helsing. Now led by his ancestor, Sir Integra Fairbrook Wingates Hellsing, the group's purpose is to track down and eliminate any threat presented by vampires, ghouls and the supernatural. A duty made much easier with the ridiculously powerful (and iconic) vampire, Alucard, at their disposal. The series isn't particularly scary, but it does have the style and "cool factor" that is frequently present in Hirano's work while effectively incorporating many occult elements. There is also another adaption which follows the story of the manga more closely, Hellsing Ultimate; however, even though the first anime may not be as loyal to the source material, it's a good show with a more serious tone. Getting hold of Hellsing is pretty easy as the complete series is available for a cheap price on DVD (it is over 15 years' old now) and Hellsing Ultimate is available on Blu-ray or to stream on FunimationNow.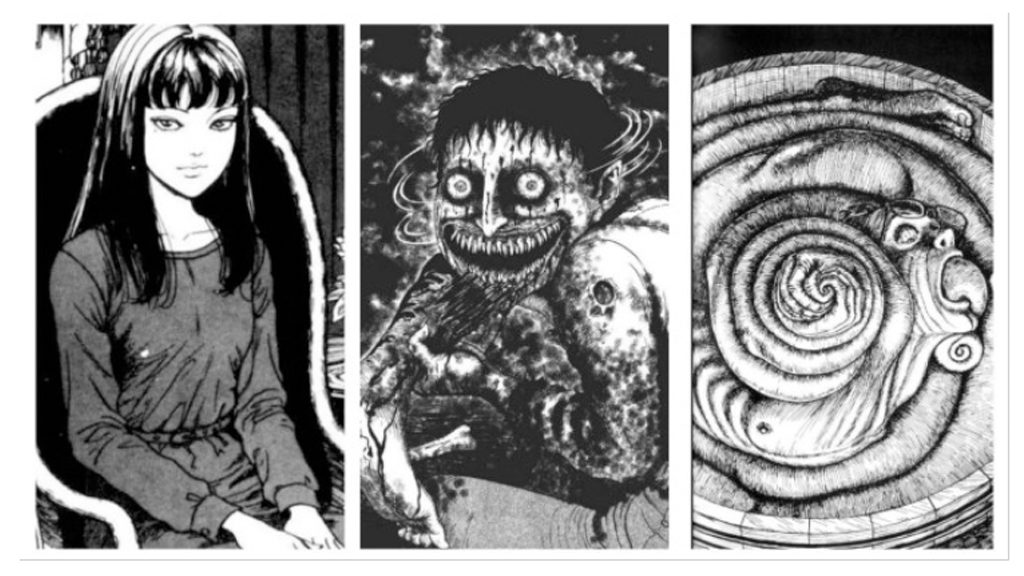 Junji Ito is a horror manga artist that excels in his own unique brand of terrifying storytelling. Recently several of his works were adapted into the anime anthology series, Junji Ito Collection, but these episodes don't best show off the bizarre horror of Ito's art. The anime's attempts at conveying his visuals appear flat, lifeless and they are often represented with odd animation. Ito's various manga, however, has quite the opposite effect. His attention to every twisted detail and grim vision makes each disturbing image pop off the page and makes you feel uncomfortable reading it. The tension of reading his stories is only heightened in the form of manga, where you don't know what is waiting to be revealed with each turn of the page. There are many of Ito's stories available in the UK that I could recommend, such as The Enigma of Amigara Fault (a story that a close friend exposed me to, and got far too much satisfaction from my discomfort reading it), but the best example would be Uzumaki. This three-part series tells the story of a town cursed by spirals. That wasn't a typo, the town is literally haunted by the spiral pattern. The town's inhabitants become obsessed with its form in many twisted ways that is only made all the more disturbing with Ito's exceptional art. Uzumaki can be purchased in a complete volume that includes all three parts.
For my last choice, I'm going to take a page out of Onosume's book and pick something that is not strictly anime. If you have seen Studio 4°C excellent, Tekkon Kinkreet, or their recent film, MFKZ, then the French/Franco-Belgian comic style used in this next choice will be very familiar.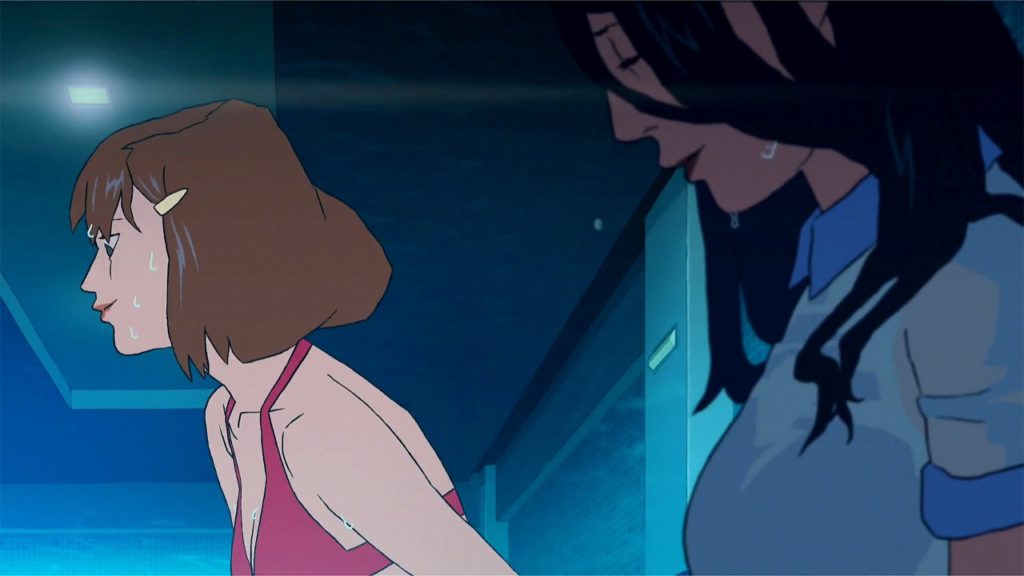 The Music video for the song Fantasy, by French singer-songwriter, DyE, is one that has stuck with me for a few years now. The visuals for the animated music video (designed by Jérémie Périn) have earned a reputation for being as shocking as they are confusing, and if you are particularly uncomfortable when it comes to body horror (as I am) I would probably avoid watching it (as I should have). I have seen this video a few times now and, for the life of me, cannot remember how the song it accompanies actually goes because of the shocking nature of the animation. Although, as anime fans, we have probably become far more accustomed to shock and confusion at this point than fans of many other mediums.
Cold Cobra
While most of the obvious choices that came to my head have already been written about, why don't we look at some less obvious, more light-hearted choices for Halloween this year?
How about Soul Eater? Written by Atsushi Okubo, it's full of Halloween-themed images, being set in a school where people learn to use weapons that can transform into humans, the head teacher of the school being the Grim Reaper himself! Skulls, pumpkins and Gothic imagery all over the place, it will give you that Halloween-y feeling with a good laugh as well (and some good action as the show progresses!) It was released on DVD by Manga a few years ago; the complete series is still on Amazon.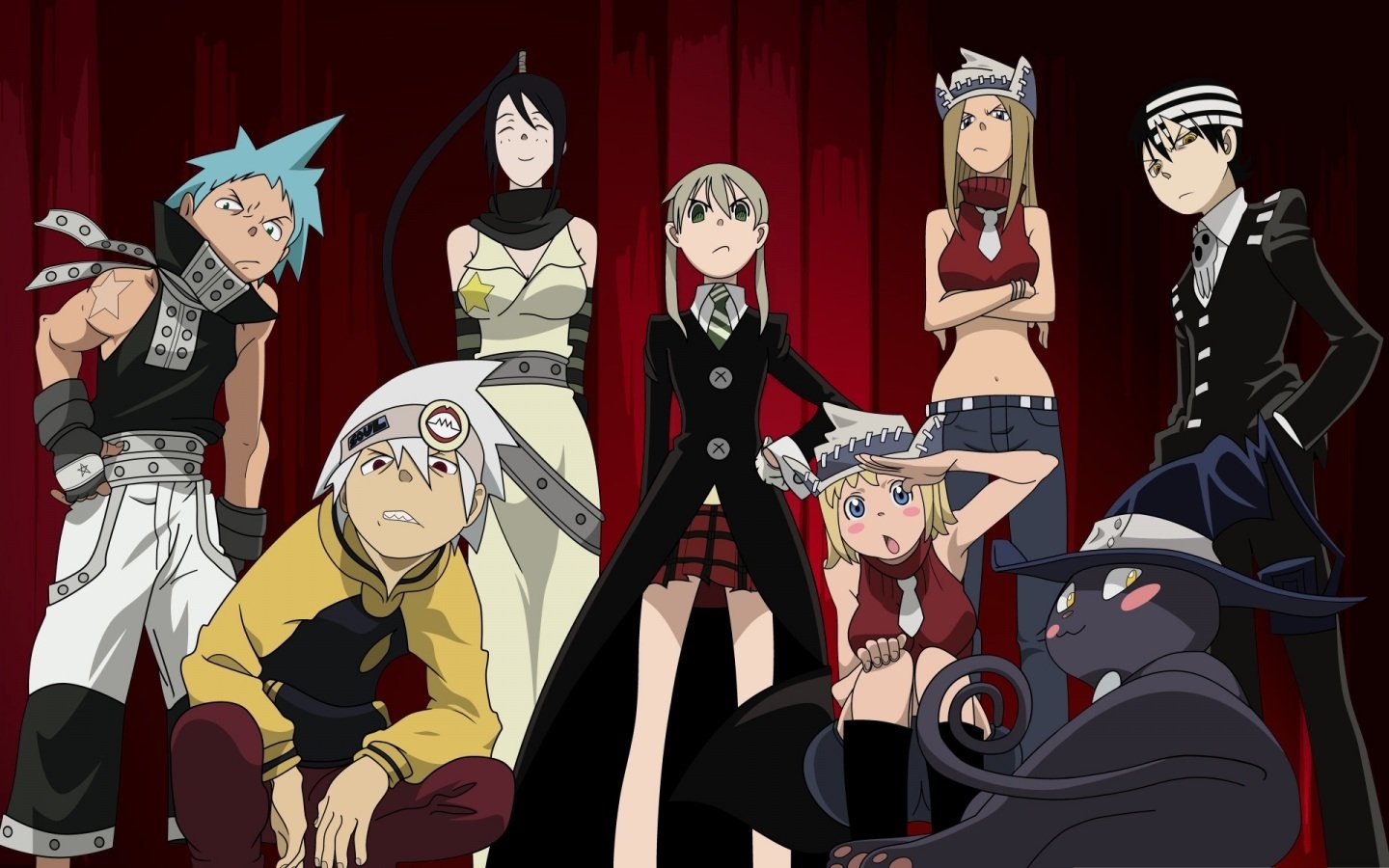 Now, because I'm me, let's look at the world of Shonen Jump a bit, shall we? What first comes to mind is the One Piece story arc known as "Thriller Bark", comprising of Episodes 337 to 381. It' goes intentionally overboard with horror elements, though never loses the sense of humour that is always evident in the show (well, nearly always…) Featuring the large vampire-like Gecko Moria and a whole host of ghosts, zombies, Frankenstein's Monster references and a violin-playing skeleton with an afro, what more do you want for Halloween night? … and beyond, unless you honestly think you could binge 44 episodes in one sitting… All episodes have been released on DVD by Manga; specifically it starts during Collection 14 and ends during Collection 16.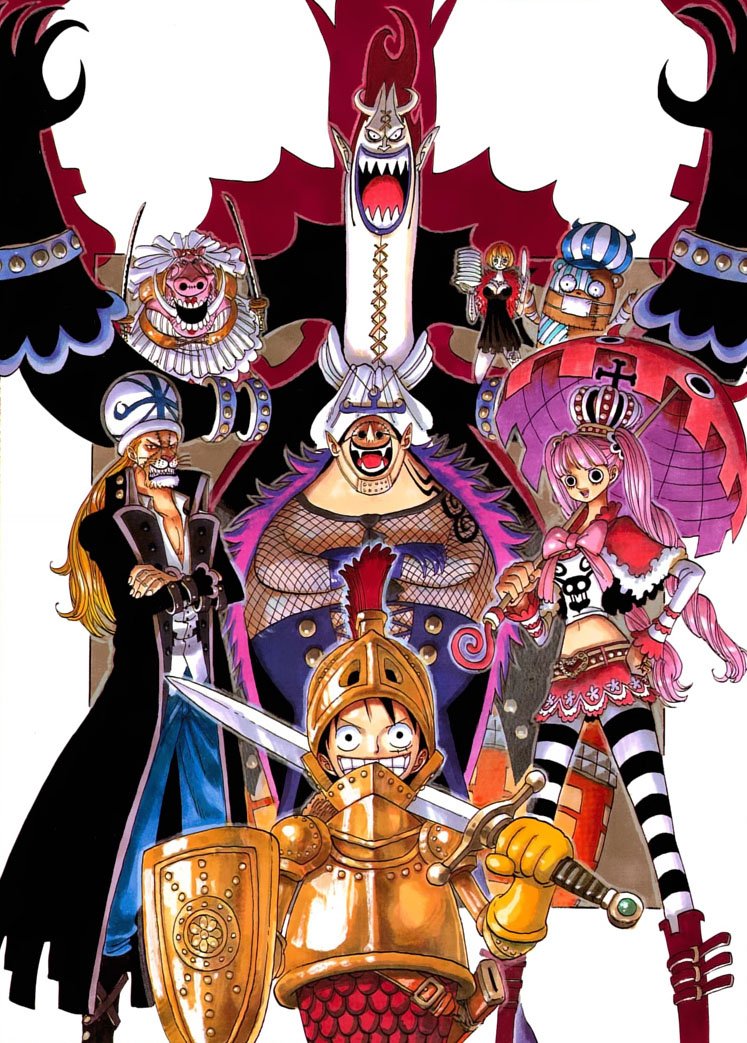 Other bits from Jump! include JoJo's Bizarre Adventure's first Part, "Phantom Blood", comprising of Episodes 1 to 9 to Season 1. While it's quite clumsily written, it's still a good laugh, and full of gore and vampires stalking Victorian London, so it ticks a lot of boxes. Or, you know, you could just watch Episode 304 of Bleach!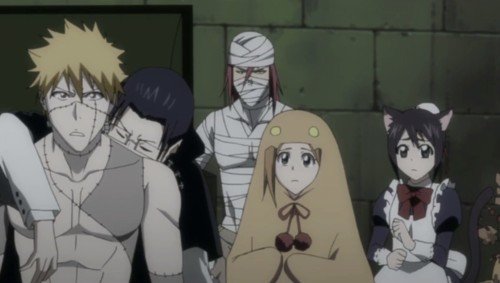 Happy Halloween!
Do you have an anime to recommend this Halloween season? Let us know in the comments!