Feature: A Guide to the Odagiri Effect
Ian Wolf
•

"If men knew all that women think, they would be twenty times more audacious." – Alphonse Karr.
It is a question that many anime fans have asked themselves: what is it about high school male sports teams that make them so sexy? This is also probably going to be the first question put to me, if I should ever end up in court about why so many sports anime have a "special" following, in which most people think the characters are gay, and why there is so much fan fiction about these youthful characters.
The answer is something called the "Odagiri effect", which has been around for a while, however little has been written about it in-depth. This is something that is worth looking into as it deals with many of the most popular anime series around, and it is something that has begun to influence British media as well, but no-one has talked about because so many mainstream TV critics have never heard of the term. But first…
What is the Odagiri effect?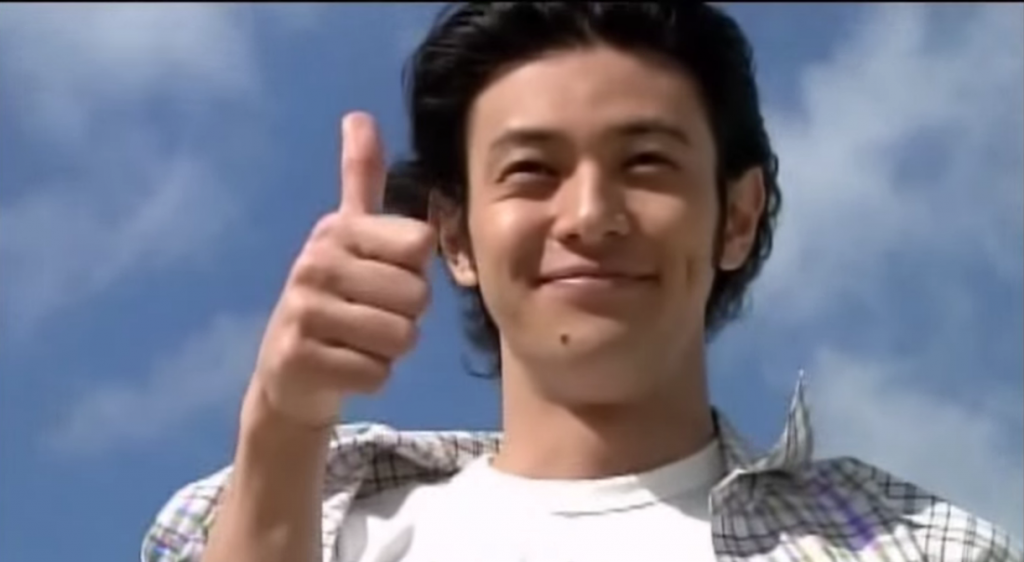 The Odagiri effect is a phenomenon first seen on TV where a show gets a surprisingly higher-than-normal number of female viewers, because they find the male actors or characters in a show attractive.
According to The Dorama Encyclopedia by Jonathan Clements and Motoko Tamamuro, the term is named after Japanese actor Joe Odagiri, who starred in the 2000 children's superhero show Kamen Rider Kuuga, about a masked motorbike-riding superhero. The producers noticed that the series was attracting two main audience groups. One was children, which isn't surprising as that was the target audience. The other group was surprising: women around the age of 30. The producers discovered that these women, most of whom were mothers, were tuning in to see the rather sexy Odagiri in action.
Thanks to his performance, Odagiri went on to have a successful acting career, while the producers of the show repeated the success in the next series, Kamen Rider Agito, which had three male actors as the leads. It did attract the women, although many men disapproved of the way the show was being changed. [p. 182]
Does the Odagiri effect happen in British TV?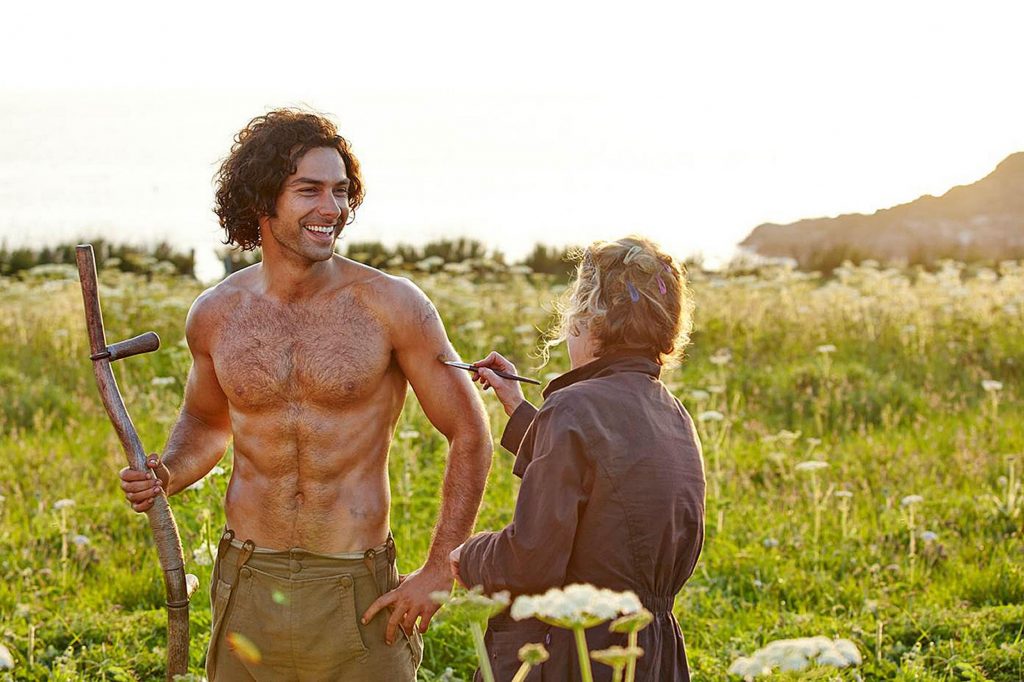 Yes, but because so few people have heard of the effect, most are unaware of it. There is one British TV show where a sexy male actor has boosted the viewing figures considerably: Poldark, starring Aidan Turner.
When the series began, most of the papers at the time were reporting about how many women were tuning in to see musclebound Turner and his topless scything. It was so popular, that in a 2015 poll by the Radio Times, this topless scything scene was voted the top TV moment of that year. This year, another topless Poldark scene, in which Turner is seen in a tin bath, came top of the Radio Times's poll for the top TV moment of 2016.
Interestingly, coming third in the same poll was a scene in The Night Manager in which Tom Hiddleston's bare backside was briefly on show, so we can see the Odagiri effect here too. Even more interestingly was what came fourth in the poll, which was Poldark again, but for something that caused a lot of anger among female viewers, as the moment was where the character of Poldark appears to commit rape. I'll be returning to this later, but as we are an anime website, let's turn to the animated art form.
Where can you see the Odagiri effect occurring in anime?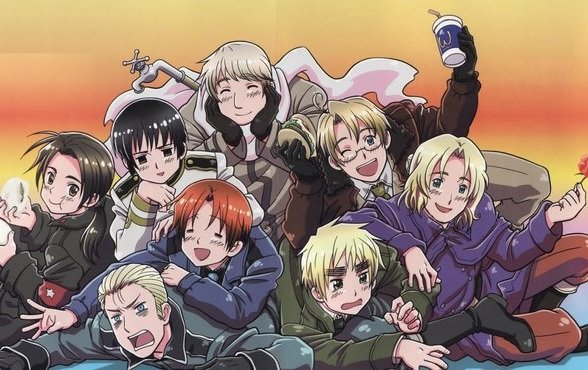 In my personal experience, when I first began getting into anime properly in the early-to-mid 2000s, I came across a show with a surprisingly large female audience: Hetalia: Axis Powers.
The wartime comedy manga which began in 2006 has a considerable female following, which is odd for a series featuring moe anthropomorphic stereotyped personifications of the nations of the world fighting in World War II. Presumably the women were attracted to the use of pretty boys – "bishonen" – as the main characters.
It seems that any anime with bishonen is likely to experience the Odagiri effect. According to Lauren Orsini, these tend to fall into two particular groups of anime shows: sports series, where you have athletic characters who obviously need to keep fit and look in shape in order to perform well; and musical idol series, concerning the interactions between the male characters in each group.
However, it isn't just limited to these kinds of anime. You can arguably see the Odagiri effect in other kinds of anime too. For example, take Cute High Earth Defense Club LOVE!, the series that parodies magical girl shows by featuring magical boys. Like the traditional magical girls, the boys are obviously made cute to appeal to audiences, but you also have the added bonus of the rather too-cute outfits that give the characters both extra appeal and comic value.
How do fans change the way the series is seen?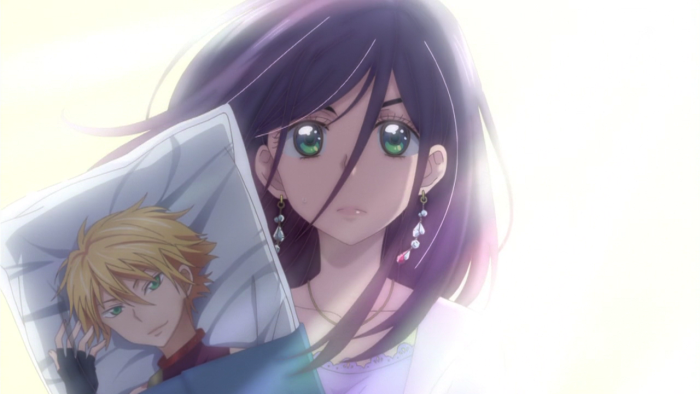 This is where things seem to get really interesting.
Let's create a hypothetical example. As the main type of anime involved in the Odagiri effect tends to be sport, we will make a fake sports anime. I'm going with cricket as there not that many anime that cover it (it appears in Black Butler which is set in Britain, and baseball anime Star of the Giants has been adapted to cover cricket for the Indian market, but that's about it).
Now, let's imagine that this cricket anime follows a boys' school cricket team, and you have all the students who make the team there, training, playing etc. You have all these fit guys in the show, so the Odagiri effect takes place and women start tuning in. However, because this is an anime, it is a fair bet to say that some of these women watching are fujoshi: yaoi fans, interested in male homoerotic anime. There might even be some fan service design to appeal directly to them.
Because of this, you then get the fujoshi tuning in because not only do they find the characters sexy, but they are also thinking that behind the scenes something else is happening, and that the characters might be "getting it on". This leads me to reveal why I've chosen cricket as my hypothetical choice, because let's be honest, in terms of cricket and double entendres, you have a lot to play with. We can all enjoy the sight of leather on willow, while the balls knock into those massive stumps. You would certainly need to have a long leg then, but things might be too kinky in cow corner.
Anyway, getting back to the main point. We have the large collection of women fans, and some of those are fujoshi who are of the opinion that the characters may be gay. Some of them may even be making yaoi fan works like dojinshi and selling them on. Because you have this possible homosexual element, you also attract male yaoi fans – fudanshi. Then on top of that, you may also attract men who are gay, but are not anime fans.
How has the Odagiri effect changed anime?
The main change is that now many anime are now exploiting the effect. As sports anime are my own particular area of interest I will stick to examples from here.
While my first personal experience of the Odagiri effect was in Hetalia, arguably the first sports anime to have been influenced by it was The Prince of Tennis; the manga began in 1999 and the anime in 2001. Although it started soon after the effect was noticed, it ran for so long that there was going to be some influence.
It seems that Kuroko's Basketball was the first sports anime where the effect began to be seen, and then the swimming series Free! really began to push things with the Lycra-clad main characters, all of whom had girly names. Even coach Gou doesn't make any attempt to hide her muscle fetish. You get even more body-tight Lycra in cycling series Yowamushi Pedal, but if leather is more your thing, you always have motorcycling manga Toppu GP.
Even making up an entirely new sport doesn't stop the effect from taking place. Take Prince of Stride, for example, which covers a sport that is a kind of relay parkour. The fact that you happen to have the main female character giving out information in a position that is officially called the "Relationer" certainly sparks a few thoughts along the lines of, "Yeah, and we know what sort of relations too."
However, there is a big issue when it comes to these shows: because these are mostly school sports teams and most of the characters are under 18, there is the whole question of legality. It is fine under Japanese law because there are few laws covering this kind of thing, but in the US and UK it is obviously more of an issue. There are obviously older characters in these series too, so it all depends on who is depicted. In terms of adults in sports anime, there are still some examples such as the Breakers, the all-male cheer leading team in Cheer Boys!!, which on the downside is one of the most unintentionally camp anime ever made – but on the upside, it is set in a university rather than a school, so at least all the main characters are adults and thus there are no legal issues in terms of any yaoi activity.
In the last anime season, there have been four different male sports anime series on the go: the long-running volleyball series Haikyu!!; football-based series DAYS; rugby anime All Out!! which attracted plenty of comment before it began due to the promotional poster featuring a particularly handsome backside; and the series that got everyone talking…
The Odagiri effect and Yuri!!! On Ice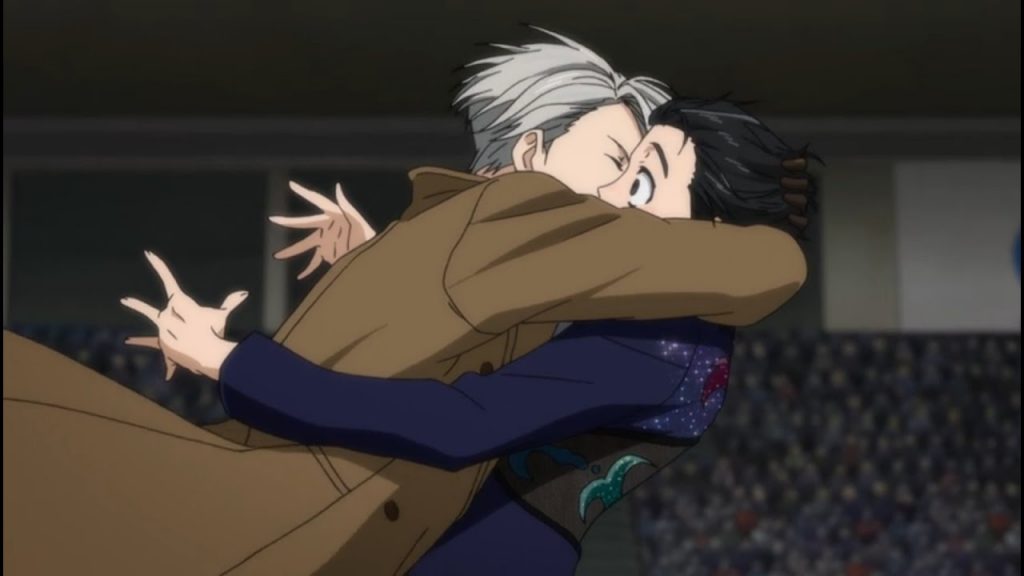 Come on, if we are talking about homosexuality, sports anime and a large female following, we had to get to here sooner or later.
Any anime fan that has been following the events of recent months will be more than aware that this season we got a sports anime where the gay stuff was no longer just in the minds of the viewers. OK, it might have stopped short of actually showing a kiss fully uncensored, and Yuri and Victor may not actually say "I love you", but even I, with my Asperger's syndrome and thus my difficulties in understanding relationships and people's reactions at face value, can tell that Yuri and Victor are gay. Whether it was the original kiss scene, the exchange of rings, Victor crying at the thought of the relationship ending or something else, Yuri!!! On Ice gave us the closest depiction of a same-sex relationship in a sports anime yet seen. There are also a relatively mature couple, as both characters are in their 20s.
However, there are still plenty of people out there who say that the whole relationship thing is speculation, and still refuse to believe Yuri and Victor are a couple until they actually admit it. Why? All the evidence clearly shows they are gay. Whenever someone has suggested that they are not, they can't provide any evidence to support themselves other than the fact that Yuri and Victor never actually do "it" on screen.
Let me put it this way: all the evidence points to the fact that Yuri and Victor are gay and in a relationship, although the characters themselves have not admitted it – in the same way that all the evidence points to the fact that Monkey D. Luffy from One Piece will probably get a heart attack or bowel cancer from his almost exclusive meat-only diet before he ever becomes King of the Pirates. How much more proof do you need in order to be totally convinced? It couldn't be more gay unless there is a second series and end up calling it something like Yuri!!! Again On Ice, for the sole purpose for giving the series the acronym "YAOI".
There is one other thing that makes Yuri!!! On Ice stand out in comparison to most of the other series mentioned. One of the reasons why this series appeals to women is that it is actually made by women: namely director Sayo Yamamoto and writer Mitsurō Kubo. The reason so many women like this series is because the people making it know what women want because they themselves are women.
Overall, the series has sparked up debate about the depiction of homosexuality in anime and the media in general. Many were pleased to see the relationship, but some were critical of the fact that the relationship was not realistic enough, which leads me to the next point.
Is the Odagiri effect good or bad?
Well, the effect is certainly good at pulling in viewers. Some series have increased debate among the depiction of sexuality in anime. But the Odagiri effect has its downsides too.
The main one of these is that anime such as these, and yaoi in general, do not depict homosexuality realistically. For example, yaoi manga often feature rape. While a more mainstream show like Poldark that features male/female rape scenes will usually result in complaints from angry viewers, a yaoi that depicts male/male rape is often more accepted. A study back in 2008 by Dru Pagliassotti, Better Than Romance? Japanese BL Manga and the Subgenre of Male/Male Romantic Fiction, published in Boys' Love Manga: Essays on the Sexual Ambiguity and Cross-Cultural Fandom of the Genre, which she co-edited with Antonia Levi and Mark McHarry, found that out of 391 people responding to a survey on Boys' Love (BL) / yaoi manga: "fifty percent thought that rape, explicit sex, sad endings, physical torture, ordinariness, bed-hopping, cruel heroes, and weak heroes were all acceptable in BL manga. Of the remainder, twelve percent said that rape should never be included in BL" [p. 67-68].
Another issue is the fact that there is a difference between how different audiences react to a show. To reference another section in Boys' Love Manga, Alexis Hall in his study Gay or Gei? Reading "Realness" in Japanese Yaoi Manga, looks at the ways that we western audiences read yaoi in comparison to how it is read in Japan. He talks about one gay man, who thinks his views on yaoi are more valid than most yaoi fans because he is the sort of person depicted in the works. However, this man is American and not Japanese, so does that mean that in the context of reading a yaoi manga or anime that sexuality is the most important thing rather than ethnicity? [p. 217] It is safe to say, that I have been guilty of doing this myself.
We may think that we are more forward thinking than the Japanese in terms of gay rights because we have things like gay marriage, but for most of history it has been Japan that was more forward thinking because for most of the time they were no laws prohibiting it. [p. 218] In the 1960s, the Japanese weren't imprisoning gay people like we British were doing at the same time. It's just that at present we are currently being more progressive.
There is also the one other, big, glaring factor relating to whether the Odagiri effect has a bad effect or not which is this: the fact that we are talking about it in the first place. If this was the other way around, and that we had noticed there was an observable effect in which men were more likely to watch a TV show if there women actors or characters were sexy, we would probably be saying that this was sexist, or for that matter that this is something that actually goes on all the time anyway. We can probably come up with a massive list of TV shows, films, adverts, books etc. which have used sexy women to try and make men watch or read them. Reversing that and naming things that use attractive men to get women to engage with them is harder.
You also got the fact that because these shows are relying on a male cast to get women to watch them that these shows are perhaps not going to be the most feminist programmes around. It is hard to imagine any of them passing the Bechdel test.
What does the Odagiri effect say about ourselves?
What we are actually kind-of saying to ourselves when we observe the Odagiri effect is: "Wow! It turns out that women have some kind of sexual desire! I never realised that before. Turns out that women quite like men who are sexy."
If you can get a positive out of this you could say the effect has pointed out that there is actually a lack of cultural material, across all media, that is aimed at women. The fact that this effect occurs points out that we need to do better, because whenever something using the Odagiri effect does gain the public's attention, it shows that there is a gap in the cultural market that is now being filled.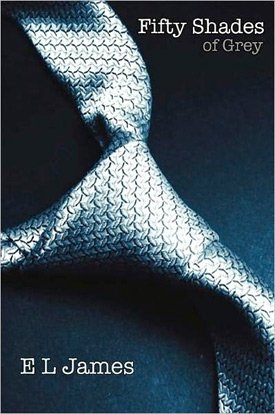 For instance, let's take another example of a work that became surprisingly popular with women: Fifty Shades of Grey. This is something that we have been repeatedly told that we are not meant to like: it's sexist, poorly written, an inaccurate portrayal of a BDSM relationship etc. But let's examine it more closely. For starters, Fifty Shades is fan-fiction. It began as Twilight fan-fiction, so it has connections with yaoi fan works based on sports anime. Like Yuri!!! On Ice, it is made by a woman for women.
Also, as is common with the Odagiri effect, the media were reporting on the surprising number of women who were buying it, even though it was supposedly a bad book. I would argue that women were going out to buy the book because there was so little else like this that was aimed at them, even though everyone else thought it was terrible. See also the Muslim community and Citizen Khan.
The point is this: it doesn't matter if you are getting a thrill from Yuri Katsuki, Ross Poldark or Christian Grey. What matters is that people can get some enjoyment out of what they like.
What can we conclude from this?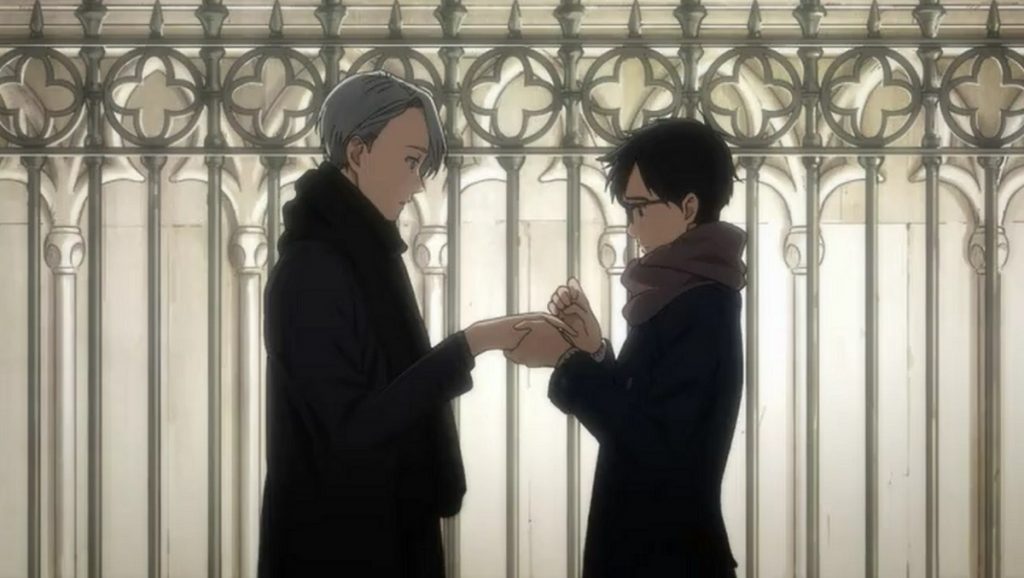 Personally speaking, my main hope is that the Odagiri effects will be discussed wider afield, especially in the more mainstream media as it is something that seems worthy of discussion, on the grounds that it is of interest to those who work in TV, to feminists and to the LGBTQ+ community.
Also, while acknowledging the whole problem of being a western observer wishing to impose his views on a Japanese art form, it would be nice to see anime cover homosexuality more realistically. We may not get to see that in Yuri!!! On Ice, but perhaps the next generation of anime shows might cover it more in-depth.
Yuri!!! On Ice is thus more of a stepping stone to something that is perhaps going to be greater. I do suspect that there will be a second series, possibly to tie in with the 2018 Winter Olympics in South Korea, which may explore Yuri and Victor's relationship more fully.
One other thing to conclude is that there needs to be debate on the relationship between TV and women in general. We can conclude that little TV caters for women, and women appear to be on TV less than men, especially in formats such as comedy – a recent study shows that there has never been an all-female comic line-up on a panel game on British TV since 1967, and only once on radio during that time.
This gets to something that has annoyed me in recent weeks concerning Yuri!!! On Ice. I know there are plenty of people who are sick of the show being discussed so much, at least in our anime bubble. The big problem however is that I don't think Yuri!!! On Ice is being discussed enough by mainstream media. If you look up any list of "The Best TV Shows of 2016", the lists are totally dominated by shows that are in English. I'm not saying Yuri!!! On Ice should be in these best show lists, I'm saying that they need to come out of their bubble and we need to come out of ours. It feels as if mainstream TV critics can't be bothered to watch shows "in foreign", and the only way they would be interested is if there is some sort of British connection, like a guest appearance from some British skaters. Mind you that's no bad idea: I for one would love to see Torvill and Dean skating just before Yuri and Victor.
Really though, we need to make more of an effort to cater culturally to women, across all forms of media.
We should also keep eye out on some anime coming out later this year in terms of the Odagiri effect striking. Two series that spring to mind are another pair of sports series, Welcome to the Ballroom and DIVE!! – both of which are being turned into anime in the summer, and both of which cover activities that already have LGBT stars: thank you Bruno Tonioli and Tom Daley.