Makoto Shinkai's Weathering With You UK Anime Home Video Release Details, Includes 4K Ultra HD Blu-ray!
Distributor Anime Limited has announced the details for their upcoming home video release of Makoto Shinkai's 2019 anime film Weathering With You (Tenki no Ko) for the United Kingdom and Ireland territories.
Below are the full details on the release contents, editions available and the specifications for the launch window and prices.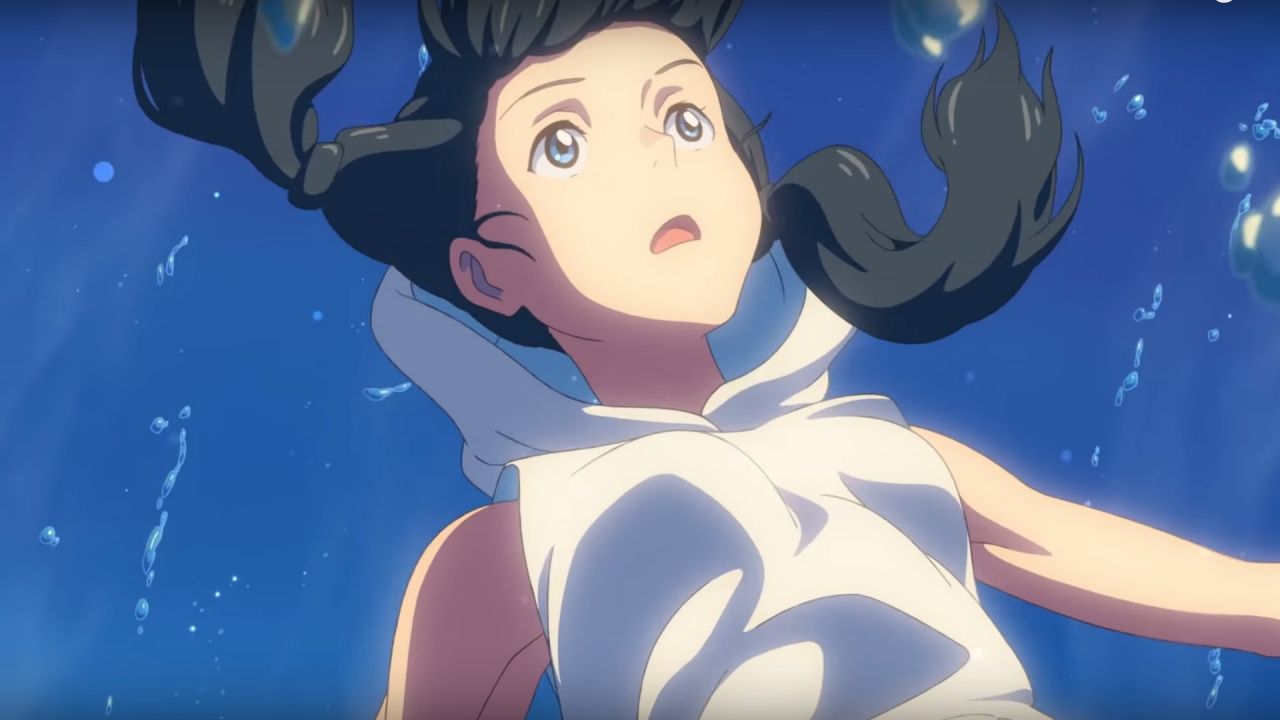 About the film:
"High school freshman Hodaka Morishima leaves his home on an isolated island and moves to Tokyo, but he quickly finds himself in financial trouble. Living his days in isolation, he eventually lands a job as a writer for a shady occult magazine. Then one day in an alley, Hodaka meets a young girl named Hina Amano, bright and strong-­willed, who possesses a strange and wonderful ability: the power to stop the rain and clear the sky."
Weathering With You (Tenki no Ko) is an original anime film directed by Makoto Shinkai, known for his previous works Your Name (Kimi no Na wa.), The Garden of Words, 5 Centimeters per Second and The Place Promised in Our Early Days. It was theatrically released in Japan last July 2019 and grossed over ¥12 billion at the Japanese box office with numerous #1 spots each week during its theatrical run.
The film was animated by studio CoMix Wave Films, who also worked on Your Name, and features staff credits including Makoto Shinkai for editing and writing, music band Radwimps returning from their work on Your Name to compose the film's score, and Ryōsuke Tsuda for cinematography.
Anime Limited acquired the United Kingdom & Ireland rights and provided a theatrical release nationwide in January 2020 with a UK premiere at Scotland Loves Anime 2019. In North America, distributor GKIDS acquired the rights for the United States & Canada territories and also commissioned an English dub with NYAV Post.
The English dub cast features Brandon Engman, Ashley Boettcher, Lee Pace, Alison Brie, Barbara Goodson, Emeka Guindo, Mike Pollock, and Riz Ahmed.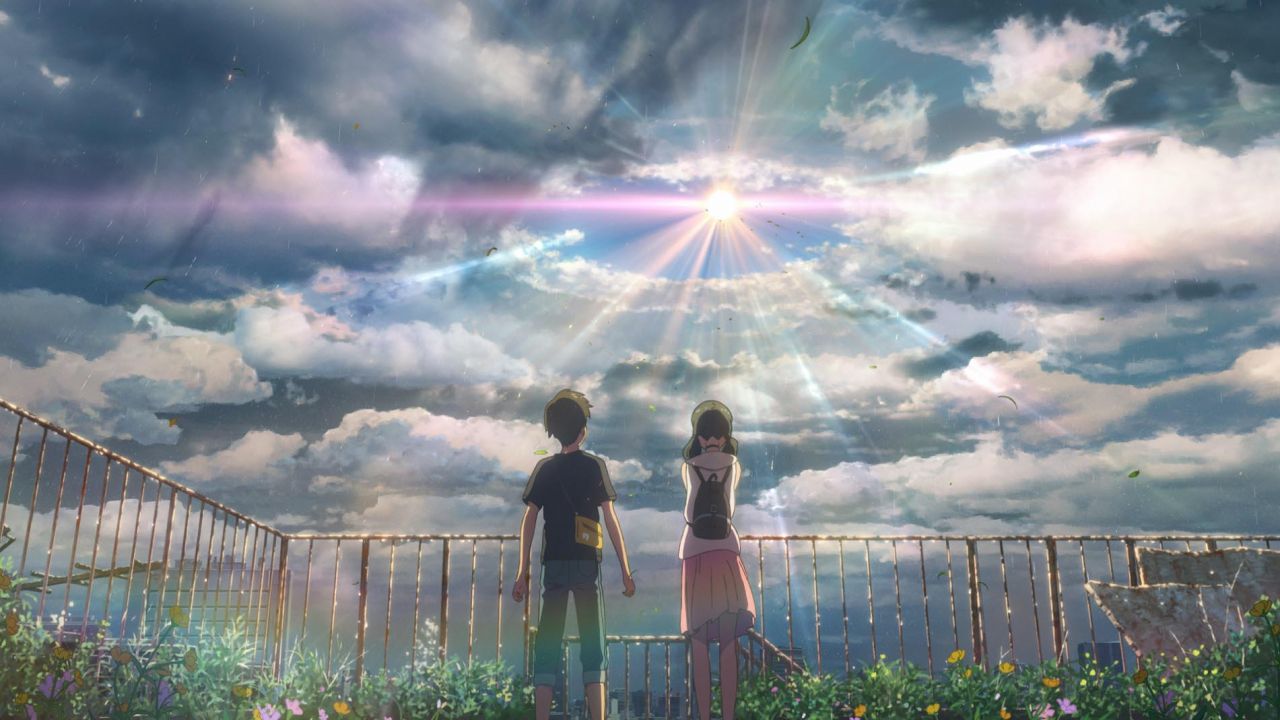 The UK Home Video release:
Revealed on Friday 17th July 2020, Anime Limited has detailed the release for the film that is currently scheduled for home video on 28th September 2020.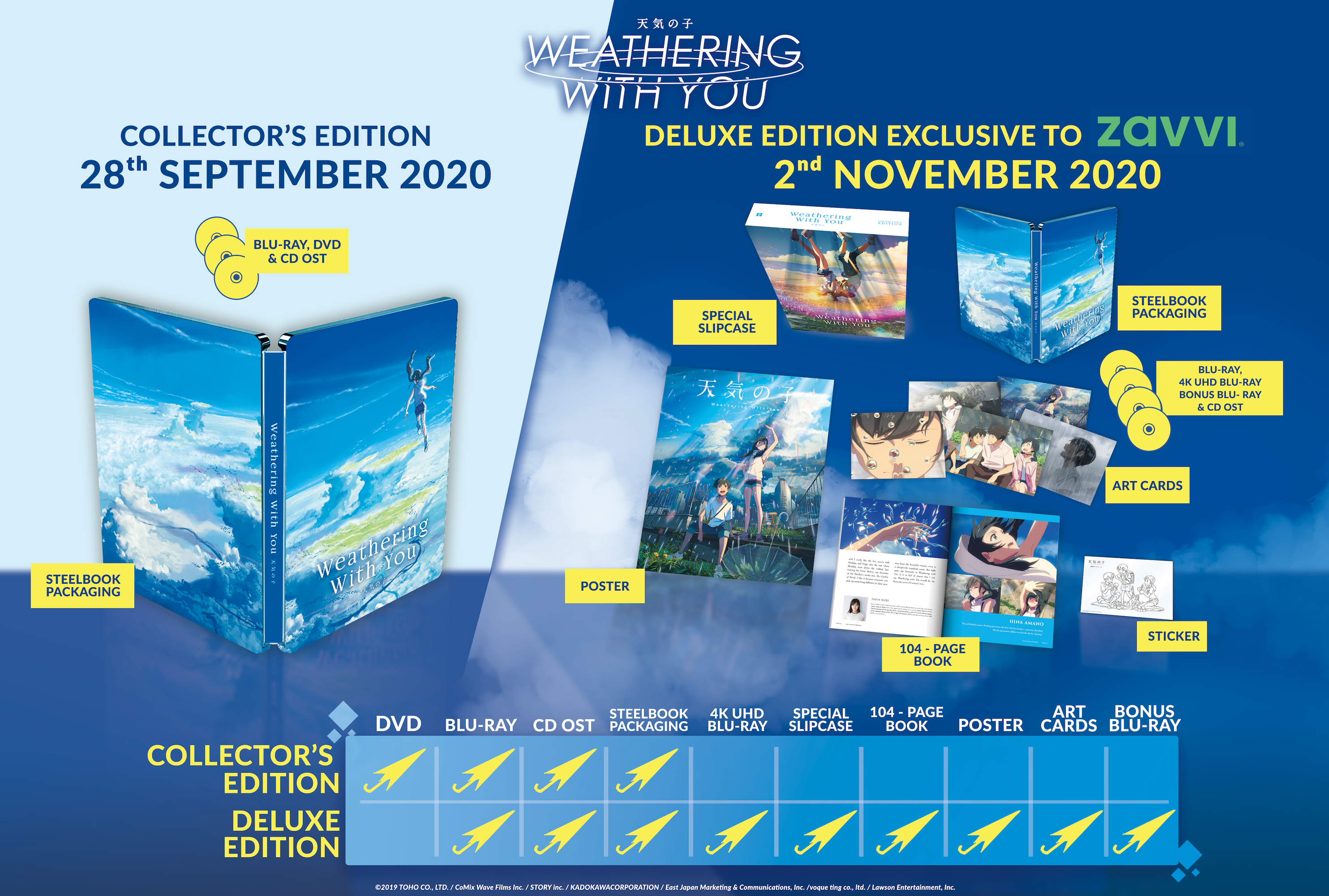 As shown in the diagram above, we have two special edition releases alongside the standard edition. All versions will include the English dub and Japanese audio with English subtitles.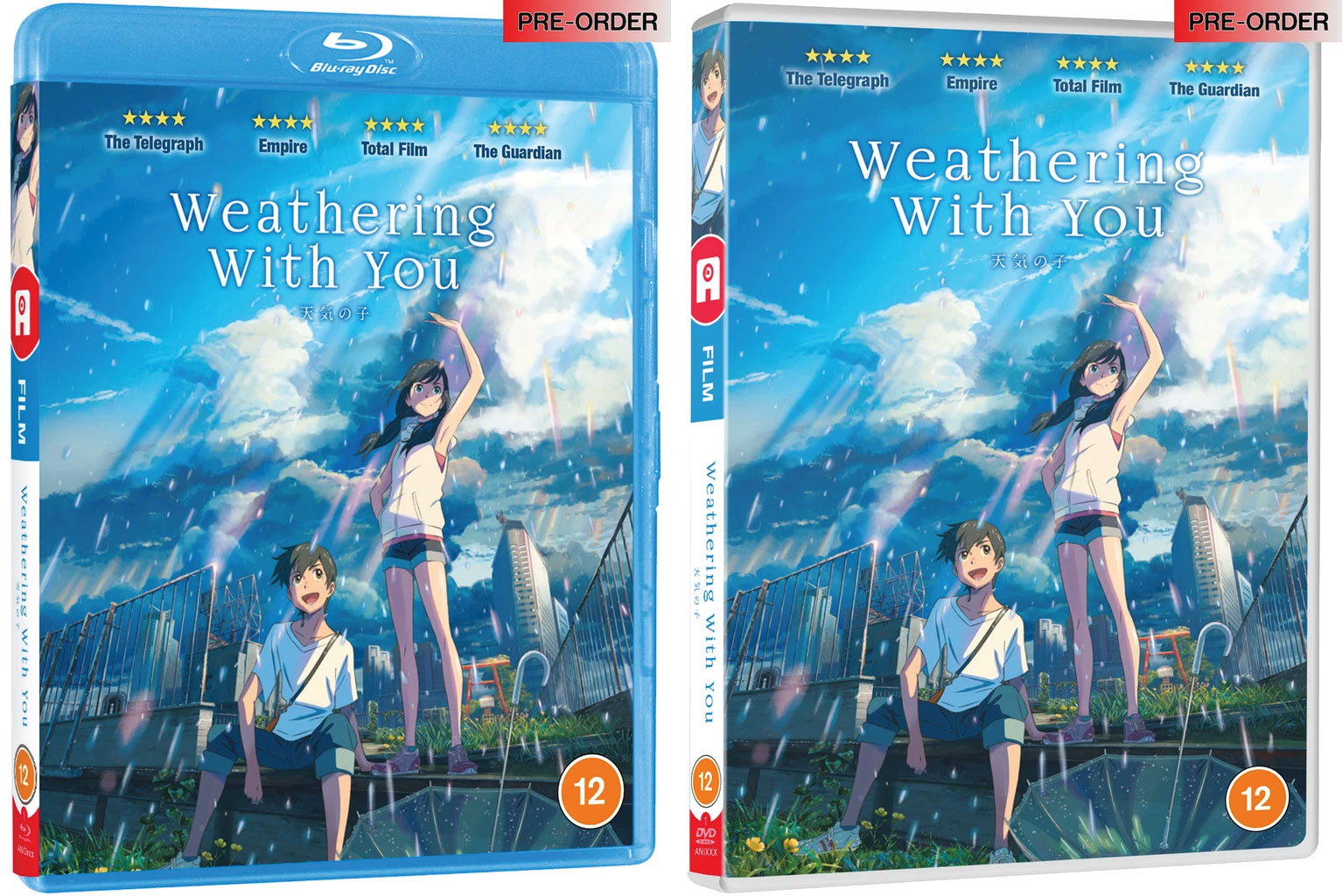 Starting off with the standard edition Blu-ray and DVD releases, these will be available at SRP £19.99 and £17.99 respectively.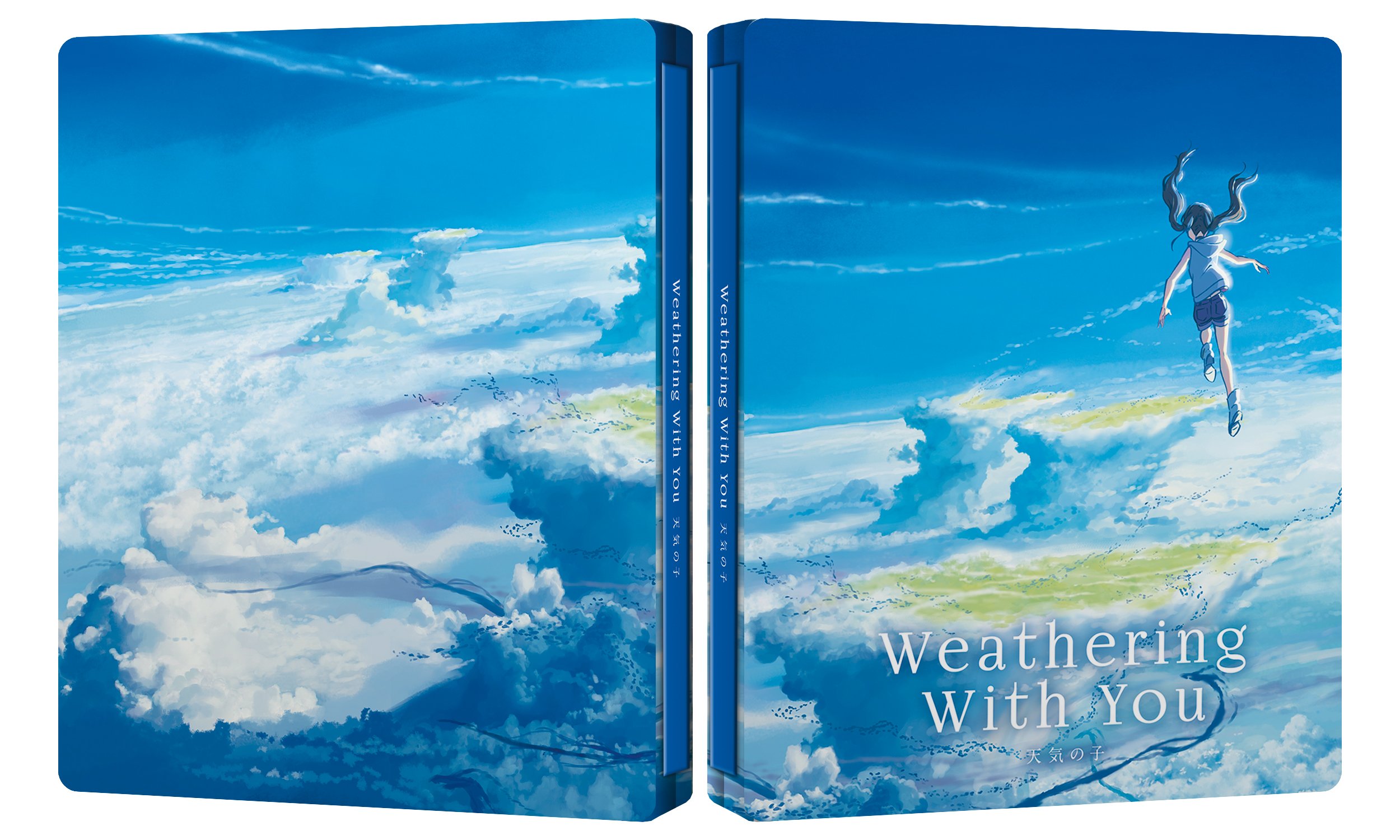 Next, we have the collector's edition Blu-ray & DVD combo pack which will be presented as a steelbook case, much like the Your Name UK collector's edition was. Included in the collector's edition is the film's original soundtrack by Radwimps on CD format. This set will be available at SRP £39.99.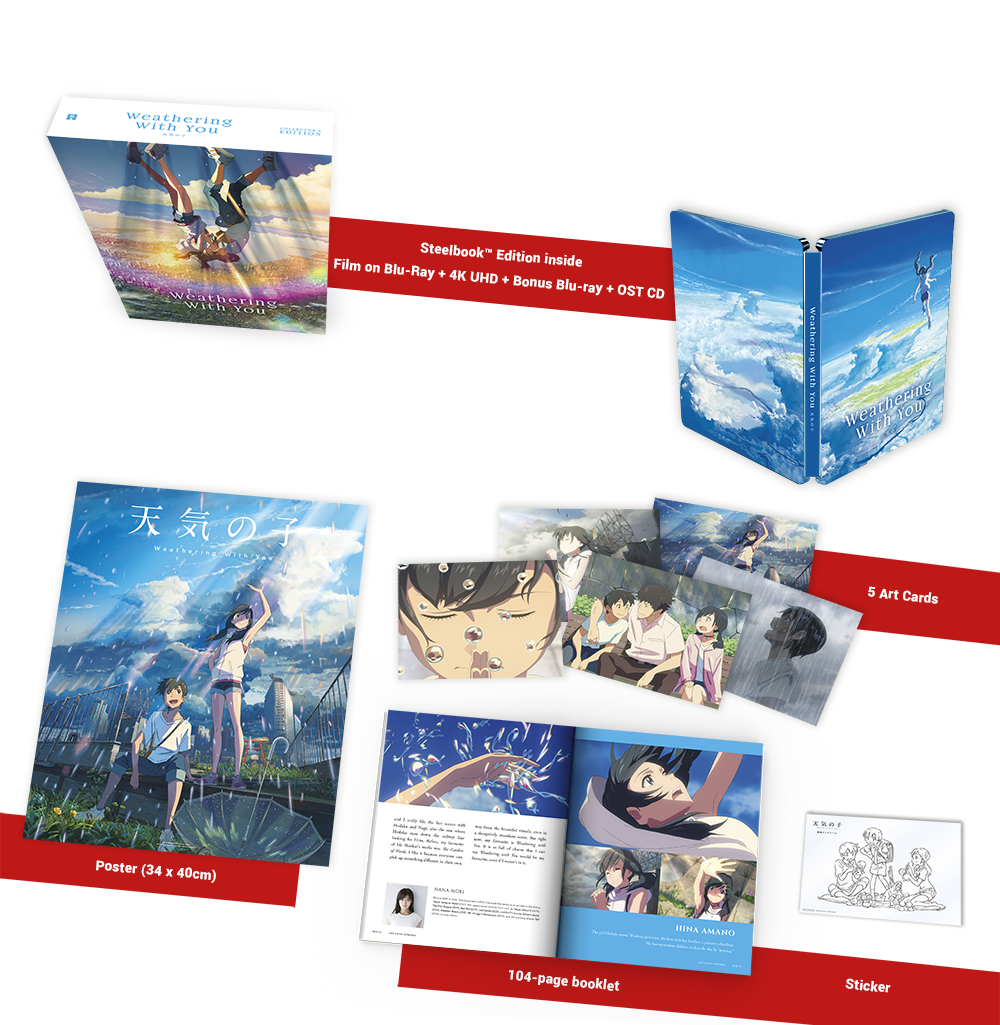 Lastly, we have the limited deluxe edition 4K Ultra HD Blu-ray & Blu-ray combo pack. That's right, Weathering With You is coming to 4K for the United Kingdom and Ireland, however, due to licensing restrictions, it will only be available through this edition. Plus, you will only be able to pre-order the limited edition set exclusively through Zavvi at SRP £69.99. The release date for this edition is also different from the rest of the sets as it will instead be scheduled for 2nd November 2020.
The limited-edition contents include everything from the collector's edition release (without the DVD) and includes a bonus Blu-ray disc which has yet to be fully detailed at the time of this post. Also included is a 104-page booklet, a fold-out poster at 34x40cm, 5 art cards and a sticker. All of the contents will be housed inside a rigid box.
Pre-order Details:
Currently, Weathering With You is available to pre-order at the following retailers:
Limited Deluxe Edition 4K Ultra HD Blu-ray & Blu-ray:
Collector's Edition Blu-ray & DVD Steelbook:
Standard Edition Blu-ray:
Standard Edition DVD:
(Disclaimer: Amazon and Zavvi listings will contain affiliated links that will help support our site)
---
Source: Anime Limited