Anime Limited Offers Ultimate Edition Blu-ray for Mobile Suit Gundam SEED
UK distributor Anime Limited have announced plans to bring Mobile Suit Gundam SEED back to the United Kingdom and Ireland, this time on Blu-ray and as an Ultimate Edition box set.
The Ultimate Edition currently scheduled for 7th December 2020 will include the HD Remaster for Mobile Suit Gundam SEED as well as the original version and its Special Edition compilation films across 13 Blu-ray discs, using the same transfer and authoring as the Nozomi Entertainment release in North America.
Both the original series and Special Edition compilation films will be presented in Standard Definition on Blu-ray which is the first anime title to get this treatment for the United Kingdom and Ireland. SD on Blu-ray allows for better audio and subtitles as well as reduced discs and saving space in your anime collection! These SD BD discs will remain exclusive to the Ultimate Edition, similar to how Nozomi is keeping them exclusive to their Ultra Edition box set.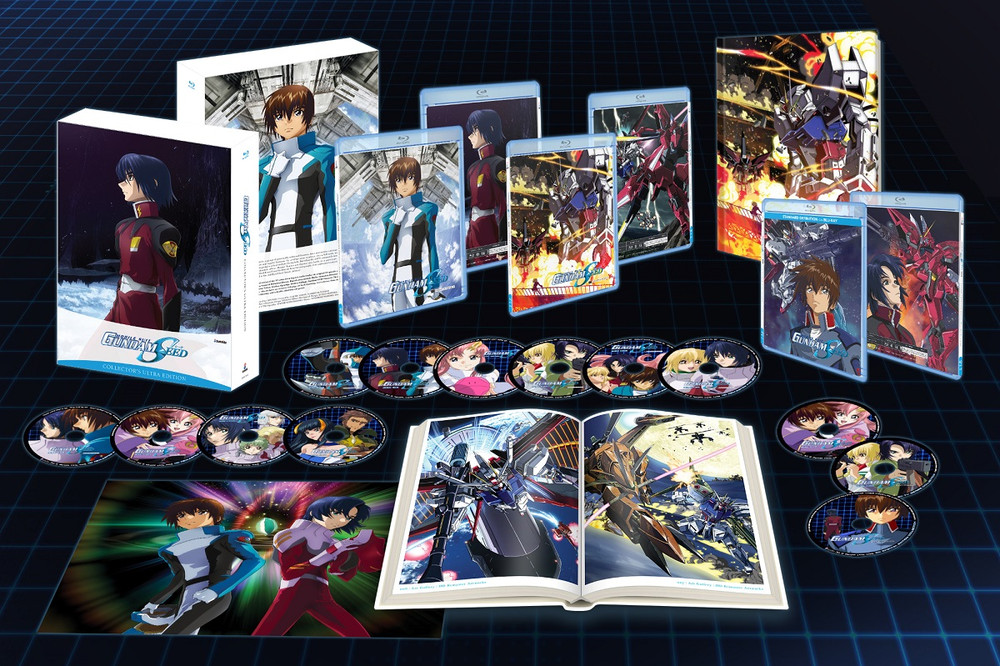 The SRP for the entire set is £199.99 and will be available for £119.99 as an early bird offer for a maximum of two weeks starting Friday 28th August to Thursday 10th September 2020. Screen Anime premium users will also be able to order at a discounted price. The set will be available across multiple retailers over the coming months, while the unit count is not confirmed at this time.
For those who wish to spend their money solely for the HD Remaster than the other components, it will be available in 2021.
Plot Synopsis via Anime Limited:
"Year 70 of the Cosmic Era.

The Coordinators, a group of genetically enhanced humans, have moved into colonies orbiting the Earth. But that hasn't quieted the tensions between them and regular humans; the conflict soon escalates into a full-scale war. On the neutral colony of Heliopolis, Kira Yamato, and his friends are going to school and just being kids. But when the ZAFT commando forces attack, Kira's life changes forever.

Left with no choice, he and Federation officer Murrue Ramius are thrown into battle in a prototype mobile weapon, which Kira christens "GUNDAM." Now, Kira must defend himself and his friends from his own people. For, unknown to anyone else, Kira is a Coordinator. And the enemy he faces on the battlefield is his childhood best friend, Athrun!"
Also included in the Ultimate Edition discs are over two hours of extras including:
Mecha Animation Director HD Comparisons
Six "In This Era" Video Featurettes
Director's Concept Music Videos
Textless Opening and Ending title sequences
Gundam SEED Character Theatre Shorts
Gundam SEED Epilogue – After Phase: In the Valley of Stars
And there will be an artbook as well just like the previous Ultimate Edition releases.
For those wondering why the original series is presented in SD Blu-ray, this is because much like The Vision of Escaflowne, there were differences between the original and later versions for the series. The HD Remaster adds a number of changes including aspect ratio, animation, pacing and the episode count has been reduced from 50 episodes to 48. In addition, Sunrise and NYAV Post have provided a brand new English dub with a new cast for the HD Remaster version. The original English dub from Ocean Productions dedicated to the original version will be included on the SD Blu-ray discs.
The Special Edition compilation films were never dubbed and thus will be subtitled only.
Mobile Suit Gundam SEED aired in 2002 by studio Sunrise, director Mitsuo Fukuda, writer Chiaki Morosawa and music composer Toshihiko Sahashi. The series ran for 50 episodes and later received a sequel known as Mobile Suit Gundam SEED Destiny as well as a side-story called Mobile Suit Gundam SEED C.E. 73 Stargazer. The original version for Mobile Suit Gundam SEED was released in the UK by distributor Beez Entertainment for DVD.
If you want to try out the Mobile Suit Gundam SEED franchise beforehand, it is available to stream on Crunchyroll in its HD Remaster form in Japanese audio with English subtitles.
---
Source: Anime Limited