Anime Limited Reveals Packaging & Release Date for UK Mobile Suit Gundam SEED Ultimate Edition Blu-ray
It has been a couple of months since we had last heard about Anime Limited's plans for Mobile Suit Gundam SEED for the United Kingdom and Ireland territories. At the last second, fans discovered that Sunrise & Nozomi had accidently used the wrong masters for the HD Remaster and thus a delay was in place which affected Anime Limited's plans as well.
Fast-forward from November 2020 to March 2021 and Anime Limited is finally able to reveal what they have prepared for their UK Ultimate Edition Blu-ray release for the series.
---
Release Date & Pre-orders
For starters, the new release date for Mobile Suit Gundam SEED Ultimate Edition Blu-ray is now set for 31st May 2021.
If you missed out on the early bird last September, there will be a redux early bird from Friday 9th April until Monday 3rd May on the Anime Limited store for £119.99 (or £108 if you have an Annual subscription to Screen Anime).
---
Explaining the Discs
So if you do not know much about this release, or forgot what was included, here's the breakdown:
Main Content
You have the 48 episode series of Gundam SEED HD Remaster, which includes both Japanese audio with English subtitles and a brand new English dub from NYAV Post. The series is presented across 10 Blu-ray discs in High Definition.
You also have the 50 episode series of Gundam SEED in its original version from 2002, which includes both Japanese audio with English subtitles and the classic English dub from Ocean Group used in the Bandai Entertainment and Beez Entertainment DVD releases. The series is presented across 2 Blu-ray discs in Standard Definition.
In addition to the series, the Gundam SEED Special Edition films released in 2004 are also included in both Japanese audio with English subtitles and the classic English dub from Ocean Group. The films are presented on a single Blu-ray disc in Standard Definition.
The reason we have two different versions of the show is because the classic English dub will not be able to sync with the HD Remaster due to redrawn scenes, changes in detail and a couple other factors. In addition, the HD Remaster is in a full screen 16:9 ratio whereas the original was in 4:3 ratio.
Standard Definition on Blu-ray
In addition, having the original series and films presented on Blu-ray even though the picture quality will be in Standard Definition will provide a better experience from previous DVD releases.
This includes better audio, more-readable subtitles and because the SD content will be on fewer discs than usual there's also the added factor of saving shelf-space as well as fitting more content on fewer discs without sacrificing quality.
This practice has been accepted in the US anime industry scene in recent years through distributors like Discotek Media for their catalogue of older non-HD native titles and longer shows in general.
That being said, the original 2002 Gundam SEED version and 2004 Gundam SEED Special Edition films will be exclusive to the Ultimate Edition release, while the HD Remaster will be available as a standard edition estimated for late 2021.
Extra Features
Bonus on-disc features for the release include the following:
Mecha Animation Director HD Comparisons
Six "In This Era" Video Featurettes
Director's Concept Music Videos
Textless Opening and Ending title sequences
Gundam SEED Character Theatre Shorts
The Gundam SEED Epilogue – After Phase: In the Valley of Stars
---
Ultimate Edition Packaging
The design of the Mobile Suit Gundam SEED Ultimate Edition Blu-ray is very similar to the rest of the Gundam collection line-up, but most notably the deluxe editions of Mobile Suit Gundam 00 and Mobile Suit Gundam Wing.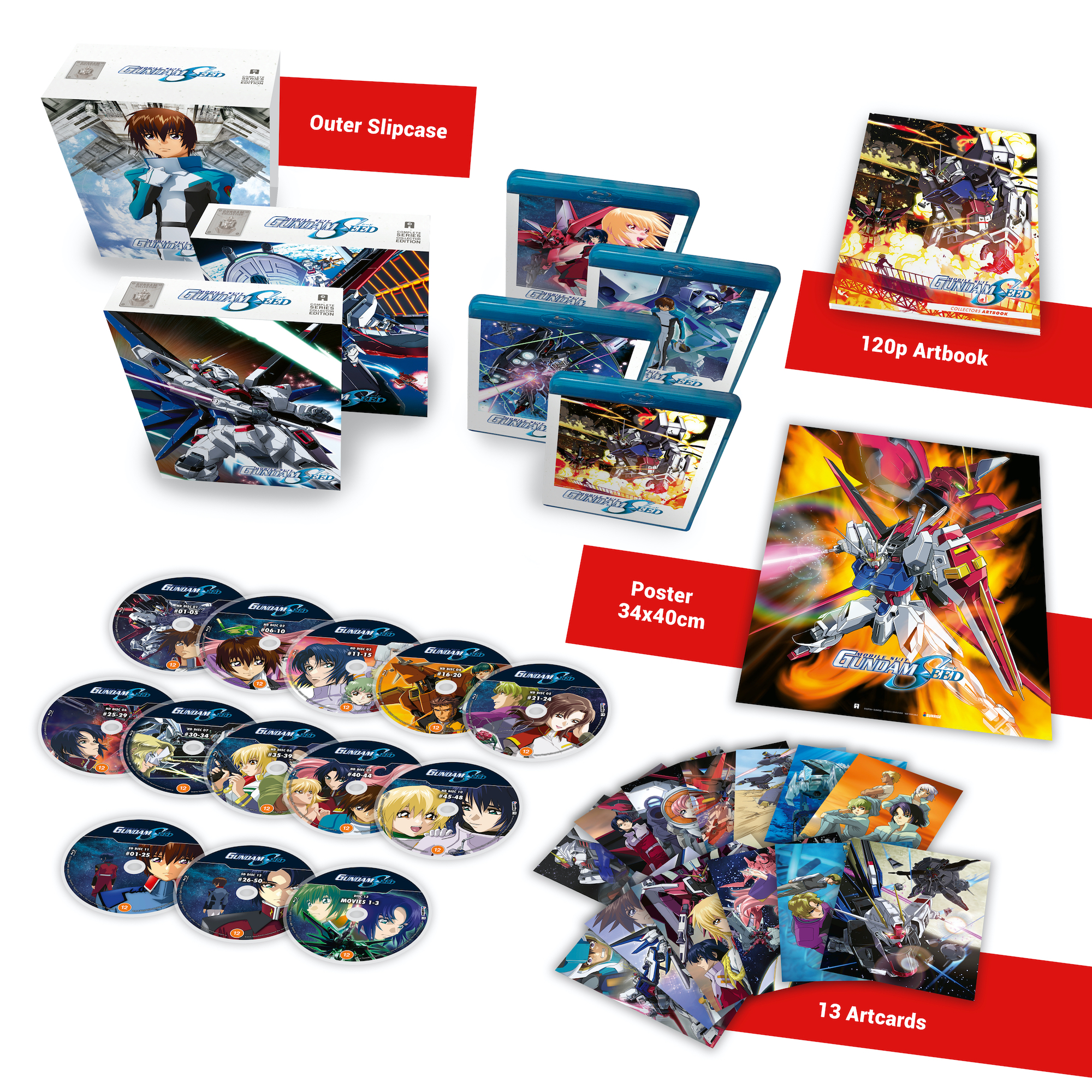 Starting off with the outer slipcase which will house the entire set. The spine will be consistent with the rest of your UK Gundam Blu-ray box sets.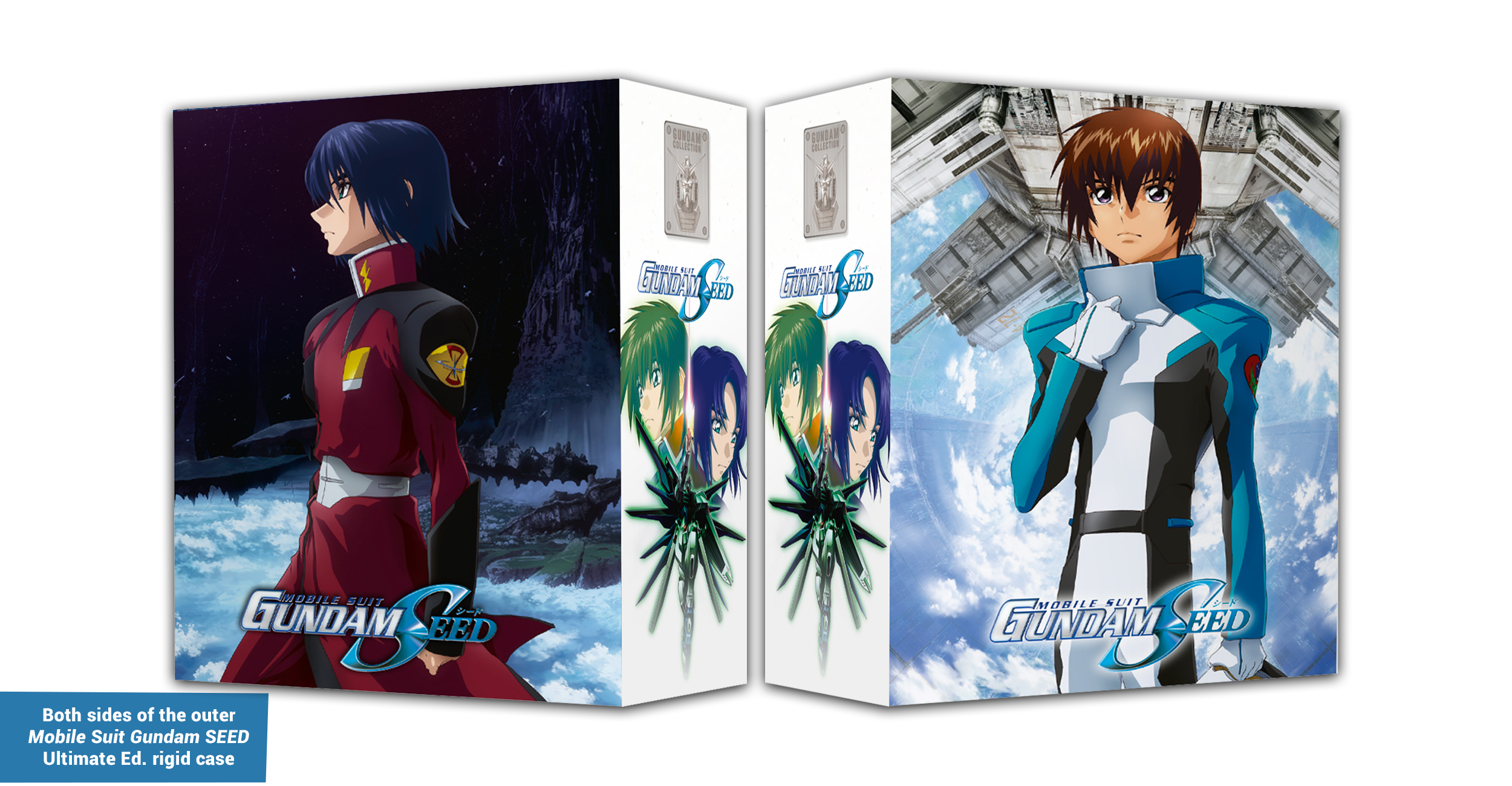 Inside the outer slipcase are two rigid box slipcases. The first will house the HD Remaster across two Amaray cases (5 Blu-ray discs each), while the second will house the Original series and Special Edition films across two Amaray cases (2 Blu-ray discs on one, 1 Blu-ray disc in the other).
This slideshow requires JavaScript.
Next we have the physical items that will be available alongside the anime. The first is a 120-page artbook that will be divided into 3 sections; Character, Mecha, and Gallery. Then we have 13 art cards, and a fold-out poster at 34x40cm similar to previous UK Gundam Blu-ray releases.
---
About Gundam SEED
"Year 70 of the Cosmic Era.

The Coordinators, a group of genetically enhanced humans, have moved into colonies orbiting the Earth. But that hasn't quieted the tensions between them and regular humans; the conflict soon escalates into a full-scale war. On the neutral colony of Heliopolis, Kira Yamato, and his friends are going to school and just being kids. But when the ZAFT commando forces attack, Kira's life changes forever.

Left with no choice, he and Federation officer Murrue Ramius are thrown into battle in a prototype mobile weapon, which Kira christens "GUNDAM." Now, Kira must defend himself and his friends from his own people. For, unknown to anyone else, Kira is a Coordinator. And the enemy he faces on the battlefield is his childhood best friend, Athrun!"
Plot Synopsis via Anime Limited
Mobile Suit Gundam SEED is animated by studio Sunrise and directed by Mitsuo Fukuda, written by Chiaki Morosawa, and composed by Toshihiko Sahashi.
You can watch Mobile Suit Gundam SEED HD Remaster on Crunchyroll and Funimation.
---
Source: Anime Limited Blog