Mobile Suit Gundam SEED UK Ultimate Edition Blu-ray release Delayed to 2021
UK distributor Anime Limited has announced their upcoming Ultimate Edition Blu-ray box set of Mobile Suit Gundam SEED has been pushed back to an unknown timeframe in 2021. This sudden news came from a recent discovery on the North American release which has caused this delay.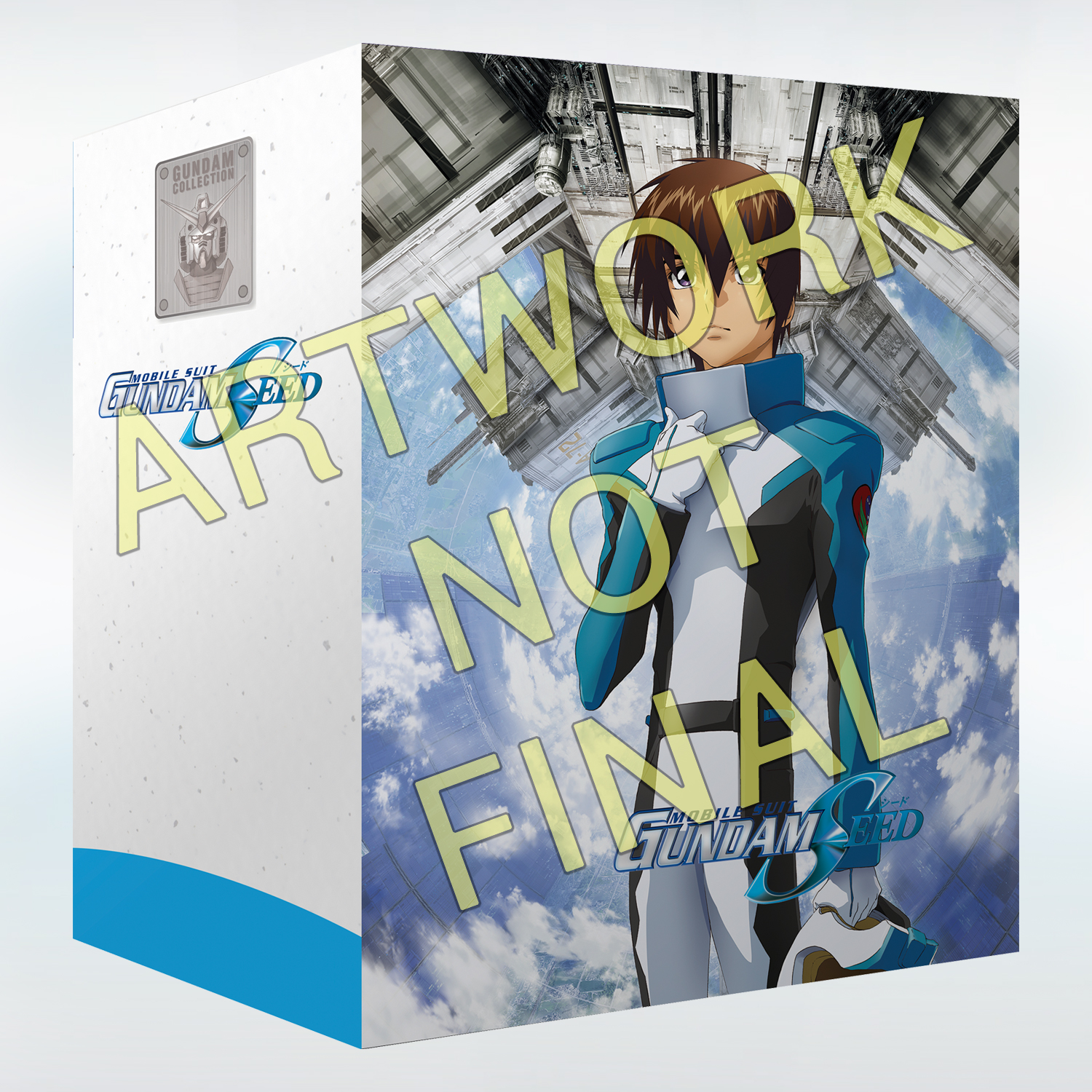 For those who were unaware, Anime Limited are sharing the same masters with Nozomi Entertainment (aka Rightstuf) for the Gundam SEED Blu-rays.
When the North American anime fans received their early copies of the Nozomi Entertainment Ultra Edition, two major issues were spotted:
The HD Remaster Blu-ray discs were using the broadcast version rather than the home video version.
The Original series, presented in Standard Definition on Blu-ray, was encoded with incorrect black levels that did not represent the final product properly.
Considering the high price point, this was a big concern for the Gundam fanbase.
There is good news however, as Nozomi Entertainment & Rightstuf's president Shawne Kleckner looked into the situation and has revealed in a statement they will be able to amend all of the issues at present. A sample of the response can be viewed as quoted:
"SUNRISE provided masters to us and the dubbing studio for the creation of this new release. It has now been confirmed that inadvertently, the masters provided were the broadcast version of the program, and unbeknownst to both of us, further changes had been made to footage and effects after the broadcast for the Japanese Home Video release. So, while there is nothing wrong with our release itself, it does not use the ultimate final version created of the show.

After spending so much time working on this project to bring this program to the fans, we were truly dismayed when this was brought to our attention. Rightstuf strives to make collector grade releases, and our staff have high standards for the products we make.

After consultation with SUNRISE, we are pleased to confirm that replacement materials used for the Japanese Blu-ray release of the program are being dispatched to us, and are expected later this month. Upon their receipt, we will create new Blu-rays using the Home Video masters. We expect, given required time for production, quality checks, and manufacturing, this will be finished after the holiday season."
from Shawne Kleckner, President of Rightsuf
As such, Anime Limited will also be able to get the correct materials but this does mean that the UK release, which was originally scheduled for 14th December, had to be delayed as they wait for the new discs to be complete. Do note that the US & UK special edition sets both utilise 13 Blu-ray discs in total (10 for the HD Remaster, 3 for the Original series & Special Edition compilation films).
You can view Anime Limited's response via the E-Mails sent out to existing customers who have pre-ordered the set via their website:
"We sincerely apologise for this delay. This has unfortunately come about due to an issue detected with the disc masters we were planning to use. We have decided to delay our release to ensure our set includes the corrected disc masters. Currently we do not have an eta on when these will be available."
from Jeremy Graves, Marketing Executive at Anime Ltd
To provide a general idea of the differences, a comparison image provided by Fandom Post user Setsuna showcases the animation and effect changes between the broadcast and home video for the HD Remaster.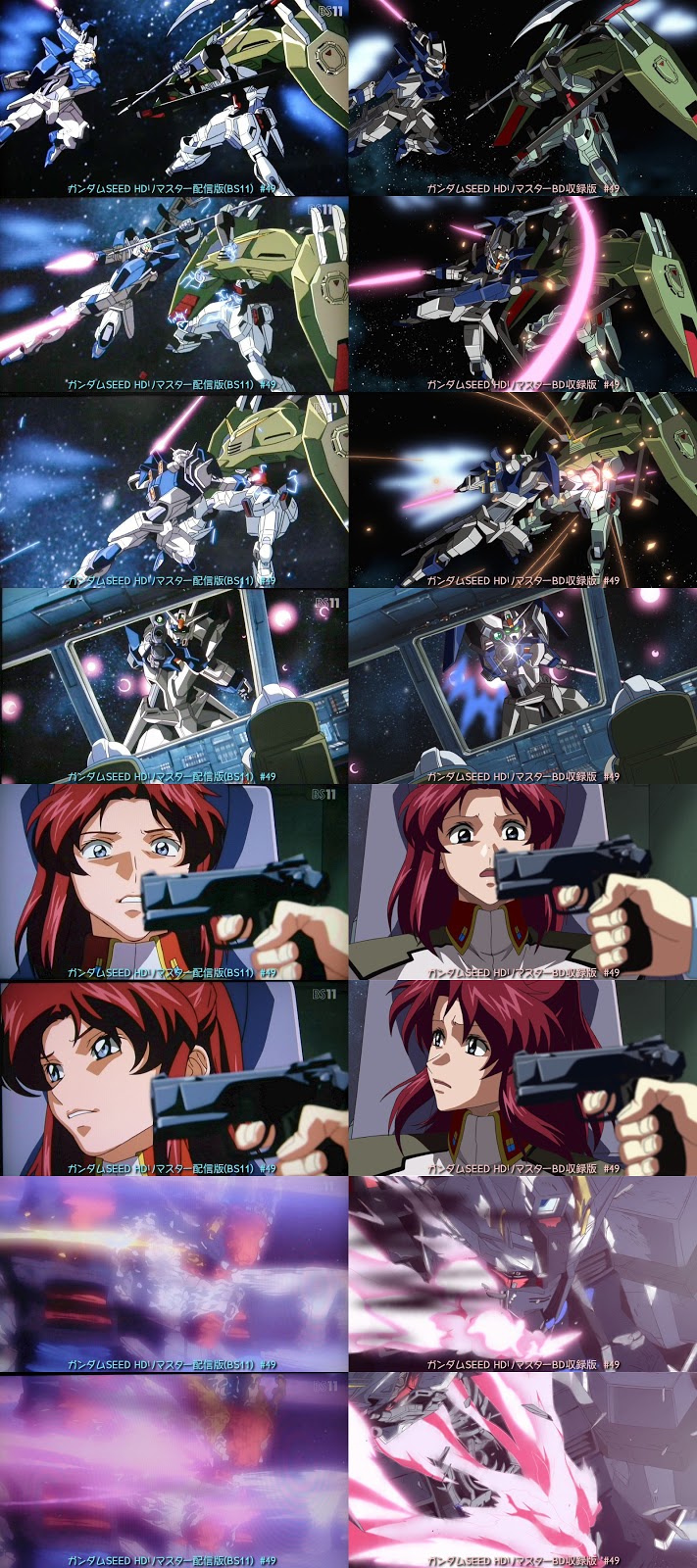 While the statement does not mention it, the black levels issue on the Standard Definition on Blu-ray discs for the original Gundam SEED series will also be amended after the Rightstuf president responded to folks who asked. A member of MediaOCD tweeted a comparison between the Bandai Entertaiment release (Images 1 & 3) and Nozomi release (Images 2 & 4) for the original series to provide a general idea on the black levels issue.
This slideshow requires JavaScript.
Mobile Suit Gundam SEED aired in 2002 by studio Sunrise, director Mitsuo Fukuda, writer Chiaki Morosawa and music composer Toshihiko Sahashi. The series ran for 50 episodes and later received a sequel known as Mobile Suit Gundam SEED Destiny as well as a side-story called Mobile Suit Gundam SEED C.E. 73 Stargazer. The original version for Mobile Suit Gundam SEED was released in the UK by distributor Beez Entertainment for DVD.
"Year 70 of the Cosmic Era.

The Coordinators, a group of genetically enhanced humans, have moved into colonies orbiting the Earth. But that hasn't quieted the tensions between them and regular humans; the conflict soon escalates into a full-scale war. On the neutral colony of Heliopolis, Kira Yamato, and his friends are going to school and just being kids. But when the ZAFT commando forces attack, Kira's life changes forever.

Left with no choice, he and Federation officer Murrue Ramius are thrown into battle in a prototype mobile weapon, which Kira christens "GUNDAM." Now, Kira must defend himself and his friends from his own people. For, unknown to anyone else, Kira is a Coordinator. And the enemy he faces on the battlefield is his childhood best friend, Athrun!"
Plot Synopsis by Anime Ltd
Anime Limited have released a number of Gundam for the United Kingdom. Their latest titles include Mobile Suit Gundam NT and Part 1 of Turn-A Gundam, both are currently scheduled before the end of the year.
---
Sources: Anime Limited, Rightstuf, Fandom Post user Setsuna, MediaOCD's Schmullus on Twitter