Anime Limited Reveals UK Blu-ray Details for Kyoto Animation's Violet Evergarden, Coming this November 2020
UK anime distributor Anime Limited has revealed additional information for their upcoming home video release of Kyoto Animation's 2018 anime series Violet Evergarden. The series will be heading to the United Kingdom and Ireland as a special collector's edition Blu-ray release due to arrive on 30th November 2020, in time for the holiday season.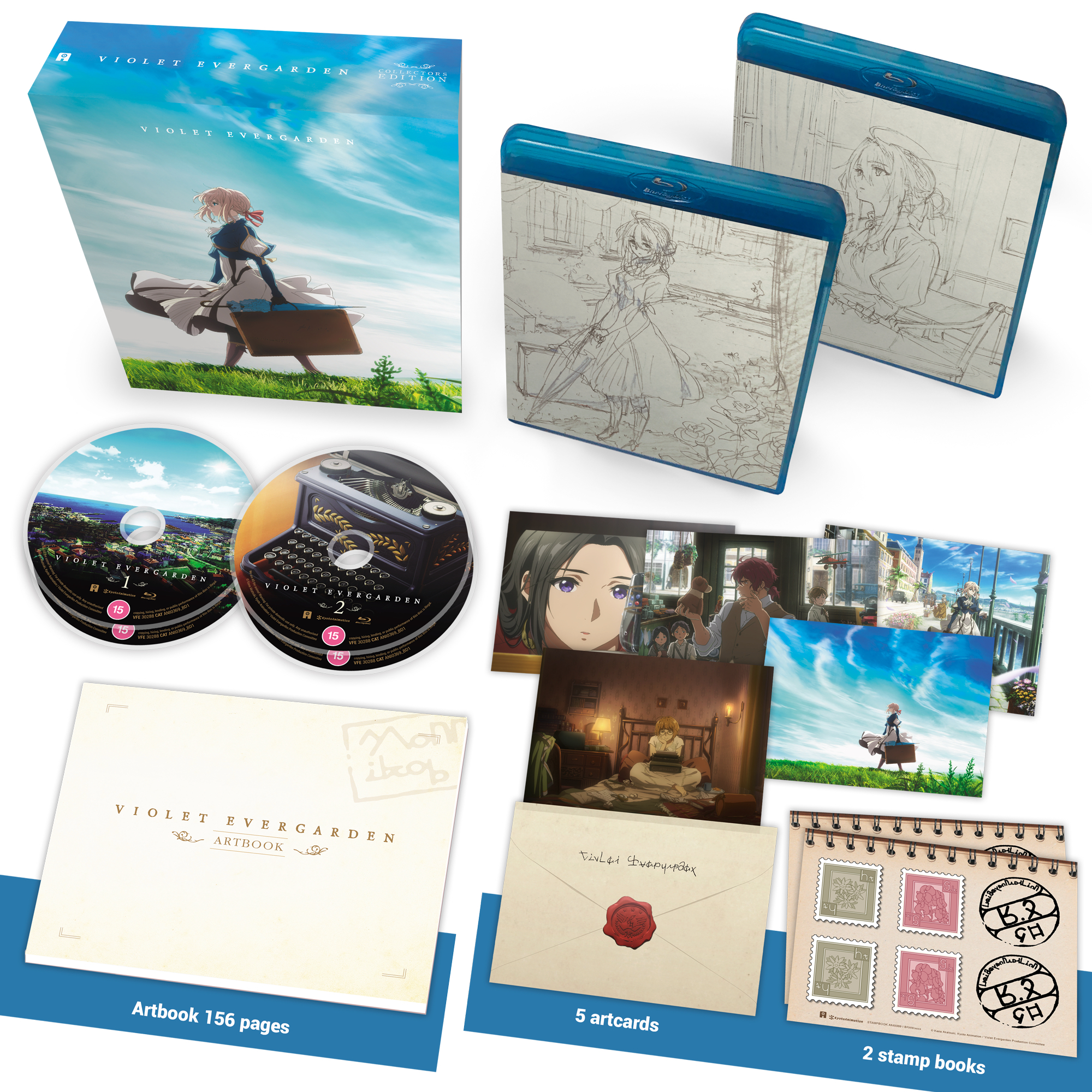 The collector's edition is packed with a ton of content, more than the recently revealed North American release by US distributor Funimation.
---
Starting with the on-disc content, we have all 13 episodes of the series as well as the Episode 14 OVA special included. All of these episodes will include the English dub and Japanese audio with English subtitles. In addition, the extended version for Episode 13 will be included in this release which has yet to be dubbed and therefore will be subtitled only. The subtitles have also been revised from the Netflix stream in order to be more accurate to the original.
While the Funimation release has the whole series presented across two Blu-ray discs, Anime Limited are actually using four Blu-ray discs. This is because alongside the main series and OVA special, the "Japan Tour" theatrical compilation films are included. These compilation films will be presented with 5.1 audio and is also subtitled only.
On-disc bonus features include Previews, TV spots, Commercials, Clean Opening and Ending Title Sequences and 'Violet Evergarden in 5 minutes' shorts.
The physical contents of the collector's edition (priced at SRP £69.99) includes a rigid box and two Blu-ray Amaray cases, plus a 156-page artbook, 5 art cards and 2 stamp books.
Pre-orders will begin starting Friday 2nd October until Thursday 29th October 2020 at an early bird price of £39.99 on Shop AllTheAnime.
---
Violet Evergarden aired in January 2018 by studio Kyoto Animation. The staff credits include director Taichi Ishidate, writer Reiko Yoshida, music composition by Evan Call, and voice cast including Yui Ishikawa, Takehito Koyasu, and Daisuke Namikawa. The English dub cast features Erika Harlacher, Kyle McCarley, Tony Azzolino, and more.
Anime Limited acquired the UK & IE rights during MCM Comic Con London in October 2017. They also have the rights to the film Violet Evergarden I: Eternity and the Auto Memory Doll which is currently scheduled for the first quarter of 2021.
"After four long years of conflict, The Great War has finally come to an end. Caught up in the bloodshed was Violet Evergarden, a young girl raised to be a deadly weapon on the battlefield. Hospitalized and maimed in a bloody skirmish during the War's final leg, she was left with only words from the person she held dearest, but no understanding of their meaning.

Recovering from her wounds, Violet starts a new life working at CH Postal Services. There, she witnesses by pure chance the work of an "Auto Memory Doll", amanuenses that transcribe people's thoughts and feelings into words on paper. Moved by the notion, Violet begins work as an Auto Memory Doll, a trade that will take her on an adventure, one that will reshape the lives of her clients and hopefully lead to self-discovery."
The series streamed exclusively to the Netflix platform. UK, Ireland and select territories were able to watch the series during simulcast while others including North America had to wait until a few months later. As of the time of this post, the main series, the OVA special and the film Eternity and the Auto Memory Doll are all currently available to stream on Netflix dubbed and subbed.
---
Source: Anime Limited