MAPPA Reveals Chainsaw Man Trailer, New Okada Film and More
MAPPA, the Japanese animation studio known for hits like Yuri!!! On ICE, Attack On Titan: Final Season and Jujutsu Kaisen celebrated their 10th Anniversary this weekend with a livestream event that not only looked back, but also forward to what the studio is working on for the future. One of those future projects is the anticipated final chapter of Attack On Titan, who they took over production duties from WIT Studio to produce the first half of its fourth season, which aired between December 2020 and March 2021. With the second half slated to air in Winter 2022, the studio unveiled a new key visual: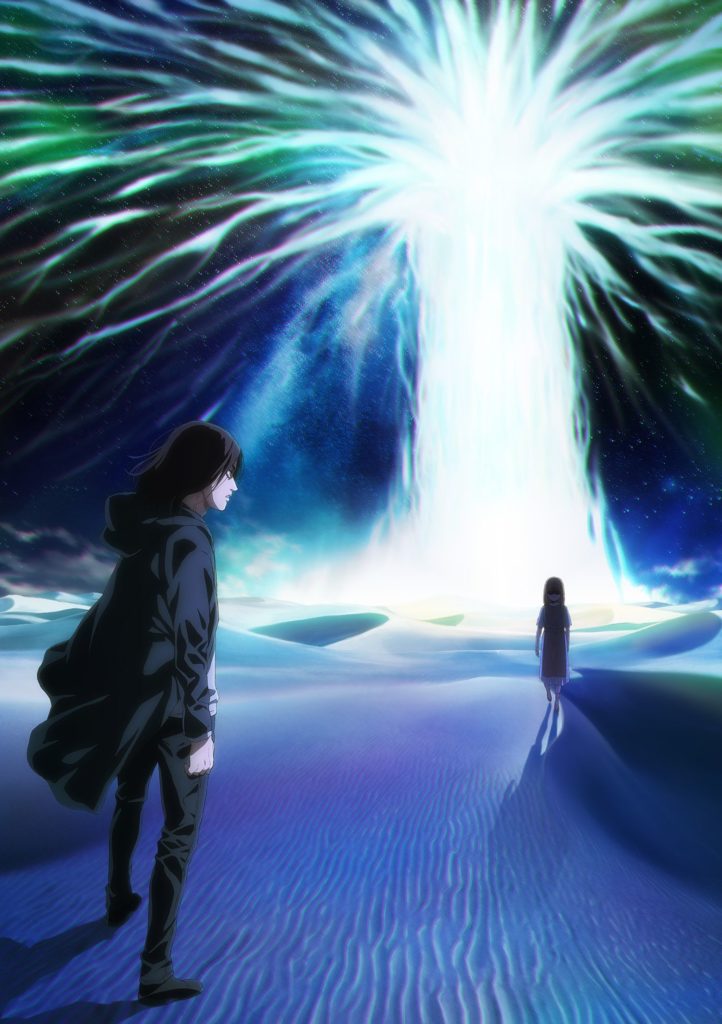 The studio confirmed that takt op. Destiny, a television anime series that makes up part of Bandai Namco Arts and DeNA's takt:op multimedia project, will begin airing in Japan on 5th October 2021. The series will be directed by Yuuki Itoh (Granblue Fantasy the Animation) with Kiyoko Yoshimura (The God of High School in charge of series composition. The anime will be produced by both MAPPA and Madhouse. Yoshihiro Ike (Tiger & Bunny) is composing the series' soundtrack.
The classical music themed takt:op project is set to include both this anime series and a mobile game, which Gematsu describes as follows:
"Music is power."

The musical compositions that dwell within girls become their power.

Legendary operas, grand compositions created in an era long ago.

"Musicartou"—new life breathed into those scores.

In a world where music is lost, the girls fight using the power of music in a fleeting, yet beautiful story of fate.

They merely aim for the joy that lies ahead.

takt op.

A project that guides music to tomorrow.
Easily the most highly anticipated reveal of the livestream was the debut teaser trailer for Chainsaw Man, an adaptation of Tatsuki Fujimoto's gory and bonkers Shonen JUMP manga that was first announced back in December 2020. Viz Media, who publishes the manga in English, describe the series' story as:
Denji's a poor young man who'll do anything for money, even hunting down devils with his pet devil-dog Pochita. He's a simple man with simple dreams, drowning under a mountain of debt. But his sad life gets turned upside down one day when he's betrayed by someone he trusts. Now with the power of a devil inside him, Denji's become a whole new man—Chainsaw Man!
The event confirmed that Chainsaw Man will be directed by Ryū Nakayama (Jujutsu Kaisen episode director), with a staff including composer Kensuke Ushio (DEVILMAN crybaby), and character designs by Kazutaka Sugiyama (Mushoku Tensei: Jobless Reincarnation). You can read our review of the manga's first volume here.
Three years after the acclaimed screenwriter made her directorial debut with Maquia: When the Promised Flower Blooms, MAPPA announced that Mari Okada is returning to direct her second feature film with Alice and Therese's Illusion Factory (Alice to Therese no Maboroshi Kōjō), which she is also writing. The studio couldn't confirm a release date at time of announcement, but Okada has reportely described the film as a "first-love fantasia story". Prior to her move towards directing with Maquia, Okada established herself as a screenwriter renowned for emotional realism seen in titles like Anohana and Anthem of the Heart, which were produced by the artist collective "Super Peace Busters" that includes herself, director Tatsuyuki Nagai, and character designer Masayoshi Tanaka. Okada also recently penned the coming-of-age manga series O Maidens in Your Savage Season, which was illustrated by Nao Emoto and adapted into a television anime series by Lay-duce.
Okada is joined by a number of alumni who previously worked on Maquia.,such as Chief Animation Director and Character Designer Yuriko Ishii (Twittering Birds Never Fly: The Clouds Gather), and art director Kazuki Higashiji (Hanasaku Iroha). The music will be composed by Masaru Yokoyama (Fruits Basket 2019), who has previously worked on other works written by Okada, such as Her Blue Sky, Mobile Suit Gundam Iron-Blooded Orphans, and The Lost Village.
With so many high concept titles in production, Studio MAPPA has recently been the subject of criticism and controversy over their production philosophy and schedules, which one freelance animator comparing the work environment to a "factory", and them reportedly being the only one of the many studios approached for Attack On Titan: The Final Season who could work within the production committee's schedule. A more detailed profile on the studio, its history, and its change in production philosophy can be found in a video by The Canipa Effect.