Sweat and Soap Volumes 4 & 5 Review
Demelza
•
Last year, new romance series Sweat and Soap proved itself a must-have for fans of the genre. Now we're almost halfway through the series, does it remain a noteworthy manga? Let's find out! 
As we reunite with Asako and Kotaro they're just returning from a trip away to Hokkaido. This vacation gave the two the chance to relax and enjoy being together, but now they must return to their everyday lives. This leads to Asako beginning to grow anxious as she and Kotaro agree to tell their coworkers about their relationship.
Thankfully, everyone is very accepting of and happy for Asako and Kotaro, but even with this possible crisis over, it's not long before our lovebirds have stumbled into another problem! Kotaro receives a letter informing him that his lease is up for renewal soon, which leads him to ask Asako if she'd like to move in with him – causing her substantial anxiety in the process. 
What I like about this storyline is that Kotaro realises he messed up by asking to move in together without giving it any proper thought. For example, if they take this step then are the two looking to get married? What if it doesn't work out? And most important for Asako, what will Kotaro think of her once he sees the less pretty sides of her life? 
Volume 4 of Sweat and Soap perfectly captures the worries of taking the next step in a relationship and it also deals with them realistically. Rather than fretting about this all on their own, the two talk it out and come to a decision together. This is one of the things I appreciate most about the series, it never creates needless drama and if there is a problem, it's dealt with in a lifelike manner.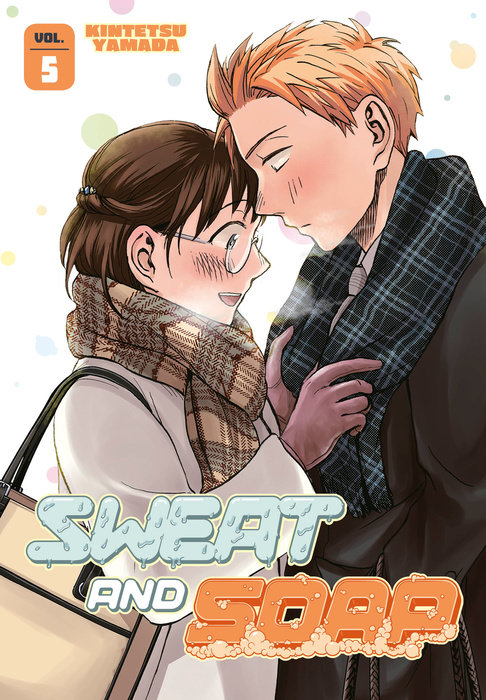 The moving in together plotline stretches into Volume 5 as well, but it's placed on the backburner since the big storyline in this book is that Kotaro is going to meet Asako's parents for the first time. Since this instalment is set around Christmas and New Year, we get to see the couple enjoy their first festive period as a couple.
It's over the New Year's period that Asako returns to her family home and invites Kotaro back with her. We've previously seen Asako's mother and brother Keita in Volume 2 and both have been supportive of her relationship, but at the time Asako didn't want to tell her father the news and so this is his first time hearing that his daughter is dating someone.
It's obvious to us readers that Asako has a very loving family and flashbacks in this volume show us how much her father, in particular, cares about her. But since he's always out at work or simply a bit overbearing, he always hears any news about Asako last which understandably makes him sad. Because of this, it's even more important to him that Asako has a dependable partner who won't let her down or leave her heartbroken. 
Just like the moving in together storyline, Kotaro meeting Asako's family is handled very well. It's both heartwarming and taken seriously enough to be relatable for many. Plus the more we see of these two together, the more I find myself rooting for their relationship. 
The best thing about Sweat and Soap is that both of these volumes manage to offer us realistic topics as well as a healthy dose of adorable chapters. It never leans too heavily one way or the other, which I appreciate. The content is well balanced and it flows well. Perhaps most importantly, I'm always left eager to read more and see what's next in the life of these two lovebirds. 
Sweat and Soap Volumes 4 and 5 come to the West thanks to Kodansha Comics and have been translated by Matt Treyvaud. The translation reads well with no issues to note and there are some translation notes at the back of Volume 5 to describe some of the New Year's customs shown. Volume 6 of the series came out at the beginning of June and Volume 7 is currently scheduled for a release in July. 
Overall, we're now roughly halfway through the series and Sweat and Soap continues to be a must-have romance manga. With the realistic portrayal of what it means to take the next step in a relationship together as well as the fears that accompany that decision, this continues to be a very relatable story.