Snow White with the Red Hair Volumes 11-13 Review
Demelza
•
Having reached ten volumes, Snow White with the Red Hair has certainly passed a notable milestone for a shojo series. Now with a further three books under its belt, let's find out if the series continues to be an entertaining read. 
Volume 11 of the series opens with Shirayuki and friends being visited by Yuzuri, Suzu and Kirito from Lilias. While our protagonist gets to enjoy some time spent with the friends she made earlier in the series, Prince Zen is being pushed by his older brother Izana to hold a banquet to find himself a princess. Izana wants Zen to prove to the population that he has intentions to marry eventually and although Zen pushes back on the banquet, he does still agree to hold an interview with someone. 
Zen manages to get through this crisis by holding a marriage interview with his retainer, Kiki, who is more than qualified to be his wife and is someone Shirayuki doesn't need to be concerned about. But even knowing Shirayuki won't misunderstand, Zen is nevertheless spurred on by the situation to find a way to get Izana to accept his love for the court herbalist. 
Ultimately Izana grants Zen a section of the royal palace all to himself, for Zen and those close to him to use – which includes Shirayuki. However, before the group can settle into their new living quarters, Izana reveals to Zen that the Queen is coming home to make Izana king…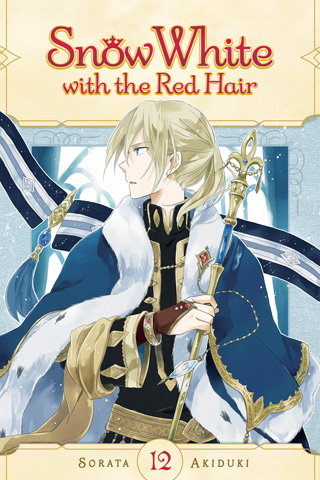 As you might expect, Volume 12 goes on to cover Izana's coronation which is an important day for everyone at the castle. While Shirayuki isn't involved in the event itself, she is charged with playing host to Prince Raj who is also in attendance. This storyline not only lets us meet Zen and Izana's mother, but it's also another opportunity to see how much Prince Raj has grown, which is also welcome.
However, as we discover in Volume 13, Izana becoming King isn't the only change in the castle as it's revealed that Shirayuki and Ryu are being transferred from the castle to work in Lilias! This will give them both the opportunity to learn a lot more in their fields as not only will they be working as herbalists, but also researchers. Our protagonist is delighted to hear about the change but also saddened to know she'll be leaving Zen, Kiki, Obi and Mitsuhide behind. 
The important thing is that the move isn't permanent and Shirayuki will be able to return in the future, but at least for now, it means she won't be able to see Zen regularly at all which is going to be painful for them both. But as a reader, I think this direction is an interesting one and one which will change the course of the story going forward away from romance and more into fleshing out the world the cast live in.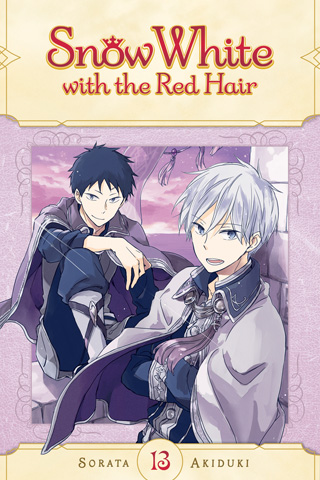 Snow White with the Red Hair has always carefully balanced its romance with a well-developed cast and an interesting setting, which these three volumes touch on neatly as they bring back characters from previous arcs. I also appreciate that mangaka Sorata Akiduki always keeps the plot moving, with plenty of things happening from book to book. In earlier instalments, it sometimes felt like one storyline was dragged out more than it needed to be, but now Akiduki has a better handle on how long each piece needs to run before moving on to the next. 
Sending Shirayuki and Ryu to Lilias is also clever because it not only means that the reader has something familiar to grasp onto (since we've already met the cast and seen the location) but there is also a suitably compelling feeling of the unknown, given the two will now be there fulltime and will see and do things they didn't have time to before. 
Reading these three books together showcases that the series has been following a theme of change, with so much of the status quo being shaken up for all of the cast in some way or another. They certainly make for an interesting reading side-by-side rather than individually, so I'd recommend storing up a few to read together! 
Snow White with the Red Hair Volumes 11-13 come to the West thanks to Viz Media and have all been translated by Caleb Cook. The translations read well with no issues to note. Volumes 14 and 15 of the series are available now, with #16 following in November. 
Overall, Snow White with the Red Hair continues to be a charming shojo series that offers plenty of romance as well as an ever-expanding and interesting world. These three volumes perfectly capture the strengths of the series and showcase why it has earned itself so many fans.