Snow White with the Red Hair Volumes 18 and 19 Review
Demelza
•
Back in Volume 17 of Snow White with the Red Hair, we learnt that someone was attacking nobles and Mitsuhide was arrested on suspicion of being the culprit. As it turns out, the true mastermind behind the plot is Toka Bergat, who's looking to restore his family name by killing Zen! 
So needless to say, as we reunite with our cast, we find them in a tough situation. Toka has even manipulated his twin brothers Tariga and Tsuruba Bergat into carrying out his plot. Tsuruba may have taken his side, but Zen manages to get Tariga on his side which is all the more important when Mitsuhide and Kiki are out of commission (with Kiki having been sent for reinforcements). Together, Zen and Tariga begin to fight off Toka and his men, but with the numbers against them and Toka having set off a powerful drug to weaken everyone can they come out of this unharmed? 
With so much happening in this storyline, it ends up taking the whole of Volume 18. In fact, we never get to see any sign of our protagonist Shirayuki at all, but I'm glad author Sorata Akiduki had the confidence to take the story in this direction. Zen and his comrades are more than capable of being the centre of a compelling storyline and it's easier to follow their tale if you're not trying to switch perspectives to Shirayuki or include her in an arc she doesn't belong in. 
Another nice thing about this storyline is that it's packed with action scenes which is not something we get to see that much of, given Snow White with the Red Hair is set in a fairly peaceful world. This is certainly one of the few times where consecutive chapters have fight scenes in them. Again, I find myself pleased with this development because Akiduki's art is very polished now and she has a good sense for depicting these fight sequences in a way that draws the reader in and keeps them turning the page.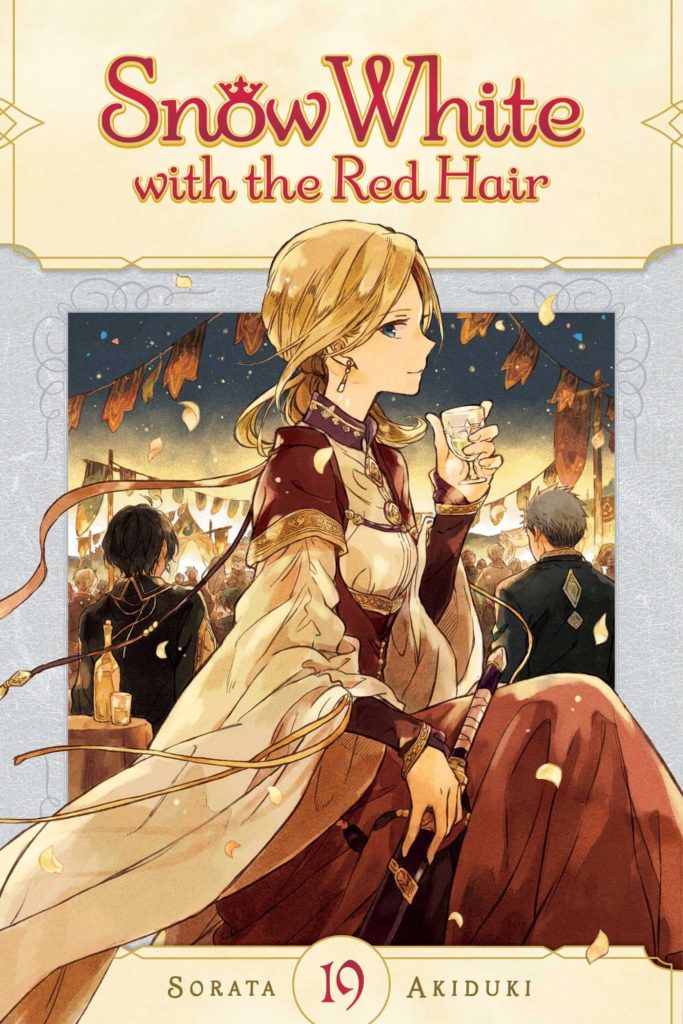 By the time we get to Volume 19, the conflict with Toka has come to an end. To reward his efforts, Zen and his party are given some time off which Zen and Obi use to travel with Shirayuki back to Lilias. Meanwhile, Kiki returns to her family home with Mitsuhide, where the future of their relationship is finally decided…
While this instalment of the series is a lot more laidback than the one that came before it, it still proves an important turning point. Kiki confesses her feelings to Mitsuhide but the response she gets in return is not one she or we readers expect. But it's hard to be too unhappy with it since it's clear from how the author has broached the topic that she's put a lot of thought into how this would play out and how the motivations of the two characters would dictate it. 
I also appreciate that just like Volume 18 was dedicated to its storyline, this one too spends ample time on Mitsuhide and Kiki's arc with only a brief chapter or two featuring Shirayuki and Zen's crew at the beginning and end of the book. It feels like these stories are being given the time and attention they deserve, which is always nice to see. 
In many ways, it feels like these two books act as a turning point for the whole series. Storylines we've been following from the beginning like Kiki and Mitsuhide's are being wrapped up, while others are beginning anew. Toka's actions feel like the beginning of some political unrest in the world while Zen begins to grow further in his role as a prince, which is something I never expected this series to focus on but I'm glad it does,  because it's an interesting direction. And even if that plotline does prove to be a one-off, it has still caused ripple effects and made Zen and the other characters think about their futures in ways they wouldn't have before. Certainly, I find myself excited to see what future books have in store for us!
Snow White with the Red Hair Volumes 18 and 19 come to the West thanks to VIZ Media and continue to be translated by Caleb Cook. The translations read well with no problems to note. Volume 20 of the series is available now with Volume 21 following in October. 
Overall, these two instalments of Snow White with the Red Hair have something to offer every fan of the series no matter what you're most invested in. With some storylines coming to an end and new ones beginning, the future of the series continues to look bright.